Posted by Jane Metters LaBarbara.
November 13th, 2017
Blog post by Lori Hostuttler, Assistant Director, WVRHC.
The West Virginia & Regional History Center collects materials that document the history and culture of our state and region – including records that document the history of WVU.  This post examines the history of some of WVU's first African-American graduates and the collections that tell their stories. 
Hidden Figures, the 2017-2018 Campus Read, focuses on Katherine Johnson and other African-American women who made significant contributions to American space exploration.  The book also put the spotlight on integration at West Virginia University through Johnson's experience.  Johnson excelled in mathematics and graduated with highest honors from West Virginia State College, a historically black school in Institute, West Virginia, in 1937.   Following a Supreme Court decision in 1938 that opened segregated white colleges to African-American graduate students, WVU integrated its graduate school.  In 1940, Johnson was among three students chosen by the President of West Virginia State to come to WVU.  Johnson left for personal reasons after a semester of classes, but she paved the way for future Mountaineers of color.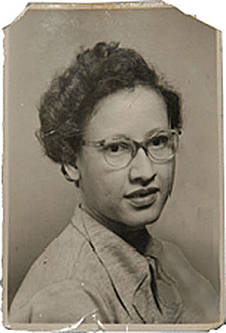 Katherine Coleman Johnson.  Image from https://www.nasa.gov/audience/foreducators/a-lifetime-of-stem.html. Johnson taught at Monongalia High School in Morgantown after graduating from West Virginia State College. Her papers are not currently archived at the WVRHC.
After Katherine Johnson, Kenneth James has been identified as the first known African American to receive a graduate degree from WVU in 1941.  He was followed by W. O. Armstrong who earned a Master of Education degree in 1942.  Armstrong attended West Virginia State College and served as the principal of Dunbar High School in Fairmont for 47 years, retiring in 1957 after integration.  He was also involved in numerous civic organizations in Marion County including the Library Board, Planning Commission, Heart Association, and Fairmont State College Citizen's Committee, to name only a few.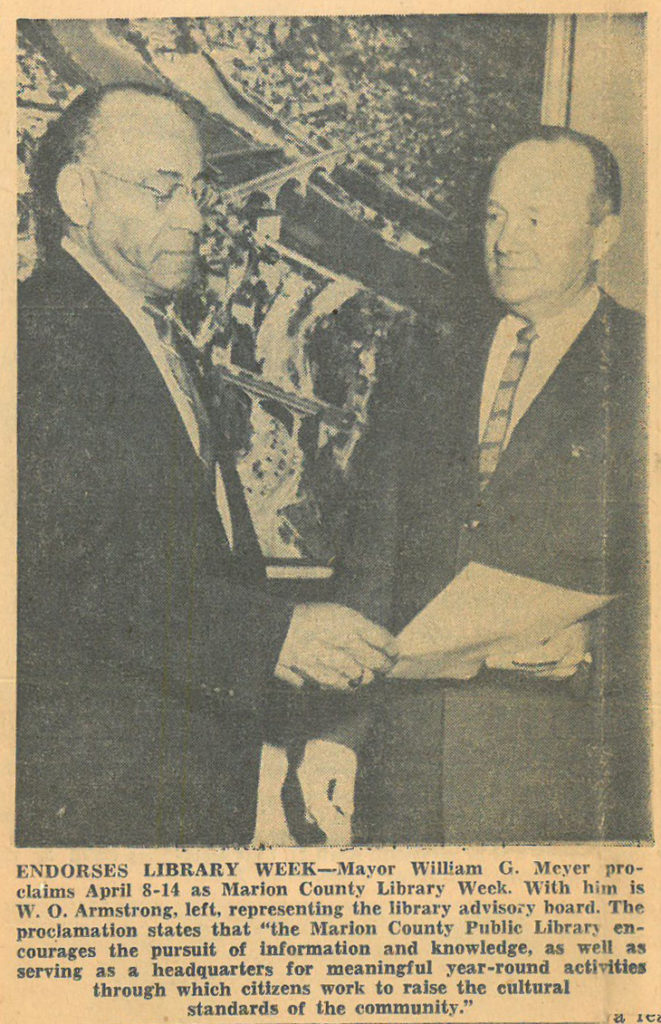 Fairmont Times-West Virginian newspaper clipping featuring Armstrong as representative of the Marion County Library Board, April 8, 1962.  From A&M 2176, the W. O. Armstrong Papers, WVRHC.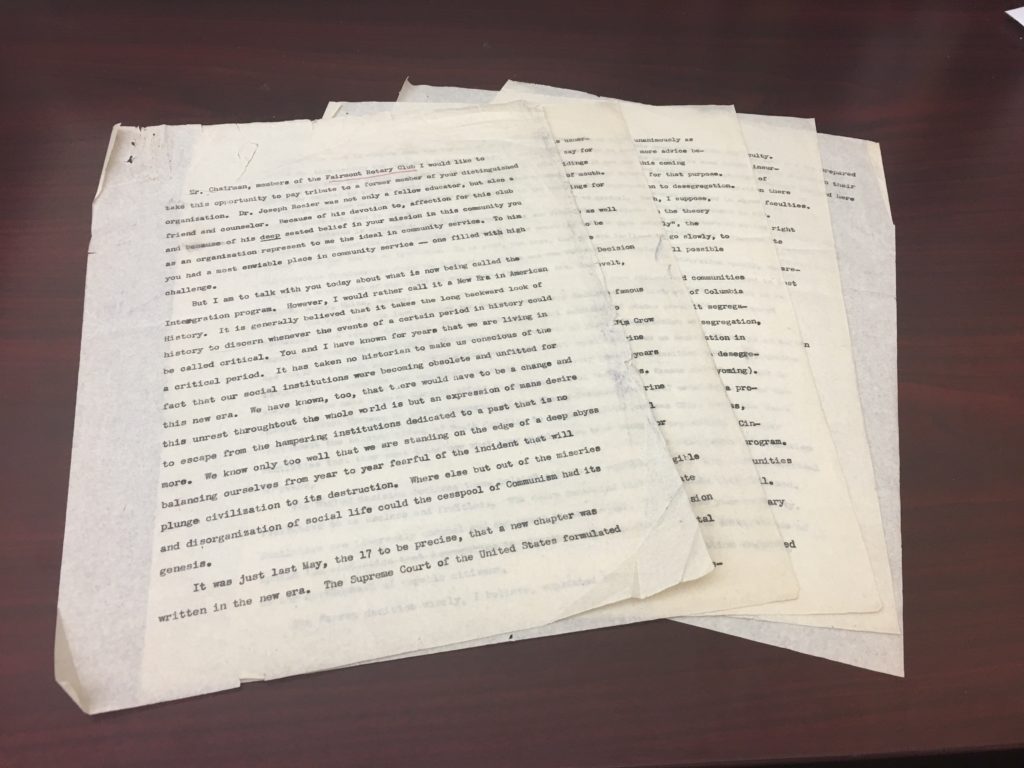 Unpublished speech from the Armstrong Papers, WVRHC, no date. This speech was apparently given to the Fairmont Rotary club by Dr. Armstrong not long after the "Warren decision," i.e., the ruling in Brown vs. the Board of Education that desegregated American schools.  In the talk, he lauds the decision, details the problems with the "separate but equal" doctrine, and articulates his hopes for the African-American teachers in Marion County after integration.  He ends the speech by saying, "I have tried to say that the U. S. Supreme Court in invalidating the separate but equal doctrine has reaffirmed the faith of America, yea, of mankind everywhere in the democratic way of life and we fervently pray that each local community affected by this decision will courageously carry out its mandate in the same democratic spirit."
Only a few years after W.O. Armstrong, Victorine Louistall Monroe became the first female African American to receive a graduate degree at WVU in 1945.  Like Johnson and Armstrong, she had also attended West Virginia State College where she earned a degree in business administration.  Louistall Monroe took education extension courses in Clarksburg and eventually came to the Morgantown campus in 1942 with encouragement from her advisor in the Education Department, Dr. Rebecca Pollock.  She could not live on campus or eat in the student cafeteria, but she remembered her professors as fair and cordial.   Ultimately, she earned a Master of Arts in Education.
In 1990, she recalled, "After completing my oral exam on my thesis, which was 'A Comparison of the Opportunities Offered the Negro and White Schools in the Field of Commerce in West Virginia,' it seemed like I waited for hours before the committee reconvened. Finally, Dr. Hill, who was on my committee, and Dr. Pollock came out. And they congratulated me, and then Dr. Hill said to me "How does it feel to be the first Negro woman to graduate from WVU?" At that point I was taken aback, because I really didn't realize that I had become a pioneer…"
But Louistall Monroe would become a pioneer for a second time when she became WVU's first African-American faculty member. After she completed a second Master's degree in library science, Dean of Libraries Dr. Robert Munn offered her a position in the library science department as an Assistant Professor which she accepted in 1966.  She retired from WVU in 1978 and later served on the West Virginia Library Commission.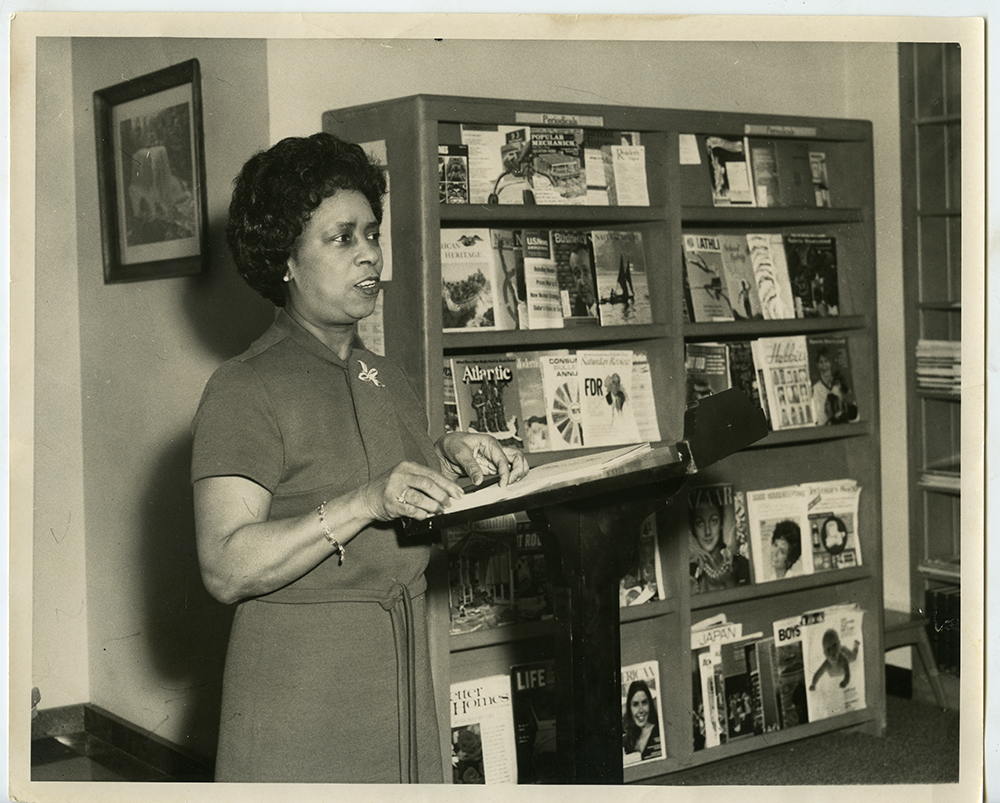 Photograph of Victorine Louistall Monroe speaking at the Clarksburg-Harrison Public Library, ca. April 1970 from A&M 3916, the Victorine Lousitall Monroe Papers.  Additional material on Louistall Monroe can be found in A&M 5107.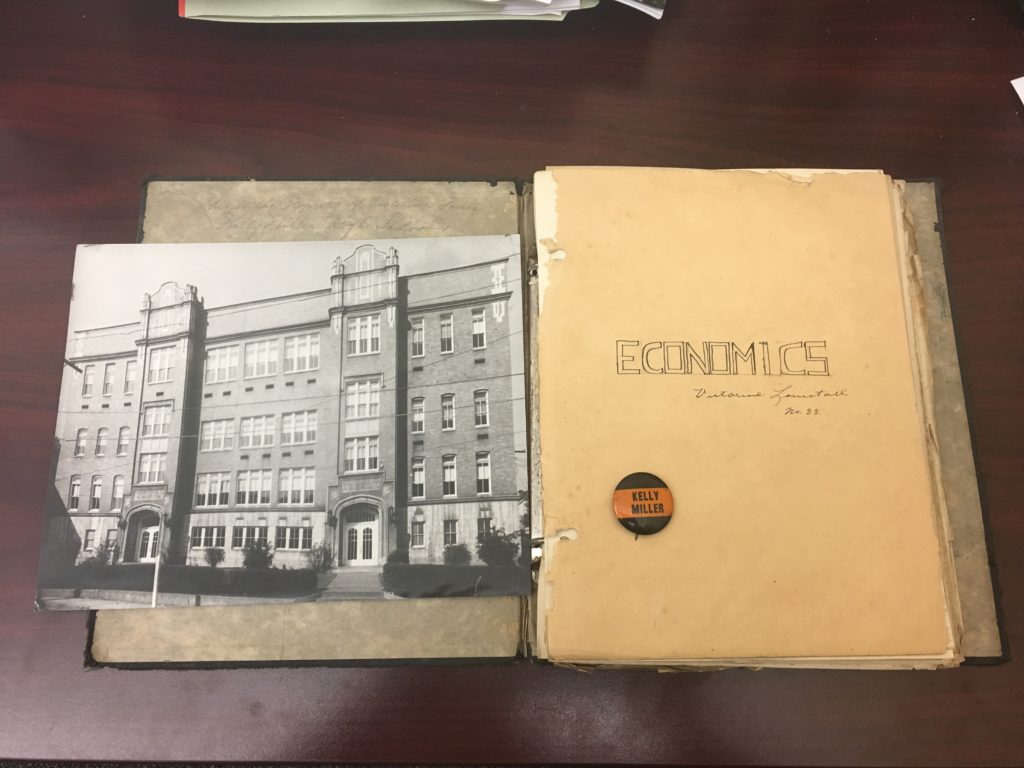 Photograph, notebook, and pin from A&M 3916, WVRHC. Louistall Monroe's papers also include materials that document her alma mater, Kelly Miller High School, in Clarksburg.  This image shows the school building in 1956, her economics notebook from her senior year in 1921-22, and a small Kelly Miller button.
Almost a decade after Louistall Monroe, John Reuben Sheeler became the first African American to earn a doctorate degree from WVU.  In 1954, he earned his Ph.D. with the acceptance of his thesis, The Negro in West Virginia before 1900. Sheeler went on to have a distinguished career as an educator, ambassador, and State Department envoy. He served as Head of the Department of History and Geography at Texas State University and was noted as "a role model for students as he endeavored toward peaceful change through the exchange of information" during the civil rights era and beyond.  A president of the Association for the Study of African American Life and History, he was a founder of Black History Month and pastor at two Houston CME churches.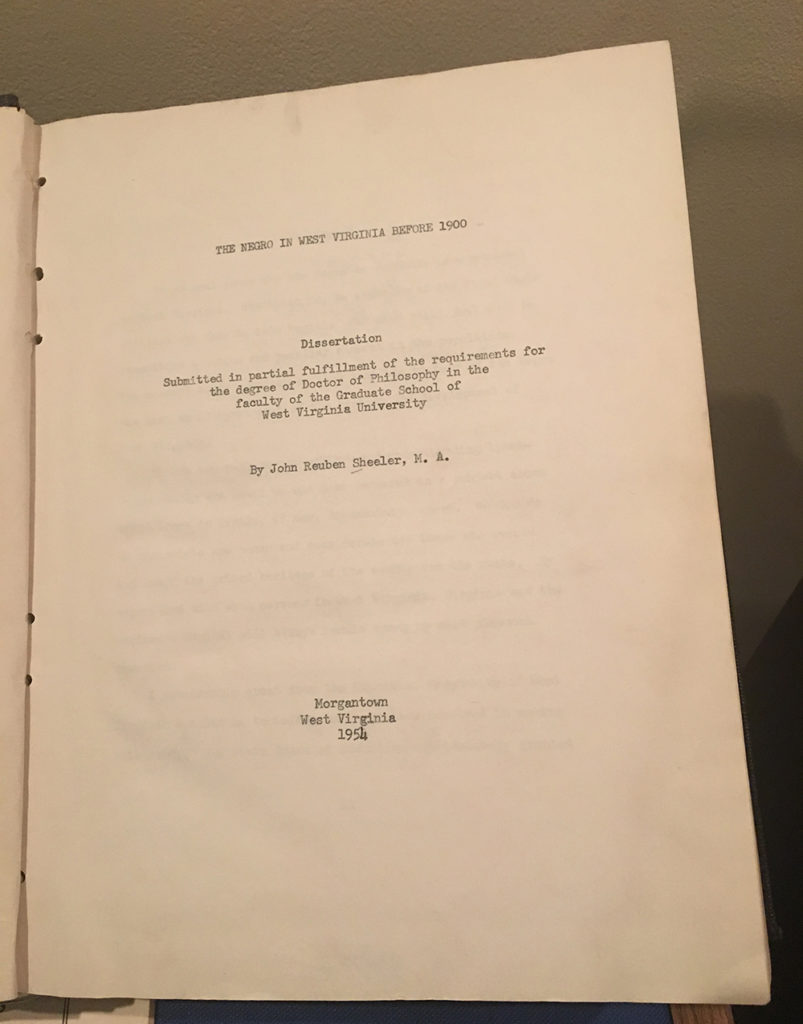 Title page of Sheeler's doctoral dissertation held at the WVRHC.  The J. Reuben Sheeler Papers are held at the Houston Metropolitan Research Center at the Houston Public Library since much of his career was spent in Texas.
Perhaps because of pioneers like Sheeler, Armstrong, and Louistall Monroe, WVU did enroll African Americans in undergraduate courses prior to the Brown vs. the Board of Education decision.  Jack Hodge, WVU's first African-American undergraduate, earned his degree in journalism in May 1954, not long after the Supreme Court ruling was issued.  Hodge went on to teach journalism at Howard University and worked as a news editor for the Baltimore News-American from 1961-1986 when the paper ceased operation.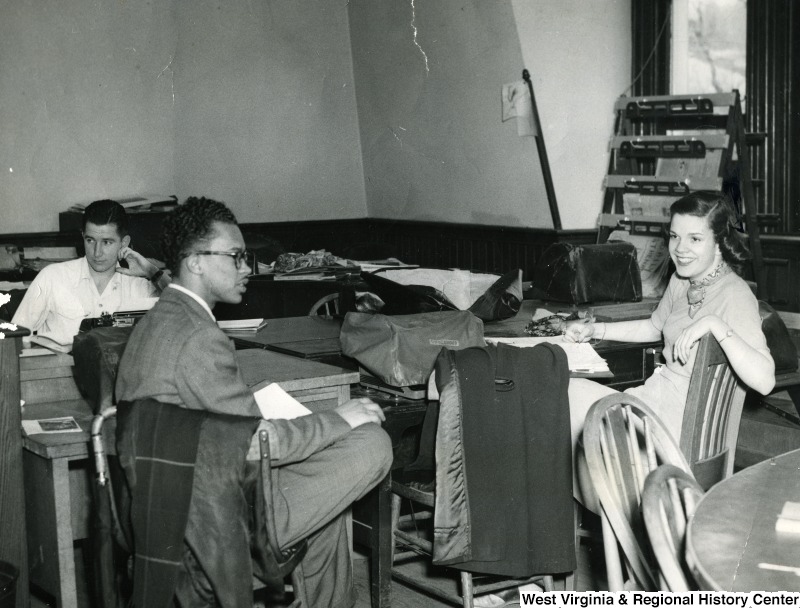 Jack Hodge at a student news group meeting in Woodburn Hall circa 1953.  Image from WV History OnView, the Center's online photographs database.
The first African-American woman to receive an undergraduate degree from WVU was Annette Chandler Broome.  Broome received her degree in Home Economics and Nutrition in 1957.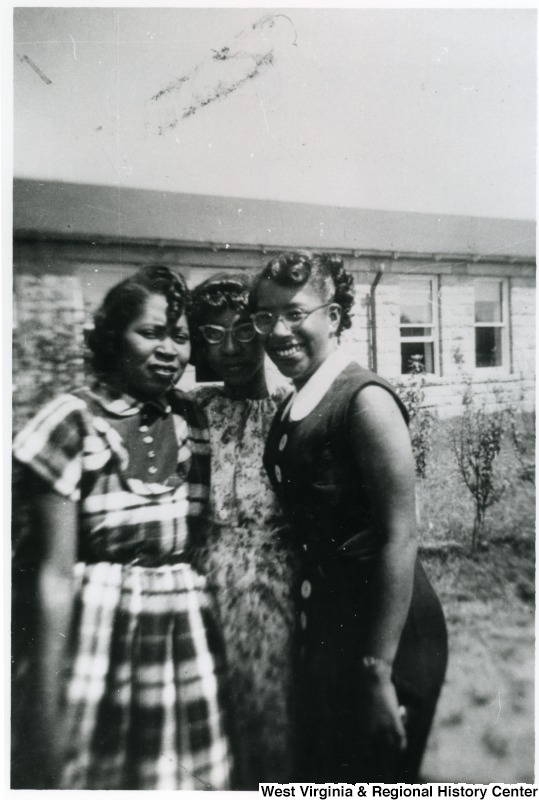 Pictured here from left to right:  Ruth Barnett, Lennie Wiley, and Broome.  Image from WV History OnView.
WVU's first African-American graduates can be discovered in the manuscripts, photographs, books and administrative records at the West Virginia & Regional History Center.  Their stories document a critical time in the history of West Virginia University and serve to inspire all Mountaineers.
2 Responses to 'Preserving the History of WVU's First African-American Graduates'
Shona Says:
December 9th, 2017 at 8:28 pm

I am a Black woman who graduated from WVU many years after these trailblazers. I am surprised that WV took on segregation in education; especially since the state was never part of the Confederacy. Glad to see that integration occurred without too much resistance (that I can see anyway).

Amena O. Anderson Says:
March 15th, 2022 at 2:09 pm

This is quite amazing! I am a WVU faculty member and a WVU alum! Thank you for taking the time to preserve our history in this way!
Leave a Reply