Posted by Jane Metters LaBarbara.
January 17th, 2018
Blog post by Stewart Plein, Rare Book Librarian
Long, cold winter nights are the perfect time to dream of spring.  What shall we plant in the garden this year?  Will we order plants, seeds, or some of both?  Will we have a vegetable garden or will we plant flowers?  Should we dig a new bed for those iris we've always wanted to plant?  This might be the year!  If you're like me, you've already received garden catalogs offering heirloom seeds or the latest cultivars. I always get drawn into the beautiful images of plants, the latest introductions, and ways to use them in the home and garden.  There's nothing like looking at garden catalogs on a snowy day to make you think of spring. 
The recent gift of a new collection of historic garden catalogs has us dreaming of spring!  The earliest catalog in the collection is from 1883.  The cover's design is quaint, printed in black only, but the proprietor has managed to picture both vegetables and flowers on the ornate cover to inform the customer of the contents.  Established in 1850, this garden catalog had been selling seeds for almost four decades before this catalog was issued.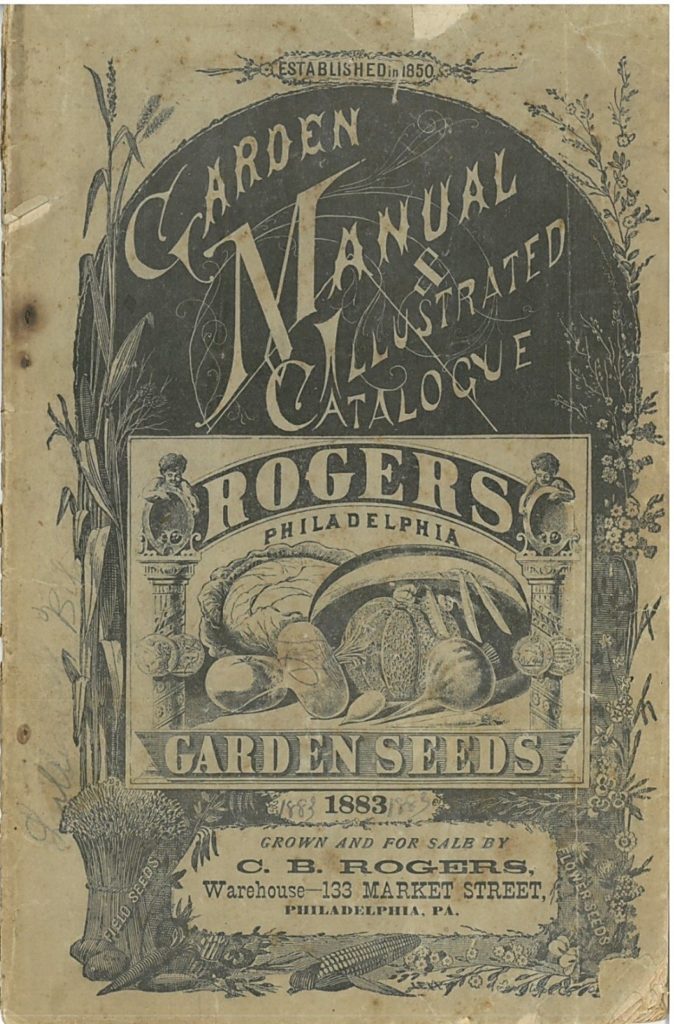 In the early years of the twentieth century, garden catalogs were still printed in black and white.  Descriptions of seeds and plants could be found inside, but the covers still found a way to invite the browser to flip through the pages.  The front cover of the Calla Greenhouses catalog below shows a child with a wheelbarrow full of veggies from the garden while the rear cover shows off a beautiful vine of Clematis Paniculata, also known as Sweet Autumn Clematis.  You can still see this vine blooming in late summer around Morgantown.  Originally it was a wild vine growing along roadsides, but hybrid versions are also sold through garden catalogs, like this one was, 116 years ago.
By 1896, Calla Greenhouses were producing catalogs with color on the covers.  You can browse the entire 1896 102 page Calla Greenhouses catalog at the Internet Archive: https://archive.org/stream/CAT31282429#page/n101/mode/2up.
The J.M. McCullough's Sons and Co. garden catalog for 1907 is printed with blue ink on the cover.  This catalog offers more than vegetables and flowers, they also sell bulbs for planting in the fall.  The cover even gives their customers an idea for planting tulips at home.  This circular design has been quartered and planted with blocks of tulips by color.
The Biodiversity Heritage Library has digitized a J.M. McCullough's Sons and Co. price list.  You can see it here: https://www.biodiversitylibrary.org/bibliography/116987#/summary.  You can also see a 1919 McCullough's catalog at the Internet Archive:  https://archive.org/stream/CAT31302703#page/n1/mode/2up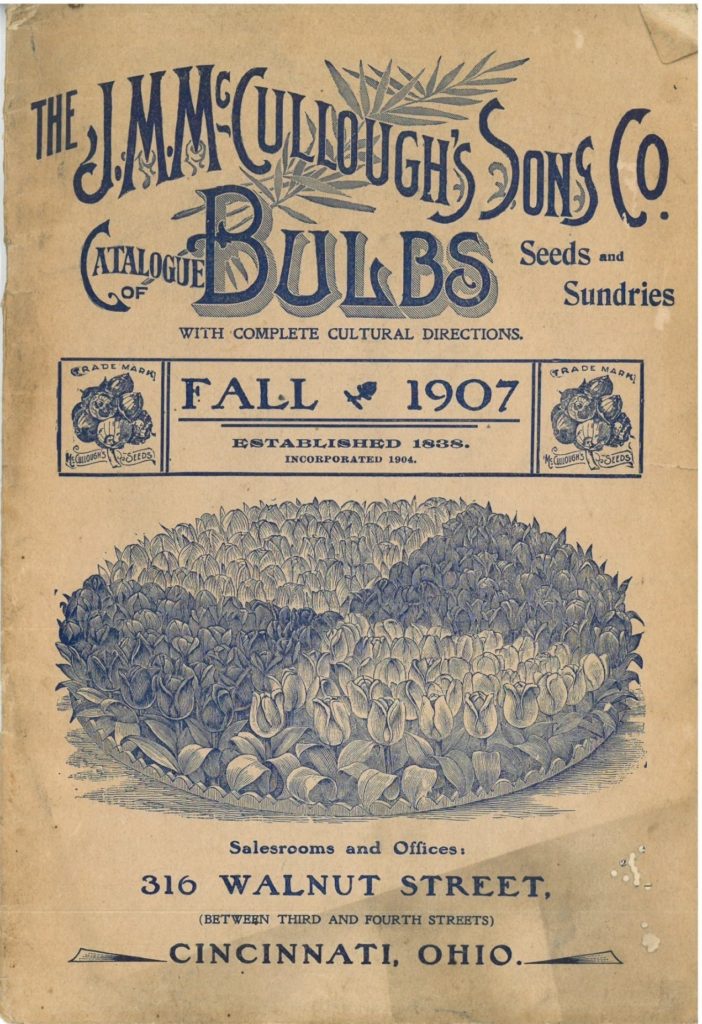 And what about that new iris bed we were thinking about?  The Child's catalog of 1925 makes iris look very appealing!  A variety of beautiful iris are printed on their catalog in full color.  If one of the iris on the cover catches your eye, the name of the iris is printed next to it.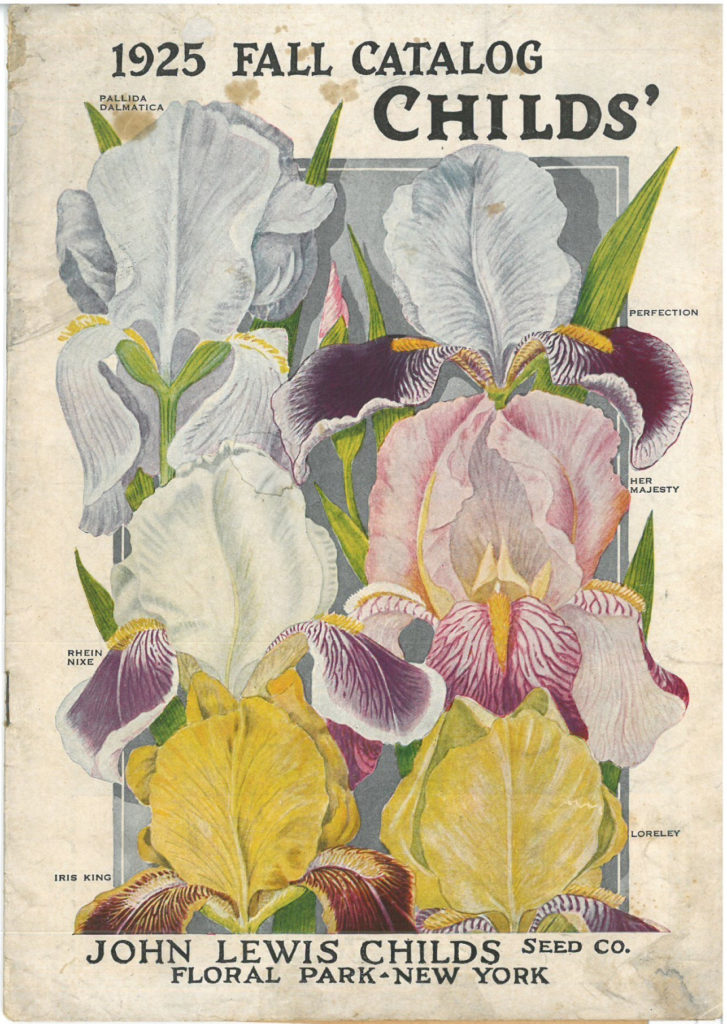 Proprietor John Lewis Childs, pictured below, is described as the founder of the first seed catalog business in the United States.  He died in 1921, just a few years before this catalog was published.  The business continued throughout the 1920s, but the Depression of the 1930s brought the business to a halt.
Now that you've seen the cover of this catalog, maybe you'd rather have gladiolus instead?  The covers of the 1932 A.E. Kunderd catalog from Goshen, Indiana, certainly shows a beautiful display of gladioli bordering a walkway to the front door of this charming house, and planted underneath a pergola covered in flowering vines in the back yard.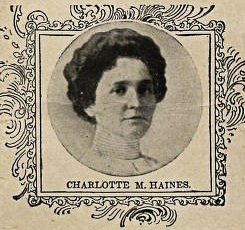 Of special note is the garden catalog pictured below, sent out by nursery owner Charlotte M. Haines, of Rockport, Illinois.  She makes it clear on the cover that she sells "Seeds Grown by a Woman."  Ms. Haines was in business before this catalog was issued, publishing earlier catalogs.  The New York Botanic Garden has digitized a 1910 catalog which includes the photo of Haines shown above :http://mertzdigital.nybg.org/cdm/ref/collection/p15121coll8/id/48540.  The Ethel Z. Bailey Horticultural Catalogue Collection also contains Charlotte M. Haines catalogs. The Charlotte M. Haines 1932 catalog in the WVU collection is quite beautiful, full of colorful images of flowers that patrons would look forward to growing in their home gardens.
If you'd like to look at these garden catalogs, and others from this collection, please stop by the West Virginia and Regional History Center.  We'll be glad to offer inspiration and gardening ideas to get you dreaming of spring!
Resources:
All catalog images: West Virginia and Regional History Center
Image of Charlotte M. Haines:  NYBG  http://mertzdigital.nybg.org/cdm/ref/collection/p15121coll8/id/48540
John Lewis Childs:  Wikipedia:  https://en.wikipedia.org/wiki/John_Lewis_Childs
Leave a Reply