Posted by Jane Metters LaBarbara.
March 12th, 2018
Blog Post by Jessica Eichlin, Photographs Manager and Preservationist
Driving on the back roads of West Virginia is one of my favorite parts of traveling to visit family in Virginia.  The natural scenery is gorgeous, I get to see incredible farm houses, and, as a bonus this last trip, I saw a Mail Pouch Tobacco sign on a barn.  I had heard of these rustic billboards before, but did not know much about the history behind them. 
Mail Pouch Tobacco was the most popular brand sold by the Bloch Brothers Tobacco Company of Wheeling, West Virginia.[i]  Originally opened as a dry goods store in 1879, the brothers, Aaron and Samuel, switched solely to tobacco products after an 1884 flood.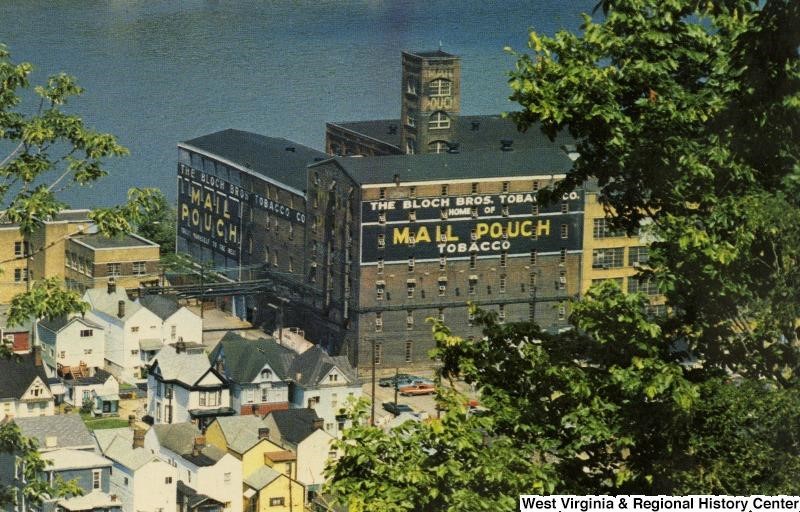 Undated photo postcard of the Bloch Brothers Tobacco Company in Wheeling, W. Va.  The building, although under different ownership, still produces tobacco products. http://wvhistoryonview.org/catalog/wvulibraries:44113
The Bloch Brothers Tobacco Company, advertising from their inception, began painting large advertisements on barns around 1925.[ii]  These now-iconic signs, in bold black, yellow, and white, still stand today as a testament to the power of the Mail Pouch Tobacco brand.  Painted barns, concentrated in the northeast, appeared in Illinois, Iowa, Kentucky, Maryland, Michigan, Ohio, Pennsylvania, New Jersey, New York, South Carolina, Tennessee, Wisconsin, West Virginia, Connecticut, and even California.[iii]  Independent crews, contracted by the tobacco company, traveled the roads of the region, paying barn owners a small fee to paint a sign on their barn.[iv]  The Mail Pouch sign would be painted on one or more sides, and in some cases, even the roof of the barn.  A number of the barns painted with the Mail Pouch advertisement have been painted over, destroyed, or simply abandoned and reclaimed by their environment.  Others are still standing today, such as that one I saw on the backroads of West Virginia.
The brand, however, was not limited to barns in their advertising efforts.  Advertisements appeared in newspapers, on billboards, in periodicals, and on in-store displays.  To further entice customers and potential customers, Mail Pouch offered promotional items which could be redeemed in exchange for vouchers, conveniently included with every purchase of Mail Pouch Tobacco.  The promotional items, listed in a small catalogue, were "valuable and useful articles for ladies and gentlemen," and included pipes, scarf pins, jewelry, sports equipment, suitcases, silverware, hot water bottles, and books.  The WVRHC has one of these catalogues in the Printed Ephemera Collection (P9033).
Even though Mail Pouch made its headquarters in Wheeling, W. Va., the WVRHC has surprisingly few collections of company material. If you have Mail Pouch materials that you would like to donate to us, please get in touch at 304-293-3536!
[i] Jourdan, Katherine M. "Bloch Brothers Tobacco Company." e-WV: The West Virginia Encyclopedia. 27 December 2010. Web. 23 March 2017.
[ii] Carl, Gerald P. "The Barns Remain but the Artists are Forgotten!" Mail Pouch Barnstormers. 1984. Web. 23 March 23, 2017.
[iii] "Mail Pouch Tobacco Barn," Wikipedia. 10 March 2017. Web. 23 March 2017.
[iv] Carl, Gerald P. "The Barns Remain but the Artists are Forgotten!" Mail Pouch Barnstormers. 1984. Web. 23 March 23, 2017.
3 Responses to '"CHEW MAIL POUCH TOBACCO, TREAT YOURSELF TO THE BEST"'
Betsy and Tommy Glendye Says:
March 12th, 2018 at 1:44 pm

Very good article Jessica! It was so good to see you on Sunday!

Jim Hart Says:
March 12th, 2018 at 3:36 pm

An advertisement on the building or billboard in Wheeling stated "Chew Mail Pouch and spit for Blochs.

Felecia A Kettlewell Says:
January 2nd, 2020 at 6:43 pm

I have original vouchers that are over a hundred years old, I would like to sell put not sure of the value good condition they were passed down to me thought the familyIhave been collected Mail Pouch items for over 30 years thanks
Leave a Reply