Posted by Jane Metters LaBarbara.
April 9th, 2018
Blog post by Stewart Plein, Rare Book Librarian
Last fall, Sally Deskins, Exhibits and Program Coordinator for the Downtown Campus Library, approached me, Stewart Plein, Rare Books curator, and Joe Galbreath, Associate Professor for Graphic Design at the WVU School of Art & Design, with a great idea – to reimagine the design of classic books and their cover art in a new way.  Sally was inspired by the Recovering the Classics website, a crowdsourced program that invites "illustrators, typographers, and designers of all stripes to create new covers for 100 of the greatest works in the public domain."
But Sally had a twist to this great idea – to recover classic Appalachian titles instead of literary classics.  Professor Galbreath and I were both excited about the project and began to make plans.  Professor Galbreath created an assignment for his Advanced Typography class, Art 328, to visit the WVU Rare Book Room and the West Virginia and Regional History Center's Reading Room collection to gather inspiration for their reimagined book cover designs.  
Two classes with a total of twenty-two students were involved in this assignment.  Each student was to create three new book cover designs from three books they discovered within the collections.  Each class met with me and Professor Galbreath in the Rare Book Room where we discussed elements of historic book cover design and the development of Appalachian stereotype on the cover of nineteenth and early twentieth century Appalachian local color literature.  After a brief discussion Professor Galbreath and I turned the students loose in the WVRHC Reading Room to explore the collections and find inspiration for their book cover redesigns.
Many of the books selected by the students are indeed Appalachian classics recognizable to many.  Here are a few of the transformations the students achieved and the books that inspired them. The original cover for Maurice Brooks,' The Appalachians, is on the top, the reimagined cover by student Andrea Contaldo is beneath.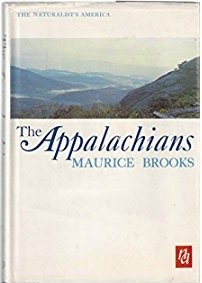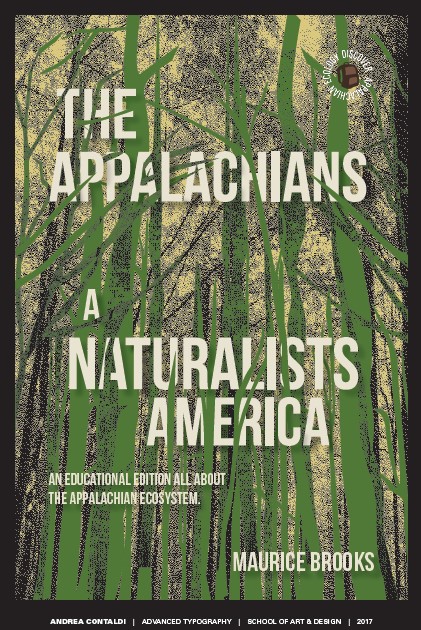 The original cover for 1863: Life in the Shenandoah Valley, compiled & written by Elsie Renalds Newcomer and Janet Renalds Ramsey is on the top, student Jeff Breeden's reimagined cover is beneath.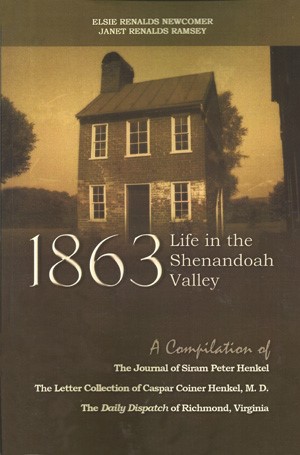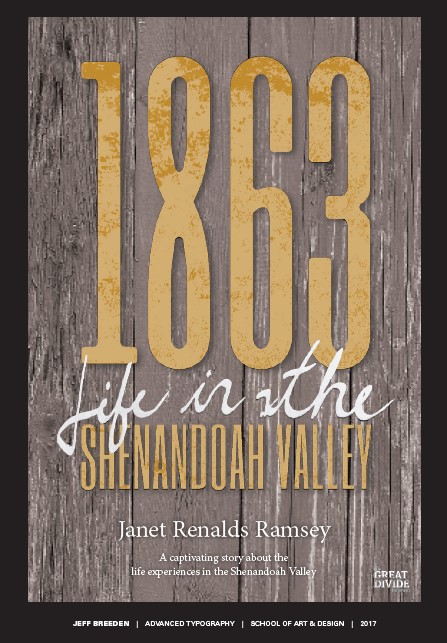 The original cover for Lon Savage's Thunder in the Mountains is on the top, student Reagan Douglas' reimagined cover is beneath.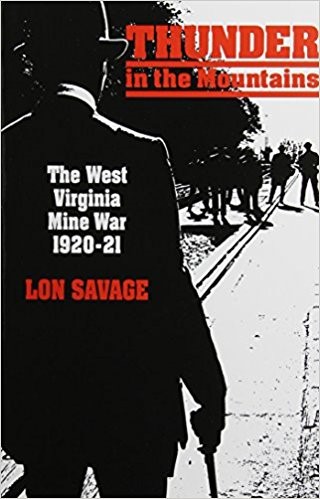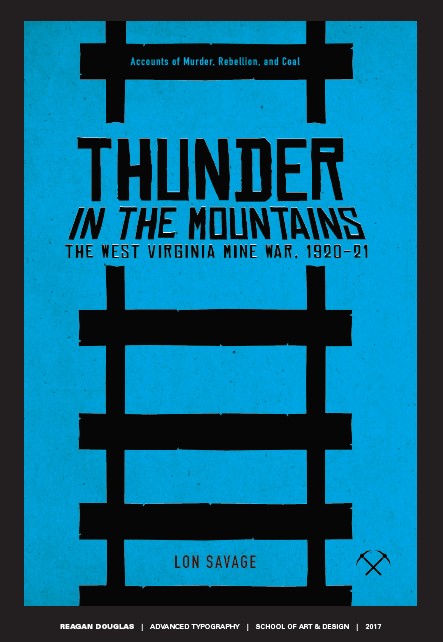 This exercise taught students new ways of looking at books and design and interpreting what they saw through the skills they developed in class, but it also brought a new approach to using the collections of WVU's West Virginia and Regional History Center.  We now have a new way to look at how we can use and interpret our collections; moving beyond the traditional textual perspective of research and scholarship, and into a graphic examination that reinterprets traditional images of Appalachia.
Professor Galbreath and I will be sharing our experience at a panel presentation at the Appalachian Studies Association conference next month.  I believe many educators, researchers and other interested persons will find this exercise of great value and it is my hope they will bring this experience back to their institutions and adopt this exercise for their own classes as a new approach to looking at Appalachia.
Please stop by the West Virginia and Regional History Center to see the exhibit.  You can also visit the digital exhibit, Contemporary Literary Appalachia: Reimagining Classic Appalachian Book Covers, a gallery of the book cover designs online: https://exhibits.lib.wvu.edu/gallery_bookart
Sources:
Image of original cover for Maurice Brooks,' The Appalachians:  https://www.amazon.com/Appalachians-Naturalists-America-Maurice-Brooks/dp/B0006BLWCI
Image of original cover for 1863: Life in the Shenandoah Valley, compiled & written by Elsie Renalds Newcomer and Janet Renalds Ramsey:  https://confederateshop.com/shop/books/1863-life-in-the-shenandoah-valley/
Image of original cover for Lon Savage's Thunder in the Mountains: The West Virginia Mine War 1920 – 21:  https://www.amazon.com/Thunder-Mountains-West-Virginia-1920-21/dp/0822954265/ref=sr_1_3?s=books&ie=UTF8&qid=1521581103&sr=1-3&keywords=thunder+in+the+mountains
Leave a Reply