Posted by Jane Metters LaBarbara.
July 20th, 2018
Blog post by Stewart Plein, Assistant Curator for WV Books & Printed Resources & Rare Book Librarian
It's been a long time since I spent the afternoon baking.  I've never been fond of making cookies but I enjoyed making pies.  Both activities require the use of a rolling pin.  The only pin I had was the traditional household rolling pin, a cylinder of wood slipped onto a metal bar with two handles, one on each end, allowing it to roll as I pressed out the pie dough. 
The traditional rolling pin was the only one I grew up using.  I didn't know there were other types of rolling pins for specific purposes until I was an adult.  The Lucinda Ebersole collection of rolling pins changed all that.  I have now had an opportunity to explore the history and type of different kinds of rolling pins and their purposes.  It almost makes me want to try baking again.
These rolling pins are part of a new book collection the West Virginia University Libraries recently received from the estate of Lucinda Ebersole, a passionate cook who pursued a career in books, as a writer, a co-owner of Atticus Books in Washington D.C., and co-editor of Gargoyle Magazine, among other titles, such as the Mondo series including Barbie and James Dean.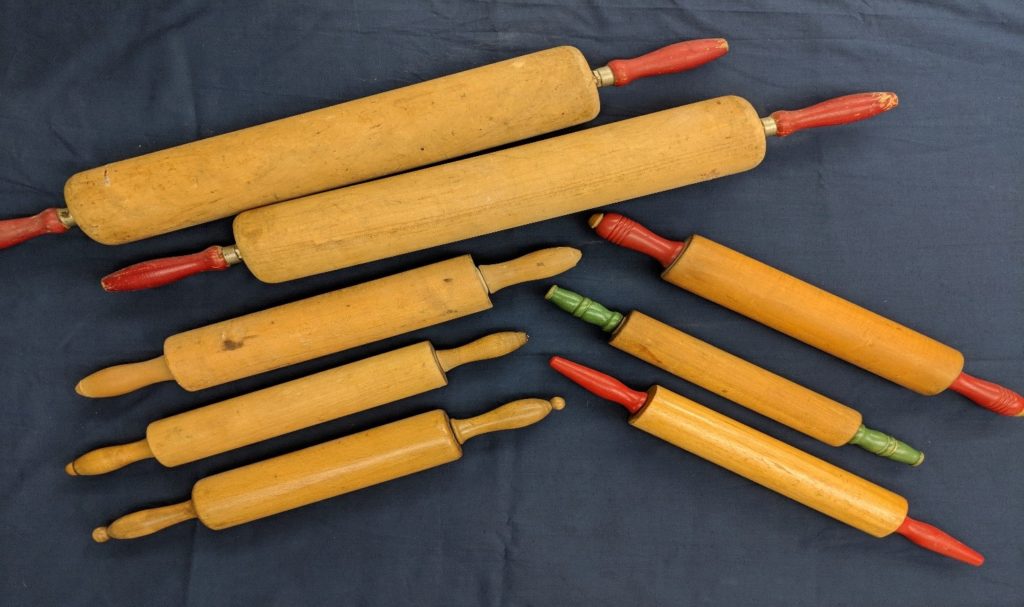 A recent visit to her home in Shirley, West Virginia, yielded many of her cooking implements that correspond to her extensive cookbook collection.  A future blog post will discuss her cookbook collection, but today, we'll take a peek at her collection of rolling pins, a few of them arriving with a light dusting of flour.
Traditional rolling pins, like the ones pictured above, were usually made out of maple.  They come in a variety of sizes with a variety of handle styles.  This vintage rolling pin collection features painted and plain handles.  Capable of handling a range of uses, the traditional rolling pin rolled out the dough for everything from cookies to biscuits, pies to pizza.
Rolling pins designed for rolling out dough for pasta come in different shapes depending on the type of pasta to be made.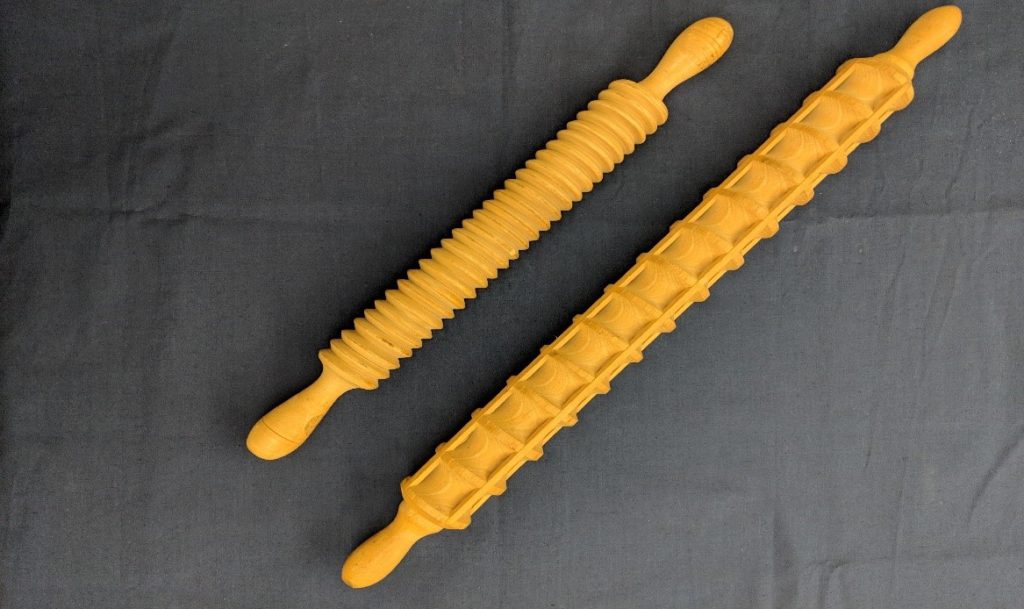 The top pin is designed for rolling out noodles.  The spacing of the ridges identifies which type of pasta will be made.  Wide ridges make Pappardelle, a wide, flat noodle.  There are 28 ridges on this roller.  Its thinner ridges were probably for rolling out spaghetti noodles.  Below, a photo of a noodle pin and the impressions it makes on the dough.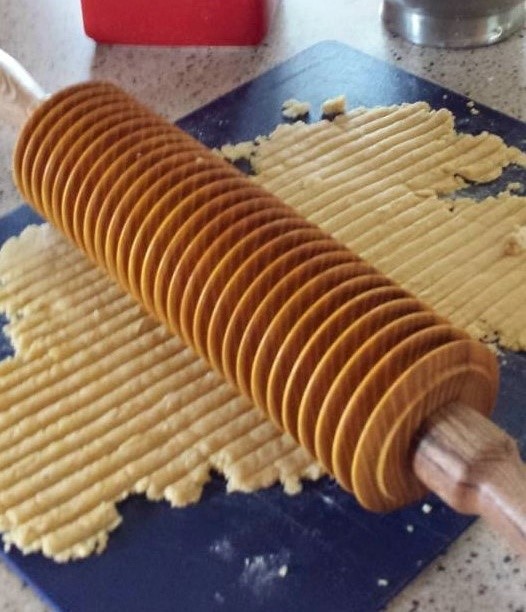 The intricately cut pin pictured below is a ravioli rolling pin.  Made from beech wood, it's designed to cut and seal ravioli from a sheet of pasta.  It is lots of fun to watch this pin in action as it rolls cheese stuffed sheets of pasta into ravioli: https://imgur.com/gallery/Z7dtA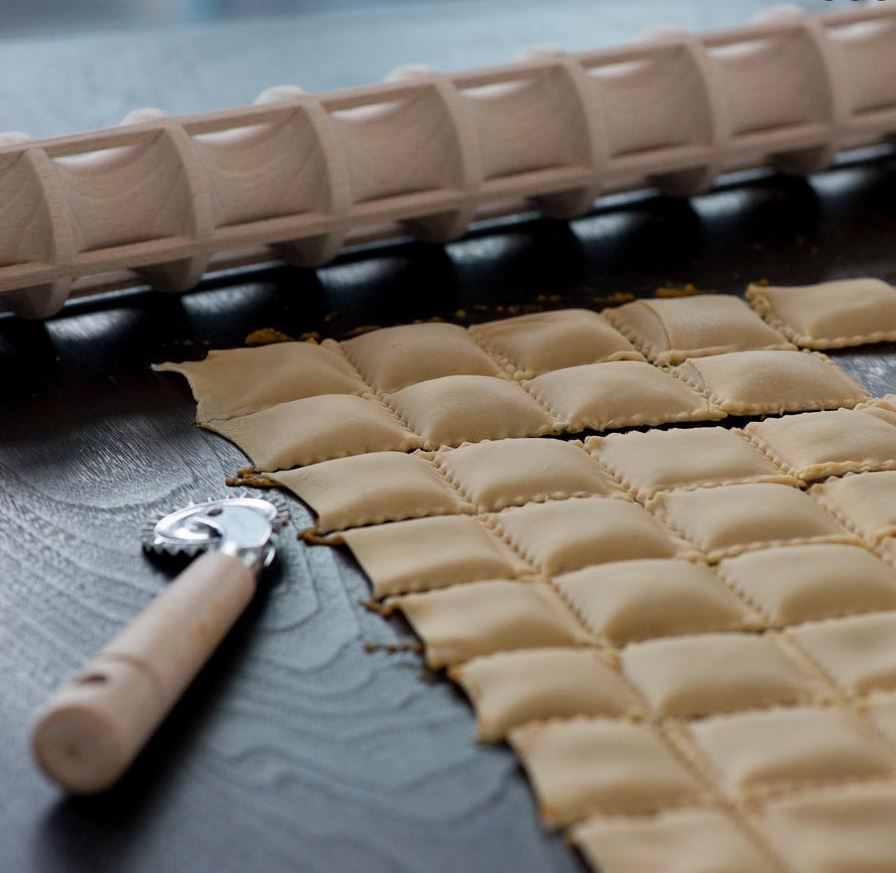 French rolling pins are handleless. Bakers use their palms to roll the pin in the opposite position, away from the baker.  Instead of placing your hands as you would with handles, bakers rely on a position closer to the center to roll these pins.  These handleless, often tapered pins, are used for soft bread and pie doughs.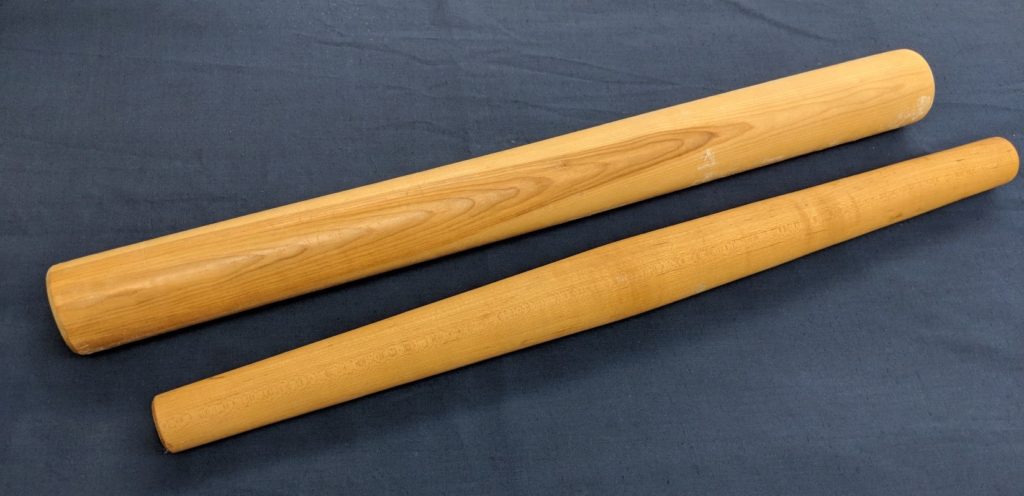 The two pins below are for different types of bread. The top pin in the photo is called the Tutove, a French Puff Pastry rolling pin.  This is a large pin with long vertical ridges that run the length of the cylinder. These ridges allow sheets of butter to be incorporated into the puff pastry without damaging it.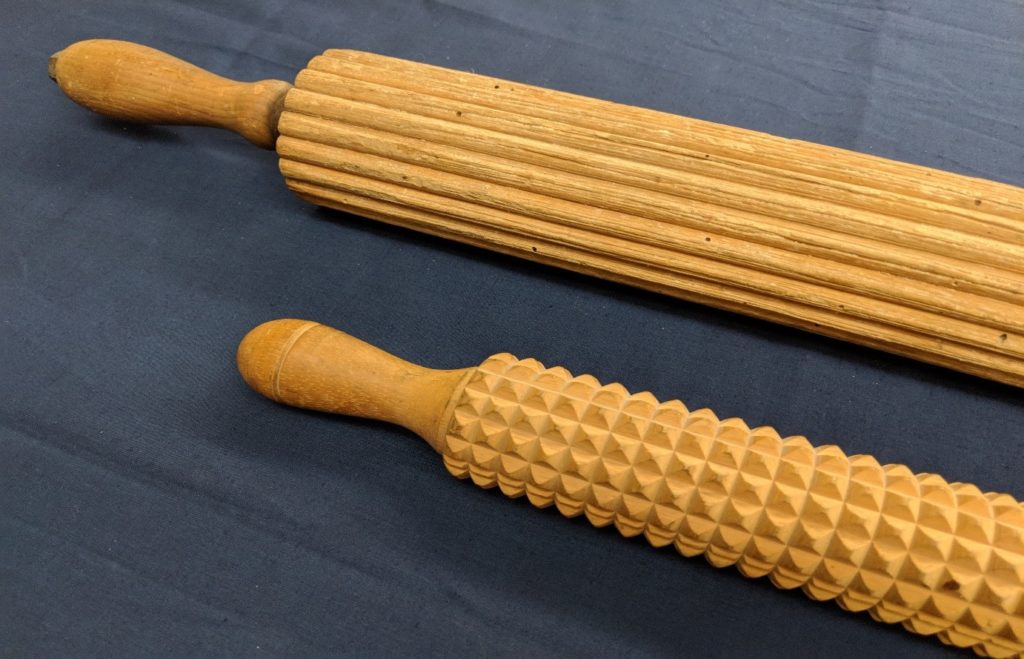 The lower, knobby pin is called the Linden Sweden Deep Notched rolling pin.  Made from beech wood, this pin was developed in Sweden.  The diamond pattern was designed to make Swedish hardtack, a type of cracker that, after baking, can last for years.  The pin scores the rye or oat dough used for making the hardtack, or knäckebröds, keeping the dough from rising.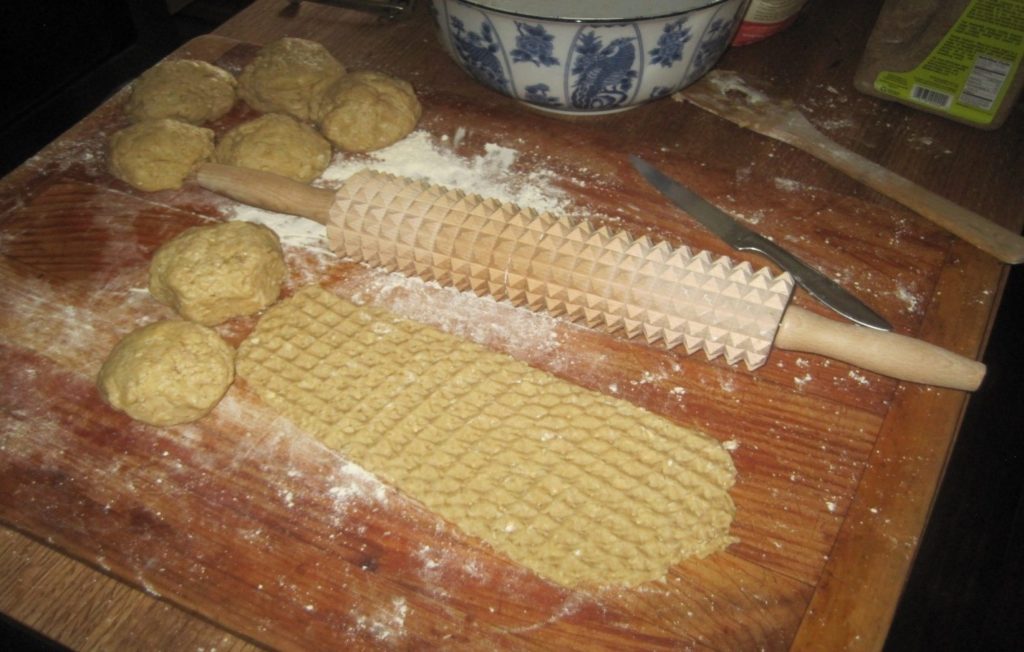 The laser cut pin below was made for Lucinda Ebersole and the words, "Made by Lucinda," are cut into the cylinder.  This type of pin is mostly used for making sugar cookies, but it was also a pin worthy of display.  Imagine how nice it would be to receive a gift of sugar cookies stamped with the name of the baker!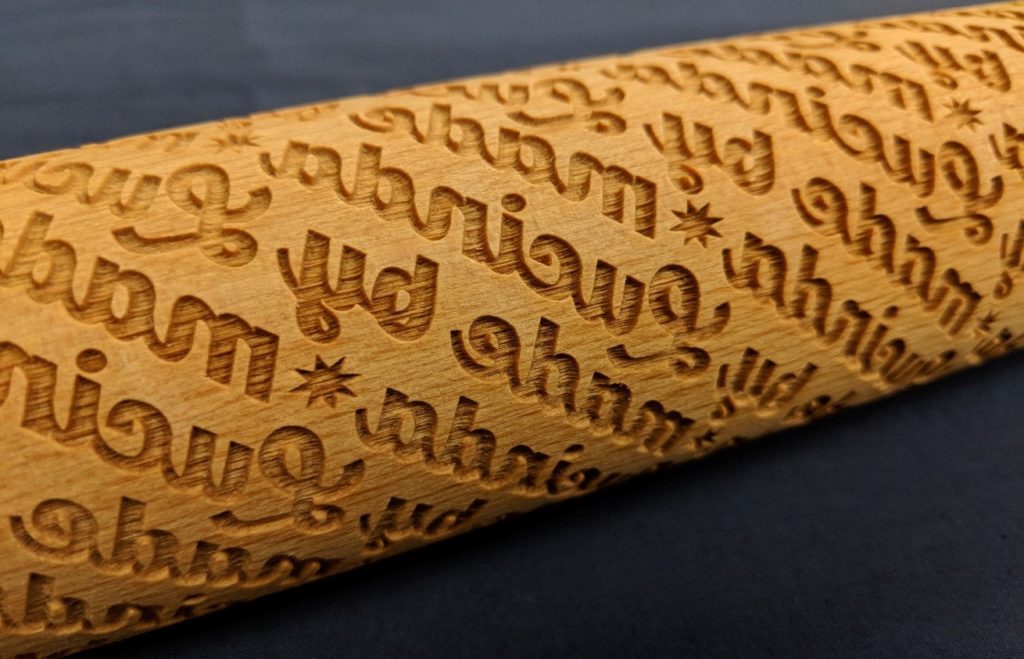 You can see these rolling pins, and other kitchen implements in the Lucinda Ebersole Collection, at the West Virginia and Regional History Center. Stop on by and we'll roll them out for you!  Sorry, cookies not included.
Resources:
All images of rolling pins, unless identified otherwise, are by Jessica Eichlin, WVRHC photographs manager.
The Tutove Rolling Pin:  Vermont Rolling Pins:  https://vermontrollingpins.com/shop/tutove_rolling_pin.shtml
Linden Swedish Deep Notched rolling pin:  https://www.lindensweden.com/html/rolling_pin_-_notched_.html
Linden Swedish Deep Notched rolling pin image with hardtack:  Original Homesteading blog:  https://originalhomesteading.com/learn-to-make-hard-tack/
Personalized laser cut rolling pin information:  Joy the Baker blog: Baking 101.  Which rolling Pin is Best?  http://joythebaker.com/2015/12/which-rolling-pin-is-best/
Noodle cutter rolling pin image:  Etsy: TurnerJoes: https://www.etsy.com/listing/254246736/noodle-cutter-rolling-pin?ref=shop_home_feat_1
Beechwood Ravioli Rolling Pin:  https://www.souschef.co.uk/ravioli-rolling-pin.html
French rolling pins:  https://en.wikipedia.org/wiki/Rolling_pin
One Response to 'Rolling Pins! The Lucinda Ebersole Rolling Pin Collection'
Beth Kelley Says:
May 28th, 2021 at 4:54 pm

Very interesting article. Thanks!
Two antique rolling pins came into our second hand shop here in Ann Arbor, MI. We used your article for research and included it in our social media postings for advertising.
Leave a Reply