Posted by Jane Metters LaBarbara.
September 24th, 2018
Blog post by Jane Metters LaBarbara, Assistant Curator, WVRHC.
Banned Books Week, the last week in September, is an annual event celebrating the freedom to read and to seek and express ideas (even unpopular ones), spotlighting censorship and censored authors. It dates back to 1982, and is supported by a national coalition. The Libraries celebrate this year's Banned Books Week with a display in the Downtown Campus Library entrance and a historical discussion on banned books presented by Law Library Special Collections Librarian & Archivist Mark Podvia and the ACLU of the WVU College of Law (Wednesday, September 26, 12-1 PM in Room 141).
While the West Virginia & Regional History Center seems like a quiet place to do historical research, our book collection is not without controversy. In this post, I'm going to highlight a few books that have made waves here.
The first item on my list of "controversial" books in the Center doesn't fall into the categories of controversy that envelop a lot of other banned books — it doesn't dive deeply into hot-button social issues, and it doesn't contain objectionable language (that I know of). A history of All American Wars in which Taylor County, West Virginia, and Her Men Had a Part From the Revolution to World War II From the Files of Charles Brinkman; Hon. N.F. Kendall; The War Diary of Fabricus [Fabricius] A. Cather and the War Department Record of West Virginia Kindly Loaned by Howard B. Thayer of Grafton; Together with the Events and Happenings in and about Grafton and the County, by Charles Brinkman, was written in 1946 and published in 1988. Aside from suffering from an extremely long title, the book includes factual inaccuracies, spotted by a colleague who is familiar with the diaries of Fabricius A. Cather, which we have at the Center in A&M 3633. We also have two collections of papers belonging to Charles Brinkman, who passed away in 1957. He was a prominent local historian and has also written on the history of Grafton and of Taylor County in general. Unfortunately, I am not sure how early the factual inaccuracies first came to light, or how widely they have been discussed. My concern about keeping this book on our shelves is that future researches may pick it up and use it as a source without knowing that it is not wholly accurate.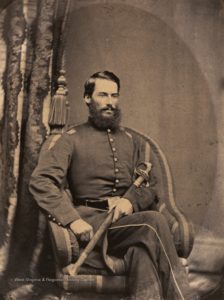 Our Rare Book Librarian told me about one of the books in our collection was once in the unique position of being taken back by the publisher. In 1996, Cheryl Ware's children's book, Sea Monkey Summer, was published by Orchard Books. However, the author said in an interview in The Lion and the Unicorn, "After it was beginning to enjoy some measure of success, it was pulled from the shelves because of the title's copyright infringement." The book stopped being sold under the old title and copies were apparently recalled by the publisher; however, copies of Sea Monkey Summer can still be found at hundreds of libraries. The book came out again the following year with the title Flea Circus Summer and cover art altered to reflect the sea monkey to flea switch.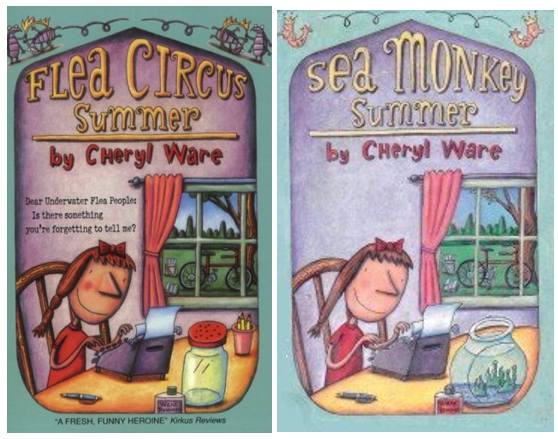 Depending on how you look at it, the opposite of censorship can be seen as protection.  That is what Banned Books Week helps us do—raise awareness about continued attempts at censorship and protect people's right to read, even if they are reading things that someone else doesn't like. The next two books fall into that category—for some reason, someone didn't like them and took steps to prevent others from reading them. Because of that, the Libraries needed to protect them, so they ended up in the Rare Book Room.
In the Rare Book Room, you can find a copy of Blaze Starr; My Life (1974), the memoir of Blaze Starr, a West Virginia born stripper and burlesque dancer who rose to national fame. I was told that a copy of her book was once on the WVRHC shelves but was found defaced by a staff member. A replacement was procured, and one copy now lives in the Rare Book Room for safekeeping.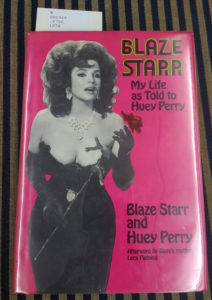 Another provocative book that had to be moved to the Rare Book Room is Monkey on a Stick: Murder, Madness, and the Hare Krishnas (1988), which I was told kept being taken off of the shelves before a copy was finally moved to the Rare Book Room. The book's editorial review from Publishers Weekly sets up the controversy pretty well: "This shocking expose by the journalist coauthors will disabuse readers that the Hare Krishna sect is exclusively a group of religious devotees."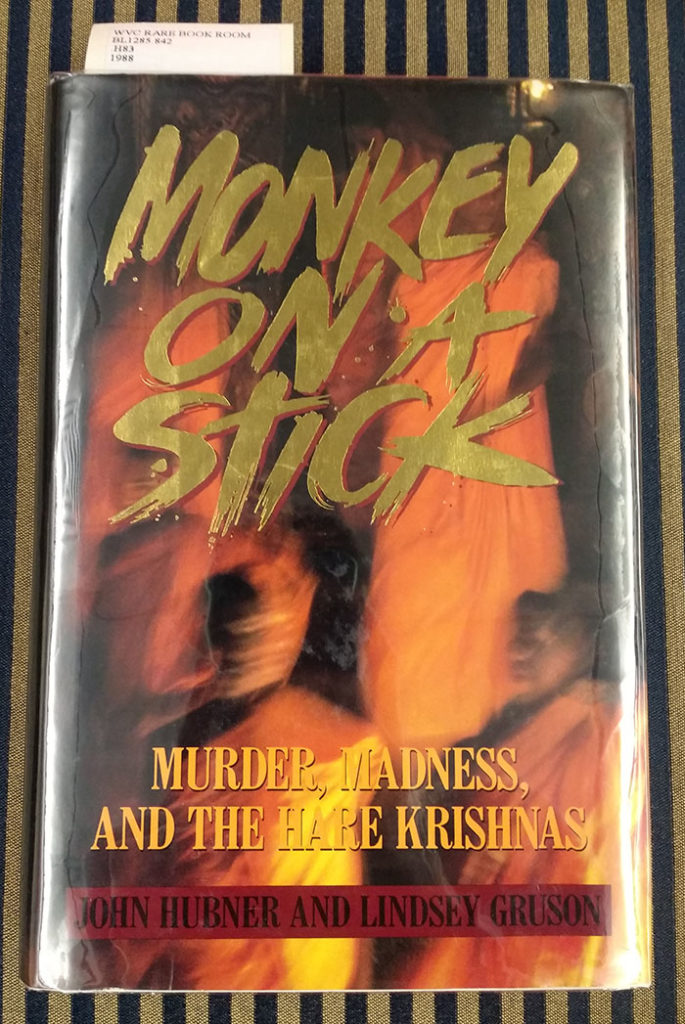 At the end of the day, the Center is lucky not to be the focal point of a book banning dispute, allowing our researchers to seek knowledge in peace.  We will continue to do our part to preserve the history of our state, whether or not the topic is controversial.
Resource consulted:
Elza, Stacey & Ware, Cheryl. "Warm Feet: An Interview with Cheryl Ware." The Lion and the Unicorn, vol. 31 no. 1, 2007, pp. 44-47. Project MUSE, doi:10.1353/uni.2007.0004
Leave a Reply