Posted by Jane Metters LaBarbara.
October 5th, 2018
Blog post by Lori Hostuttler, Assistant Director, WVRHC.
One hundred years ago, two major events played out in West Virginia and across the globe.  In the fall of 1918, the Spanish Flu epidemic reached the United States. The name "Spanish Flu" is a misnomer and it is unknown exactly where it started.  World War I had raged since 1914.  The United States entered the war in 1917.  On November 11, 1918, an armistice was signed to signify the peacemaking process that would end World War I.  The following items held in the archives at the West Virginia & Regional History Center document both events.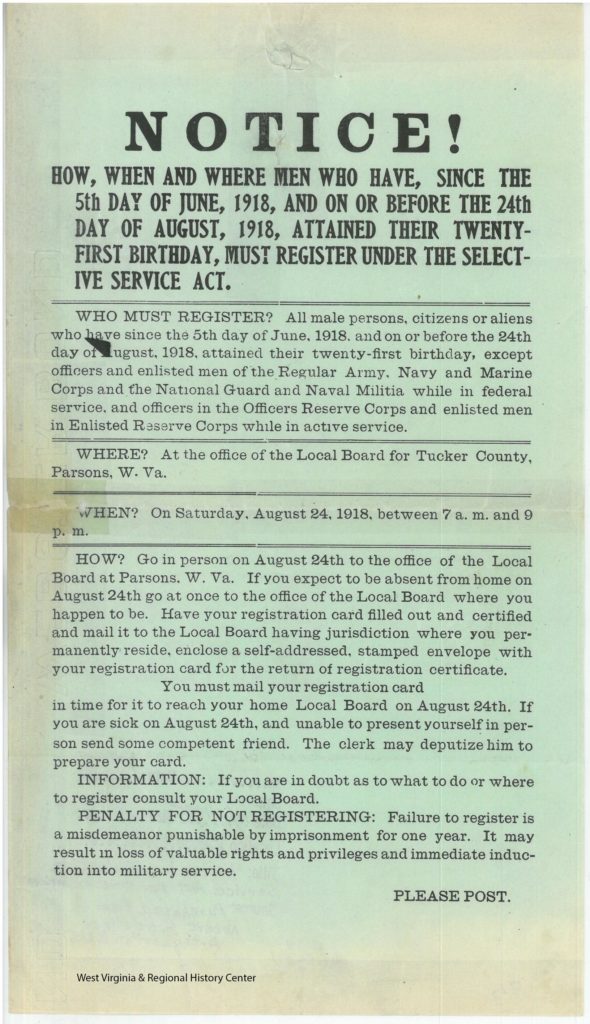 Notice!  Parsons, Tucker County, W. Va., 1918. This broadside calls for all men who were twenty-one years old to register under the Selective Service Act.  From the WVRHC Broadside Collection.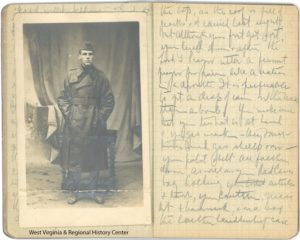 Portrait and Diary of Professor J. Clark Easton, ca. 1918.  Professor Easton was a popular History professor at WVU from 1938-1963. He began his army career as a sergeant in the 77th Division during World War I. The 77th Division saw its share of fighting on the Western Front, including the Meuse-Argonne Offensive in August, 1918. By September, Easton was promoted to Second Lieutenant and sent to Intelligence School to be trained as an interpreter. After the Armistice of November 11, 1918, Clark Easton was assigned to General Pershing's staff during the 1919 Peace Conference.  From A&M 3593, the J. Clark Easton, Soldier Collection.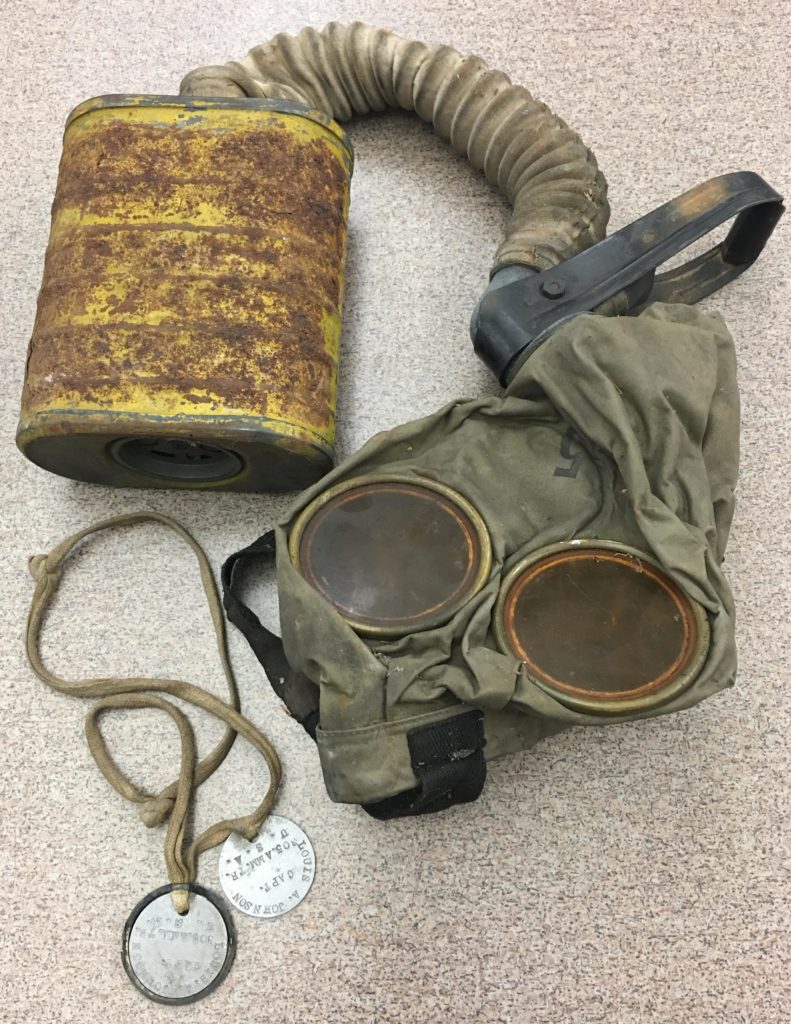 Gas Mask and Tags belonging to Louis A. Johnson, ca. 1918.  Johnson, co-founder of the Steptoe & Johnson law firm, saw action in France and Germany during World War I.  After the war, Johnson was a founder of the American Legion and served as the organization's national president.  He went on to serve as the Assistant Secretary of War under President Franklin D. Roosevelt and Secretary of Defense under Harry Truman.  From A&M 4311, the Louis A. Johnson Papers.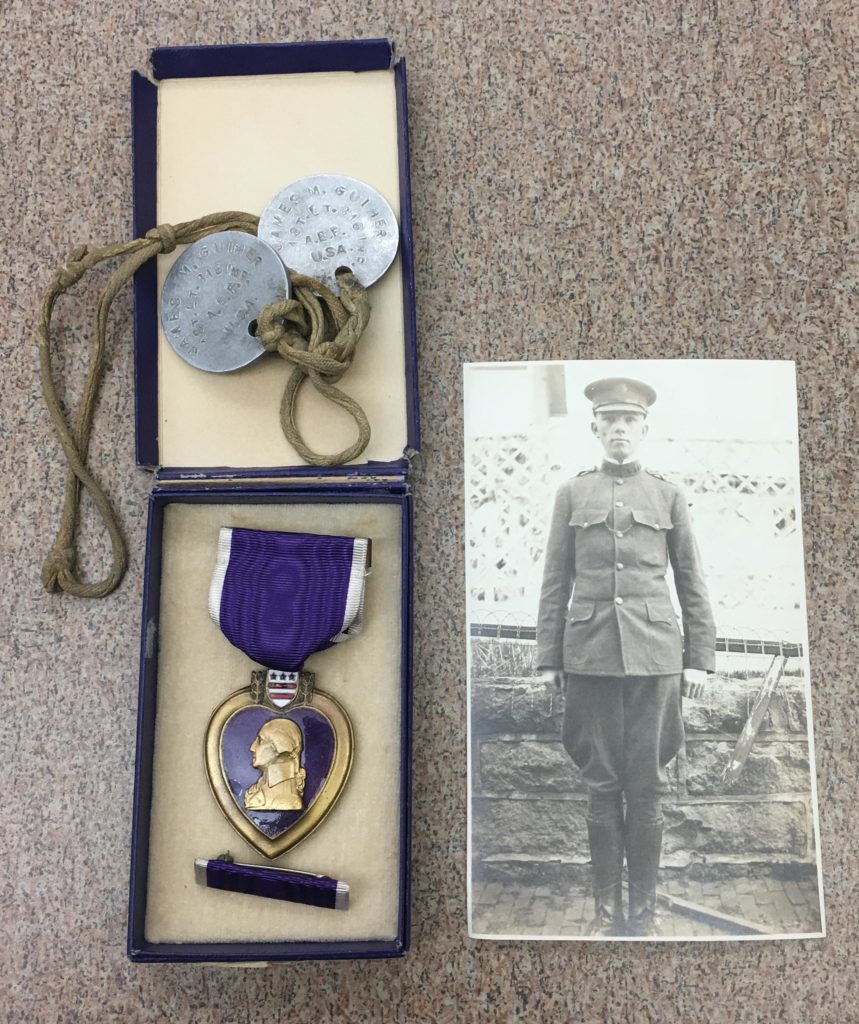 Photograph, Purple Heart, and Tags belonging to James Guiher Sr., ca. 1918. James Guiher Sr. was a prominent lawyer in the Steptoe & Johnson law firm in Clarksburg, W. Va.  He served as a first lieutenant in the 316th Infantry, 79th Division, and was seriously wounded in action near Verdun, France. Items from A&M 3464, the James M. Guiher Sr. Papers.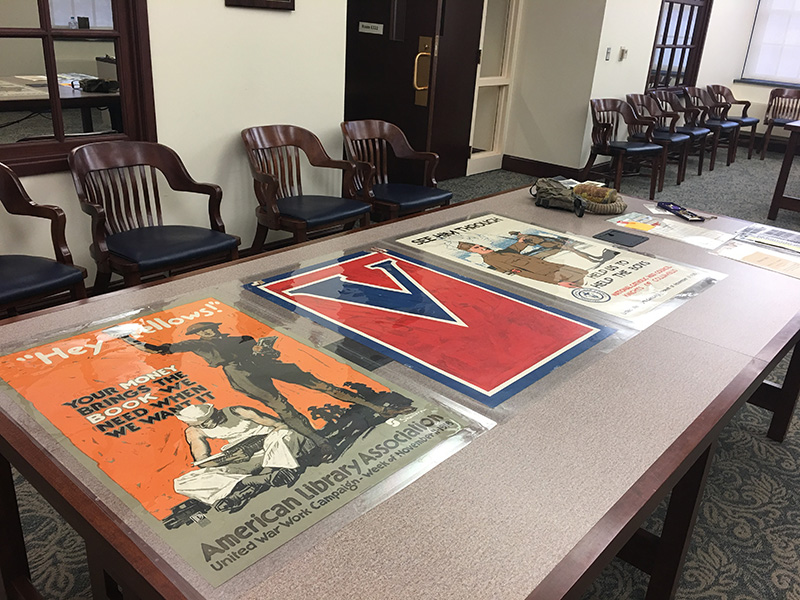 United War Work Campaign Posters, 1918.  Posters advertising the United War Work Campaign held the week of November 11, 1918.  From A&M 1957, World War I Posters collection.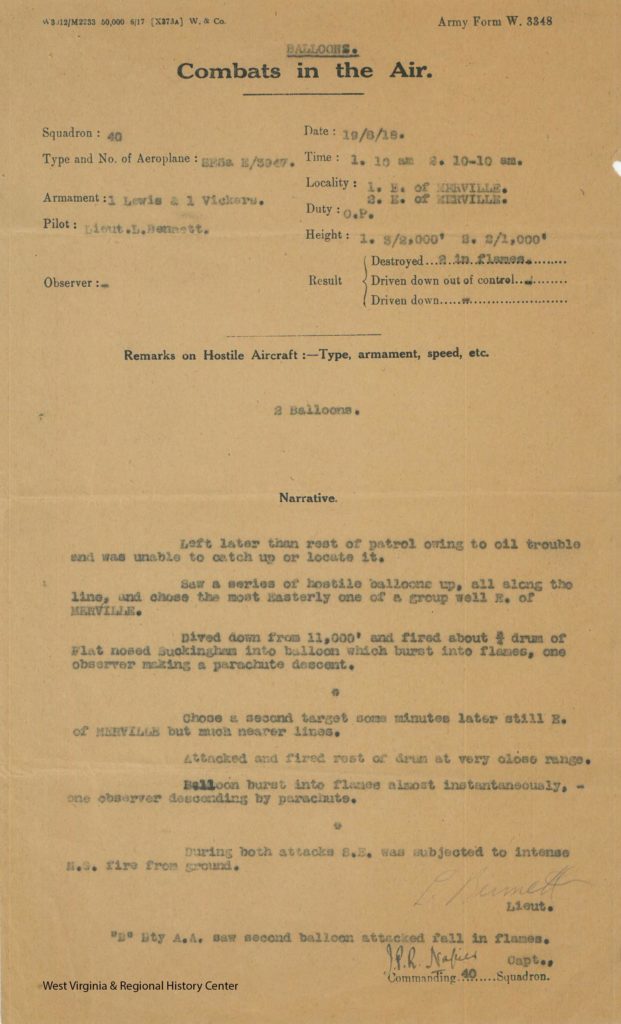 Combats in the Air Report, August, 19, 1918.  In this report for the British Royal Air Force, pilot Lt. Louis Bennett describes his actions in combat against two hostile German balloons in the air near Merville, France.  Bennett, from Weston, W.Va., was a founder of the West Virginia Flying Corps and entered the British army to fight in the flying corps.  He was killed by enemy fire on August 24 just a few days after this report was made. From A&M 1590, Sallie Bennett Papers Regarding World War I Flying Ace Louis Bennett, Jr.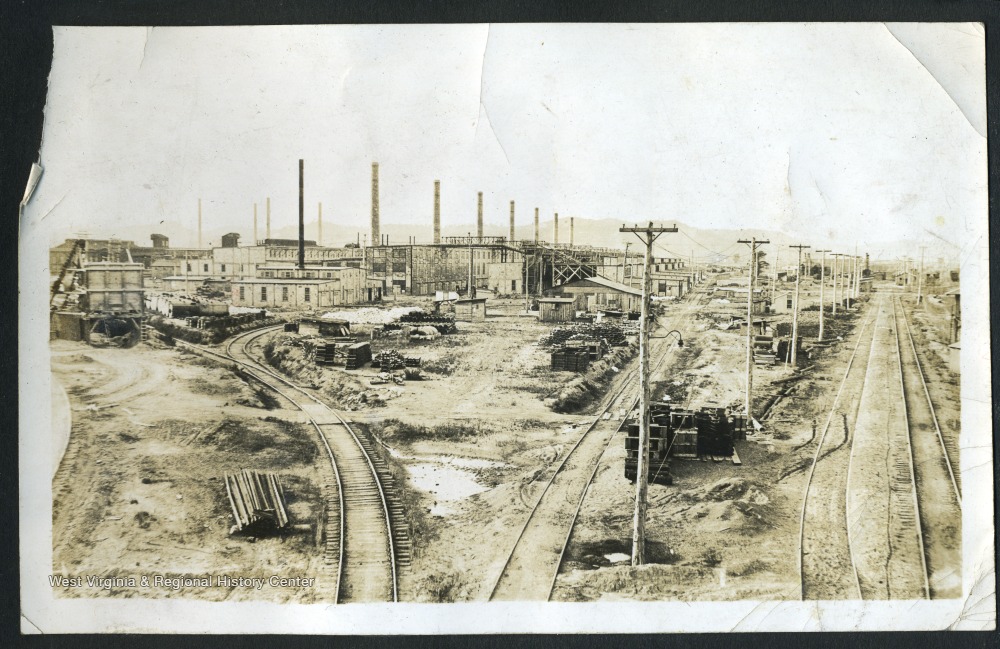 Photograph of Factories and Railroad at Nitro, W. Va., 1918-1919. During World War I, the town of Nitro was constructed to manufacture munitions to support the war effort.  The town included a powder plant and chemical facilities as well as housing for workers, a civic center, and hospital. The war ended before the town was completed.  In 1919, the plant was sold to private industry.  From A&M 4122, Nitro, West Virginia, Photo Album.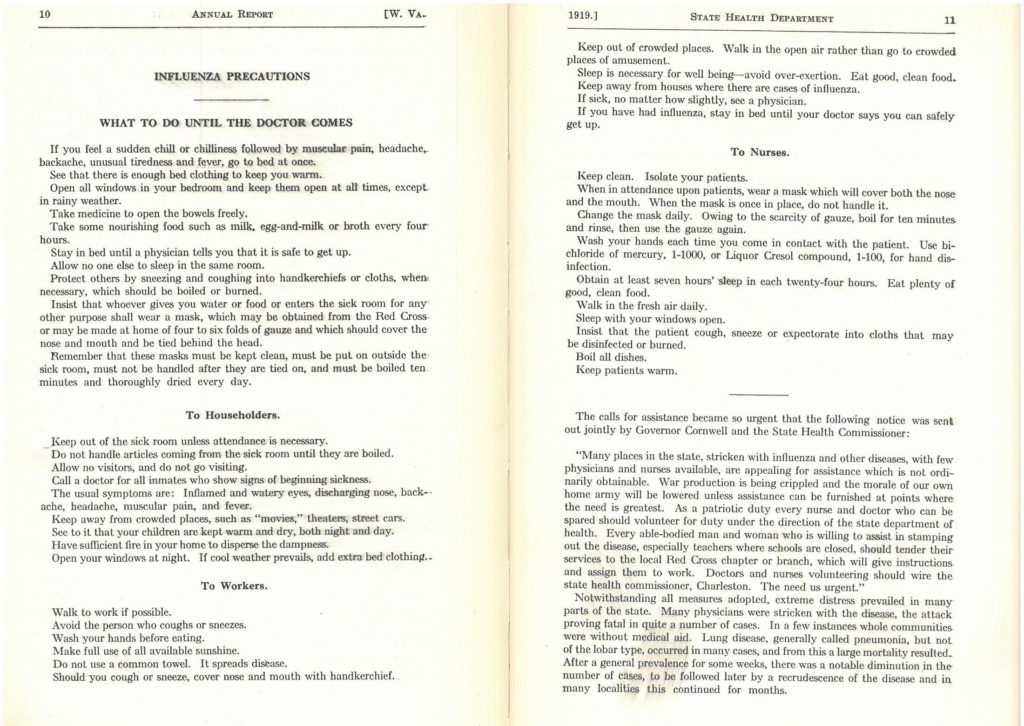 Influenza Precautions in the West Virginia State Health Department Annual Report, 1918-1919.  The State Health Department provided advice to householders, workers, and nurses when confronted with the flu.  From the WVRHC West Virginia Book Collection, 614.09754 W521r.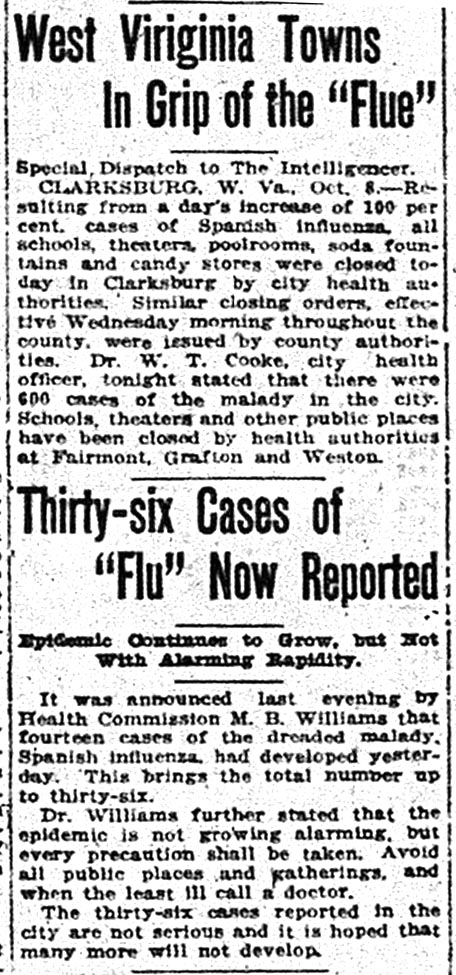 "West Virginia Towns in Grip of the 'Flue'" and "Thirty-six cases of 'Flu' Now Reported," Wheeling Intelligencer, October 9, 1918.  The Wheeling Intelligencer provided an update on the flu in Clarksburg where cases had increased by 100 percent.  In Wheeling, it was noted that the cases were not severe and it was hoped it would not spread further. From the WVRHC Newspaper Collection on microfilm.
Lucy Shuttlesworth Diary Entry, October, 5, 1918.  WVU student Lucy Shuttlesworth describes the Spanish Flu outbreak in Morgantown noting that the flu was spreading "like mad" and President Trotter closed the school until October 14 that year. From A&M 4024, Lucy Shuttlesworth Dunlap, Diary and Scrapbook.

"Clyde Shriver First Victim of Epidemic" and "Forty-Nine New Cases Reported" Morgantown New Dominion, October 9, 1918. The New Dominion reported on the influenza death of well-known glassworker, Clyde Shriver.  The paper also reported that there were an estimated 300 cases in Morgantown and that conditions were improving.  From the WVRHC Newspaper Collection on microfilm.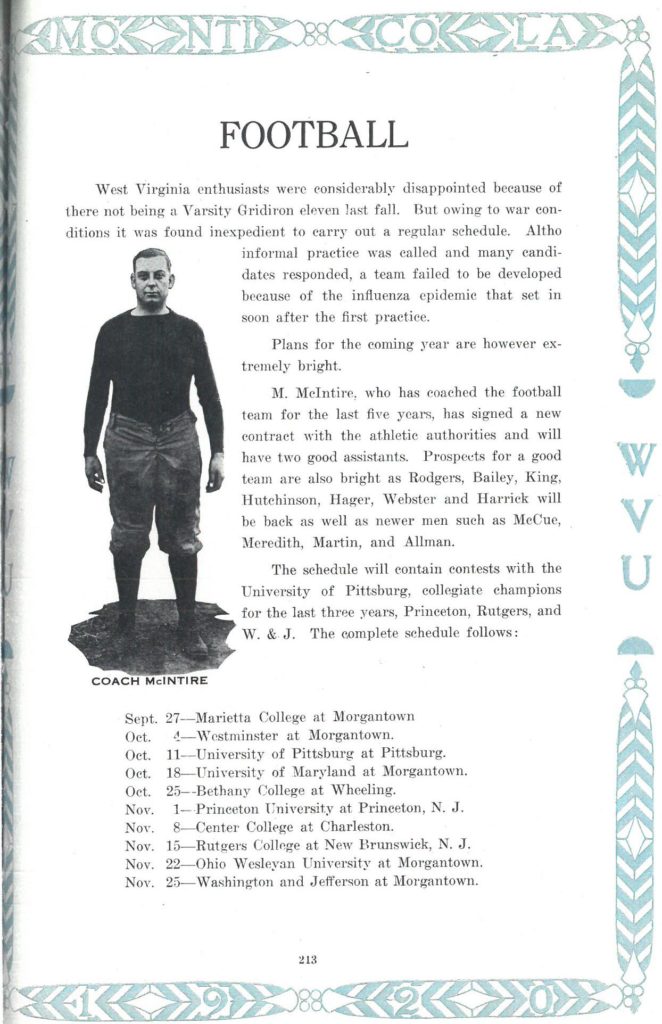 Football, WVU Monticola Yearbook, 1920.  The 1918 football season was canceled due to the war and the outbreak of the Spanish Flu, as explained in the 1920 yearbook. (The publication of the yearbooks lagged behind the academic years.)  From the WVRHC WV Books collection, 378.754 W52m.  The Monticola yearbooks are also available online through archive.org.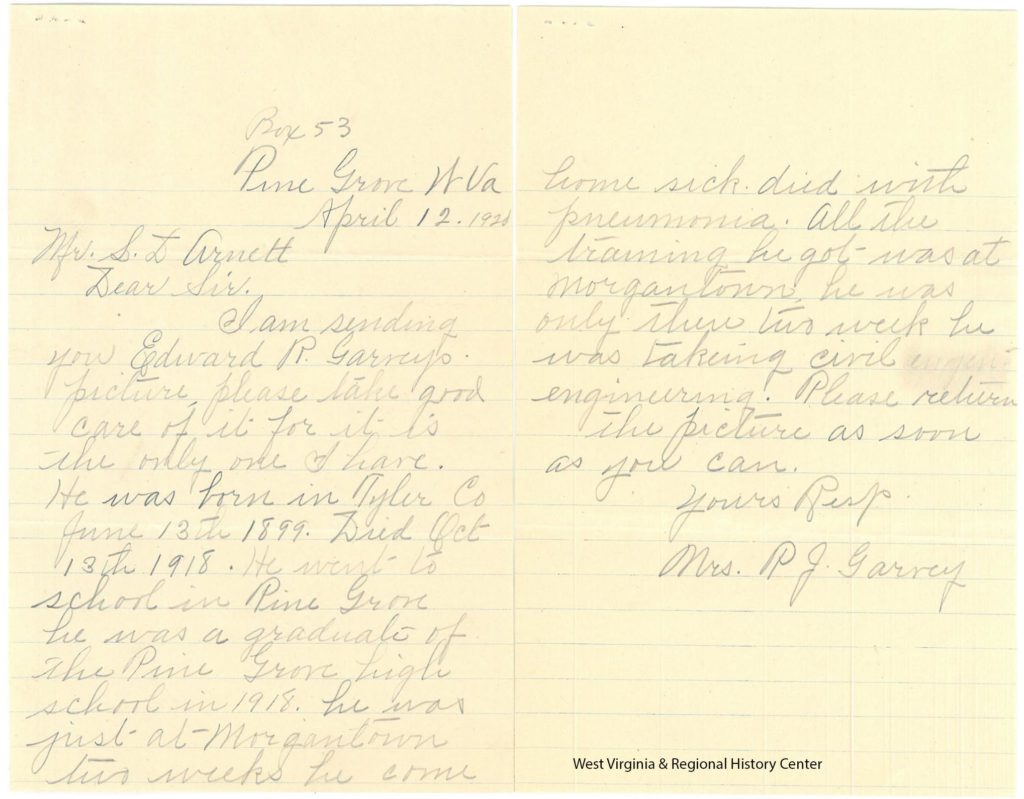 Letter from Mrs. P.J. Garvey, Pine Grove, W. Va. April 12, 1920.  Mrs. Garvey sent a photograph of her son to be used in a memorial service at WVU.  Freshman civil engineering student Edward Garvey succumbed to pneumonia, a complication from the influenza epidemic, on October 13, 1918.  Garvey had just graduated from Pine Grove High School in Wetzel County that year. He was only on campus two weeks before he went home sick and passed away.  From A&M 0747, L.D. Arnett, Collector, Papers Regarding WVU Students in World War I collection.
Leave a Reply