Posted by Jane Metters LaBarbara.
December 17th, 2018
Blog post by Jane Metters LaBarbara, Assistant Curator, WVRHC.
Family papers are a relatively common sight in archives like the WVRHC. We collect them because they tell the stories of the people of our state and region, and because they can be great genealogical resources. The WVRHC has hundreds of collections of family papers, ranging from collections with just a few items to collections like the Siler Family Papers, which contain over 150 boxes of material. I'm currently processing the Orum, Eskey, and McCaffery Family Papers, detailing intersecting family lines from Sherrard, WV, and I wanted to share a few items from the collection that I found particularly special.
Mitten, 1880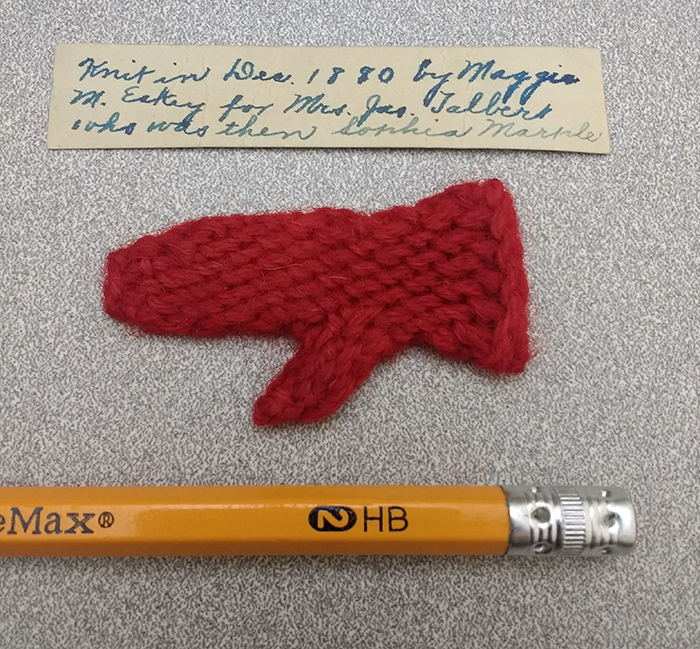 It is common for family papers to include photos, letters,genealogies, sometimes even deeds and other legal documents, but this is the first time I have encountered a tiny mitten as part of a collection. This mitten was knitted by Margaret (Maggie) M. Eskey (1853-1884) in December 1880,when she would have been in her late 20s. According to the included note, she gave it to a friend, who then returned it to the family in 1916. I like to imagine it was a holiday gift meant to be worn by a doll.
Meat Curing Recipe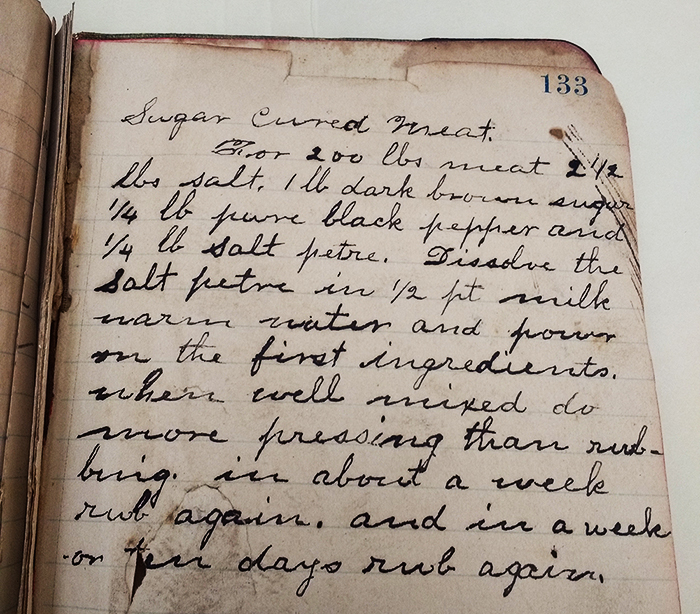 The Orum family had a farm in Sherrard, WV, and Joseph Orum's cured meat recipe, seen here, has been preserved by the family. According to a note, "Grandfather Orum's cured meat was famed all over the countryside." The recipe cures 200 lbs. of meat.
WWI Soldier's Letter
Ellsworth Everett Eskey (1896-1963) wrote to his father on Nov. 24, 1918. According to the letter, this day was designated for writing letters to family, and censorship had been lifted, allowing Ellsworth to write a lot of details in this letter about where he had been and what he had been doing.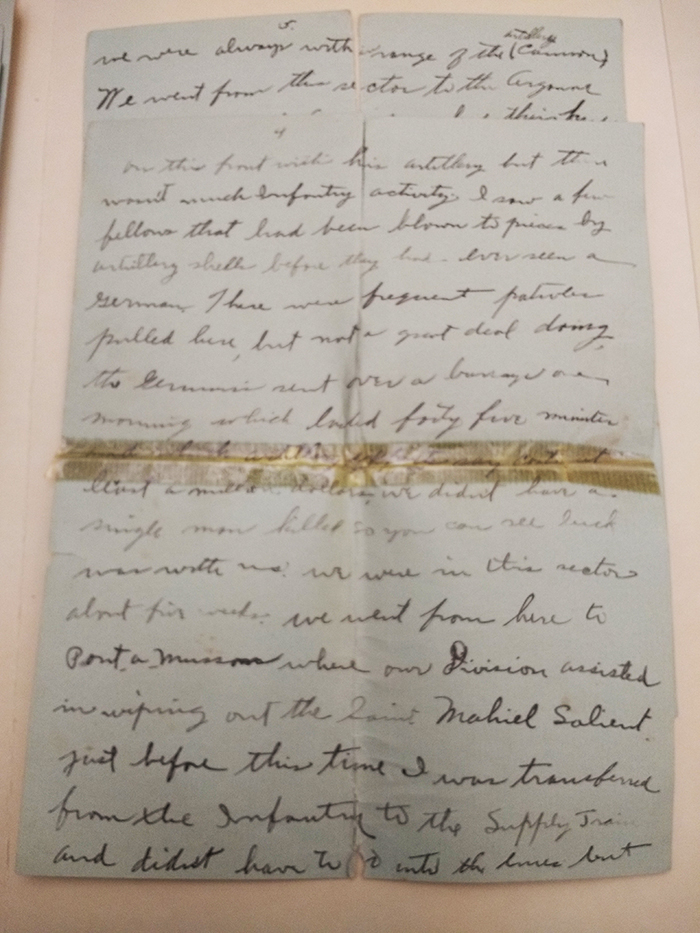 He describes some of his travels to his father, along with a few descriptions of combat:
…The Germans sent over a barrage one morning which lasted forty five minutes and which artillery experts say costs at least a million dollars. We didn't have a single man killed so you can see luck was with us.
He also reflects on the upcoming holiday, how much he misses his family, and happy memories of home:
I will miss you all so much at Christmas time my mind goes back to the little home at Sherrard where Santa Claus used to visit us regularly each December 25th and while you and Mamma always had so much to worry about and so little to buy with, yet you always had everything for us at this time of year to make our little hearts happy, as I look back at it I often wonder how you manage it and I know that we all realize that we have the best Dad and the sweetest mother ever.
This collection also includes a wealth of genealogical information, and a great many photos, all of which are identified. Once it is processed, the finding aid will be added to our Guide to Archives & Manuscripts.
One Response to 'Gems in the Orum, Eskey, and McCaffery Family Papers'
Jane Leigh Rice Lassiter Says:
August 31st, 2021 at 6:53 pm

Thank you. These were among the many items, photos, and news clippings that I donated to WVU. It's so nice to see them on your website. It's nice to know they won't be forgotten.
Jane Leigh Rice Lassiter
Leave a Reply