Posted by Monte Maxwell.
January 15th, 2019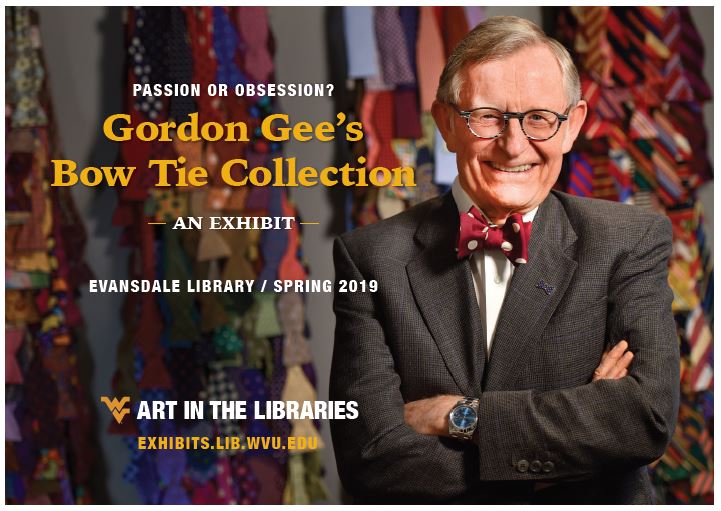 President E. Gordon Gee is known nationwide for his bow tie style, with feature articles and interviews in fashion publications Bow Tie Aficionado and Ivy Style, among bow tie mentions in national media such as USA Today and the New York Times, and regional media as well. He's made several videos about his famous collection that began at age 16, and developed while he was President at WVU the first time, 1981-1985. One of his thousands of ties has flown to space. He's met past US Presidents in them and made a plethora of service visits in them. People have imitated his style and Ohio State University even created an individualized mascot sculpture—"Gordon Gee Brutus"—donning his tie. Folks gift him with handmade ties and objects—funky and precious objects he holds dear.
This exhibit, which run January 20-May 15, takes a look at his collection and some notable times where he and his notable ties were worn and honored, with a selection of his ties, photographs and personal objects. A reception with President Gee will be held Feb. 6 from 5-6 p.m.
The WVU Art in the Libraries program developed the program, and Assistant Professor of Fashion Merchandising Elizabeth Shorrock's spring 2019 class helped design this exhibition display.
This exhibit initiates the start of a new series at Evansdale Library around community members' personal collections. Do you know someone with a collection to share? Get in touch with WVU Libraries Exhibits Coordinator Sally Deskins, sbdeskins@mail.wvu.edu.
More info: exhibits.lib.wvu.edu. Display stands provided by bowties.com and beautiesltd.com.
Leave a Reply