Posted by Monte Maxwell.
February 26th, 2019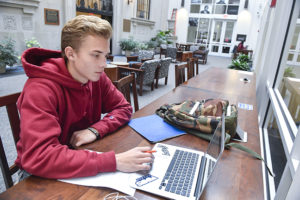 Are you an instructor who is concerned about the impact of high textbook costs on your students' academic success? If so, you might be interested in two Open Educational Resources (OER) opportunities being offered by WVU Libraries.
OER are teaching, learning, and research resources that reside in the public domain and can be customized and re-purposed. Open textbooks are complete and can be authoritatively verified, adopted by many faculty across the country, and licensed to be freely used, edited, and distributed.
First, on March 7, you can attend the Open Textbook Workshop and Textbook Review at the Downtown Campus Library where you can discover open textbooks in your field. Workshop attendees who choose to write a short review of an open textbook will receive a $200 stipend. Register here by February 27.
Second, the Libraries and the Teaching and Learning Commons (TLC) are partnering to support the use and development of OER through a grant program for instructors. The grant's aim is to encourage development of alternatives to high-cost textbooks, lower the cost of college attendance for students, and support faculty who wish to implement new pedagogical models for classroom instruction.
Grants will range from $300 to $3,500 and be awarded in three categories: Incorporate, Innovate and Create. Proposal can be submitted at this website before the February 28 deadline. Read the full announcement here.
If you have questions about this workshop, grant or open textbooks, contact Martha Yancey, chair of the WVU Libraries Open Educational Resources Committee, at 304-293-5039 or martha.yancey@mail.wvu.edu. For more information visit the open textbook webpage on the Libraries website.
Leave a Reply