Posted by Monte Maxwell.
April 5th, 2019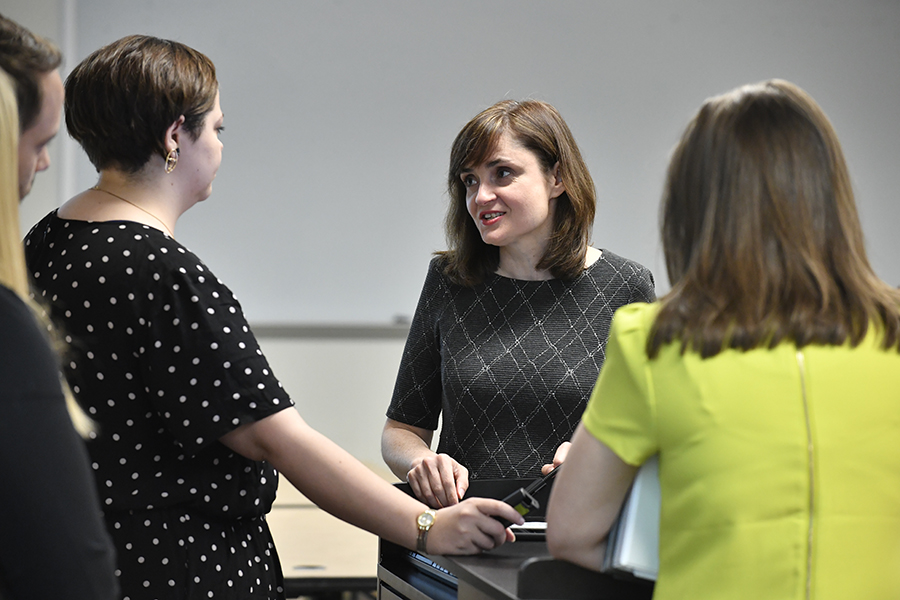 The Awards Committee of the West Virginia University Library Faculty Assembly has selected Alyssa Wright, social sciences librarian, as the Outstanding Librarian for 2019.
The award, presented triennially, recognizes a faculty librarian who has made exceptional contributions toward the delivery, development, or expansion of library services or special programs for the constituencies of WVU.
"Alyssa is a creative and dedicated librarian, and we are honored to present her with the Outstanding Librarian Award this year," said Anna Crawford, chair of the Library Faculty Assembly Awards Committee. "The impact Alyssa has made with the social science students and faculty she works with is apparent and highly valued. And her work combining information literacy with community engagement is just one example of the kind of innovative services she provides."
Wright has been with the Downtown Campus Library Research Services Department since 2007, serving as the liaison to the Psychology, Sociology & Anthropology, and Communication Studies departments. She manages the Research Services graduate assistants, developing an extensive training program to ensure high-quality service, and designed a service learning course, ULIB 302, Research for Non-Profits.
The class pairs groups of students with non-profit organizations in need of funding for specific purposes or general operating expenditures. Wright then tasks each team with researching foundations and other potential funding sources, determining the type and amount of information required for grant proposals, and finally, building a portfolio that will enable their organization to pursue funding opportunities.
"Alyssa Wright's service goes above and beyond in building capacity and increasing academic community engagement," said Lindsey Rinehart, Academic Community Engagement coordinator for the WVU Center for Service and Learning. "She provides information to students in an accessible and hands on fashion and reaches community organizations who may not have otherwise interfaced with the library."
Hawley Montgomery-Downs, Ph.D., an associate professor in the Department of Psychology, praised Wright for the expertise, knowledge and dedication she brings to projects and cited a recent collaboration.
"Alyssa Wright was absolutely fantastic," Montgomery-Downs said. "She quickly became a partner in instructing this course, by making herself approachable and available as a resource throughout the semester. She also spent a lot of time meeting with me beforehand to develop the workshop goals, and then crafting the workshop itself."
The Libraries will hold a reception to honor Wright on May 2 from 2-4 p.m. in the Downtown Campus Library, Room 104.
Leave a Reply