Posted by Monte Maxwell.
April 24th, 2019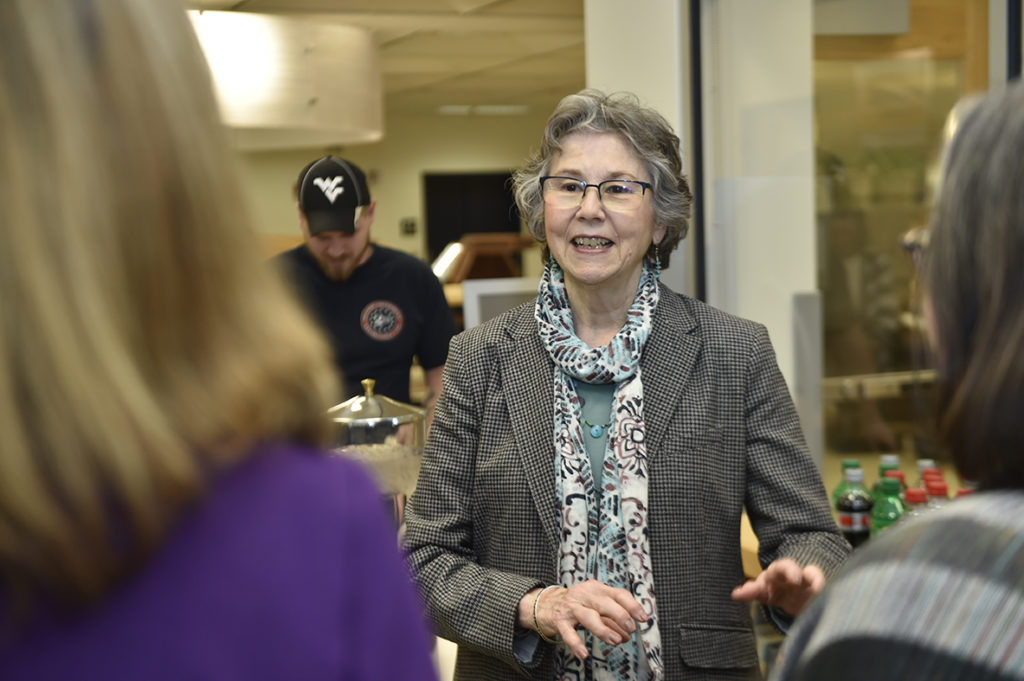 If you were a student at West Virginia University sometime during the past four decades, you probably benefited from Carroll Wilkinson's work at WVU Libraries.
Did you ever check out a book at the Charles C. Wise, Jr. Library or the Downtown Campus Library? Did you log into eReserves to retrieve required course materials? Are you a student-veteran studying for final exams in one of the Libraries' two Study Bunkers?
After 41 years of service to WVU, Wilkinson officially retired April 15.
"Carroll Wilkinson has been a valued librarian at WVU for 41 years," Dean of Libraries Karen Diaz said. "She's seen many changes within the profession and on campus and has herself been a change agent in helping move the libraries ever forward. Her insights, experience, and wisdom have been incredibly valuable to me during my interim term as Dean, and into my permanent role. I'll miss her very much, but can think of no one more deserving of a rich and healthy retirement!"
Wilkinson began her career at WVU Libraries in 1979 as a reference librarian and the Appalachian bibliographer, following a one-year stint as a research assistant for the Gerontology Center.
After initially serving as chief circulation librarian, she became head of Access Services for Wise Library. In that role, Wilkinson oversaw the opening of WVU Libraries' first book depository in 2000 and coordinated the move of more than 500,000 volumes from the stack in Wise to the new Downtown Campus Library. Another notable innovation during her tenure in Access Services was the development of the electronic reserves system.
Wilkinson's influence and service extended beyond library walls. She has served in several campus organizations, including Faculty Senate and its Public Service Grant Committee. She chaired University's Delaney Committee and the Council for Women's Concerns, and served on the University Planning Council and the National Endowment for the Humanities Women in the Community project.
In 2006, Wilkinson was appointed Director of Instruction and Information Literacy for WVU Libraries. In the post, Wilkinson oversaw courses being taught by the Libraries, developed curriculum for future classes, helped faculty to integrate the intellectual principles of information literacy into their teaching, and taught the course "Gender and the Research Process" for 10 years.
In outreach to the Center for Women's and Gender Studies, beginning in 1993, she served as bibliographer and authored several publications in this area, including a book titled, "Women Working in Nontraditional Fields: References and Resources, 1963 – 1988," and several journal articles, including Stronger Students, Better Research in the online journal Feminist Collections.
Also in 2006, Wilkinson won campus-wide praise for her instrumental leadership in bringing the American Library Association exhibit "Changing the Face of Medicine: Celebrating America's Women Physicians" to the WVU campus. Only 60 libraries nationwide were chosen to host this exhibit.
Following her appointment as Director of Strategic Initiatives in 2014, she began focusing on Wilkipedia's gender gap. "Where are All the Women?" was the first program in the Libraries' newly created Talking Publicly Symposium. It resulted in the creation of the Wikipedian in Residence Gender Equity position with a grant from the Wikimedia Foundation.
Also part of the symposium were the "fractured spaces" exhibit and the "125 Years of Women at WVU" program.
Most recently, Wilkinson focused on helping to establish the Libraries' student-veterans initiative, which has already received an Institute of Museum and Library Services (IMLS) grant that paved the way for the two study rooms dedicated to student veterans.
In April, Wilkinson received the Faculty 2019 Center for Women's and Gender Studies Joyce McConnell Award for Feminist Leadership. Other recognitions during her career included the Outstanding Librarian Award in 2007 and the Mary Catherine Buswell Award, the University's highest award for service to women, in 1985.
In addition to her regular duties, Wilkinson has been a popular guest speaker for numerous classes and faculty workshops and has earned a reputation as an active researcher and creative teacher in the fields of information literacy and women's studies.
Wilkinson served as president of the Western Pennsylvania/West Virginia chapter of the Association of College and Research Libraries from 2006-2007. Under her leadership, the organization increased its outreach to more schools in the region and welcomed the Association of College and Research Libraries' Executive Director Mary Ellen Davis as a keynote speaker at a 2007 conference.
The university community is invited to join in celebrating her achievements and wishing her well at a reception Thursday, April 25, from 3-6 p.m. in the Milano Reading Room.
Leave a Reply