Posted by Monte Maxwell.
May 24th, 2019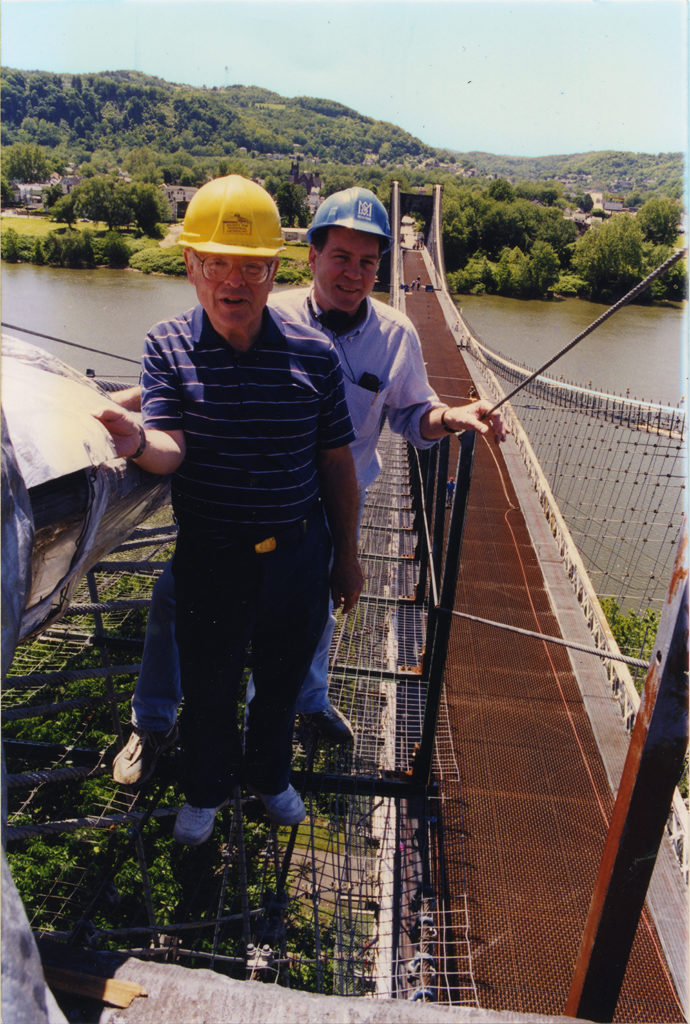 West Virginia University Libraries will host an opening reception for an exhibit recognizing the lifetime achievements of Dr. Emory L. Kemp, Professor Emeritus of History and Civil Engineering, at 3 p.m. Friday, May 31, in the John D. Rockefeller IV Gallery of the Downtown Campus Library.
"The Structure of History: Celebrating Industrial Heritage and Preservation in the Dr. Emory L. Kemp Collection" will showcase items from Kemp's donation to the West Virginia and Regional History Center, which included blueprints, maps, restoration project reports, structural analysis papers, drawings, correspondence and more that Kemp collected throughout his extensive career that spanned 50 years.
"Emory Kemp is a renowned figure in the field of Civil Engineering and it is a tremendous honor to preserve his papers in in the Regional History Center," WVRHC Director John Cuthbert said. "Records pertaining to his work ranging from world landmarks like the Sydney Opera House to West Virginia's iconic Philippi Bridge and Wheeling Suspension Bridge will be a boon to industrial architecture historians for generations to come."
Among the exhibits highlights will be engineering drawings of the Wheeling Suspension Bridge, wires from the original Wheeling Suspension Bridge, a wrought iron I-beam from the original West Virginia Independence Hall, engineering drawings from Dr. Kemp's restoration of the Philippi Covered Bridge, a wrought iron chord from the original Philippi Covered Bridge and correspondence about Kemp's work on the Sydney Opera House in Sydney, Australia.
Kemp began his career as a civil engineer, which allowed him to work on international engineering feats before joining WVU's Civil Engineering Department in 1962. He chaired the department from 1964 to 1977. A passion for the history of technology led Kemp to document and restore historical industrial structures and transportation systems throughout West Virginia and Appalachia. In the process, Kemp and preservationist colleagues constructed a new identity for the region.
As part of the program, there will be remarks from Dr. Barbara J. Howe, Professor Emeritus of History and founding director of WVU's Public History Program; and Dr. Billy Joe Peyton, a West Virginia State University professor and a former student of Kemp. Howe and Peyton will speak about Kemp's legacy.
In 1981, Kemp and Howe became founding board members of the Preservation Alliance of West Virginia, which "serves as the statewide grassroots organization dedicated to the support and promotion of historic preservation."
In 2018, Kemp established an endowment, the Dr. Emory L. Kemp History of Technology Fund, to assist on-going technology preservation efforts at the WVRHC.
The "Structure of History" exhibit will remain on display through August.
One Response to 'WVU Libraries invites university community to opening reception for Dr. Emory L. Kemp Collection exhibit'
Greg Good Says:
May 30th, 2019 at 12:59 pm

What a great legacy to place in the West Virginia Regional History Collection! I wish I could be there for the reception. Emory brought me to WVU in 1983, an opportunity that took me in many unexpected directions. Thank you, Emory, for that and for all you have done for historic preservation and industrial archeology in West Virginia. Greg Good, Director, Center for History of Physics, American Institute of Physics, College Park, MD
Leave a Reply