Posted by Jane Metters LaBarbara.
June 18th, 2019
Blog post by Jane Metters LaBarbara, Assistant Curator, WVRHC.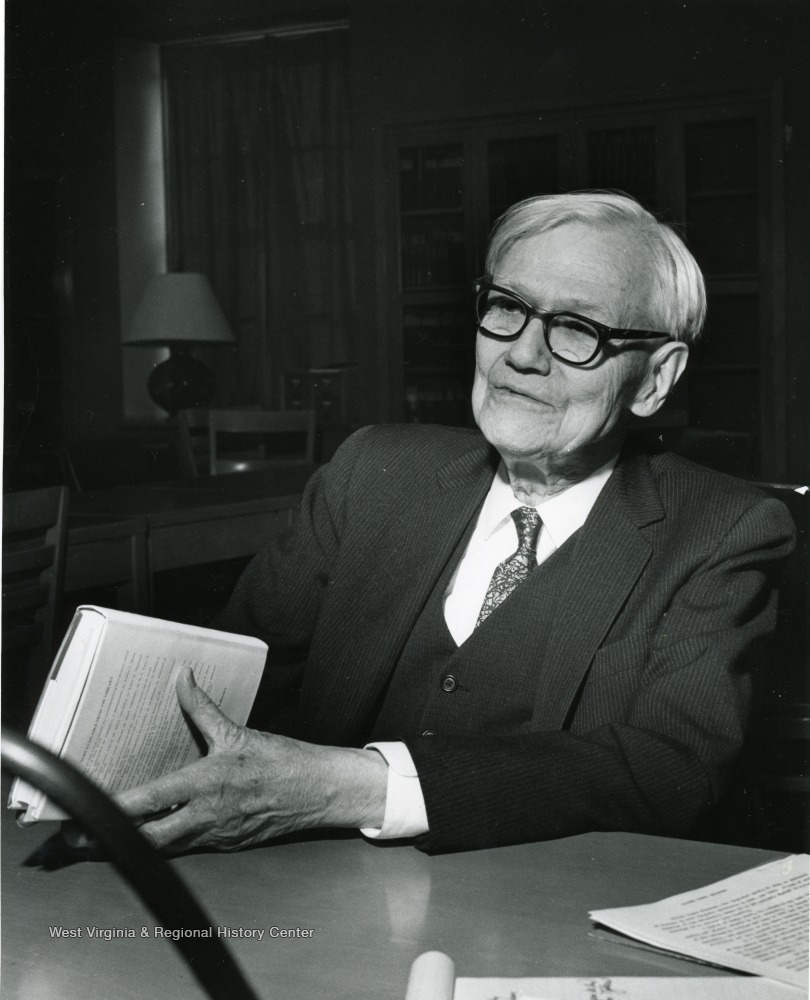 While working to make our card catalog for the President's Office Archive more accessible, I came across microfilmed faculty application materials from the history department. These included Oliver Perry Chitwood's application for work at WVU, as well as some correspondence between him and Dr. Purinton, then University President, who was recruiting Chitwood.
I was surprised that WVU's president reached out to Chitwood to fill a history professorship, rather than Chitwood having to job hunt—he must have been quite an impressive professor! I was also surprised by his response letter (see page 2, below), in which he asks that his current boss be made aware that Chitwood hadn't been job hunting, "for I should not like for him to think that I am dissatisfied with my present position."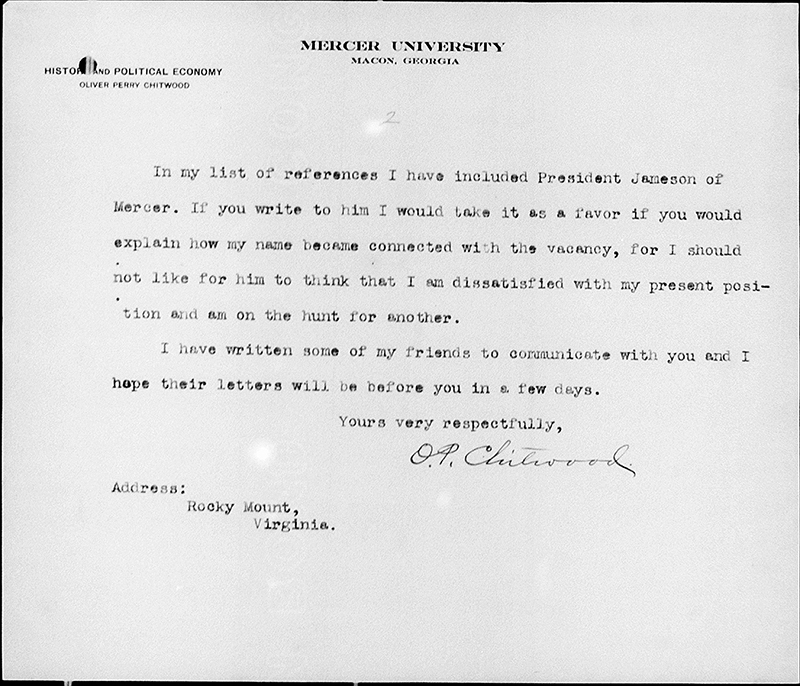 The application form itself was a product of its time. In addition to asking about education and teaching experience, it asked for date and place of birth, marital status, and more pointed questions like "What are your habits regarding the use of liquor and tobacco?" Chitwood wrote in "Do not use either." He completed this application June 29, 1907. (We also have one that he completed about 11 days earlier—I am not sure why he sent two nearly identical applications.)

In addition to his application, we also have a collection of his letters, many of which deal with his publications. He wrote quite a few books about colonial American and early American history. If you ever want to read correspondence that reveals what it takes to make a book, check out this collection! He has correspondence with colleagues about compiling and promoting books, letters about book revision and printing, and more. The contents list for the collection has yet to be converted from paper to digital format, but it is very detailed–ask one of our staff members if you would like to see it.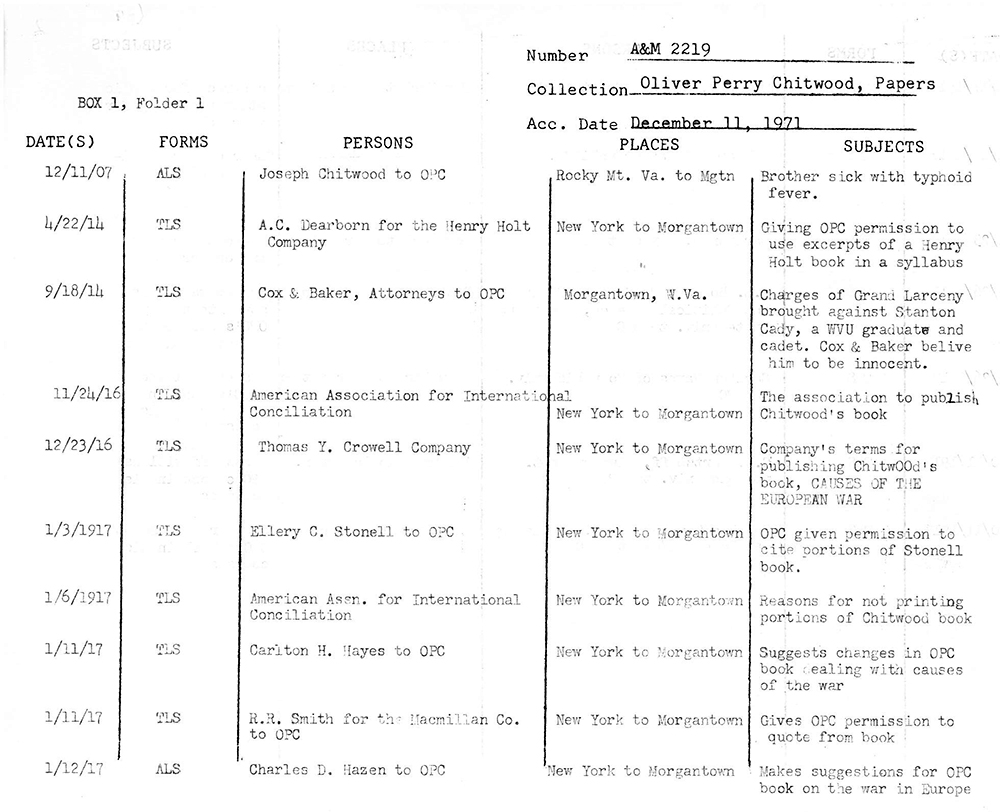 It was easy enough to confirm that this particular Chitwood was the man for whom Chitwood Hall was named.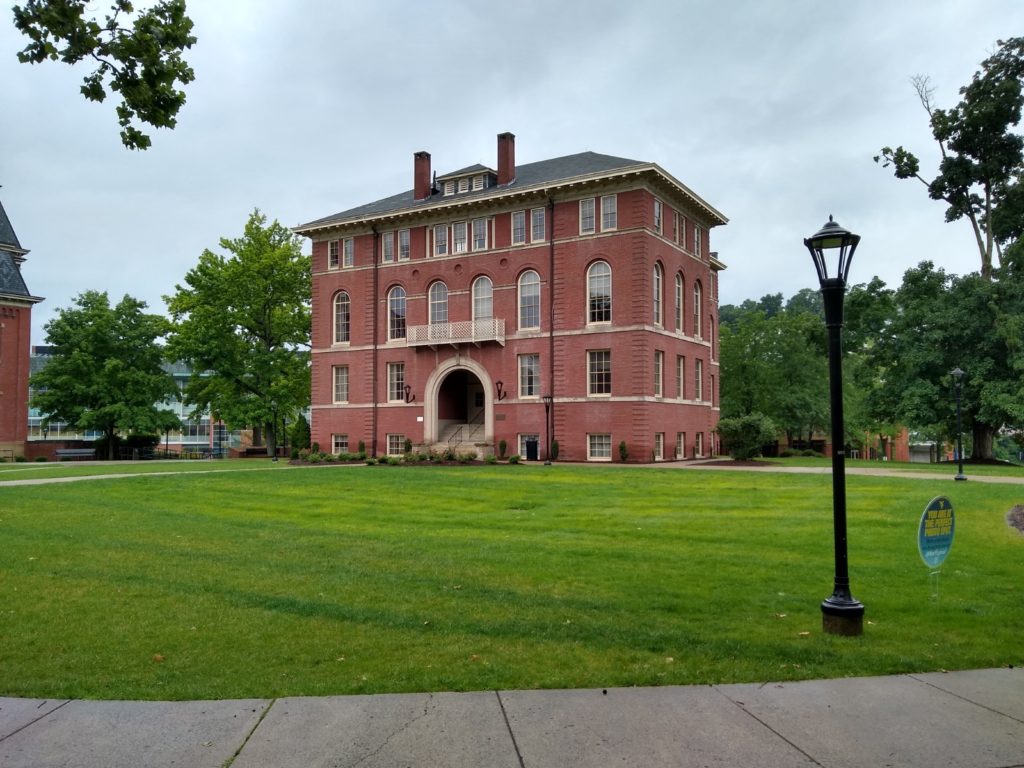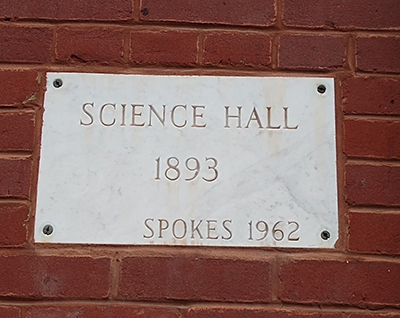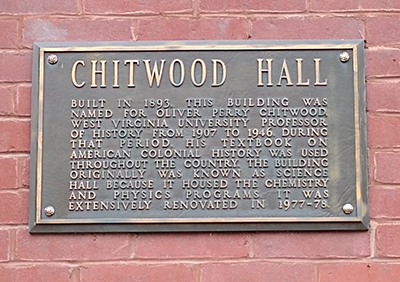 The building has two plaques on its exterior (facing into the quad).  Though it is the third oldest building on campus, and Chitwood retired in 1946, the building was not named for Chitwood until 1972, a year after his death.  It was built in 1893 and known as Science Hall for almost 80 years. Today it forms one of the sides of Woodburn Circle, arguably one of the most photogenic spots on campus.
Leave a Reply