Posted by Jane Metters LaBarbara.
July 23rd, 2019
Blog post by Linda Blake, University Librarian Emerita
Don't try to find Salt Pork, West Virginia on a map because it's not a real community. I wondered about the location of Salt Pork when I ran across references to it while processing the papers of William "Bill" Archer. Archer, a long time writer for the Bluefield Daily Telegraph, documented everything about the Bluefield and southern West Virginia area including its rich contribution to American music. I also noted in Archer's papers information on Louis Jordan, a swing music artist from the 1940s, and Wallace W. McNeal, a Mercer County magistrate, with regards to Salt Pork. After I saw that Louis Jordan was honored at the National Museum of African American History and Culture in Washington, D.C., then I knew I had to find out exactly where Salt Pork, West Virginia was located.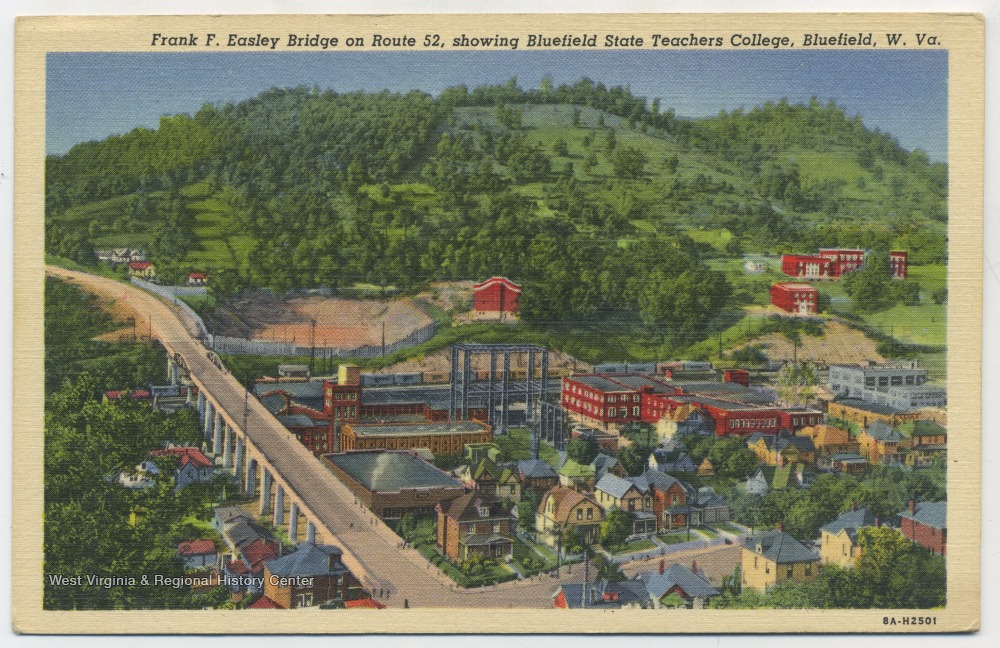 Louis Jordan dubbed Bluefield, West Virginia, "Salt Pork" in a song he recorded in 1946. At the end of the song, Jordan lists towns, called out like bus or train stops, hinting that Salt Pork is actually Bluefield.
Philadelphia (let me off, man, let me off)
Washington (let me off, let me off, that's my stop)
Alexandra (that's mine)
Richmond
Norfolk
Bluefield (What?)
Salt Pork, West Virginia
Interestingly, the original sheet music for "Salt Pork, West Virginia," located in the West Virginia Regional History Center's West Virginia Sheet Music Collection, does not include this last verse and the text varies slightly from the recorded version of the song. Archer's papers provide a number of explanations for the specific use of the designation Salt Pork for Bluefield including the fact that that's all the band got to eat in the city, and a story about Jordan's shopping for bacon and only finding salt pork.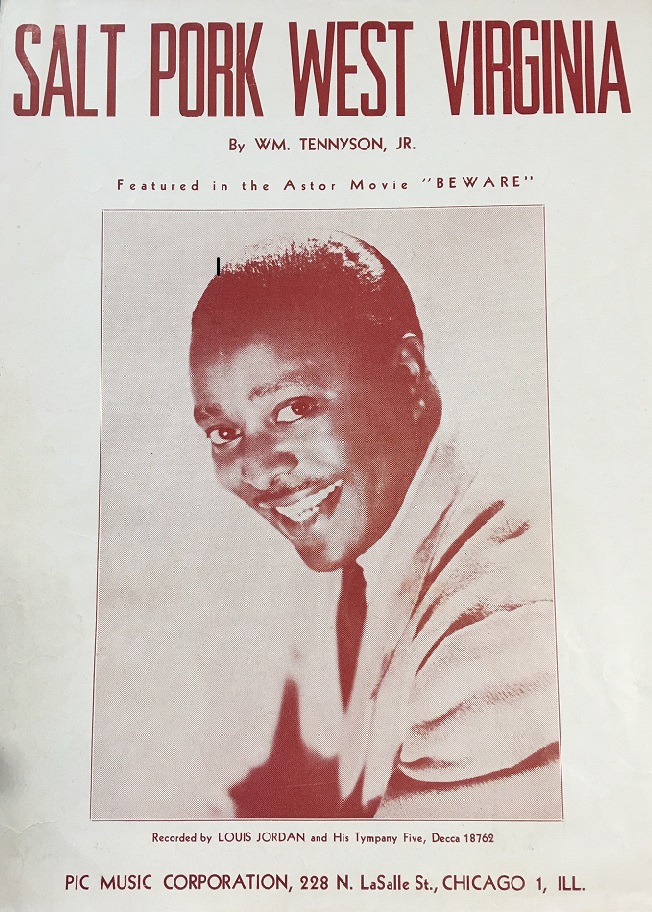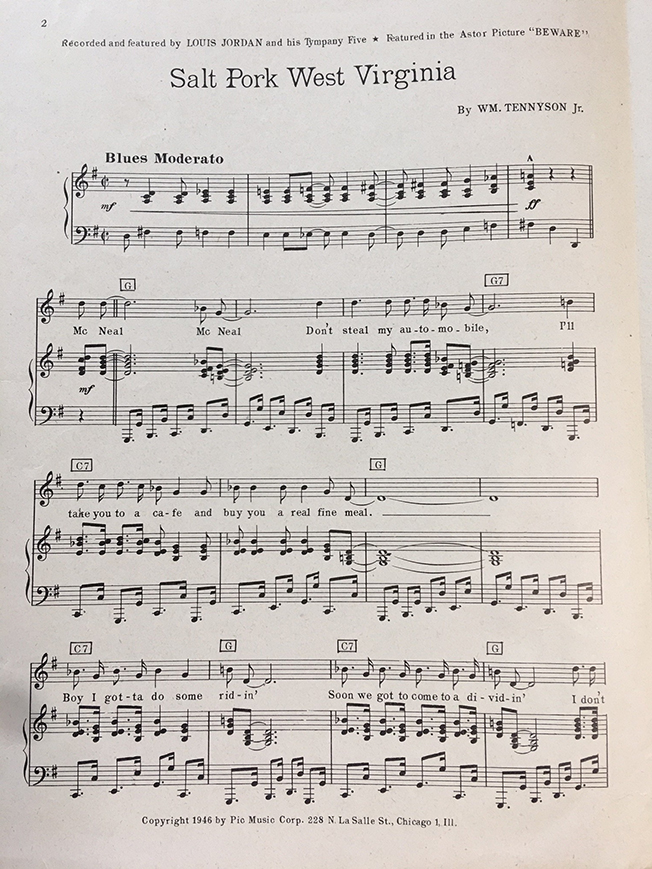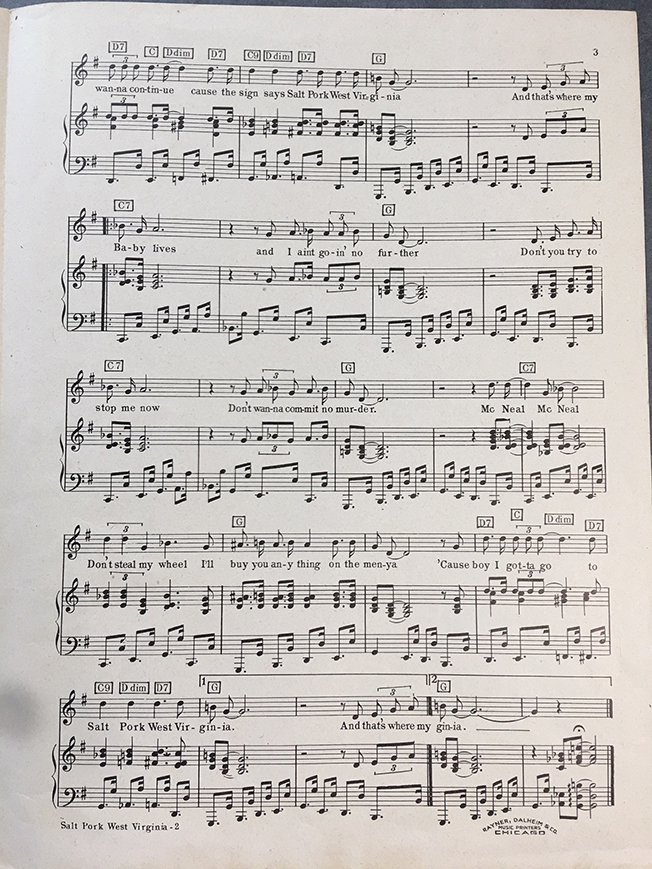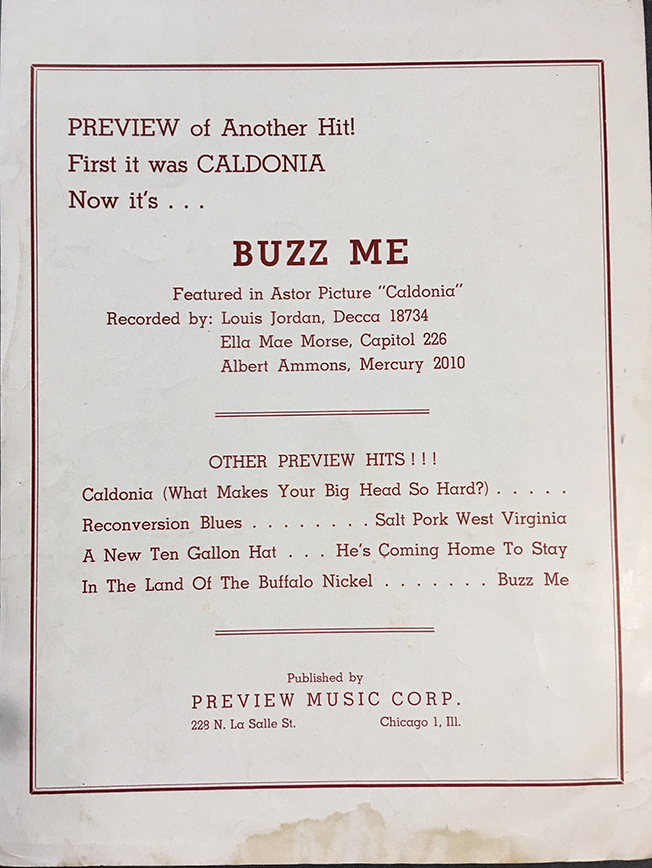 Archer's papers document a number of versions of the story behind the song. According to Archer's version, Louis Jordan, a top recording artist in the 1940s, was stopped for speeding in southern West Virginia while traveling to a performance. He was taken before the magistrate, Wallace W. "Squire" McNeal, who could have impounded his car and put him in jail. In a 1999 letter, McNeil's niece, Nancy Byrd, recounts how the two got along very well. Jordan "began to joke with Uncle and both of them having a great sense of humor found things to laugh about." In the song Jordan asks McNeal, pronounced Mac Neal in the recording, to please not impound his car and offers to buy him a meal. "McNeal, McNeal, Don't steal my automobile, I'll take you to a café and buy you a fine meal." Before Jordan was released to continue on to his performance at the Bluefield Inn, he promised that he would create a song about the incident. True to his promise, Jordan enlisted Wild Bill Davis, Jordan's wife Fleecie Moore, and William Tennyson to write "Salt Pork, West Virginia" about Jordan's trip to Bluefield.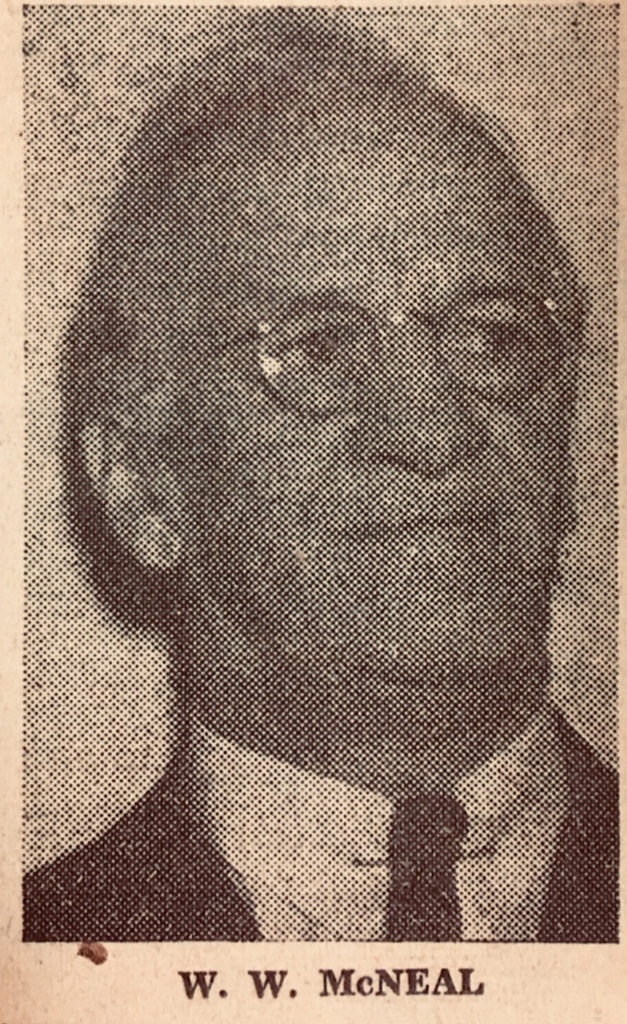 Bill Archer collected research to write about the Jordan incident in the Bluefield Daily Telegraph as well as to complete an entry for "Salt Pork, West Virginia" in the online West Virginia Encyclopedia and a Goldenseal article (Summer 2004). His papers include the letter mentioned above, as well as additional information on Louis Jordan, William McNeal, and others tangential to this story. Archer's papers also include information about the Rock and Roll Hall of Fame's feature of Jordan "as one of the contributors to the distinctly American musical art form known as rock 'n' roll." Jordan was inducted into the Hall of Fame in 1987.
Although the lyrics, as transcribed from the recording, are amusing and offer an account of one incident in Mercer County history, I have to wonder if the appeal is all about the very fine accompanying swing music. The song appears in a movie titled "Beware," and once you hear the performance by Louis Jordan and His Tympany Band, particularly Jordan's saxophone, you will see what I mean. A YouTube search provides a number of other videos with performances of "Salt Pork, West Virginia" including a fun version by Ron Sunshine with swing dancers in the foreground.
A classic tune never dies. Interest in "Salt Pork, West Virginia" was revived in 2018 when it was chosen as the background music during the credits for Fallout 76, a role playing game featuring locations throughout West Virginia. The lyrics are transcribed below:
"Salt Pork, West Virginia"
Written by Bill Davis, Fleecie Moore, Bill Tennyson

1. Mac-Neill, Mac-Neill, don't steal my automobile.
I'll take you to a café and buy you a big fine meal
Hey, Jack, I got to do some ridin'.
Soon we got to come to a dividin'.
I don't want to continue
'Cause the sign says, "Salt Pork, West Virginia."

2. And that's where my baby lives, and I ain't goin' no further.
Hey, Jack, I want to be good to you, and treat you like a brother.
Mm, Mac-Neill, Mac-Neill, don't steal my wheel.
I'll buy you anything on the menu
'Cause, boy, I gotta go to Salt Pork, West Virginia.

Salt Pork! Salt Pork!

Washington! Alexandra! Richmond! Norfolk! Bluefield!—WHAT?
Salt Pork, West Virginia!
One Response to '"Salt Pork, West Virginia"'
Clark Says:
August 23rd, 2020 at 9:06 pm

I dunno… I just assumed it was from traveling on the roads through WV and seeing the signs for "SALT FORK" (just over the border from the routes where touring musicians — like me! — still travel to gigs). I can very easily imagine it to be an in-joke in the band, every time, driving past, saying "Salt Pork!"
Leave a Reply