Posted by Monte Maxwell.
August 20th, 2019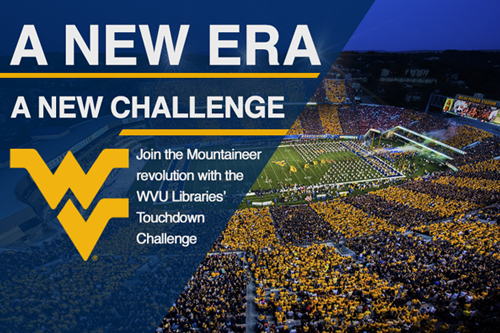 Football is in the air and that means West Virginia UniversityLibraries and the WVU Department of Intercollegiate Athletics are teaming up once again for the Mountaineer Touchdown Challenge, our annual fundraising campaign to benefit the Libraries.
"The Athletics Department has enjoyed its partnership with the WVU Libraries for the past eight years in supporting the Mountaineer Touchdown Challenge," WVU Director of Athletics Shane Lyons said. "It's an outstanding initiative, because everyone wins – our fans are happy when our players score touchdowns, which hopefully turns into wins, and that assists the entire student body with their academic endeavors. I encourage our alumni and fans to join us in the Challenge and support all of WVU."
The initiative, in its ninth year, has provided for many student needs, such as digital cameras, laptops, graphing calculators and other technical equipment that can be checked out, poster printers and a presentation practice room. The Downtown Campus, Evansdale and Health Sciences libraries have all shared in these benefits.
As a participant in the Challenge, you pledge any dollar amount for each touchdown the Mountaineers score during the 2019 season and subsequent bowl game. The proceeds will support new projects with direct student impact within the Libraries.
"The mission of our University is to assist every student with achieving their goal of attaining a quality education, and then once they leave, to make a mark in their individual communities," WVU football coach Neal Brown said. "My parents were educators, and I learned at a young age the importance of the library and how it is such an outstanding tool in assisting with your educational journey. The WVU Football Program and I fully support the Mountaineer Touchdown Challenge, and we look forward to knowing that every time our team scores a touchdown it will benefit every student on our campus."
The Libraries will continue to consult with our students to determine where best to direct funds raised during this year's Touchdown Challenge.
"The Touchdown Challenge has shown that Athletics, the Libraries, faculty, staff and our alumni are unified in doing what it takes to help our students be successful on campus and in their future careers and lives," Dean of Libraries Karen Diaz said. "We appreciate Shane Lyons, Coach Neal Brown, every student-athlete and every fan who make the Touchdown Challenge a success."
To accept the Challenge, visit give.wvu.edu/touchdown-challenge. For more information, contact Paula Martinelli, Development Director for WVU Libraries, paula.martinelli@mail.wvu.edu or 304-293-0303.
Leave a Reply