Posted by Monte Maxwell.
October 4th, 2019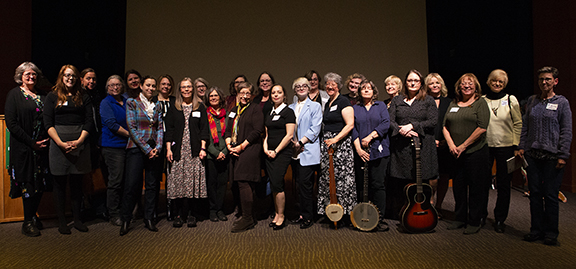 West Virginia University Libraries will host "Women Speak", a juried performance of poetry, songs, short stories and essays, on October 19 from 1-3 p.m. in the Downtown Campus Library's Milano Reading Room.
The annual event is a creation of the Women of Appalachia Project (WOAP) who issues a call for residents of all 420 Appalachian counties to submit writing to be featured.
"Many people have an image of an Appalachian woman, and they look down on her," WOAP Organizer Kari Gunter-Seymour said. "The mission of WOAP is to showcase the way in which female artists respond to the Appalachian region as a source of inspiration, bringing together women from diverse backgrounds, ages and experiences to embrace the stereotype – to show the whole woman; beyond the superficial factors that people use to judge her."
Since 2009, Gunter-Seymour, an Albany, Ohio-based poet and photographer, has curated the fine art exhibitions and spoken word events via WOAP, an arts organization she created to address discrimination of women from Appalachia. WOAP is celebrating its 11th anniversary this season.
The Libraries, the Center for Women's and Gender Studies, the Women's Resource Center and the WVU LGBTQ+ Center are partnering to bring the spoken word event back to Morgantown for a third time. The program is free and open to the public.
Other participating venues include the Clarksburg-Harrison County Library, Clarksburg; Berea College, Berea, Ky.; Northern Kentucky University, Fort Thomas, Ky.; and Ohio University Multicultural Center and Baker Theater, and the Dairy Barn Arts Center, both in Athens, Ohio.
For more information go to womenofappalachia.com, visit WOAP on Facebook at facebook.com/WomenofAppalachia or email womenofappalachia@gmail.com.
Leave a Reply