Posted by Jane Metters LaBarbara.
January 29th, 2020
Blog post by Stewart Plein, Assistant Curator for WV Books & Printed Resources & Rare Book Librarian
Garden catalogs usually begin to arrive in my mailbox during January's cold and dreary days. I love sitting down with a catalog and turning the pages filled with colorful photographs of flowering seeds, plants and vegetables.  Flipping through these pages and admiring the photos always makes me want to order more seeds and plants than I could ever use or could possibly plant in my yard.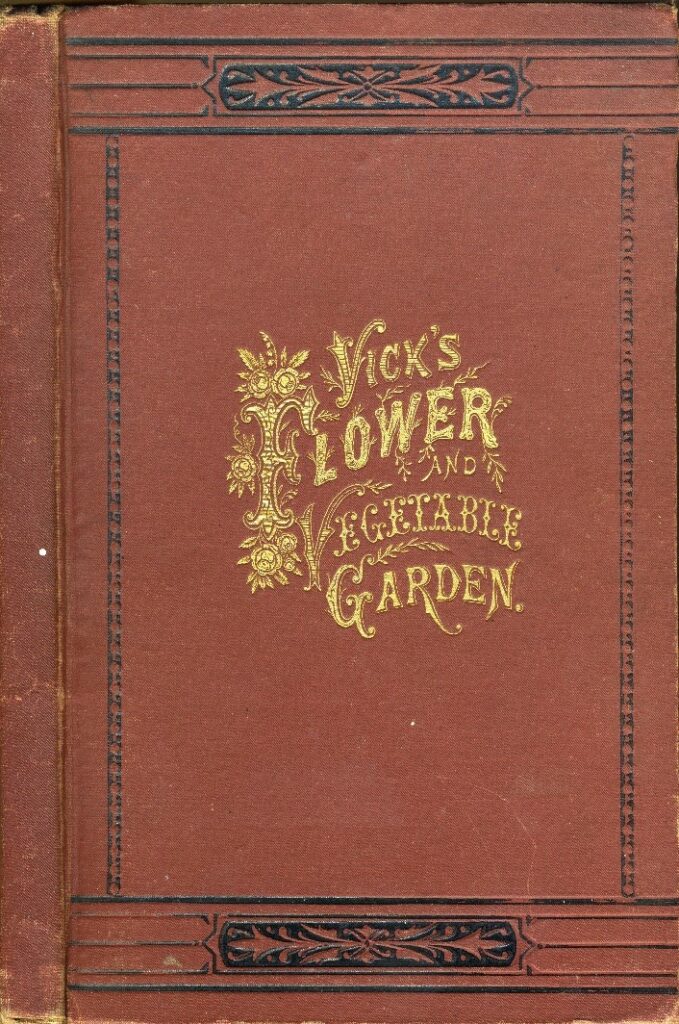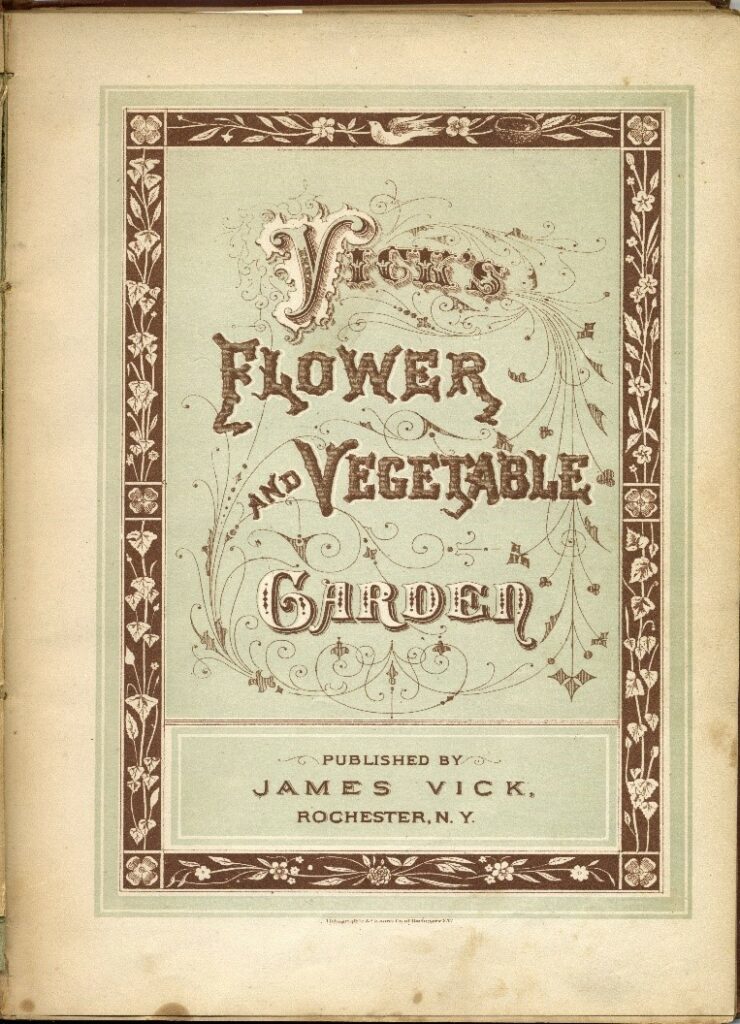 And I'm not alone!  Nurserymen have been compiling attractive garden catalogs for over a century, with the goal of luring gardeners during the depths of winter to dream of spring planting for summer's bounty.  One of the masters of this genre was James Vick, of Rochester, New York.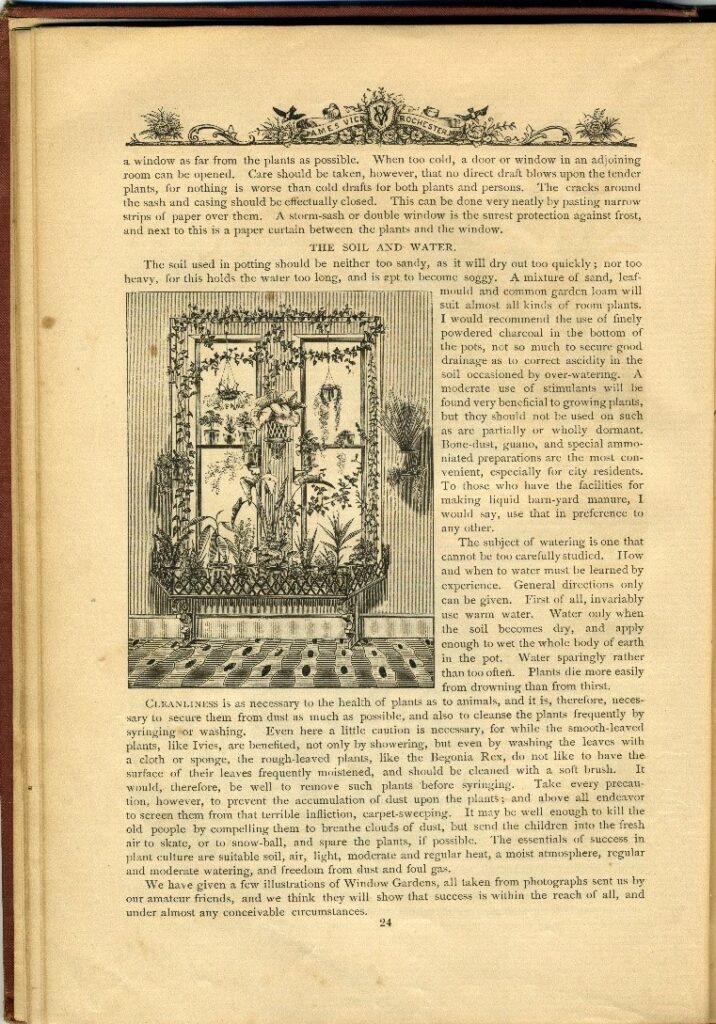 Vick, (1818-1882) an Englishman, immigrated to the United States where he established a seed business in 1860.  He was a man who knew how to market his wares.  His catalogs were filled with beautifully chromolithographed images of flowers startlingly depicted in full color.  Although this catalog isn't dated, stylistically it can be assumed to have been published in the late 1880s. 
The Vick Garden Catalogue also included helpful hints and information on successfully growing the plants and seeds the company sold. Though houses were colder than today, house plants were just as popular then as they are now. This page shows house plants grown inside in a bright window with directions for the type of soil to use as well as watering information.
Once the reader turned past these preliminary pages they would find glorious depictions of the flowers that could be grown from seeds purchased from Vick's. These plant portraits were shown in a bouquet style arrangement, perhaps unconsciously suggesting to customers what they should order for a well-rounded flower bed, and how their flowers would look arranged in a vase.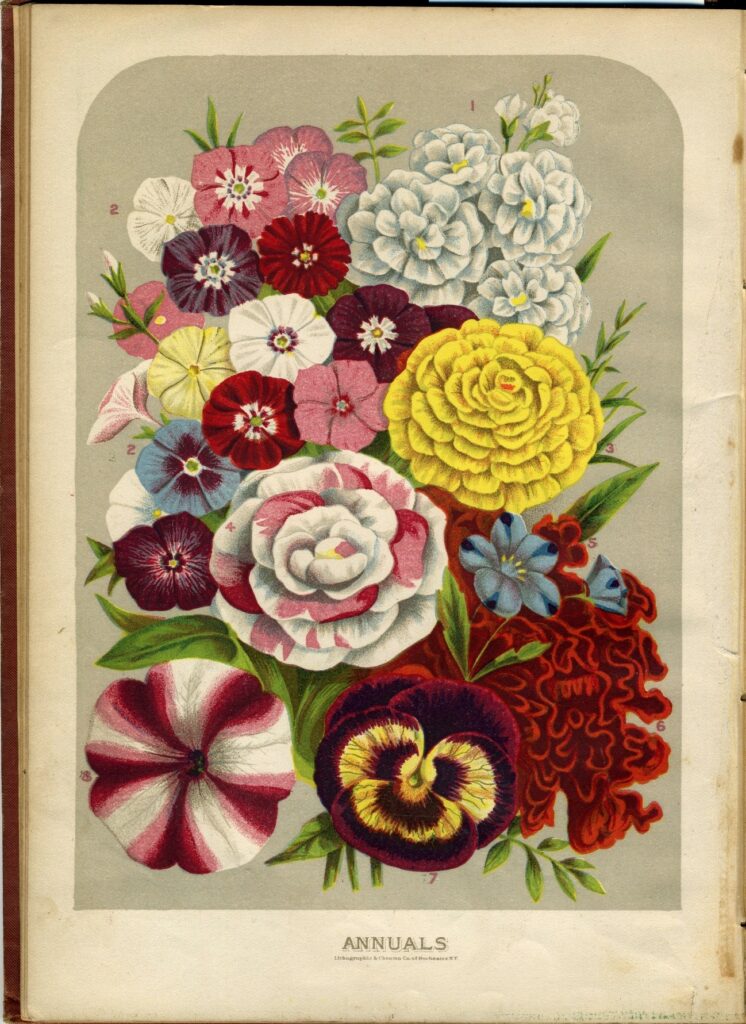 Annuals, seeds that must be replanted each year, are important elements of the garden.  They often fill in blank spaces in the flower bed while gardeners (im)patiently wait for perennials, like those shown in the next image below, plants that reliably come back year after year, to bloom.  Pansies, cockscomb, marigolds, phlox, and petunias, are among the offerings shown in this vibrant illustration of annuals.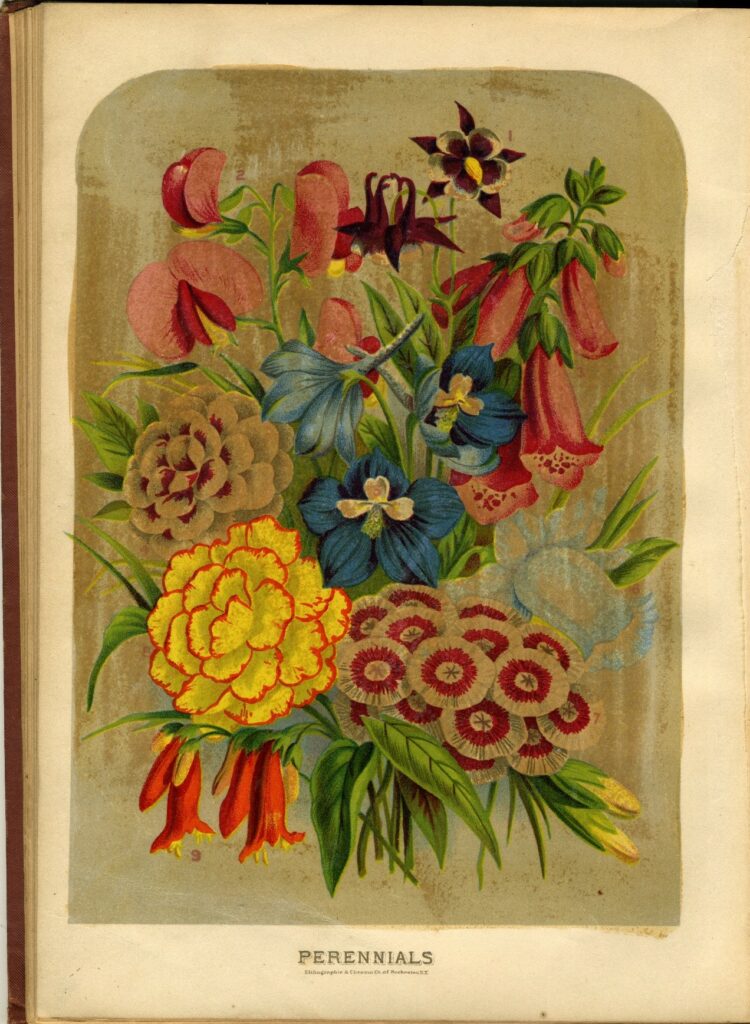 The perennials in this illustration include repeat performers such as foxglove. Though really considered a biennial, foxgloves can be counted as such consistent seeders that they often re-bloom every year.  Columbine, fuchsia, Sweet William and Sweet Peas, are also part of this perennial bouquet.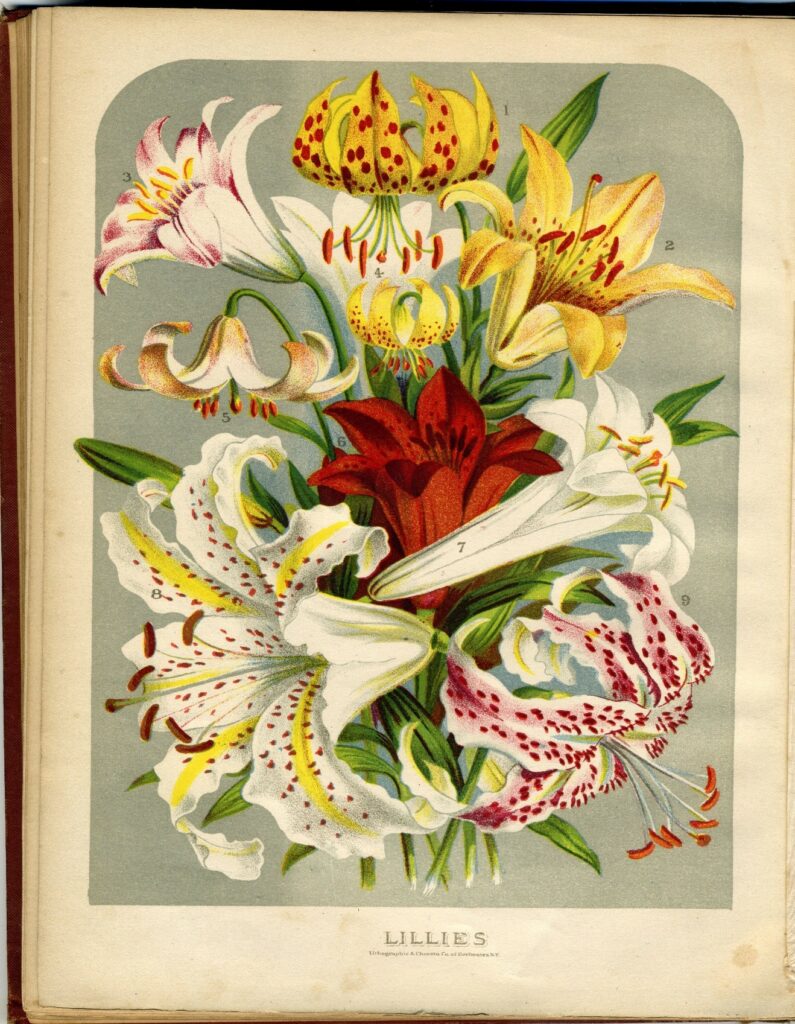 No garden would be complete without the blazing beauty of summer bulbs like these lilies, shown above.  Lilies include many forms such as the martagon, with their downward facing blooms and upturned petals, the rubrum, their petals striped with pink and flecked with red, the pure white trumpets of the Easter lily and the petals striped with gold of the oriental varieties, pictured here.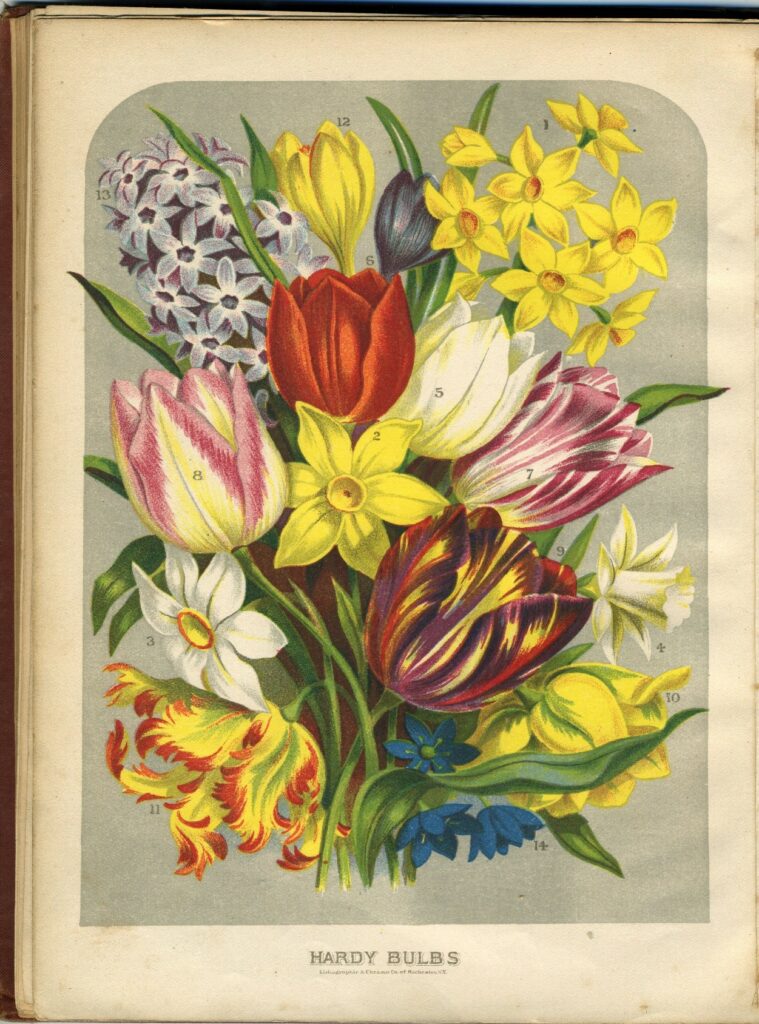 We may be deep in winter doldrums but we do have one thing to look forward to in the very near future – spring bulbs! Hyacinths, tulips, crocus, narcissus, jonquils, daffodils, and the deep blue blossoms of the tiny Siberian squill will soon be arriving to brighten our darkest days.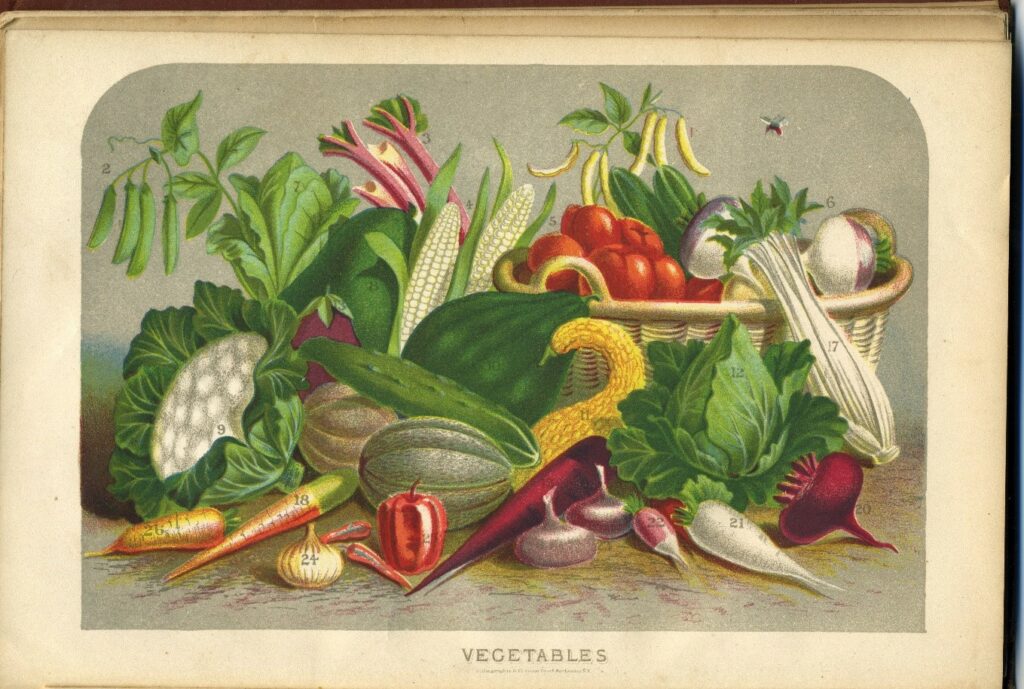 Flowers may be food for the soul, but we also need food for the table.  Vick's catalogue offered a variety of tempting vegetables, numbering each one so that gardeners could match the image with the description.  Number 7 is celery, number 21 is a parsnip, 23 a radish, 24 an onion, and 18 are carrots.  Tomatoes, beans, corn, cauliflower, melons, cucumber, squash and rhubarb also provide plenty of vegetables to feed the family.
Although over 100 years has passed since this catalogue was printed and distributed, not much has changed. Illustrations of attractive flowers and vegetables still lead us to purchase seeds and plants to beautify our home and garden and fill our tables.
If you'd like to see this or any other catalogs in our gardening collection, visit the West Virginia and Regional History Center. Happy Gardening!
One Response to 'Garden Dreams: Vick's Flower and Vegetable Garden Catalog'
Filipy Says:
February 12th, 2020 at 11:43 am

Fantastic to look at here. Would be great to see in person. Thank You for posting this
Leave a Reply