Posted by Monte Maxwell.
May 8th, 2020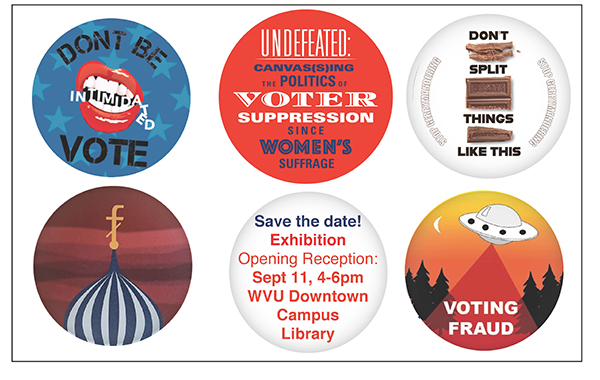 West Virginia University Libraries will debut its exhibit "Undefeated: Canvas(s)ing the Politics of Voter Suppression Since Women's Suffrage" as an online exhibition in August 2020, followed by a print installation in spring of 2021 at the Downtown Campus Library.
"Undefeated," the Libraries' third large collaborative exhibition, brings together several on and off campus partners. The exhibit includes educational content curated by a committee of regional experts, and visual art and designs submitted by nationally known artists.
The ambitious project, developed by WVU Art in the Libraries committee chair and Exhibits Coordinator Sally Brown Deskins, has recently received three grants:
The exhibit comes on the occasion of the 100th anniversary of the ratification of the 19th amendment to the U. S. Constitution (granting women the right to vote), and the 55th anniversary of the Voting Rights Act of 1965 (enforcing voting rights for racial minorities), the WVU Libraries are planning an art exhibition around the political process with special attention to efforts to suppress the votes of women and minorities since 1920.
An advisory committee consisting of regional scholars, creatives and professionals collaborated to contribute the educational content and jury the artwork organized in themes: Information/Disinformation; Access/Intimidation; Legislation/Legal Questions; Voter Fraud; and Advocacy/Action. A call for artwork went out last fall, and around 100 submissions were made from artists and designers nationwide. The artists used the template of the campaign button as an individual canvas and responded to the voter suppression themes, in the mass media format of a button design.
Submissions have been juried by the advisory committee and Art in the Libraries committee and artists have been notified. The artwork will be complemented by textual educational content around subtopics on voter suppression, and designed into an exhibit. Select designs will be printed and made into buttons and/or stickers. The exhibit will become a digital exhibit living on the WVU Libraries' exhibits website and archived on The Research Repository at WVU. These grants allow for the printing and installation of this exhibit, a very important and largest budget piece of this project.
Other supporters of this exhibit include Arts Monongahela; WVU Reed College of Media; WVU College of Creative Arts; WVU Division of Diversity, Equity and Inclusion; WVU Council for Women's Concerns; and Adventure West Virginia. To see a list of the Exhibit Advisory Committee and more information, visit https://exhibits.lib.wvu.edu/gallery_undefeated .
Image designers on above image: top left: Gabrielle Pfeil; top right: Kevin Cline; bottom left: Travis Williamson; bottom right: Imogen Frost.
Leave a Reply