Posted by Jane Metters LaBarbara.
May 18th, 2020
Blog post by Maggie Beck, Graduate Student Assistant, WVRHC.
Hello! My name is Maggie Beck and I am a graduate assistant working on processing the massive Senator John D. Rockefeller IV collection. As a dual-degree student working on a Master's in Social Work and Public Administration, Senator Rockefeller's work is particularly interesting for me as he worked on many pieces of healthcare legislation.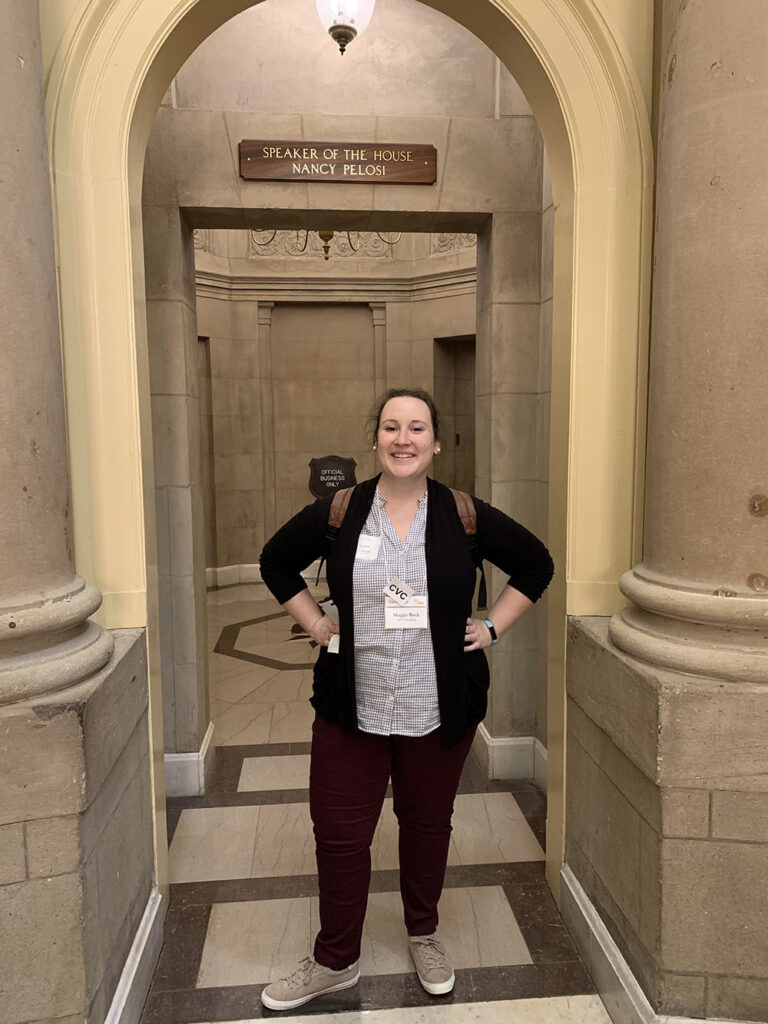 But what does processing this work look like?
Imagine a huge room stacked with boxes that are full of paper. Some of them are organized neatly and easy to identify the contents within them, others are stuffed to the gills with memos, executive orders, pictures, staffer files, and schedules. With me? Cool. This is what a collection donated by a person such as Senator Rockefeller will look like.
The outside of the boxes are marked with numbers and usually an idea of what should be inside them, like "Governor Speeches" or "Campaign Files, 1988." My job is to go through these boxes and properly care for the papers housed in them.
We do things like removing 30-year-old rusted staples, put pictures into protective sheets, un-crinkle anything that had been smooshed, and transfer the contents into an acid-free box for long-term storage. It sounds kind of monotonous, but for a policy geek, it is so incredibly cool to go through these contents and piece together how the senator or his staff handled an issue.
These boxes contain briefing memos produced by his staff or created by the different committees he sat on, policy position memos, emails between staffers—there is so much "behind the scenes" info I get to see! Although, I think some of my favorite boxes to go through were the ones containing papers about his possible presidential bid.
You think you understand how a person decides to run for president. They probably sit down with their family first and see if it's something to consider, then ask their staff if a campaign could be successful. Then they might move on to quietly talk to some other big players in their political party. But then you look at all of that work on paper, and man, what a process.
Reading through some of those items was cool, especially comparing relevant polices in 1991-1992 to today, but the best part were the letters of support he received from people across the country begging him to run for president. There were letters that threw jabs at Al Gore and Bill Clinton, ones that talked about how the senator had met the person at a rally and was so kind, and others saying he was the only hope for the country.
Senator Rockefeller ultimately decided not to run but stayed in the Senate for another 20 years where he worked tirelessly to get the Children's Health Insurance Program (CHIP) passed and fought for increased access to healthcare for all Americans.
They aren't just boxes to go through—they all tell a story. How cool is it that I get to go to work and read the story of someone's career?
Leave a Reply