Posted by Jane Metters LaBarbara.
September 14th, 2020
Blog post by Linda Blake, University Librarian Emerita
Family papers are those things that we have saved because they mean something to us – they are our paper treasures – and they tell us something about ourselves, our families and our friends: how we've lived our lives and what we value most.

Society of California Archivists
Many of us are using this unusual amount of time at home during the COVID-19 epidemic to sort through our treasures. This is especially true for folks like me who have a 40-50 year accumulation of stuff. During my raid on the basement, I found boxes of photographs and family documents which I took responsibility for after my mother's death in 1998. This was a role expected of me since I am the librarian in the family and I am a part time employee of the West Virginia and Regional History Center. I get to decide what to keep or what to get rid of and how to preserve records that are important to us.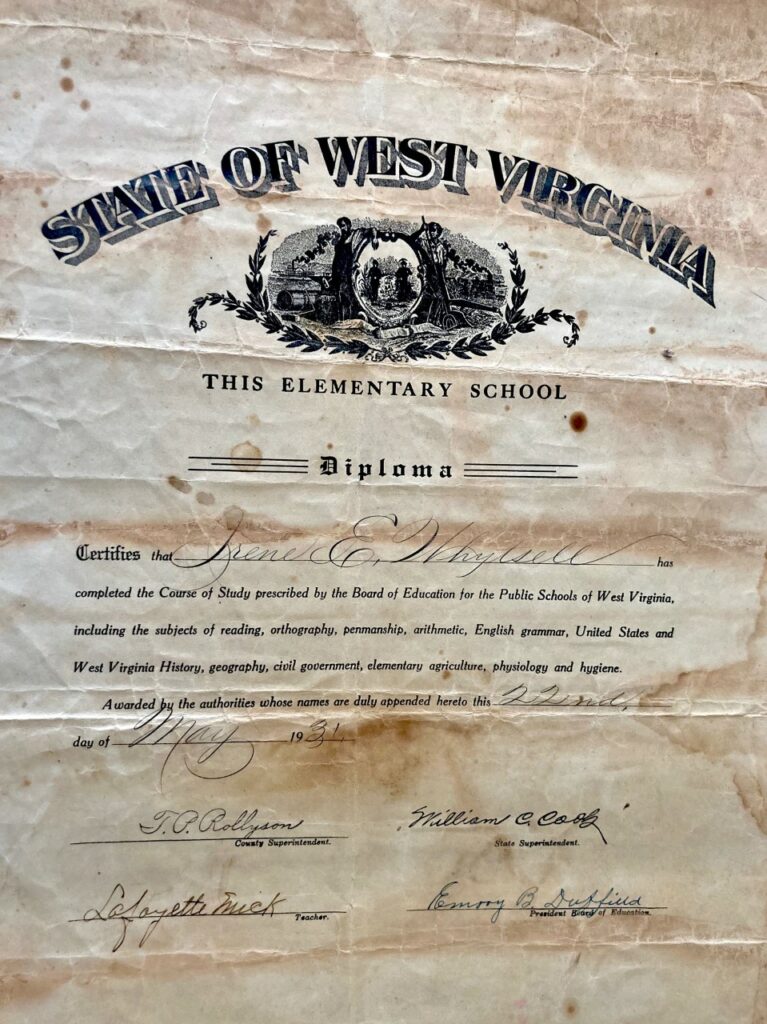 My job in the Center is to process papers and records of families and organizations. Every single collection I process in the Center provides me with more knowledge about how to preserve materials and how to make the information in them accessible for researchers. Records come in a wide variety of formats and media but they are mostly paper based. One of the collections I processed last year had obviously been stored in a non-climate-controlled area. One sign of that was that the papers contained a large number of rusty paper clips, staples, and metal binders.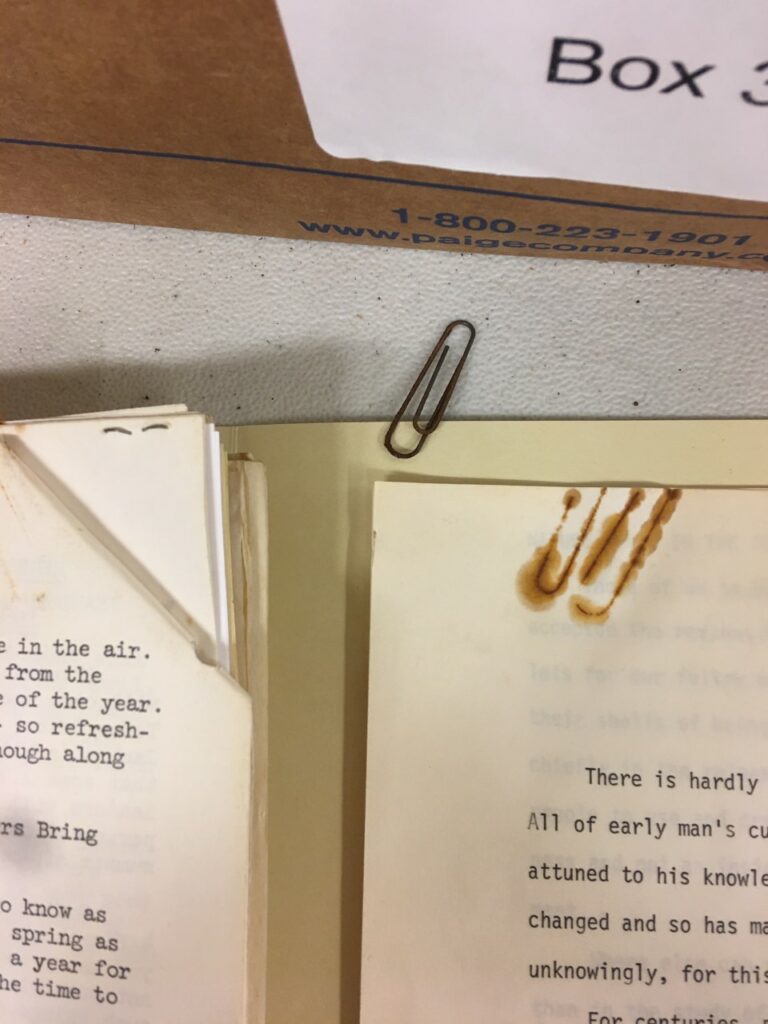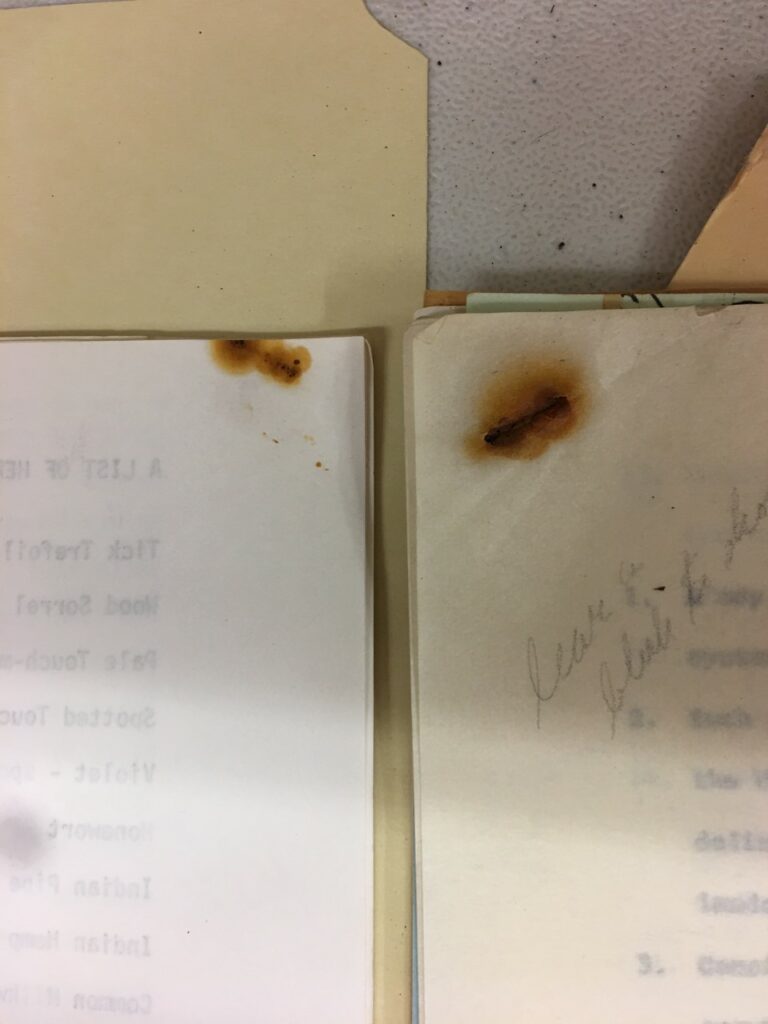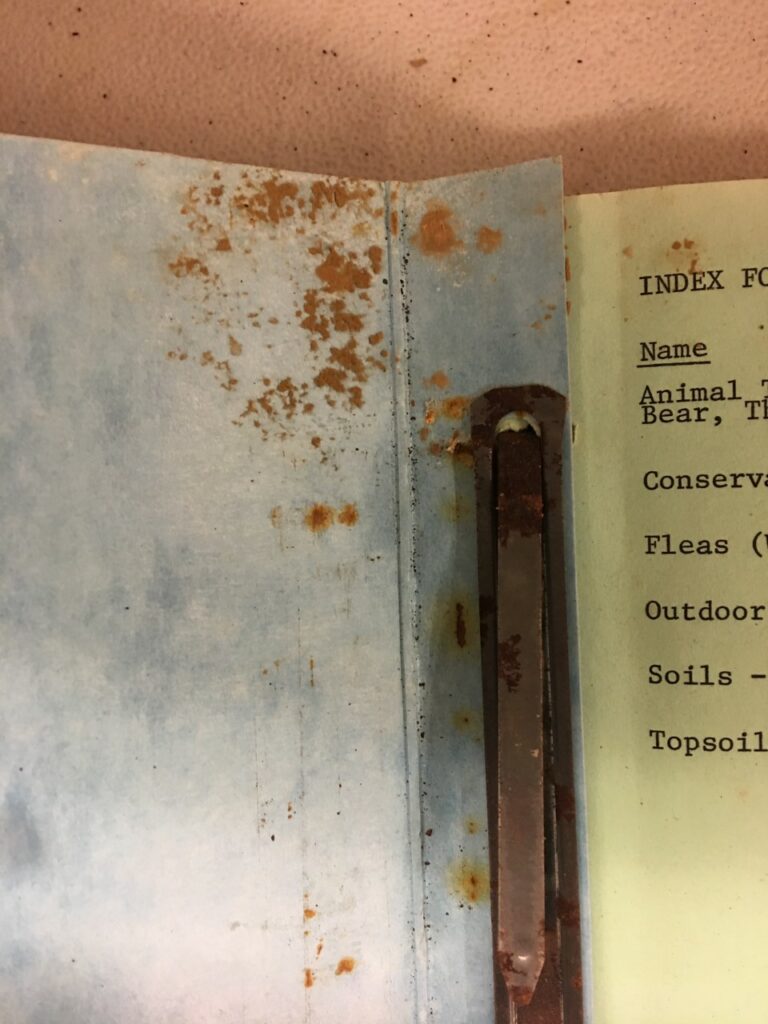 This blog post will not be dealing broadly with preservation of materials in archival collections or family documents, but will look only at metal fasteners such as staples, paper clips, and binders, with some rubber bands thrown into the metal mix.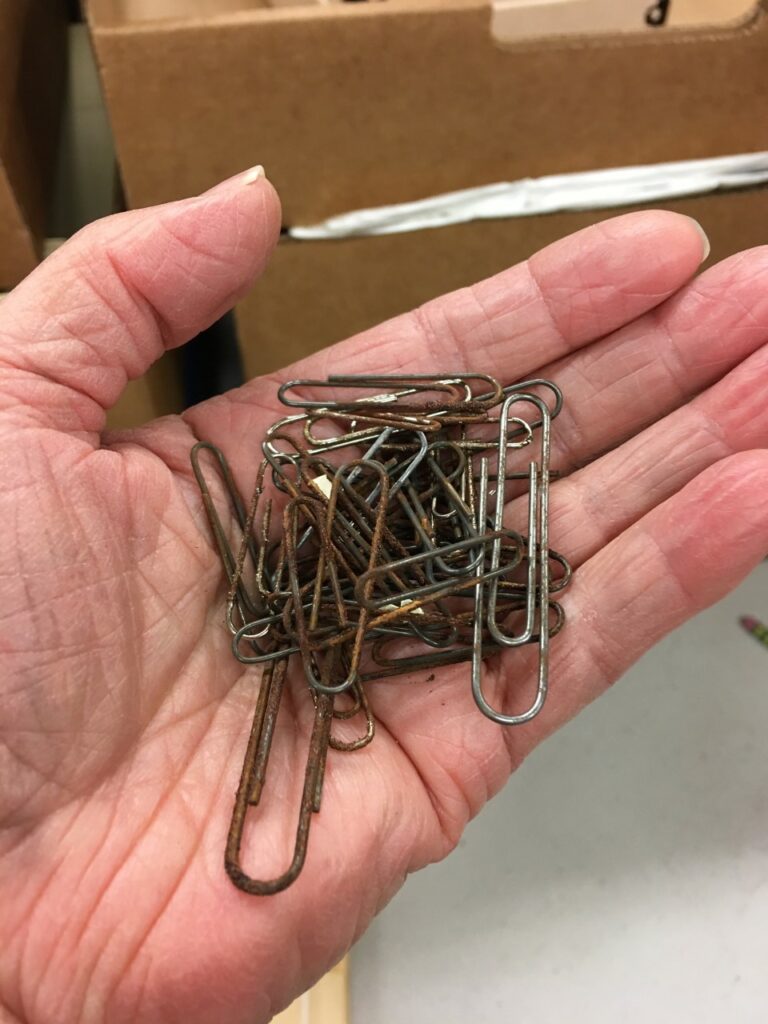 Since the worst enemies of paper are heat, moisture, and light, metal paper clips frequently degrade on archival records and they should be removed if possible when you find them in old records, ideally before they completely adhere to the papers. Instead, it is best to use plastic or plastic-coated clips. Major retailers sell these as well as office supply stores. Some archives prefer to use stainless steel paper clips, which are supposed to be rust-proof.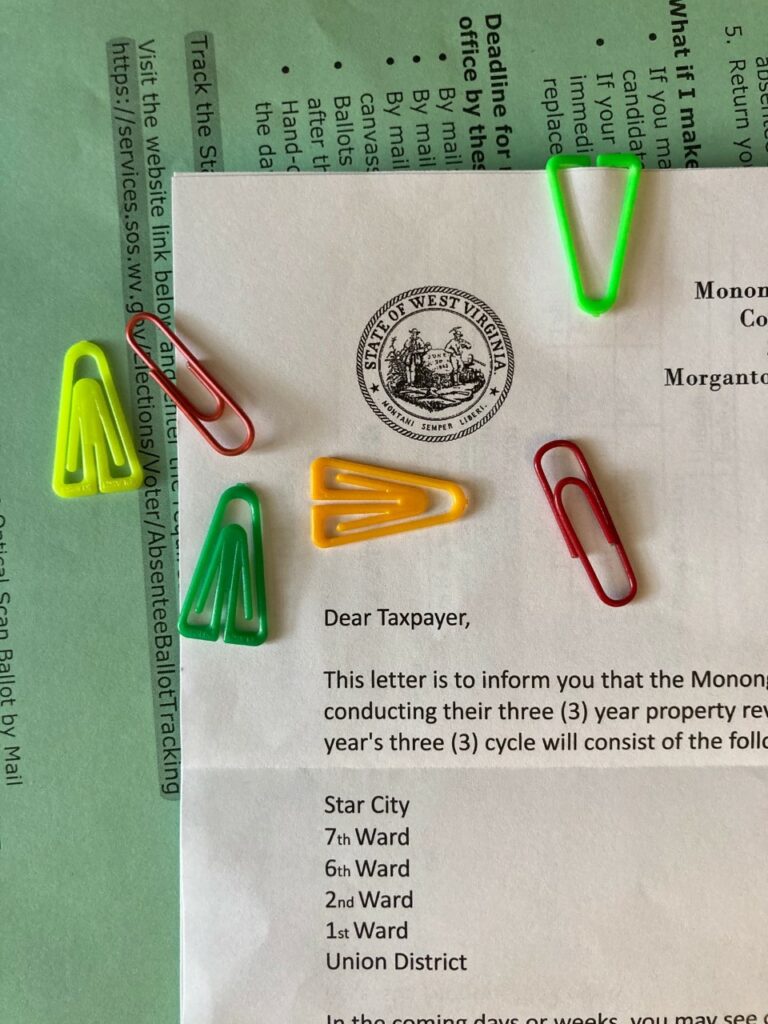 To remove rusty paper clips which are adhering to the paper, I stabilize the paper on a flat surface by holding the corner down as I insert a knife or letter opener under the open end of the paper clip keeping it parallel to the surface. I open the paper clip while sliding the knife under the open end while continuing to stabilize the paper on a surface. When the clip is fully open, I can remove the paper clip without damaging the paper. Sometimes the paper is so brittle that it will crumble no matter how careful you are with getting the clip from around it. It's a very meticulous process requiring patience.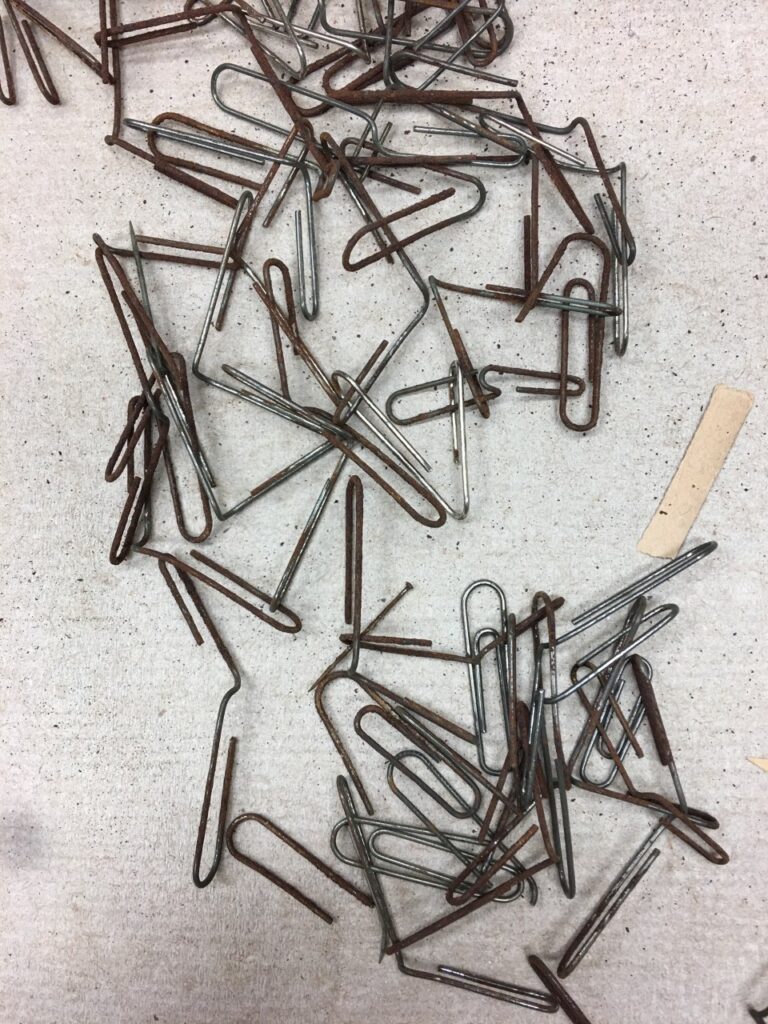 I will mention one last commonly used fastener which will cause damage to our family papers. Rubber bands are susceptible to the same enemies as metal fasteners: moisture, heat, and light. Rubber bands will melt, crack, and degrade leaving their mark over time.
According to a flyer from the National Park Service, you can use a microspatula to remove both paper clips and residue from rubber bands. The microspatula is available online at major retailers and scientific instrument stores. I haven't used it, but this source has some excellent suggestions on removing fasteners.
If you aren't able to check your family papers for problematic fasteners now, you can buy time by storing the papers in an environment that is climate controlled, not exposed to extreme temperatures or humidity fluctuations. That should help the fasteners degrade less rapidly.
I hope my experiences working with the documents in the West Virginia and Regional History Center will help you preserve some of your meaningful family treasures.
Additional Resources:
Society of California Archivists, "Family Papers: Preservation and Organization." Accessed at on July 28, 2020: https://calarchivists.org/Resources/Documents/Brochure_Series/Papers_in-English.pdf
U.S. Library of Congress. "Care, Handling, and Storage of Works on Paper." Accessed on July 28, 2020 at: https://www.loc.gov/preservation/care/paper.html
U.S. National Parks Service. "Removing Original Fasteners from Archival Documents" Conserve O Gram, July 1993, 19(5). Accessed September 1, 2020 at: https://www.nps.gov/museum/publications/conserveogram/19-05.pdf