Posted by Admin.
May 11th, 2021
Blog post by Jane LaBarbara, Assistant Curator, WVRHC.
Thanks to the National Digital Newspaper Program, the WVRHC has been able to make more newspapers available digitally through Chronicling America. Check out the full list of newspapers currently available for West Virginia, arranged by city. You can use these newspapers to do historical research, to search for the names of relatives or famous people, to marvel at the clever advertisements of yesteryear, and you can also use them to find fun recipes.
To celebrate the latest group of digitized newspapers going up online, I decided to look for a fun recipe to test, and I found one I loved in The McDowell Times issue from March 14, 1941. (You can take a look at the newspaper page in question to see this and other recipes.)
The recipes in this issue are in the "Household News" section by Eleanor Howe, and they're all about diversifying sausage use. To be honest, I was hooked from the beginning of the column. The very clear gender roles of that time period practically jump off the page. The column starts with a homemaker [clearly a woman] who claims to get as much of an emotional boost from trying a new recipe as from buying a new hat. As the column continues, a small ad for a cookbook by the column author includes this sign of the times: "The best part of the adventure [in cooking], however, comes about when the recipe makes the man of the family look up and with both pride and appreciation in his voice pronounces the whole meal a tremendous success."
It is worth noting that these recipes aren't specific to Keystone, WV, the publishing location of The McDowell Times. The clue, for me, was the mailing address for the advertised cookbook, which was in Illinois. I did a quick search of Chronicling America's newspapers and found that this same column ran in The Midland Journal, in Maryland, Carbon County News, in Montana, and The Frontier, out of Nebraska, all during a two-day period. It is delightful to have a database like Chronicling America available to bring together materials from so many institutions, to allow for this kind of cross-searching.
While the image of a wife as a queen of domesticity doesn't resonate with me, the part about cooking as an adventure does.  I am a beginner cook, and I'm always on the lookout for relatively quick and easy things that are appropriate for family dining or get-togethers with friends.  When I saw the recipe and image for Porcupine Sausage Balls, I knew this would be it.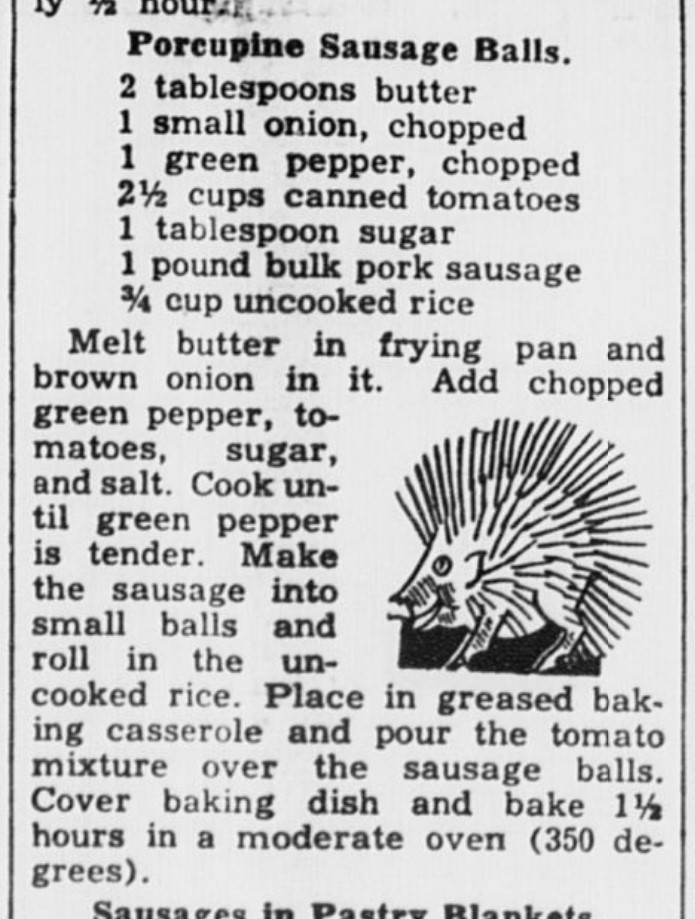 Porcupine Sausage Balls
2 tablespoons butter
1 small onion, chopped
1 green pepper, chopped
2 ½ cups canned tomatoes
1 tablespoon sugar
1 pound bulk pork sausage
¾ cup uncooked rice
Melt butter in frying pan and brown onion in it. Add chopped green pepper, tomatoes, sugar, and salt. Cook until green pepper is tender. Make the sausage into small balls and roll in the uncooked rice. Place in greased baking casserole and pour the tomato mixture over the sausage balls. Cover baking dish and bake 1 ½ hours in a moderate oven (350 degrees).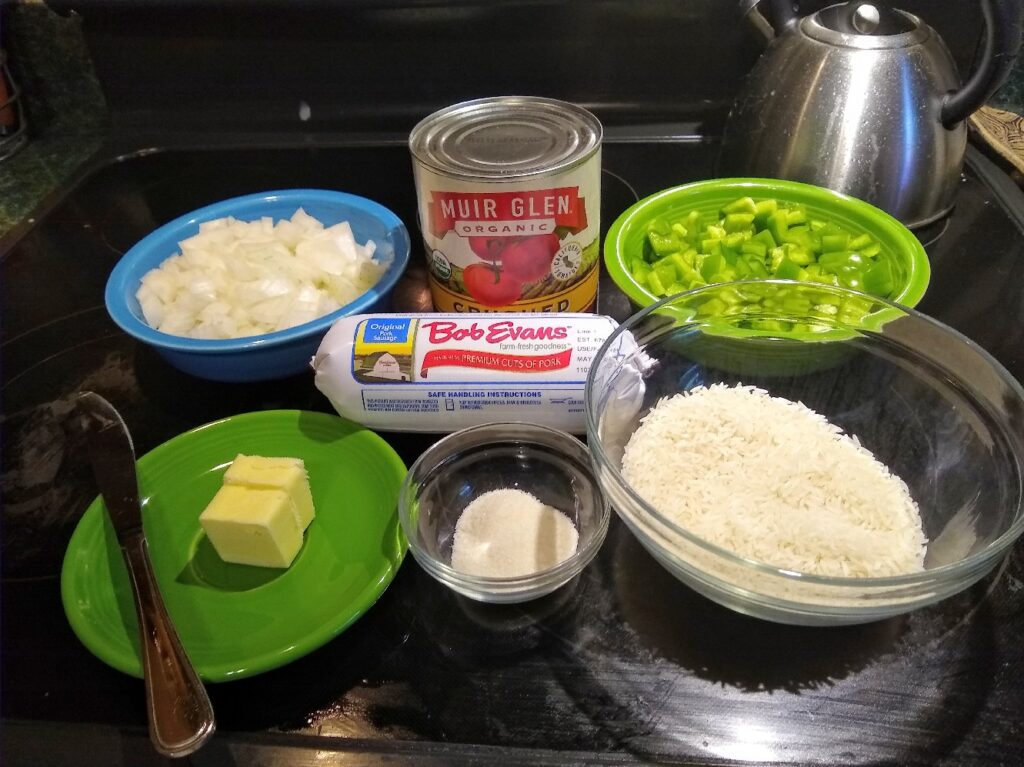 The recipe was relatively easy to prep and easy to follow.  I did note partway through that salt does not appear on the ingredients list, so I just assumed that all I needed was a big pinch of it.  I approached the rice with skepticism – I have been disappointed once before by rice that didn't actually cook in a recipe, so I worried if this rice would cook properly.  I chose a small casserole dish so that the tomato sauce mixture would cover the sausage balls completely, to give the rice a fighting chance.  If you want to make this recipe, too, I suggest using a smaller amount of rice than what the recipe calls for, with more on standby. I probably only used a half cup of rice.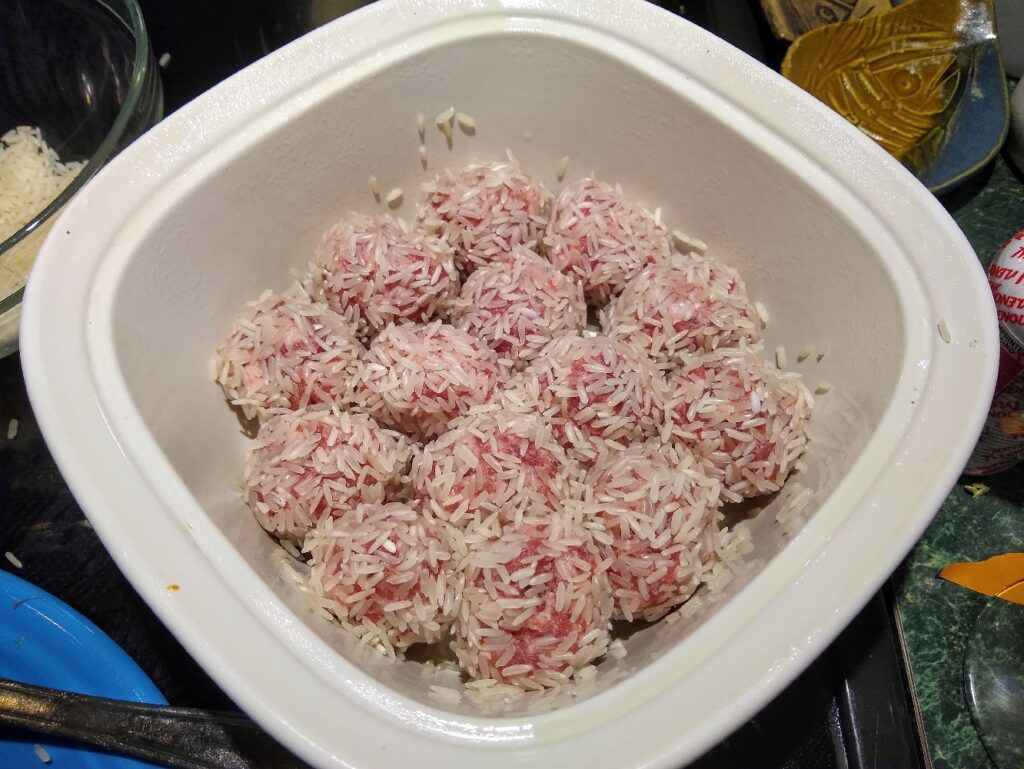 While they didn't look quite like the adorable drawing in the recipe, the sausage balls were quite cute with the rice on them. With the sauce on top, it was ready to cook for what felt like a surprisingly long time.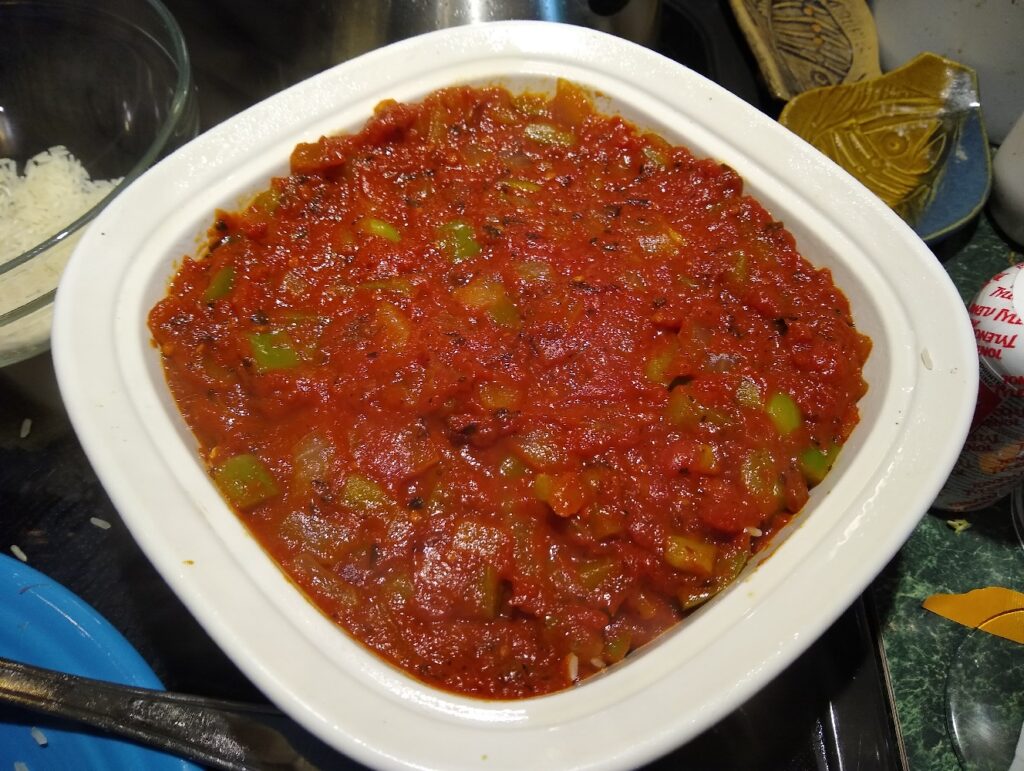 The final result was delicious.  It probably wasn't intended as an afternoon snack, but that's how we ate it.  The rice [which DID cook, except for a few crunchy pieces on the bottom] doesn't actually stick to the meatballs, so if you are expecting the presentation of the dish to reflect the name of it, you will be disappointed. However, the most important part is that this was so tasty.  Everyone in my family enjoyed it, even the kids, who are pretty hit or miss at this age.  I am surprised to say that I will be making it again.  Tip: make sure to choose a sausage that has a flavor balance you like; for me, the sausage flavors really shined through.  Alternatively, you could try this with ground beef or meat substitute, but I don't know how that would affect the cooking time, if at all.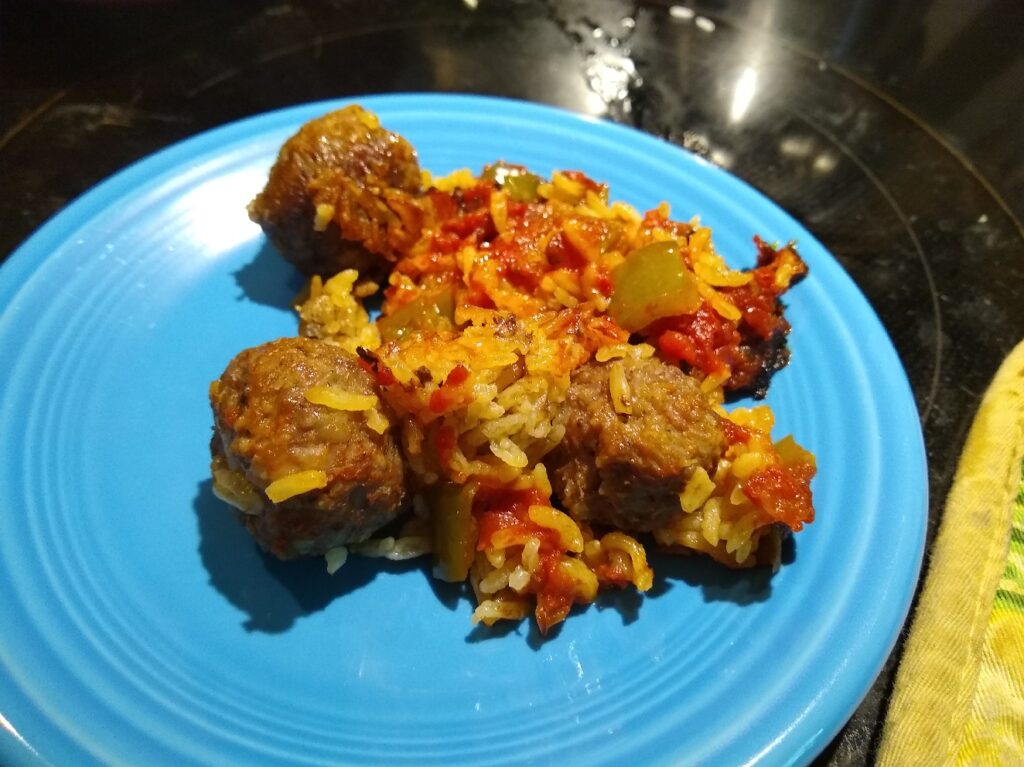 Leave a Reply