Posted by Monte Maxwell.
May 12th, 2021
West Virginia University Libraries' Teaching and Learning Committee has selected Adam Benjamin and Aerianna McClanahan as 2021 Robert F. Munn Undergraduate Library Scholars.
"All of us at WVU Libraries are thrilled to name Adam Benjamin and Aerianna McClanahan as Munn Scholars," Dean of Libraries Karen Diaz said. "Adam and Aerianna navigated around limitations placed on them by COVID-19 restrictions to research their topics thoroughly and write impressive works of scholarship."
The WVU Libraries and the Honors College established the Robert F. Munn Undergraduate Library Scholars Award in 2009 to honor Dr. Robert F. Munn, dean of Library Services from 1957-1986. The award goes to one or more Honors students for an outstanding humanities or social sciences thesis based on research conducted in the WVU Libraries. Along with a $1,000 award, their names will be added to a plaque in the Downtown Campus Library and their theses added to the Research Repository @ WVU. Both papers can be read at researchrepository.wvu.edu/munn.
"We at the Honors College applaud Adam and Aerianna for their perseverance, adapting to new circumstances and moving forward undaunted in gathering their research," Honors College Dean Kenneth Blemings said. "We are pleased to recognize two of our best and brightest scholars."
Benjamin, from Shepherdstown, won for his thesis titled "Labor-Power as It's Found: Surplus Labor and Development Initiatives in Revolutionary Zanzibar." The Teaching and Learning Committee was impressed by Benjamin's depth and scope of research as well as the significant knowledge his research has added to the study of the Zanzibar Revolution.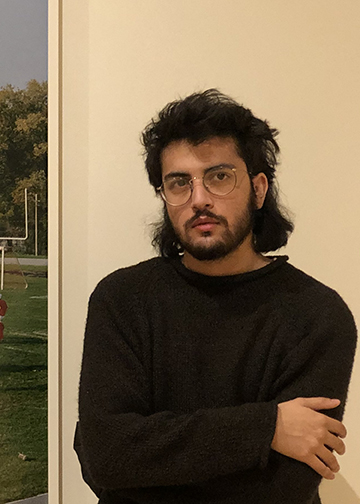 "I've long been interested in questions of economic development, but I've felt that when we approach the questions of raising standards of living, modernizing or industrializing, there are forces at play behind them that we don't really consider," Benjamin said. "So, I decided to take a look at a specific situation."
Travel restrictions forced him to scrap his original plans of traveling to Zanzibar. Instead, he interviewed Zanzibar officials and others over the phone. Also, he relied on WVU Libraries to find books, articles, and other materials, and he contacted the Library of Congress to search their East Africa Archives.
One key point he learned in his research is difficulty of succeeding in development efforts.
"Development issues are never a smooth sailing, one-for-one process. They always require the complete mobilization of many aspects of society and often times that does not work and is not able to happen," Benjamin said.
However, he benefited personally as the work provided a learning experience that will be helpful in graduate school.
"I learned how to look at archival resources, how to look deeper, how to read between the lines to discover what's going on in historical documents," Benjamin said.
Benjamin credits his adviser, Devin Smart, assistant professor in the Department of History, and Robert Maxon, Professor Emeritus of History, for his success at WVU and his capstone paper.
Benjamin will graduate in May with dual majors in history and anthropology. In August, he heads to UCLA with a full-ride scholarship in African studies. His future plans involve either finding a job in writing or going to law school to specialize in international labor law.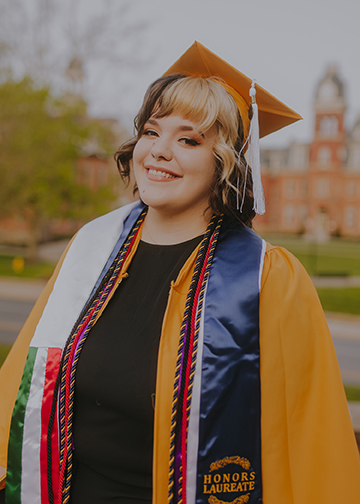 McClanahan, a Mingo County native, won for her thesis titled "The Downfalls of Performative White Allyship on Social Media in the #BlackLivesMatter Movement." The Committee found McClanahan's research question and design substantive as well as the information that she has added to the study of "slacktivism" and performative allyship.
"I was first interested in this topic because I identify as an ally myself and as someone who is always learning and growing in my own allyship practice and listening to what various Black and Indigenous people in my life and online had to say," McClanahan said.
In her paper, written in fall 2020, she focused on white individuals who were just beginning to pay attention to and participate in the Black Lives Matter (BLM) movement after the murder of George Floyd in May 2020.
As part of her research, she administered a survey. One of the problems she identified was that engagement among white allies decreased from June to October 2020.
She also discovered many allies or perceived allies were making mistakes in the attempts to support the cause.
The most negative example involves the video recordings of white accelerationists and people who were purposely trying to invoke violence and crime just for the sake of doing so and not trying to help people involved in the movement.
"It really tarnishes the name of people trying to do good work," McClanahan said.
But even some sincere allies made mistakes, such as using the #BLM as virtue signaling that actually drowned out the efforts of those struggling to be heard and make a difference.
"Allyship is supposed to be uncomfortable. If you want to be an effective ally you need to have difficult conversations and be an empathetic listener," McClanahan said.
McClanahan is grateful for the assistance she received from WVU librarians, especially Humanities Librarian Lynne Stahl. She also gained valuable insight into research methods from the Research Commons Workshops the Libraries provide throughout the academic year.
And, whether she was in Morgantown or back home in Mingo County, she regularly went online to use the Ask-a-Librarian chat feature on the Libraries' website.
"Researching the paper required a lot of long and weird hours," McClanahan said. "If I had a question, I could just jump online and whoever was answering questions was always super nice and helpful. They would direct me to the best person to find the resources I needed."
McClanahan also credits Dr. Lupe Davidson, associate dean for Social Justice, Faculty Development and Innovation for the Eberly College of Arts and Sciences, for encouraging her to pursue the thesis topic.
"I could not have completed this project without Dr. Davidson's patience and wisdom," she said.
McClanahan will graduate in May with dual majors in English and Women's and Gender Studies. She's excited to continue at WVU in the fall as a graduate teaching assistant in English. The opportunity will provide teaching experience to help her determine if she wants to be a professor, and it will give her time to explore pursing a graduate certificate in women's and gender studies.
"I'm going to use the next two years to decide if I want to earn a Ph.D. in one of the two fields," McClanahan said.
Leave a Reply