Posted by Monte Maxwell.
June 9th, 2021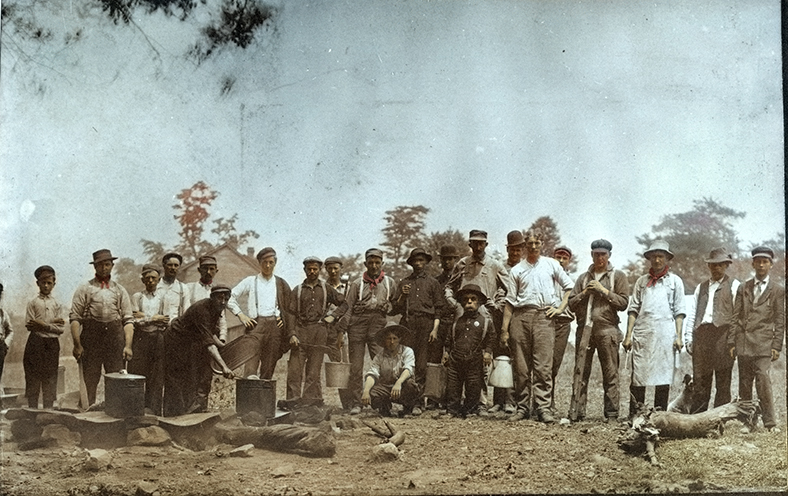 West Virginia University Libraries and the West Virginia and Regional History Center will celebrate West Virginia Day with "The Road to Blair Mountain: Commemorating the West Virginia Mine Wars." There will be a program and an exhibit focusing on the West Virginia mine wars, a series of strikes and battles between 1912 and 1921 that pitted pro-union miners against the coal companies. Most notable among these events was the Battle of Blair Mountain, which marks its 100th anniversary this year.
Plan to join us June 18 from 10-11:30 a.m. for the virtual program, which will feature presentations by William Hal Gorby, assistant teaching professor of history in WVU's Eberly College of Arts and Sciences and consultant for the PBS American Experience documentary "The Mine Wars," and Charles B. Keeney, assistant professor of history at Southern West Virginia Community and Technical College, founding member of the West Virginia Mine Wars Museum, and author of "The Road to Blair Mountain."
Please register in advance.
Gorby will address the motivation behind the miners' anger and willingness to resort to violence. He will also examine how miners came to understand the collusion between the coal operators and the state government and why the local and state governments allow this treatment to continue.
"For years after the Battle of Blair Mountain, these events were not part of the wider collective memory of the state's residents. Through control over the mediums of power, and because the miners involved often did not leave their own documentation to tell their side of the story, West Virginians for generations grew up not learning they had such a unique and fascinating labor history," Gorby said.
In his presentation titled "Inside the Battle of Blair Mountain: Leadership, Strategy, and the Fight for Liberty in West Virginia," Keeney will discuss the relevance of the coal wars to society today and what lessons can be drawn from these tragic times.
"Currently, we face the largest wealth gap in America since the Battle of Blair Mountain. Workers, from teachers and Amazon employees in the US, to miners in the Congo and Colombia, to sweatshop workers in in southeast Asia, are fighting for the right to unionize and earn living wages," Keeney said. "In short, all of the conditions that led to the bloodshed of 1921 are reemerging on a global scale. In order to avoid more labor strife and violence in the future, we must learn from Blair Mountain."
While the online program is open to everyone, because of COVID-19 restrictions, the gallery exhibit will be open only to WVU students, faculty and staff. The gallery will open to the public as soon as restrictions are lifted.
More information is available at wvrhc.lib.wvu.edu/news-events/west-virginia-day.
Leave a Reply