Posted by Jane Metters LaBarbara.
September 8th, 2021
Blog post by Lori Hostuttler, Assistant Director, WVRHC
Saturday marks the 20th anniversary of the terrorist attacks of September 11, 2001. It will be a day of remembrance to honor the 2977 immediate victims of the attacks, those who died later, and their families who lost so much. The events of 9/11 are painful memories, but remembrance is important. Many people have their own 9/11 story. The West Virginia and Regional History Center (WVRHC) is now preserving an extraordinary one.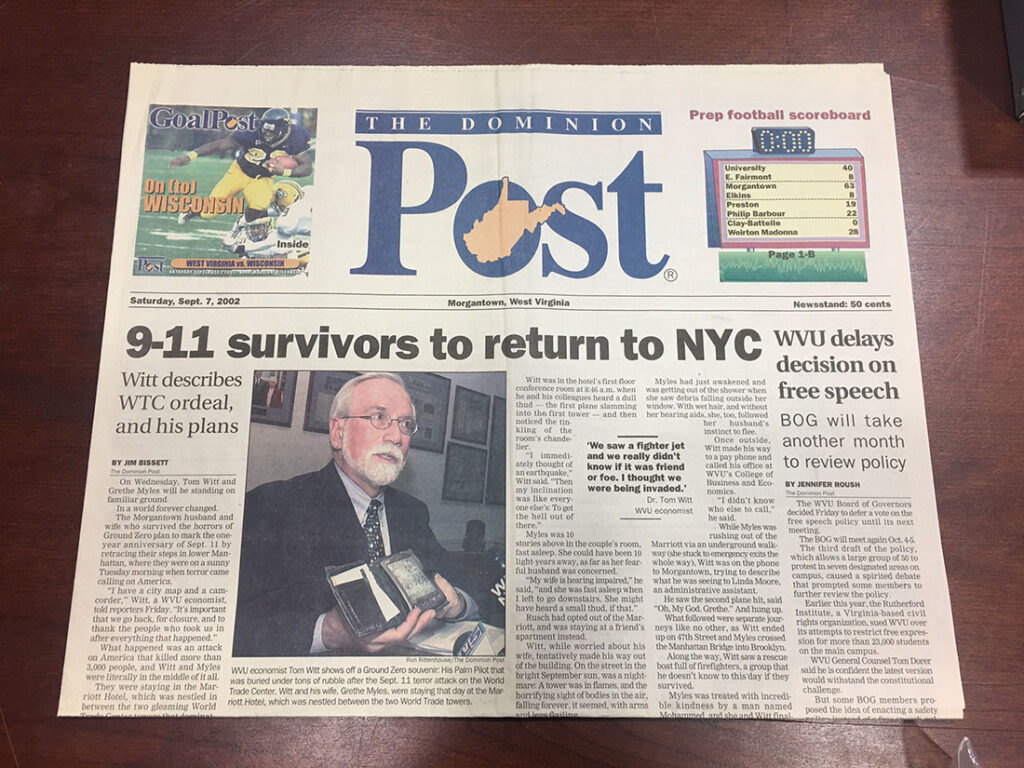 WVU Economics Professor Tom Witt was in New York for an academic conference on 9/11/2001. The National Association for Business Economics (NABE) was being held in the Marriot Hotel at 3 World Trade Center located in between the Twin Towers. Witt and his wife, Grethe, were at ground zero during the attacks and narrowly escaped. Their experience has been recounted in local media over the years and now an archival collection documenting it is part of the holdings of the WVRHC. The Tom S. Witt September 11 Collection contains some of Witt's recovered personal belongings, local and national newspapers with 9/11 content, as well as a number of books in which his story is told. The collection is available for research at the History Center. It will be preserved in perpetuity.
Photographs of selected items from the collection:
Twenty years later, 9/11 is a day that lives vividly in the memory of many who lived through it. A younger generation has grown up seeing the tragic footage and learning about the events and the aftermath. As strange it seems now, there will come a time when the events of 9/11 are not so close to the hearts and minds of Mountaineers and the American people. Witt's collection at the WVRHC captures the horror of the day and the resilience of a 9/11 survivor for those future researchers.
Notes:
In this 2016 MetroNews article, Dr. Witt details his experience. The article also includes audio of his interview with WV Public Broadcasting while the events unfolded on September 11, 2001.
In 2011, WVU Today interviewed Dr. Witt and remembered WVU alumni Chris Gray and Jim Samuels, who were killed in the attack.
Leave a Reply