Posted by Monte Maxwell.
October 6th, 2021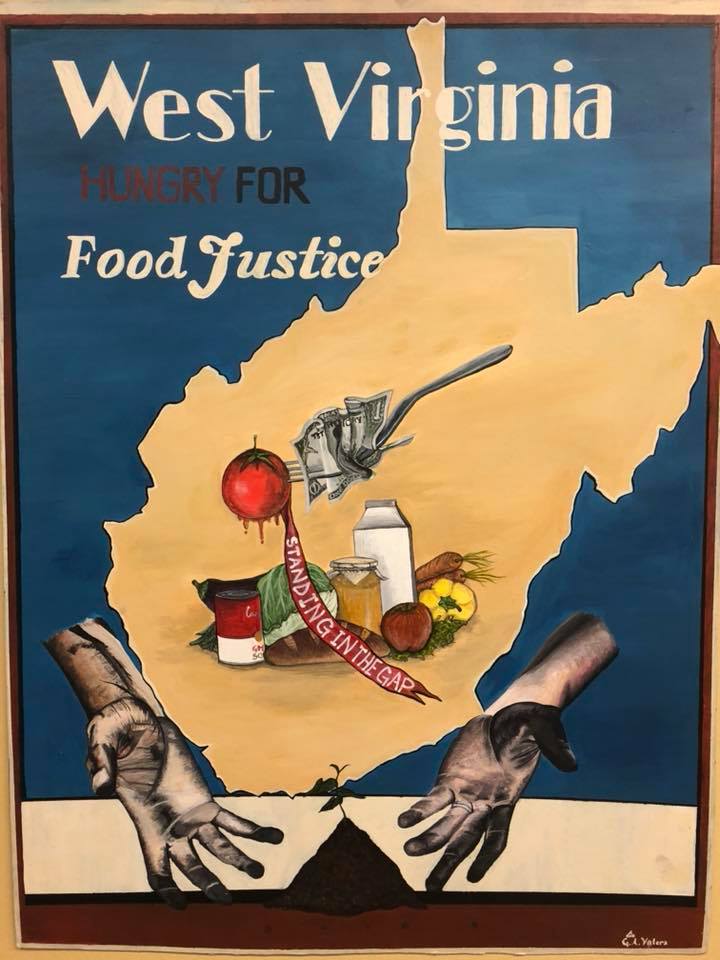 WVU Libraries' "Food Justice in Appalachia" exhibit will open at the Downtown Campus Library with a reception Saturday, Oct. 16, from 4-6 p.m. with a virtual offering of presentations at 5 p.m.
"Food Justice in Appalachia" is a multidisciplinary print and online exhibition featuring multiple themes in the food justice movement and offering suggestions for action to shape a more just, equitable, and sustainable food system.
"This collaboratively curated exhibition brings together artists, storytellers, farmers, activists and scholars to highlight intersecting values that shape our foodways through the lens of regional food activists working to address hunger and build alternative food futures," Libraries Exhibit Coordinator Sally Brown said.
The opening reception, to be held in the Library's Atrium, will include presentations by WVU Libraries Dean Karen Diaz, WVU Food Policy Research Director Joshua Lohnes,
WVU Extension Specialist in Public Health Kristin McCartney and Hill & Hollow Chef Marion Ohlinger. The event will be catered by Hill & Hollow, who will be serving Appalachian inspired appetizers.
To attend the in-person reception, please register here. In-person registration is limited.
To virtually attend the 5 p.m. program, register here.
"The Center for Resilient Communities is looking forward to partnering with WVU Libraries to advance conversations about Food Justice over the coming year. The art exhibit offers opportunities to elevate the rich histories of Appalachian food heritage, explore the inequities presently coded into our food system, and advance the movement for the Right to Food. It comes at a time when it is extremely urgent for us to collectively be thinking about how we build a more just and resilient food future for our region" Lohnes said.
In conjunction with the launch of the Libraries' Food Justice exhibit and the United Nations World Food Day, the Center for Resilient Communities will launch a year of reflection on how people might collectively advance the movement for food justice, sustainable and resilient food futures in West Virginia and beyond. The series of events begin Oct. 15 with Food Justice Day.
The production and distribution of food shapes landscapes, defines economic systems and informs cultural practices. Over the past fifty years, the corporate capture of our food system has reinforced gender, race and class inequities in fields and processing factories, kitchens and grocery stores, between households and across neighborhoods.
WVU Libraries, the WVU Food Justice Lab, the WVU Center for Resilient Communities and TURNROW Appalachian Farm Collective joined together to delve deep into these issues.
Attendees will explore personal perspectives on Appalachian food traditions and ongoing personal and collective struggles over food access. The online exhibition includes extended material and a Library Guide with resources for course integration, and K-12 Lesson plans available on the website.
To reach broad audiences, an infographic poster is being distributed to statewide food organizations. "Food Justice in Appalachia" will remain on display throughout the 2021-2022 academic year, travel to WVU Beckley Campus Library in 2022, and will be available for additional travel thereafter.
This exhibition was made thanks to the generous support of the main exhibition sponsors including: WVU Humanities Center Collaborative Engagement Grant, WVU Health Promotion and Wellness Grant, WVU Eberly College of Arts and Sciences, MPB Print & Sign Superstore, WV Department of Agriculture, WVU Division of Diversity, Equity and Inclusion, WVU College of Creative Arts, WV Humanities Council, WVU Davis College of Agriculture, Natural Resources and Design, WVU Office of the Provost Transform This Challenge Grant, WVU Division of Student Life and several supporters listed on the website.
For a list of contributors and sponsors, and to keep updated visit exhibits.lib.wvu.edu/exhibits/food-justice-in-appalachia.
Leave a Reply