Posted by Monte Maxwell.
April 5th, 2022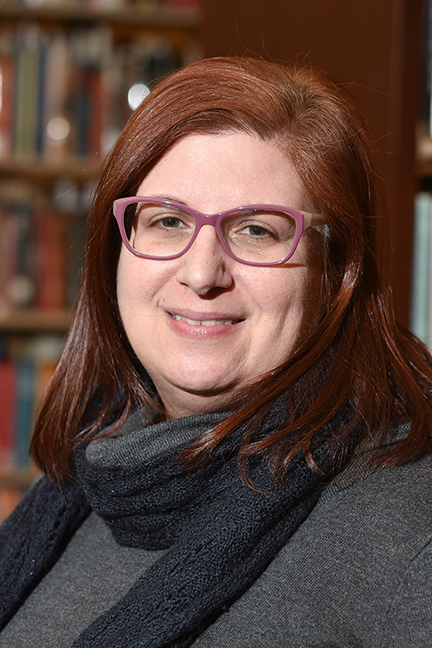 The Awards Committee of the West Virginia University Library Faculty Assembly has selected Lori Hostuttler, interim director of the West Virginia and Regional History Center, as the Outstanding Librarian for 2022.
The award, presented triennially, recognizes a faculty librarian who has made exceptional contributions toward the delivery, development, or expansion of library services or special programs for the constituencies of WVU.
In her nomination, Hostuttler was recognized by members of the College of Creative Arts, College of Arts and Sciences and West Virginia Humanities Council for her accomplishments in the areas of innovative instruction, accessibility and social equity.
Recounting Hostuttler's integral role in establishing the West Virginia Folklife collection, former West Virginia State folklorist Emily Hilliard credits Hostuttler with being an "exemplary colleague … listening to our needs, teaching the content management system, troubleshooting any issues, and presenting a beautiful, accessible product with diligence, expertise, and positivity."
Hostuttler also received praise for the spirit of collaboration with which she worked to acquire and represent several collections of oral histories and ethnographic materials, including a major collection of interviews with West Virginian songwriters.
Beyond her achievements in acquiring and preserving these materials, Hostuttler surpasses expectations to make them accessible, to enhance their visibility through reparative description, and to bring them to life through instruction. She participates in the creation of insights and regionally significant scholarship by offering her expertise about the WVRHC's holdings, utilizing her "gift for understanding which collections might be most helpful for a particular project."
One researcher describes how Hostuttler provided virtual access to materials for both faculty and students during the closure for the COVID-19 pandemic. During the Campus Read of "Hidden Figures," Hostuttler conducted classes in which students discovered other hidden figures in West Virginia history in the Center's collections.
A member of the Department of English, who conducts archival research and oral history interviews with some of the first Black students on WVU's campus, credits Hostuttler with introducing her to Jimmy Lewis, who was the first Black basketball player to sign with WVU in 1964. This contact allowed the professor to identify an entire network of sources and interviewees to expand her inquiry.
In these examples and more, Hostuttler transcends the dichotomy of preservation and access by enriching research and engaging students with local sources, qualifying her as a leader in the dissemination of knowledge, and exemplifying the mission of a land-grant University library. Her talent for identifying and acquiring resources, her depth of knowledge of materials acquired, are second only to the enthusiasm she imparts to students and faculty for the intellectual output of the University, state and region, amplifying the voices of the underrepresented.
One Response to 'Library Faculty Assembly names Hostuttler Outstanding Librarian'
Linda Says:
April 7th, 2022 at 11:52 am

Congratulations, Lori! You are more than deserving of this honor and these accolades.
Leave a Reply