Posted by Monte Maxwell.
September 6th, 2022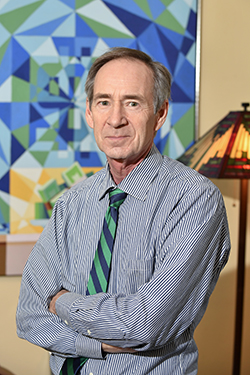 John Cuthbert, former director of the West Virginia & Regional History Center, retired December 31, 2021, with more than 40 years of service to WVU Libraries. A reception in his honor will be held Friday, September 23, from 3-5 p.m. in the Downtown Library's Milano Reading Room.
Cuthbert spent his career telling anyone who would listen about the Mountain State's rich cultural artistic heritage.
"West Virginia is unique in many ways and certainly has one of the most interesting histories of any state in the Union," Cuthbert said. "My mission throughout my career was to shed light on subjects and people who defy stereotypes about West Virginia."
Cuthbert began in the WVRHC as an assistant curator in 1979 and was named director of the Center in 1998. Under his leadership, the WVRHC evolved into one of the most significant historical repositories held by any land-grant university in the nation. Cuthbert played an instrumental role in the Center's numerous acquisitions including the political papers of Sen. John D. Rockefeller IV, Congressman Nick J. Rahall, and Governor Arch C. Moore; literary manuscripts by Nobel Prize laureate Pearl S. Buck; records of steel executive Hank Barnette; legendary athletes Jerry West and Rod Thorn; Star Trek score composer Jay Chattaway; and literally hundreds of others.
He authored four books about West Virginia art and artists that have changed the perception of West Virginia's cultural heritage and solidified the Mountain State's vibrant role in American art history. In "Early Art and Artists in West Virginia" Cuthbert documents nearly 1,000 artists active in the state during the 19th and early 20th centuries. The groundbreaking study earned its author a Claude Worthington Benedum Award, WVU's highest academic honor, among other accolades.
Most recently, Cuthbert played a lead role in creating a new WVU museum devoted to the history of medicine. The William A. Neal Museum of the Health Sciences will open its doors on October 28.
His accomplishments throughout his tenure won the admiration of John E. Stealey, III, Ph. D., Distinguished Professor Emeritus of History at Shepherd University, and chairman of the WVU Libraries visiting committee since 1984.
"For approximately 40 years, I have known Dr. Cuthbert and his diligent work as he progressed through the professional ranks. All curators of the WVRHC have been capable and contributory professionals, but none had Cuthbert's breadth of knowledge of the state and its people, his diverse intellectual competence in various academic fields, and his energy in achieving results that have benefited the Mountain State," Stealey said. "Under his leadership, the WVRHC has become the preeminent depository for West Virginia and Appalachian materials, equaled by no other institution."
WVU Libraries will also use the occasion to celebrate the re-opening of the Milano Reading Room, which now showcases an expanded Appalachian Book Collection and new WVRHC exhibits. Renovations included upgrades to lighting and blinds, refurbished tables, new furniture, new presentation technology, and new exhibit cases.
Plan to join us for the reception on September 23 to congratulate Cuthbert and take in the revamped space. Light refreshments will be provided.
Leave a Reply