Posted by Admin.
October 17th, 2022
Written by Devon Lewars
Dr. Reed was born in Lowell, Ohio on September 18, 1887. After graduating from Marietta College, Reed went on to receive his Ph.D. in English at Ohio State University in 1916. Until 1920, he served as the head of the English department at the University of Maryland. Eventually, Dr. Reed made his way to West Virginia University where he would go on to devote his life's work. In 1939, Dr. Reed founded the WVU School of Journalism. In April of 1973, Dr. Perley Isaac Reed passed away, sadly before the college was recognized as the West Virginia University Perley Isaac Reed School of Journalism in 1977.
On July 1, 2014, the WVU Board of Governors made the decision to change the name of the school to "Reed College of Media."  They hoped the name change would "reflect the current and future direction of our college as we prepare students for careers in modern media communications."[1]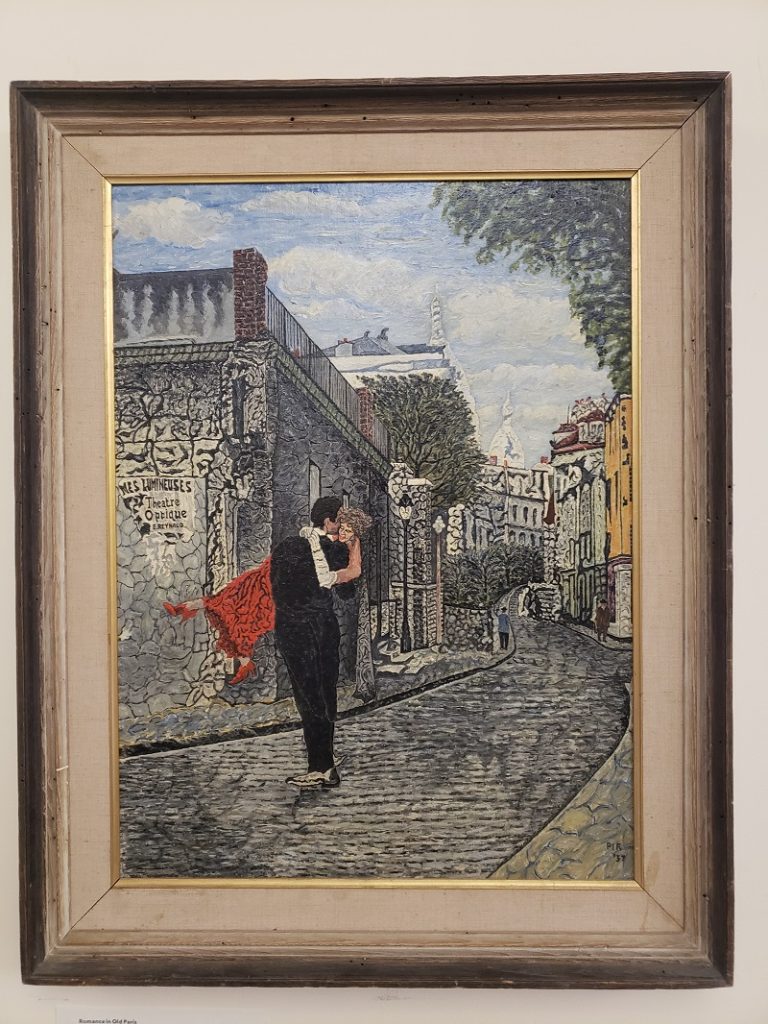 Throughout his life, Reed enjoyed funneling his creative energies into painting and writing poems. Reed painted "Romance in Old Paris" in 1957 on canvas board with oil paints, as he did with his other work. I chose to temporarily display this painting in our library because of Reed's unique style of painting, in which he applies small strokes which blend very beautifully. I would consider myself a romantic, so when I first saw Reed's depiction of the two lovers, I couldn't help but fall in love as well. Some of Reed's paintings are currently located at the West Virginia & Regional History Center. Linked below is the collection titled "Perley Reed, Author, Poetry and Artwork" where more details concerning Reed's other paintings and works can be found.
As of September 2022, Reed's painting "Romance in Old Paris" can be appreciated by visiting the manuscripts room of the History Center, where it has been selected and displayed alongside other beautiful pieces of art.
https://archives.lib.wvu.edu/repositories/2/resources/5339
---
[1] Eddy, Meredith. 2014. Review of WVU Journalism School to Change Name to Reed College of Media. Media College ENews (blog). February 21, 2014. https://mediacollege.wvu.edu/news/media-college-enews/2014/02/21/wvu-journalism-school-to-change-name-to-reed-college-of-media.
Leave a Reply