Posted by Monte Maxwell.
October 27th, 2022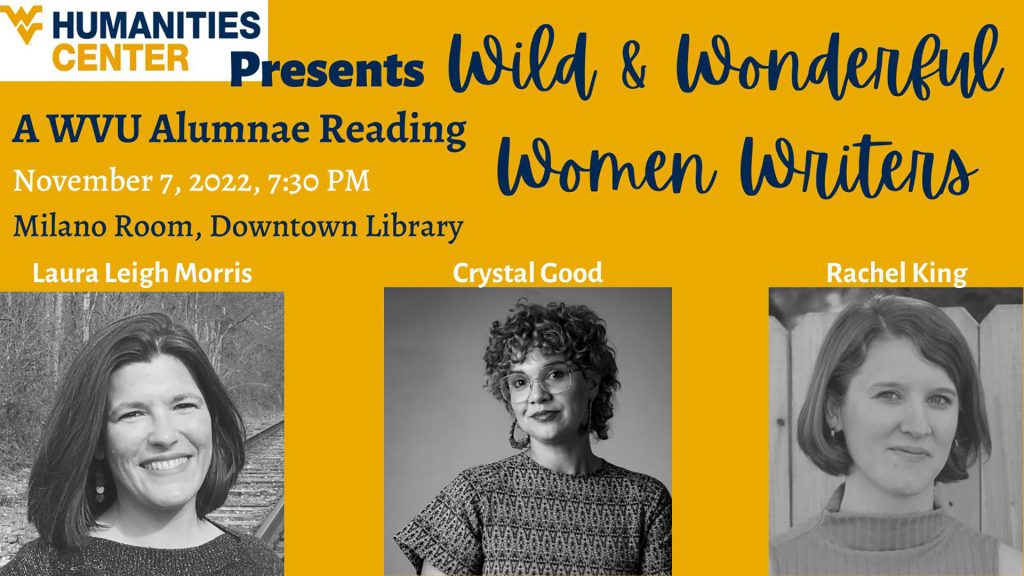 The WVU Humanities Center is excited to host "Wild and Wonderful Women Writers: A WVU Alumnae Reading" on Nov. 7 at 7:30 p.m. in the Downtown Library's Milano Room. This event is part of WVU's Mountaineer Week and co-hosted by WVU's Creative Writing Program in the Department of English.
The reading features three women writers, all graduates of WVU.
"Hosting women writers from across two of our graduate programs is a particular pleasure," Humanities Center Director Renée Nicholson said. "Celebrating talent that comes from our university's programs can serve as an additional way to inspire future writers currently studying at WVU."
Rachel King is the author of the novel "People Along the Sand," the linked short story collection "Bratwurst Haven," and two poetry chapbooks. Her short stories have appeared in "One Story," "North American Review," "Green Mountains Review," "Northwest Review," and elsewhere. A graduate of WVU and the University of Oregon, she lives in her hometown of Portland, Ore.
Laura Leigh Morris is the author of "Jaws of Life: Stories." She lives in Greenville, S.C., where she teaches creative writing and literature at Furman University. Before that, she spent three years as the National Endowment for the Arts/Bureau of Prisons Artist-in-Residence at Bryan Federal Prison Camp in Bryan, Texas. She's previously published short fiction in Appalachian Heritage, Louisville Review, Notre Dame Review, and other journals. Originally from North Central West Virginia, all of her fiction is set there, the place she is most at home. She is currently at work on her first novel.
Crystal Good's preferred titles include artist, advocate and entrepreneur. Good is the founder and publisher of "Black by God, The West Virginian," a news and storytelling organization centering Black voices in and from West Virginia. She is the author of two poetry collections "Valley Girl" and "Marking My Territory." She is a three-time Ted-X Talker, a You Bet Your Life game show winner, a feature and consulting producer on the 2022 "Black Appalachia" episode United Shades of America with W. Kamau Bell for CNN. Good received her bachelor's in communications from West Virginia State University, an MFA in poetry from West Virginia Wesleyan and a master's in journalism from WVU.
A reception and book signings will follow the readings.
Leave a Reply