Posted by Jane Metters LaBarbara.
December 21st, 2015
Blog post by Jane Metters LaBarbara, Assistant Curator, WVRHC.
I wanted to write another blog post combining two things I love, food and history, and my fellow blogger Lori recommended a recently published book that has exactly what I've been looking for.  Serving Up History: Savor the Flavors of Early West Virginia Cookery 1776-1860 was written by Martha and Richard Hartley, who researched part of the book here at the WVRHC.  (We are ordering the book for our collection, so check the shelves soon!)  The cookbook is a companion to their earlier book, The Frontier Table: A Treatise & Source Book on Western Virginia Foodways History 1776-1860, and contains over 100 historical recipes with modern translations.  It also has "Cook's Notes" that contain useful tips or recipe variations, and "Historic Insights" to help modern readers understand the original recipes.  Out of all the fantastic recipes it contains, I chose to make Hasty Pudding, Lemon Pudding, and A.P.s. 
Hasty Pudding
The original recipe, from Housewifery 1837: Sheetz Tavern and Gunshop, Shepherdstown, (West) Virginia, tells us to "Boil one quart of water with salt in it stir in it at different times a little indian meal stir and cook it thorghly."  The Hartleys present an updated recipe with ingredient quantities, serving suggestions, and a little context.  I've copied their recipe here:
2 cups water
1/8 teaspoon salt
1/2 cup stone-ground cornmeal (I used regular cornmeal, which probably has less texture than stone-ground)
Hasty pudding has a long history—it has ancestor and sibling dishes in many parts of the world that involve boiling some sort of grain (oats, wheat flour, corn) in water or milk.  Hasty pudding even gets a mention in the second verse of Yankee Doodle, which is why I was so excited to try it.
I'm not sure how this dish got the name "hasty"—after you get the water boiling on medium heat and stir in the cornmeal, this dish is cooked slowly on low heat for 20-30 minutes.  Cooking it initially reminded me of cooking Malt-O-Meal, a winter breakfast favorite of mine, but the hasty pudding ended up far thicker than my hot wheat cereal ever has.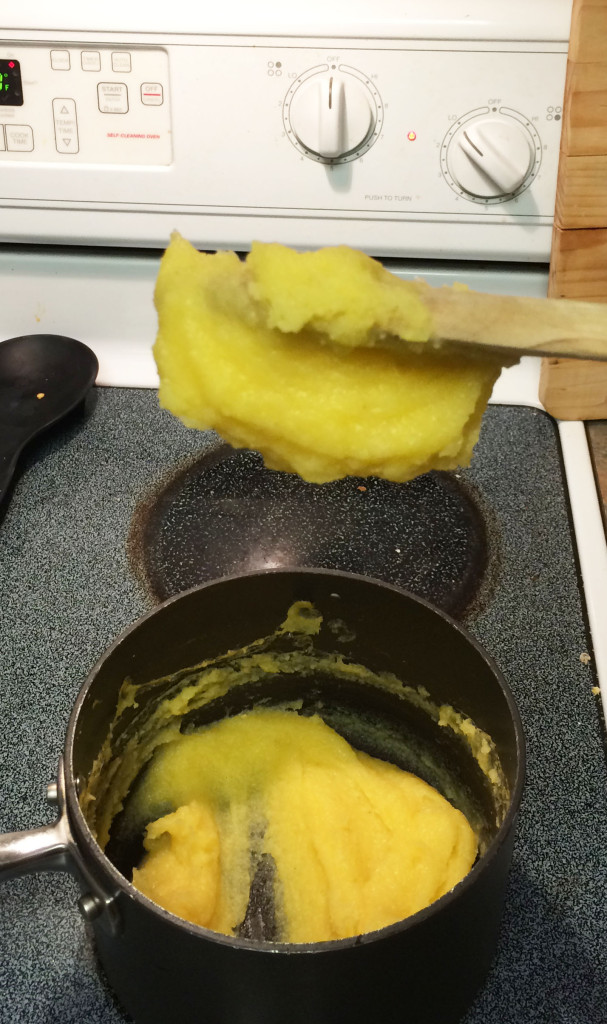 Vividly yellow, my first try at hasty pudding ended up stick-to-your-spoon thick.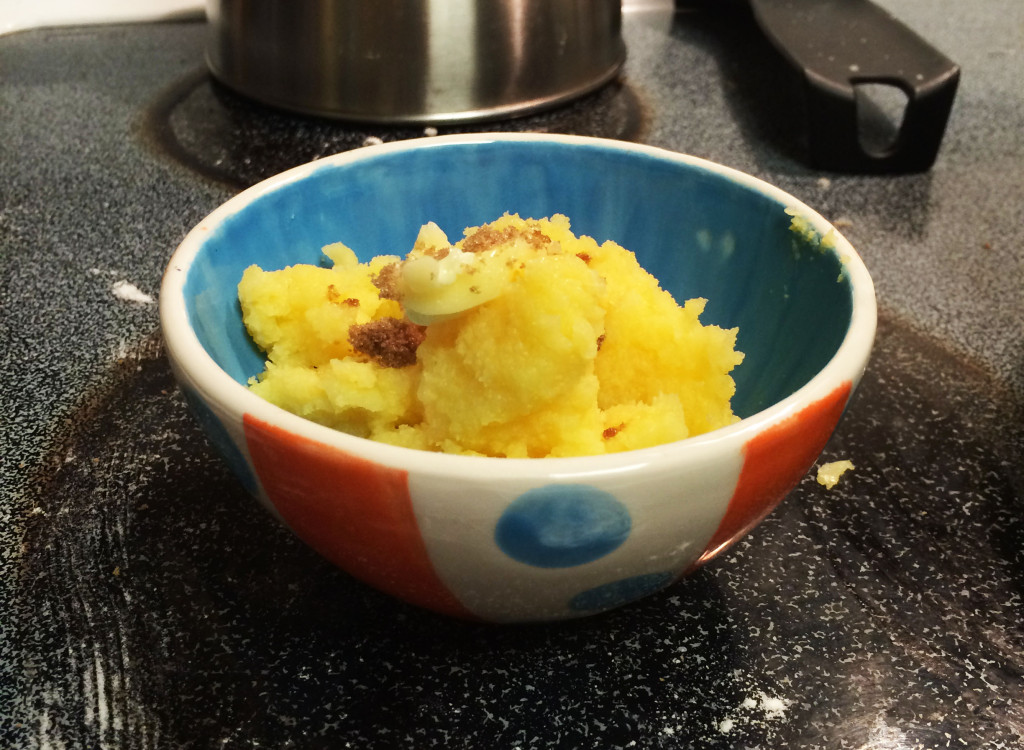 It turned out to be a filling dish which we dressed up with a bit of butter and brown sugar—pioneers would have probably used honey or maple sugar.  As we tasted the result, I asked my husband how he would describe it—his response, "mush," is exactly what early western Virginia settlers called this dish.
Lemon Pudding
The Hartleys book includes a recipe from Lucy Washington Packett's recipe book, which is in the WVRHC's A&M 3212.  You can see the original recipe below.  The recipe emphasizes the reusability of common staple dishes like hasty pudding (mush).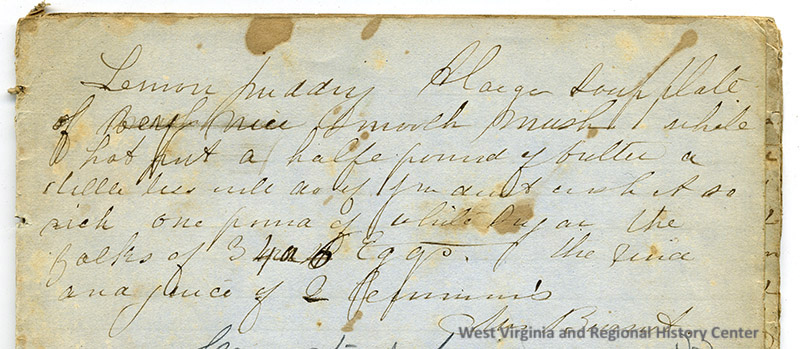 "A large soup plate of very nice smooth mush while hot put a halfe pound of butter a little less will do if you don't wish it so rich one pound of white sugar the yolks of 3 4 or 6 Eggs the rind and juice of 2 lemons"
The Hartleys updated list of ingredients is as follows:
1 1/2 cups warm mush made with yellow cornmeal
½ cup butter, softened
1 ½ cups sugar
Rind and juice of 2 lemons (2 teaspoons rind and ½ cup juice)
6 egg yolks, well-beaten
Mint leaves and lemon rind, for garnish, optional
I stirred the mush and butter together, then the sugar, lemon juice, rind, and finally the egg yolks.  Then, into the greased custard cups it went.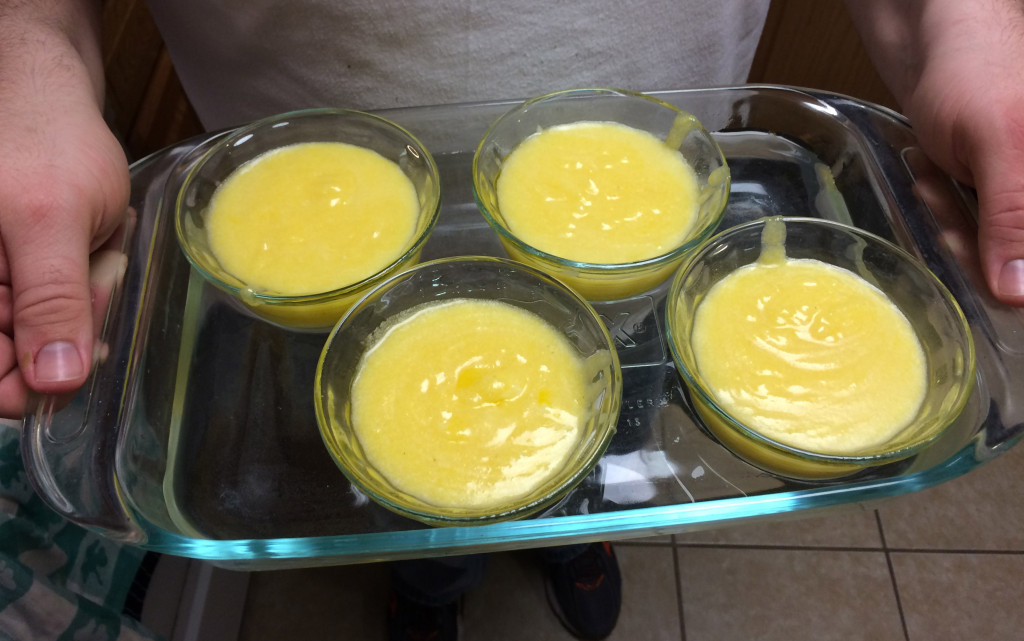 Cups of lemon pudding in a dish of water, ready to go in the oven for an hour at 350 degrees.  The recipe yields eight servings total.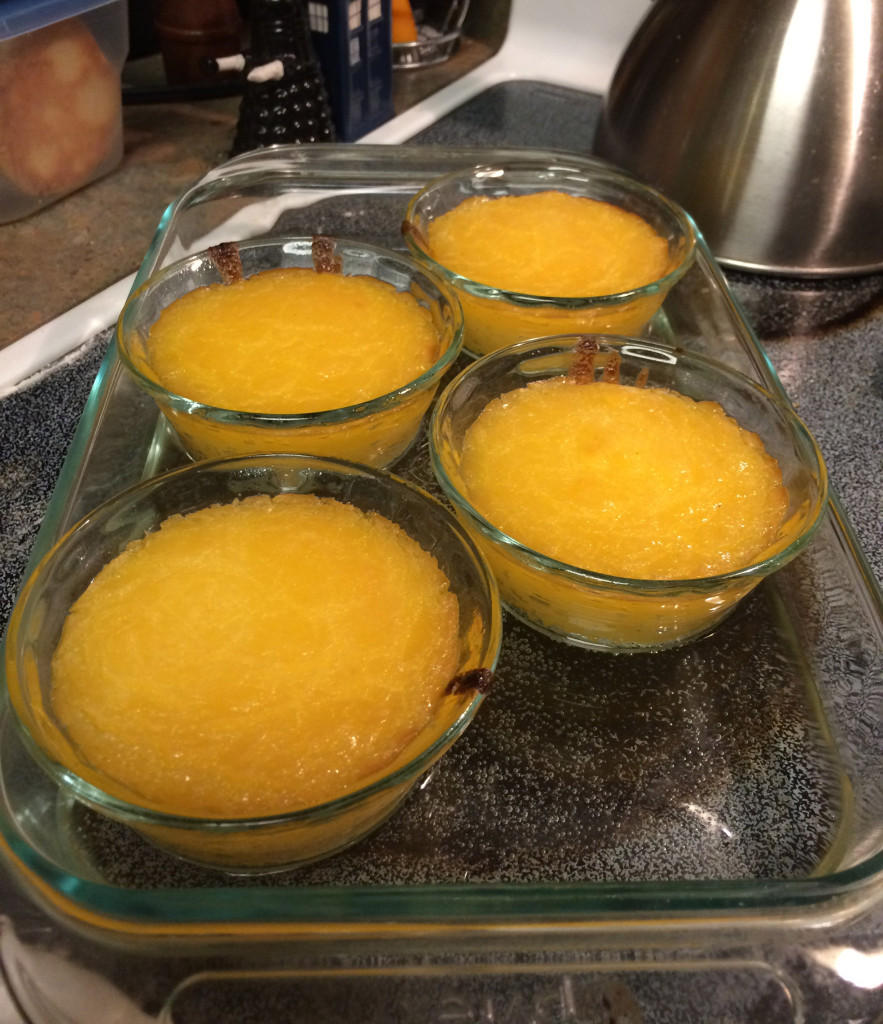 Lemon pudding set out to cool.
The Hartleys' "Cook's Note" was spot-on: "This pudding tastes rather like a rich, baked lemon curd."  It was delicious, and also makes a great topping for the A.P.s we baked!
A.P.s (or Apees)
The Hartleys book also includes a cookie recipe from Miss Catharine Baker's Receipt Book (found in A&M 1079, the Brooke Family Papers).  I had never heard of this type of cookie before, but the "Historical Insight" says that they were popular around Philadelphia in the early 1800s.  Apparently, the name comes from either Ann Page, a Philadelphia baker who printed her initials on the cookies she sold, or Anis Platchen (Anisplätzchen), the German term for the anise cookies from which A.P.s may have evolved.  You can see Miss Baker's recipe below.  My favorite part is the last line, "& Then it will be very good."  Miss Baker was right—our cookies tasted like a lightly-lemoned combination of shortbread and sugar cookie.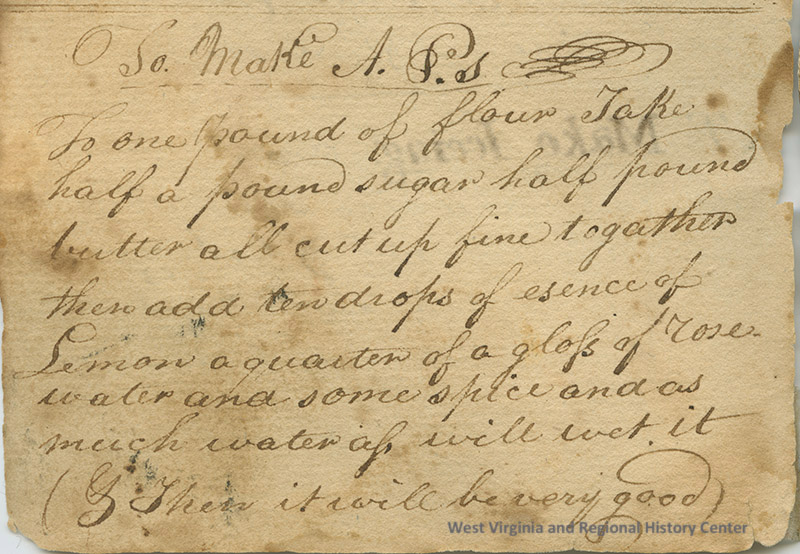 The Hartleys' modern list of ingredients is here:
3 1/2 cups all-purpose flour
3/4 teaspoon ground nutmeg
1 cup sugar
1 cup butter (do not use margarine)
1 teaspoon lemon extract
1 1/2 teaspoons rose water flavoring (available at gourmet shops)
6-8 tablespoons water
The recipe calls for rose water, which was quite a popular flavoring at the time.  I followed the Hartleys' "Cook's Note" suggestion of substituting extra lemon extract.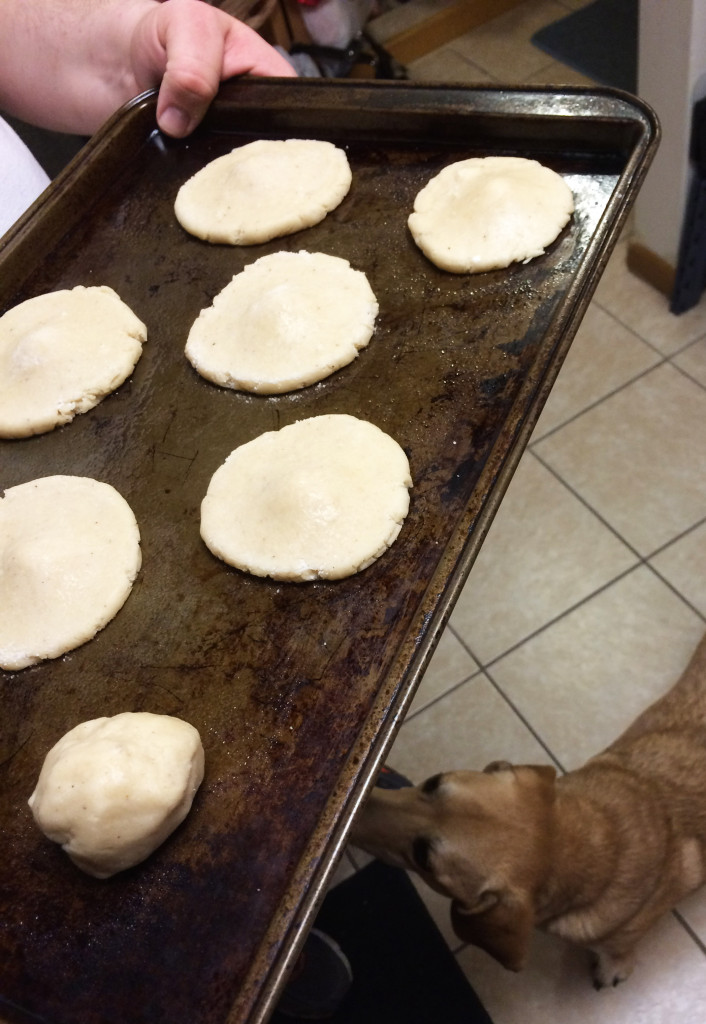 Cookies almost ready to go in the oven, under the supervision of our dog.
As with many great cookie recipes, the hardest part about this one was blending the flour and water into the other ingredients to form a large ball of dough.  We then pressed the cookies with the bottom of a glass (as you can see in the photo above, we lack flat-bottomed glasses in our home).  We made our cookies rather large—the Hartleys suggest using walnut-sized pieces of dough will yield 48 cookies, whereas our golf ball-sized pieces yielded 24.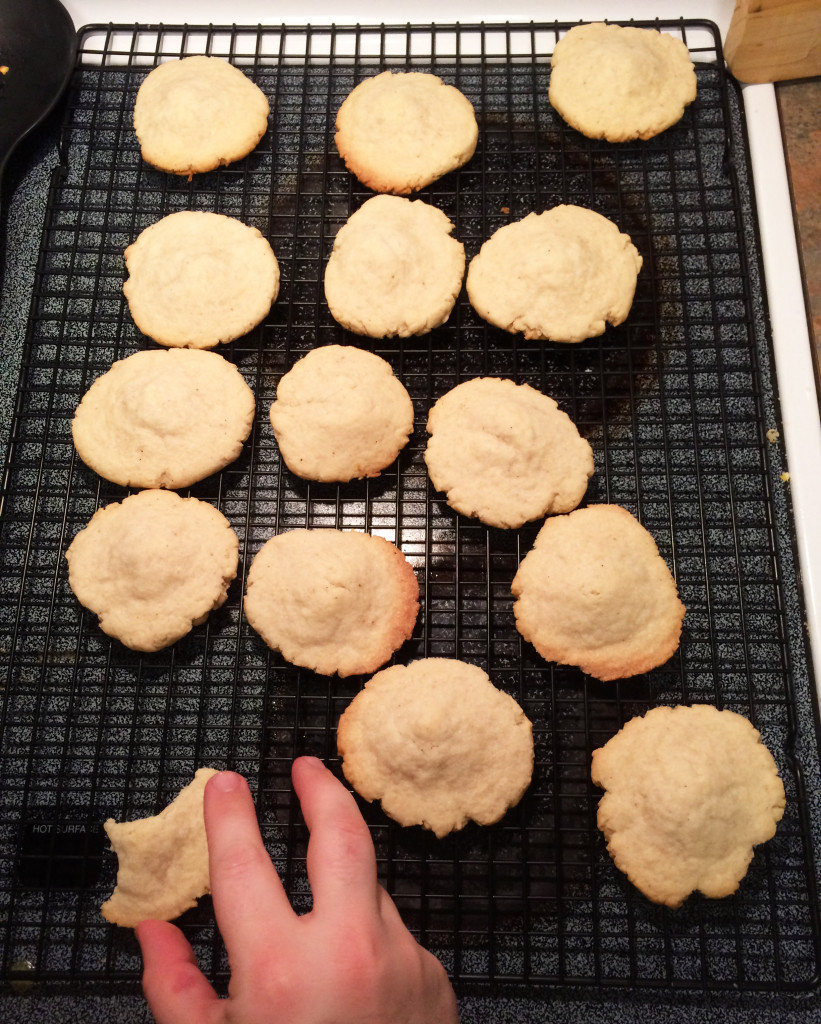 The first batch of cookies was approved by my official taste-tester.
In closing, I encourage everyone to try out a few new recipes this season, take a look at the WVRHC's collection of recipe books and food history books like Serving Up History, and remember that you can make great things with simple ingredients and a little elbow grease.
Previous recipe blog posts:
"West Virginia Blackberries" (blackberry pudding, blackberry jam cake with caramel frosting)
"Lemon Gingerbread from Lucy Washington"
"Celebrating Groundhog Day" (recipe for Stewed Wood Chuck)
"Recipes from the Archives" (pound cake, fruit cake, corn meal rusk, mince pie filling)
Leave a Reply