Posted by Jane Metters LaBarbara.
February 8th, 2016
Blog post by Michael Ridderbusch, Associate Curator, WVRHC.
"The life of Mother Jones is a faded memory, a half-forgotten story."  So begins the 2003 biography of Mother Jones by Loyola University history professor Elliott J. Gorn.
Perhaps no longer.  The recent 26 January 2016 premiere on Public Television of "The Mine Wars" has now brought to national attention the story of coal labor strife in West Virginia, and among the characters highlighted in the documentary is the Irish lady Mary Harris Jones, otherwise known as "Mother Jones" (1837-1930).
"The most dangerous woman in America":  these were the words federal prosecutor Reese Blizzard used to describe Jones during her trial in 1902 for involvement with strike activity in West Virginia.  Though arrested in Clarksburg and brought to Parkersburg for imprisonment, the jailer and his wife decided to let her stay in their apartment.  She was ultimately acquitted by the judge in order to avoid making her a martyr.  
This trial was but one of many challenges she faced in her life of activism.  Hired by the UMWA, she was instrumental in organizing coal miners in Pennsylvania and West Virginia off and on in the tumultuous period of 1897 to 1920.  In 1903 she advocated the regulation of child labor, leading a "Children's Crusade" march; and in 1905 was a founding member of the Industrial Workers of the World.  The list could go on.  Her presence in American Labor history thus looms large.
The West Virginia and Regional History Center at WVU Libraries, in its mission to preserve the history of West Virginia, has acquired original artifacts and papers documenting Mother Jones, including this portrait photograph of her recorded to a glass plate negative: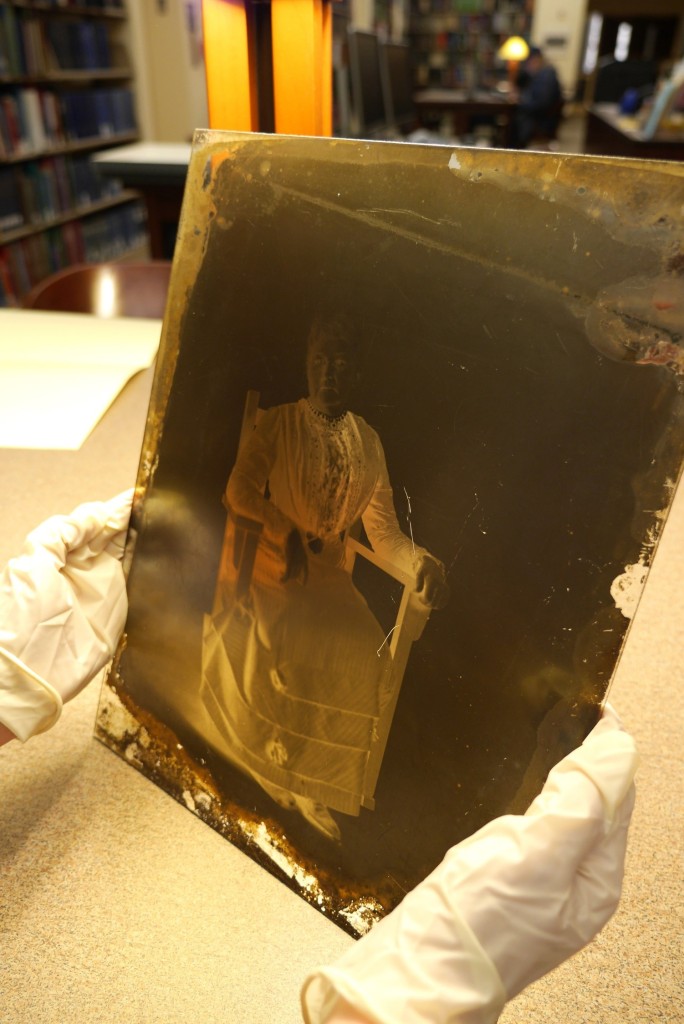 Glass Plate Negative of Mother Jones, 11 in. x 14 in.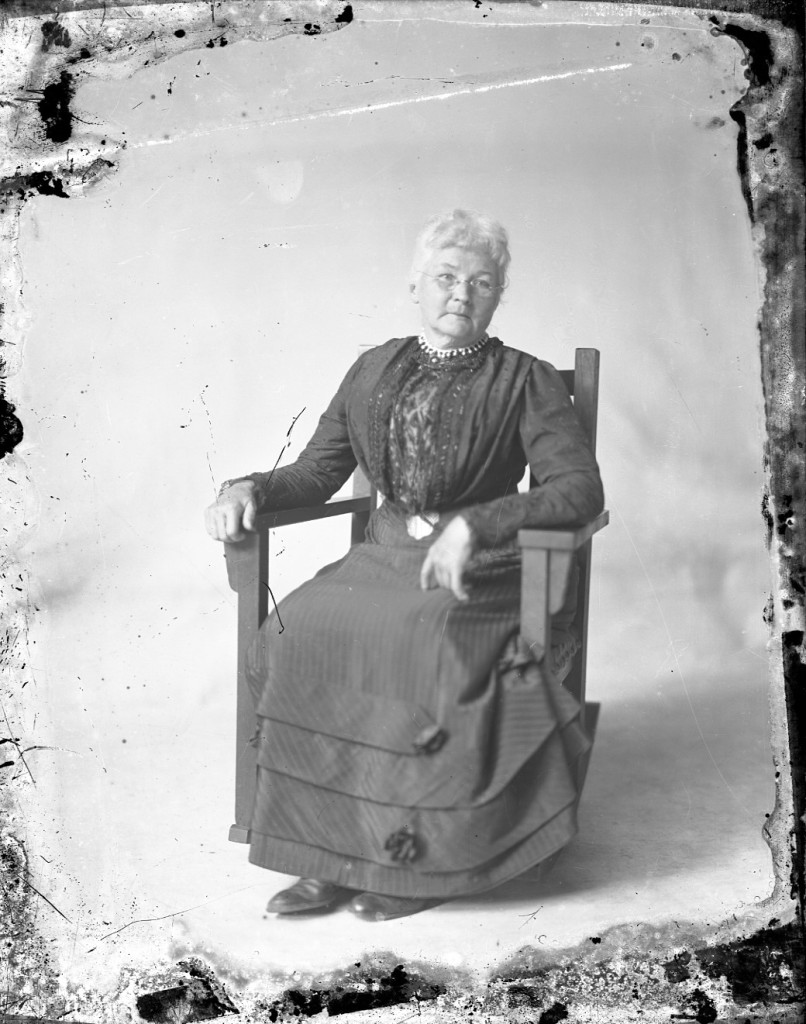 Scan of Glass Plate Negative of Mother Jones, 11 in. x 14 in.
This image probably dates from circa 1910-1925.
In addition, we possess a 106 page typescript reminiscence by Lillie May Burgess, in whose house (near Washington, DC) Mother Jones lived during the last years of her life: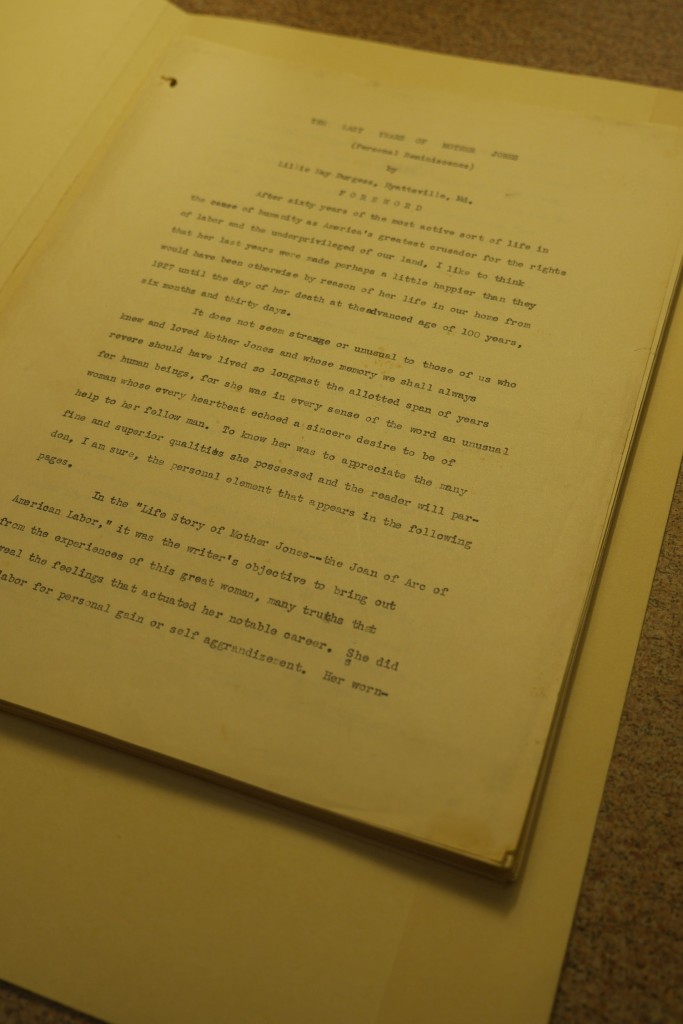 Reminiscence of Mother Jones by Lillie May Burgess, 1937.
Written during Jones's retirement years, the narrative by Burgess touches on the personality of her subject:
"Later in 1928 when Mother would come out, she talked of staying permanently, but I thought she realized that it was best for her to be in the city where she could get prompt medical attention, so you may imagine my surprise when one day there was brought out a great load of boxes, trunks and satchels, containing her accumulation of papers and records, as well as her other belongings and relics.  She did not consult me as to whether it would be convenient for her to become a permanent member of our family.  When she made up her mind to do a thing, she almost invariably did it, but she must have sensed she would be welcome at the Burgess home."
Her residence in the Burgess home brought with it a stream of visitors:
"Reporters for the great newspapers and press associations were constantly seeking her views on topics of the day.  Their editors seem to sense that when Mother Jones spoke their readers would listen and they did not hesitate to send their best men to our home, eight miles from Washington and in the country, …"
The public interest in Jones at the end of her life helps substantiate the claim of the significant role she played in American labor history, so it's fitting that she figures prominently in the recent documentary regarding the Mine Wars.  It's a film worth seeing, since it brings to life an overlooked yet important chapter in American history.
—
Additional History Center blogs of interest related to this blog include:
Mother Jones in:
Major Coal Strike One Hundred Years Ago
Glass plate photography in:
The Photographs of James Green and the Democratization of Photography