Posted by Jane Metters LaBarbara.
November 28th, 2016
Blog post by Beth Toren, WVU Libraries' Media, Religious Studies, and Research Services Librarian
Early scientific journals were the private notebooks of scientists. Luxurious replicas of two notebooks by 15th Century Italian artist, mathematician, inventor and writer Leonardo da Vinci are available to examine in the WVU Libraries Rare Book Room. Leonardo wrote in Italian and using mirrored writing, writing backwards from right to left and illustrating with drawings. The notebooks contain his observations and brainstorming on multiple subjects in text, diagrams, and illustrations.
The Codice Leicester and Codice del Volo in their protective boxes: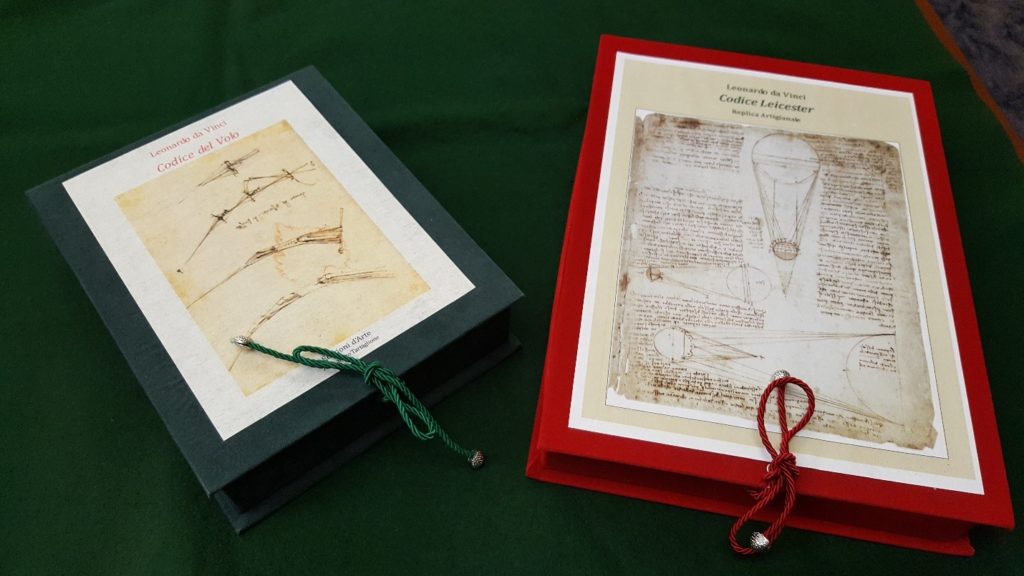 The Codice Leicester: replica artigianale: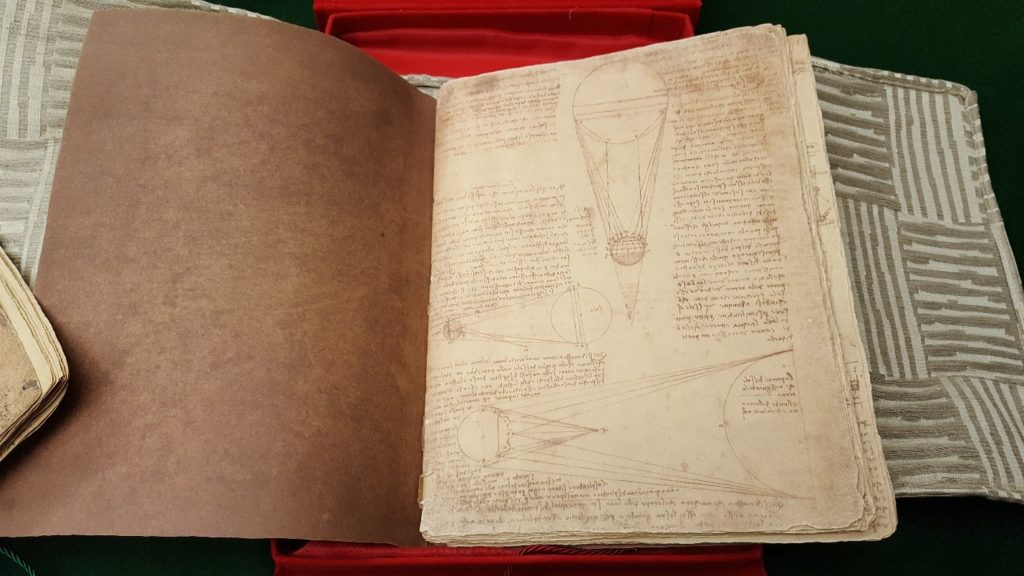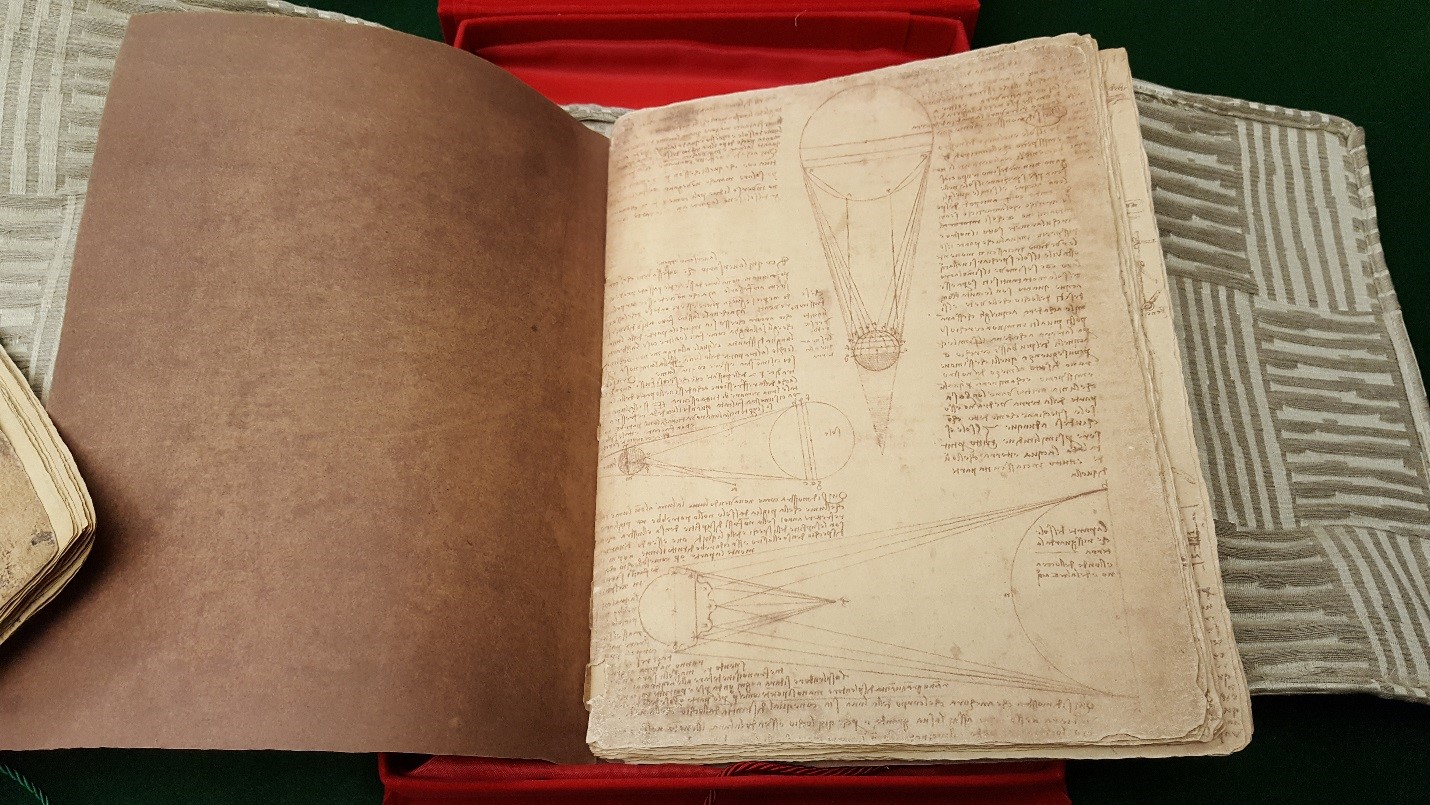 In the Codice Leicester Leonardo's brilliant mind brainstorms through many topics. A description of the content from an exhibit of the original at the Pope Gallery in Raleigh, NC reads:
"The central theme of the work is water, but this quickly expands into astronomy (because he believed that the moon's surface was covered in water), light and shade, and mechanics, as he investigates aspects of impetus, percussion, and wave action in the movement of water. Along the way Leonardo makes observations on such diverse subjects as why the sky appears blue, the journey of a bubble rising through water, why fossilized seashells are found on mountaintops, and the nature of celestial light."
His explorations "laid the groundwork for the airplane, helicopter, and automobile, as well as the military tank, firefighter's ladder and construction crane" (Feinberg).
A second notebook, his Codice del Volo (1505) translates to dynamics of flight of birds and contains Leonardo's illustrations for what resembles an early hand-glider or a dragon prosthetic from the Dreamworks film How to Train Your Dragon (2010).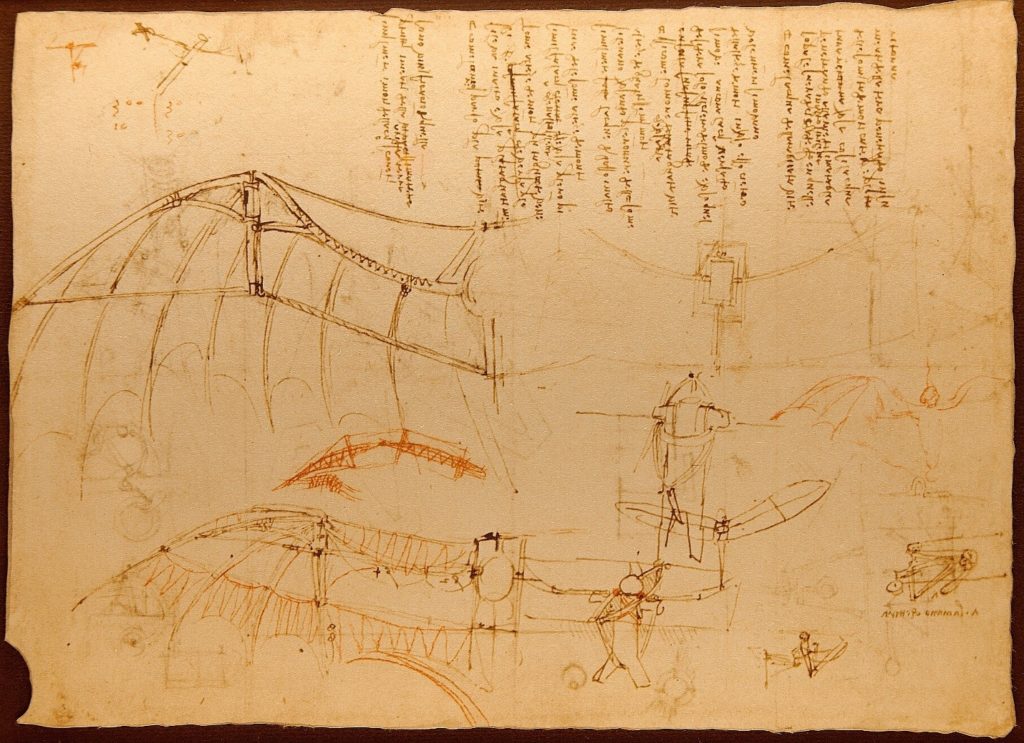 Photograph Ailes battantes Luc Viatour.jpg by Luc Viatour / www.Lucnix.be [Public domain], via Wikimedia Commons.
Another page from the Codice del Volo shows his mind working in the drawing of a leaf overlaid on the text: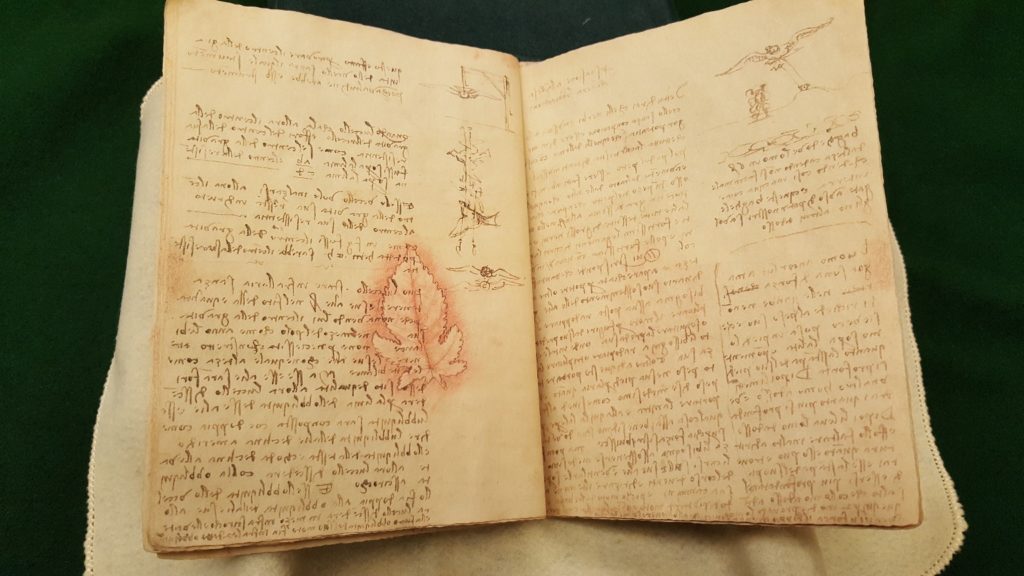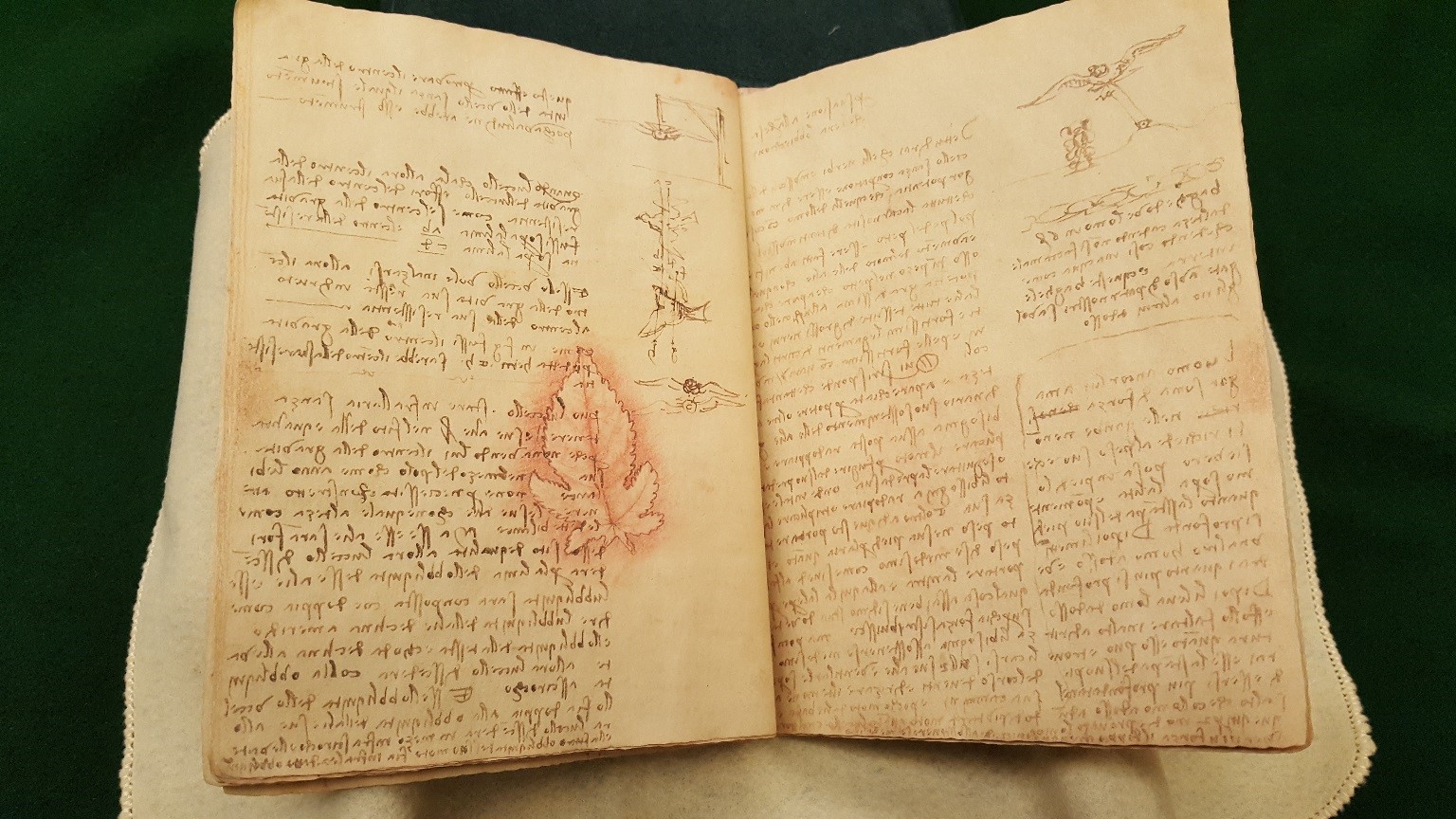 Although mirror writing, "writing in the reverse direction to what is normal in a particular language and in which the individual letters are also reversed" (Canzano), can occur with brain damage and other brain disorders, it is also observed in healthy and notably outstanding people. Along with Leonardo, Alice in Wonderland author Lewis Carroll was observed to use mirror writing. "Individuals may be unaware of their own facility for mirror writing, and may have difficulty in reading it" (Schott). Scientists have studied Leonardo's handwriting along with considering his sinistrality (left-handedness) as variables to propose that his language skills were localized in the "more unusual right hemisphere" of his brain.
Mirror writing close up from Codice del Volo 1505: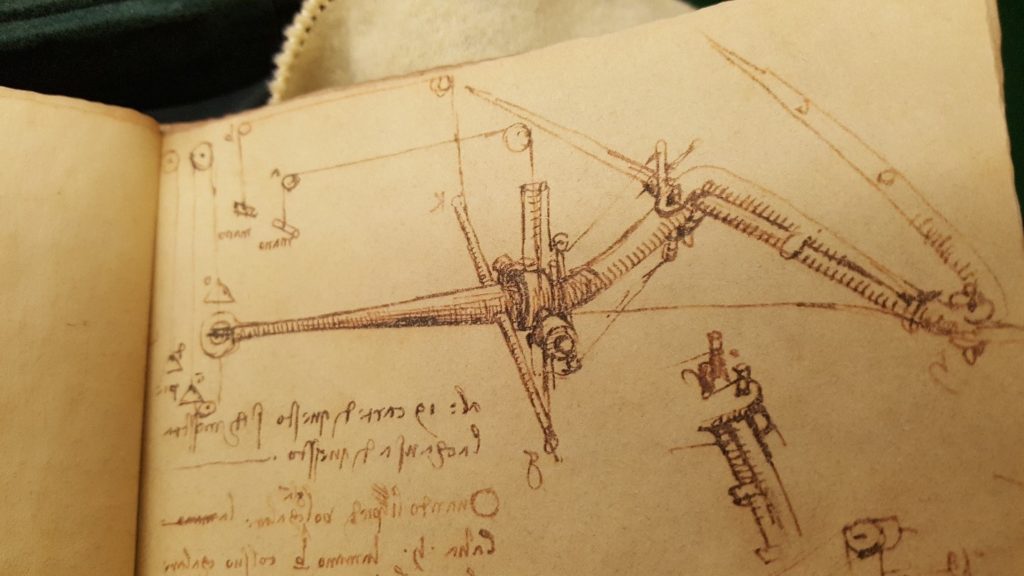 The original Codice Leicester was purchased by Bill Gates for 30 million dollars, the highest priced book in history. Gates traditionally lent the work for exhibit once per year. WVU's beautiful reproduction is available to examine by any individual or group that makes an appointment. The edition was produced by Smith & Press, a publisher specializing in luxurious reproductions of historical works such as The Nuremburg Chronicle. An original Nuremburg Chronicle is one WVU's Rare Book Room treasures.
Many of Leonardo's notebooks are available in the library collection, including standard editions of facsimiles that can be checked out.
You can see the Leonardo notebook facsimiles and other books in the Rare Book Collection by contacting the West Virginia and Regional History Center to make an appointment.
To learn more, this six-minute video made by a young American student provides an excellent concise summary of Leonardo da Vinci and his notebooks.
Resources:
Canzano, L., L. Piccardi, I. Bureca, and C. Guariglia. "Mirror Writing Resulting from an Egocentric Representation Disorder: A Case Report." Neurocase 17.5 (2011): 447-60. Web.
Da Vinici's Notebooks. Dir. Rdkyta4tcs. Da Vinci's Notebooks. YouTube, 05 June 2012. Web. 18 Nov. 2016.
Feinberg, Jody. "Museum of Science Explores the Genius of Da Vinci." The Patriot Ledger, Quincy. The Patriot Ledger, MA, 03 Nov. 2016. Web. 18 Nov. 2016.
"Leonardo Da Vinci's Codex Leicester and the Creative Mind." Exhibitions. North Carolina Museum of Art, 2016. Web. 26 Oct. 2016.
Schott, Gd. "Mirror Writing: Allen's Self Observations, Lewis Carroll's "looking-glass" Letters, and Leonardo Da Vinci's Maps." The Lancet 354.9196 (1999): 2158-161. Web.
Schott, G.d. "Some Neurological Observations on Leonardo Da Vinci's Handwriting." Journal of the Neurological Sciences 42.3 (1979): 321-29. Web.
Stone, Madeline. "Look inside the Rare Leonardo Da Vinci Notebook That Bill …" Business Insider. N.p., 13 July 2015. Web. 26 Oct. 2016.
One Response to 'Leonardo da Vinci Notebooks and Mirror Writing: Two notebook replicas available to examine in the Rare Book Room'
Collezione Apocrifa da Vinci Says:
January 26th, 2017 at 12:27 pm

We want to inform that the replicas of the Codice del Volo and Codice Leicester, shown in the photographs of your "Leonardo da Vinci Notebooks and Mirror Writing: Two notebook replicas available to examine in the Rare Book Room", were made in our craft workshop in Italy and were produced by us with the paper sculpture technical, an exclusive working method created by us and implemented in years of work. Also the silk fabric, shown in the photo of Codice Leicester is our exclusive drawing and production. You can verify what we say by visiting our website http://www.collezioneapocrifadavinci.it, the art galleries Artpat, Etsy, Saatchiart, our profiles on Facebook, Instagram, Twitter and Pinterest.
The Smith & Press did not produce any replica of Leonardo's codices but bought some specimen from us some time ago.
The Smith & Press is here improperly appropriating of the idea and the production of our work.
We would be grateful if you would publish this clarification in order to protect our work and our professionalism.

Thank You. Regards.
Collezione Apocrifa da Vinci
Leave a Reply