Posted by Jane Metters LaBarbara.
May 8th, 2017
Blog post by Stewart Plein, Rare Book Librarian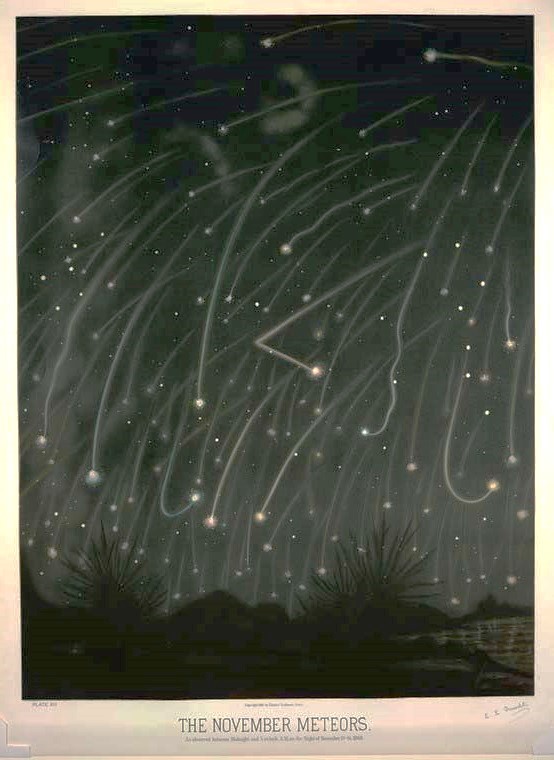 The Rare Book Room is home to books both big and small, but the largest book by far is Trouvelot's Astronomical Drawings, published in New York by Charles Scribner's Sons, 1881.  Measuring a whopping 42 ½" in height by 14 ½" wide, Trouvelot's Astronomical Drawings is actually a portfolio collection of prints documenting observations of the night sky. 
Étienne Léopold Trouvelot (December 26, 1827 – April 22, 1895), a French artist and astronomer, escaped persecution for his political beliefs under the Napoleonic Régime of Louis-Napoléon Bonaparte, known as Napoleon III, when he and his family emigrated to the U.S. in 1852.

As a witness to the Northern Lights, also known as Aurora Borealis, the flickering streams of light that illuminate the night sky in a myriad of colors in the Arctic regions, Trouvelot's astronomical interest was ignited.  As an artist, he was able to combine his artistic skills with his observations of the night sky to brilliant effect.  In 1872, the Director of the Harvard Observatory, Joseph Winlock, saw Trouvelot's illustrations and invited him to join Harvard's staff in 1872.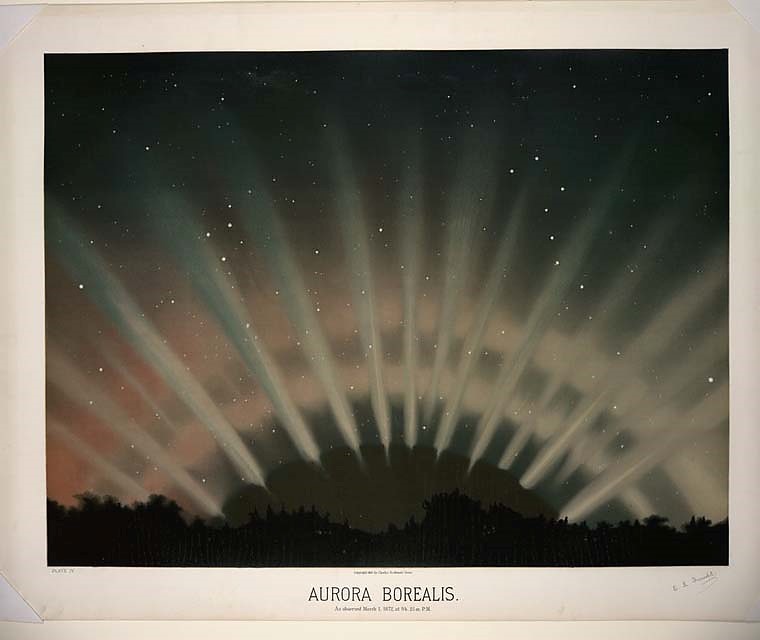 A few years later, in 1875, Trouvelot was awarded another great opportunity when he was allowed to use the U.S. Naval Observatory for an entire year.  It was in the course of his nightly observations using the observatory's 26-inch refractor that Trouvelot recorded astronomical observations in artistic form.  Fifteen of his finest pastel illustrations based on his observations were published in elephant folio size in a portfolio by Charles Scribner's Sons in 1881.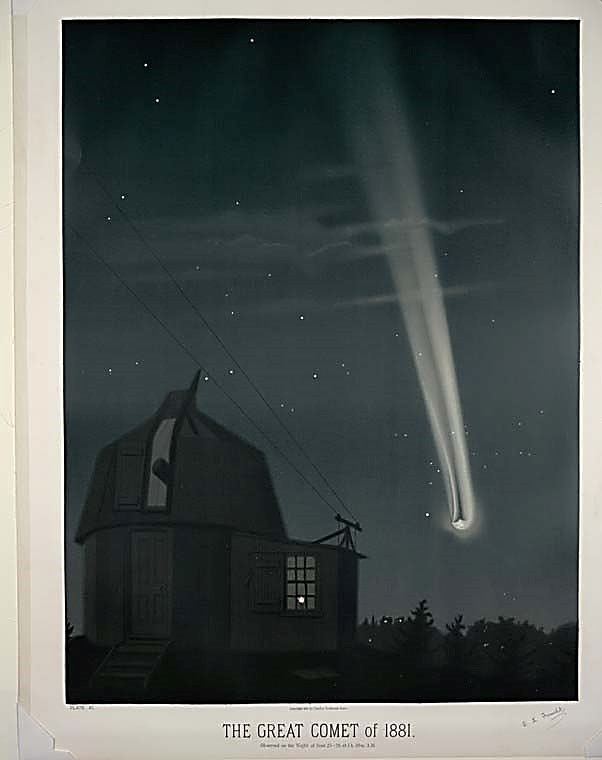 One of my favorite images is the portrait above, the Great Comet of 1881.  Although the illustration is dark and shadowy it is punctuated by light; from the comet itself, to the window in the small observatory in the foreground, to the night stars, and the lighted windows in the distant houses.
Trouvelot also captured heavenly bodies, such as planets, that he observed.  Below is his rendition of Mars, pictured here more green than red, Saturn, and Jupiter.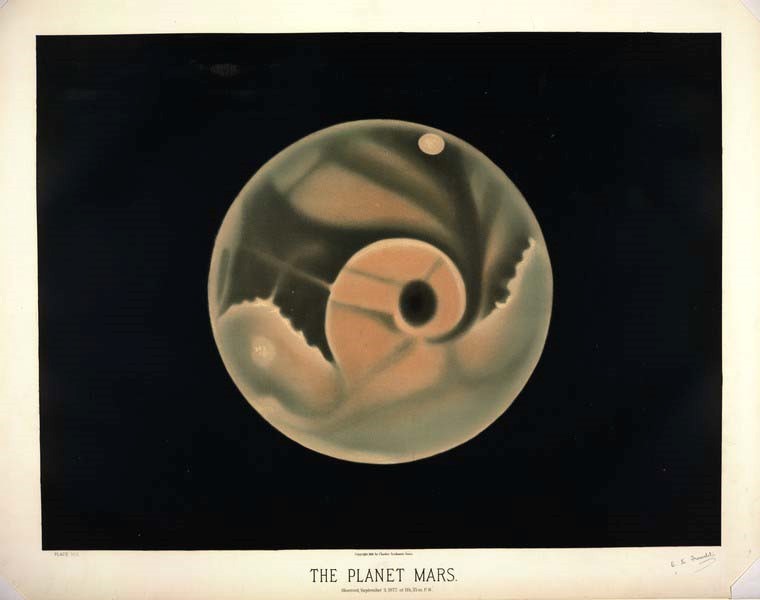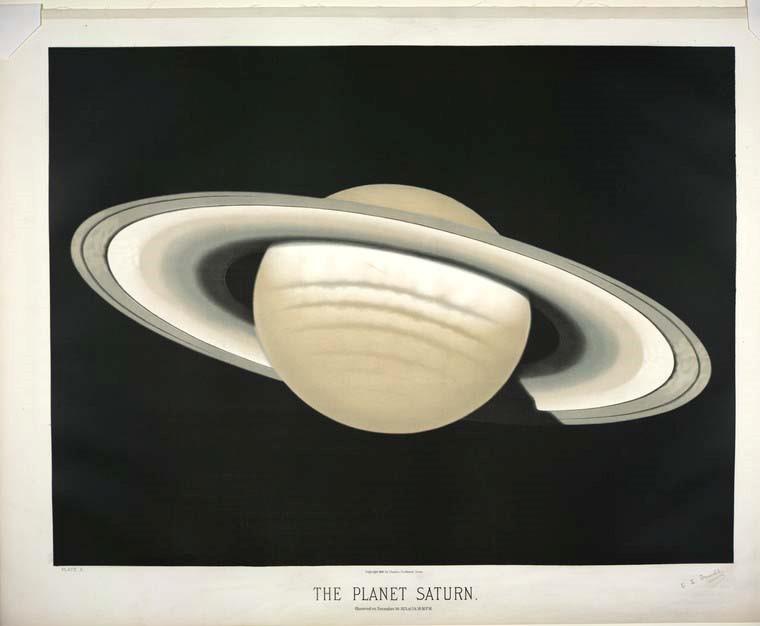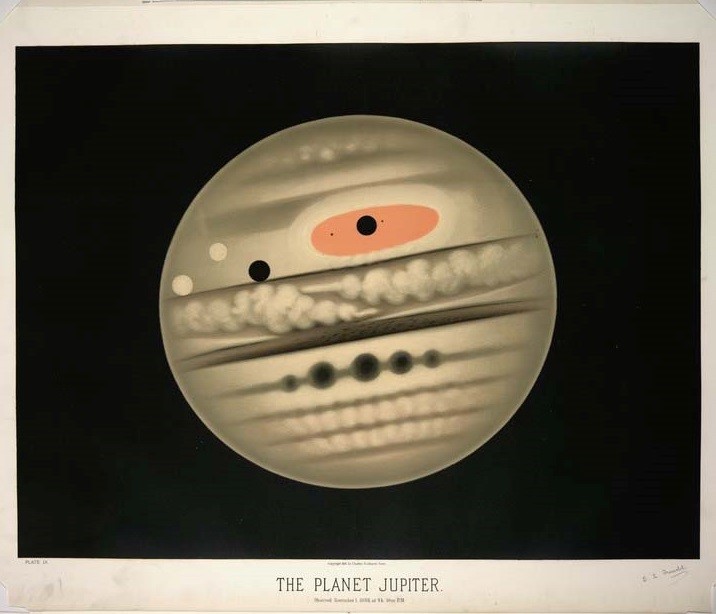 Trouvelot's dramatic illustration of sun flares, or as Trouvelot himself called them, Solar Protuberances, is a fiery look at this burst of magnetic energy on the sun's surface.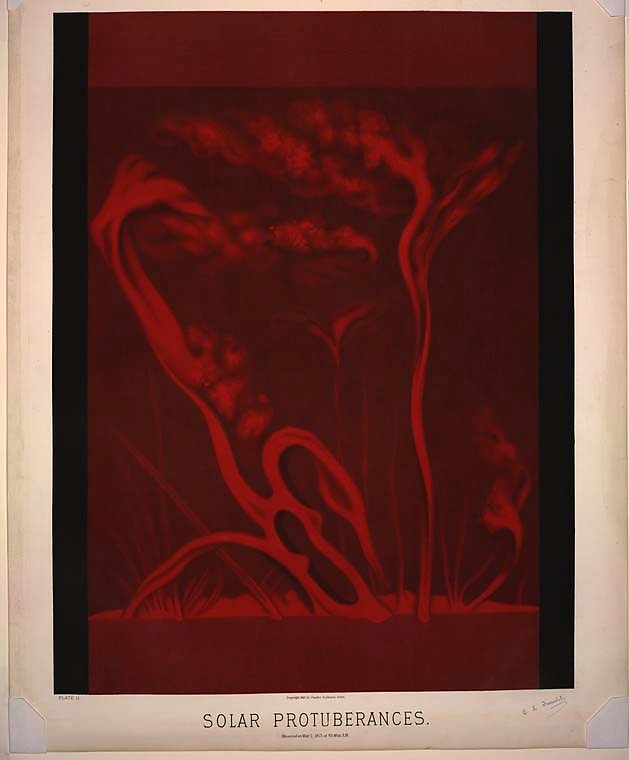 To see Trouvelot's amazing Astronomical Drawings you can make an appointment for the Rare Book Room in the West Virginia & Regional History Center in the Downtown Campus Library, or you can view them online in a digital exhibit hosted by the New York Public Library:  https://digitalcollections.nypl.org/collections/the-trouvelot-astronomical-drawings-atlas#/?tab=about
Resources:
Leave a Reply