Posted by Jane Metters LaBarbara.
August 21st, 2017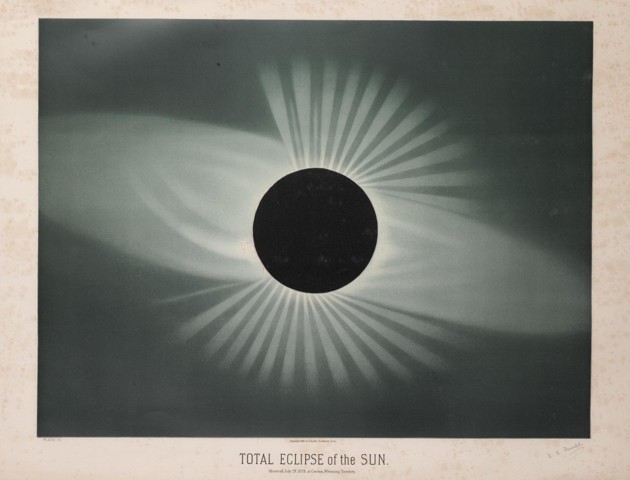 Blog post by Stewart Plein, Rare Book Librarian
As the old saying goes, 'there's nothing new under the sun," and that holds true for West Virginia as newspapers reported on the solar eclipse over the years.
The Weston Democrat reported on March 22, 1875, that an eclipse would be occurring in April, announcing "The Eclipse of the Sun, Observations to be Made – The Information to be Gained."  The article stated that the eclipse "may mark an important era in all solar and stellar physics."
Here's the thrilling headline for The Clarksburg Daily Telegram, August 20, 1914, "Moon to Cut off Rays of the Sun!"
Martinsburg's Pioneer Press, the first African American newspaper in West Virginia, ran this story on August 22, 1914, "War May Prevent Observations of the Total Eclipse of the Sun Tomorrow in Europe, Asia and Part of America."  Although the United States had yet to enter World War I at this time, the eclipse was seen as posing problems for military activities throughout its path.
If you're not able to view the eclipse today, stop by the West Virginia and Regional History Center to look at Trouvelot's Astronomical Drawings, read the blog post, "It's Astronomical! The Biggest Book in the Rare Book Room," here, https://news.lib.wvu.edu/2017/05/08/its-astronomical-the-biggest-book-in-the-rare-book-room/  or visit Chronicling America, http://chroniclingamerica.loc.gov/ , to read all about newspaper reporting of the eclipse in West Virginia history.
Resources:
Eclipse Image: The Atlantic:  How Artists Have Depicted Eclipses Across History.  https://www.theatlantic.com/science/archive/2016/09/an-artists-view-of-an-eclipse/498548/  Etienne Trouvelot, Lithograph in colour, Total eclipse of sun; observed 29 July 1878
Trouvelot, Etienne.  Trouvelot's Astronomical Drawings, New York: Charles Scribner's Sons, 1881.
Chronicling America: 
Daily Telegram:
http://chroniclingamerica.loc.gov/lccn/sn85059715/1914-08-20/ed-1/seq-12/#date1=1789&index=0&rows=20&words=solar+Solar&searchType=basic&sequence=0&state=West+Virginia&date2=1924&proxtext=solar&y=13&x=12&dateFilterType=yearRange&page=1
Pioneer Press: http://chroniclingamerica.loc.gov/lccn/sn83025146/1914-08-22/ed-1/seq-1/#date1=1789&index=10&rows=20&words=solar&searchType=basic&sequence=0&state=West+Virginia&date2=1924&proxtext=solar&y=13&x=12&dateFilterType=yearRange&page=1
Leave a Reply