Posted by Monte Maxwell.
October 3rd, 2017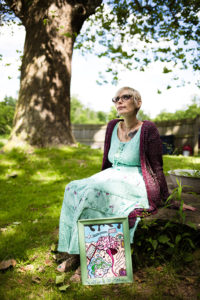 West Virginia University Libraries will host a reception on Tuesday, October 10, at 5 p.m. in the Health Sciences Pylons Area to celebrate the opening of Bodies of Truth: An Artist's Creative Exploration through Cancer, an exhibition of artwork by Lacie Wallace.
Wallace, a Wheeling-based artist, shares self-portraits and other artwork she has painted throughout her experience in and out of hospitals as a patient with cancer as she has become "more aware of my new body, my cancer body."
Wallace's bright and intimate portraits are coupled with narratives written by her as well as those around her who have been moved by her courage and stamina including members of her healthcare team and others. As an act of story, art and healthcare, Bodies of Truth illuminates a full circle view of Wallace as a strong patient, artist, mother, community member and human being.
During the reception, Wallace will discuss her experience in the Project and her artistic process. Project Lead Writer Renee Nicholson and Health Sciences Dean and Vice President Clay Marsh will briefly present on getting to know Lacie and the significance of the Project.
"When I worked with Lacie on her story in the infusion center, I was struck by the passionate way she spoke about art," said Nicholson, also a professor in multidisciplinary studies. "Seeing her artwork helped me to know her better and her unique way of viewing the world. For Lacie, even the most common objects have the potential to be art, and even the realities of her illness never kept her from creating new work."
Bodies of Truth is a collaboration between the WVU Expressive Writing in the Cancer Institute Pilot Project, WVU Cancer Institute, Health Sciences Library, Quality of Life Initiative and WVU Libraries. This collection will be on view at the Health Sciences Library through February 28, 2018.
For more information on WVU Libraries exhibits contact Sally Deskins, sbdeskins@mail.wvu.edu.
Leave a Reply