Posted by Jane Metters LaBarbara.
October 16th, 2017

Blog post compiled by Jessica Eichlin, Photographs Manager and Preservationist
October is American Archives Month and West Virginia Archives Month!  To celebrate, this post will look at some staff "favorites" from the collections at the WVRHC.
---
Adventures of Huckleberry Finn
 My favorite book that we have at the West Virginia and Regional History Center is found in the rare book room. It is an 1885 printing of Adventures of Huckleberry Finn by Mark Twain. It is one of my favorite books of all time, and Twain is my favorite author so it was really neat to see one of the first printings of the book.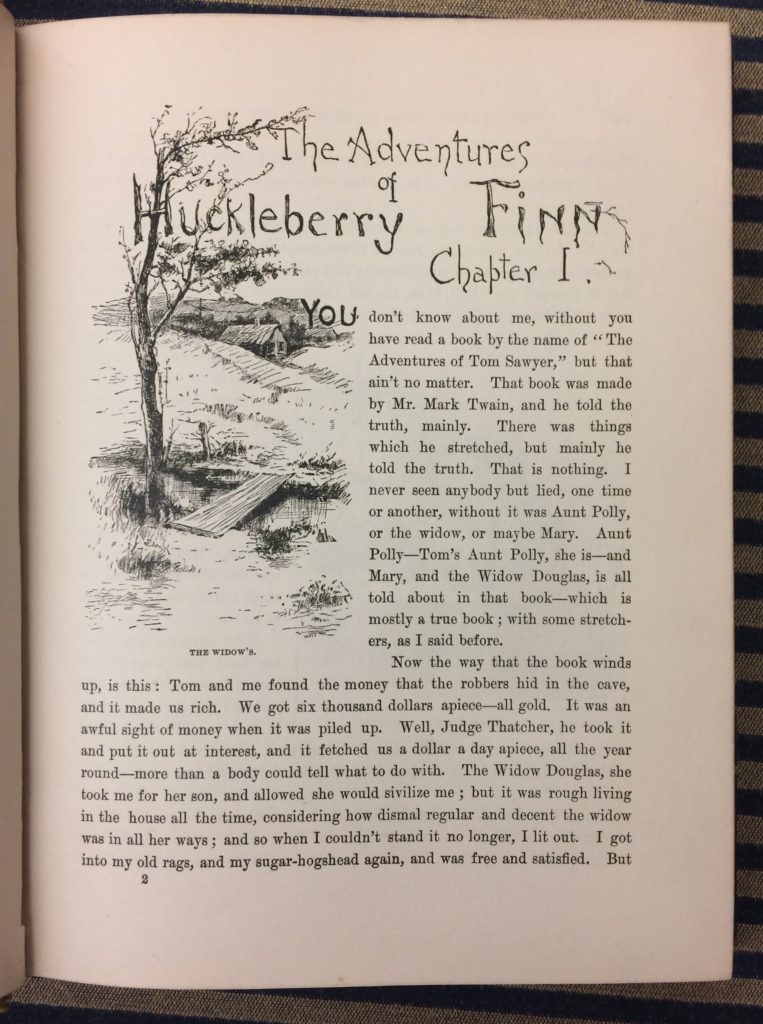 Submitted by Savannah Rose, Graduate Assistant 
---
Stick from Stonewall Jackson's Stretcher
 My favorite object in our holdings is the "stick" from the Roy Bird Cook Collection [A&M 1561]. It's supposedly part of the stretcher that carried Stonewall Jackson off the battlefield after he was mortally wounded at Chancellorsville. We don't really know this for sure, but Roy Bird Cook was an eminent historian, so we'll take him at his word.
[Editor's Note: The "stick," as well as other items which belonged to Jackson, are in a Restricted collection, which means I can't put a photo in this post. Just imagine an old stick.]
Submitted by Christy Venham, Reference Specialist
---
The Monticola
The Monticola, WVU's yearbook, is one of my favorites because they offer a wonderful glimpse into student life.  Published from 1896-1943, 1947-1948, 1954-1986, 1992, and 2000, the yearbooks feature student and staff photos, club pages, student quotes, and stories about that year at WVU.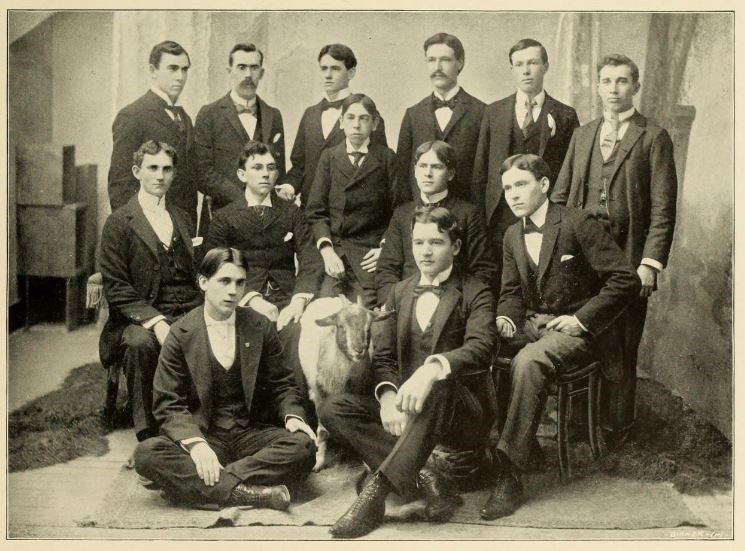 Submitted by Jessica Eichlin, Photographs Manager and Preservationist
---
Republican Congressional Committee Newsletter, July 12, 1965 from the Governor Arch A. Moore Jr. papers
 In context, this Republican Congressional Committee Newsletter cover illustrates Republican frustrations following the historic landslide election of Democrats to Congress and the White House in 1964, as well as President Lyndon Johnson's strong influence in developing the Great Society legislation. More broadly, though, the political cartoon speaks to the importance of an independent, deliberative Congress, which remains just as important today.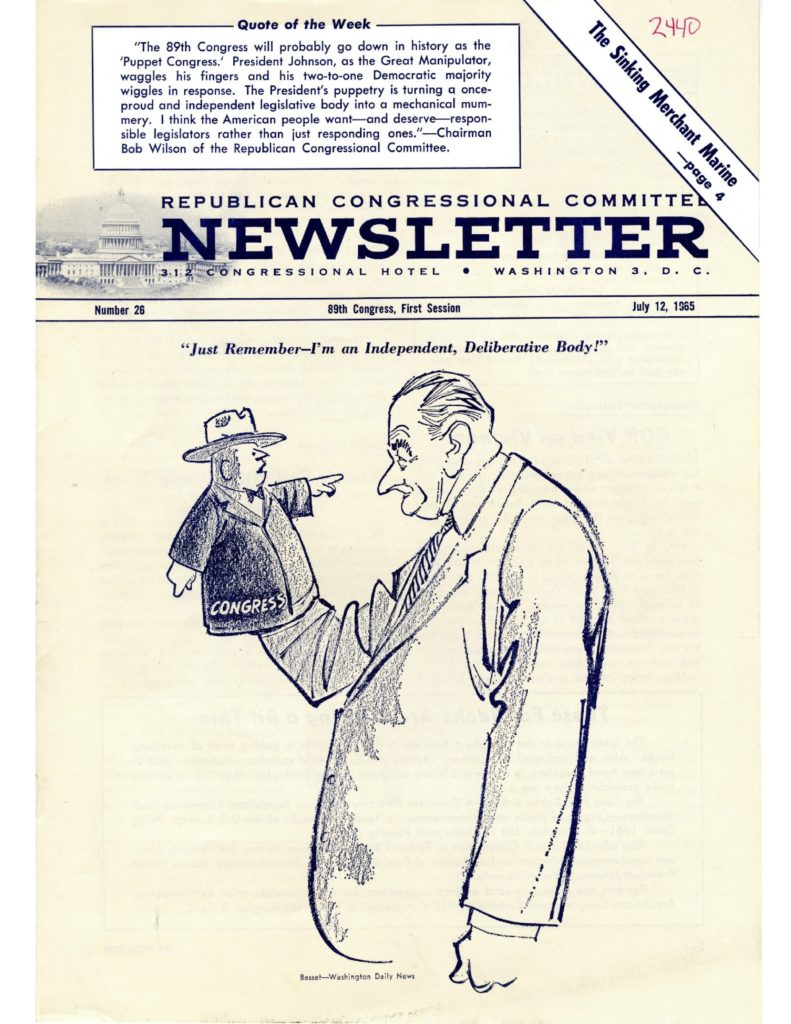 Submitted by Danielle Emerling, Assistant Curator, Congressional and Political Papers Archivist
---
Person Dressed in Stork Costume
 I enjoy looking through all of the photos on OnView, but I especially love the ones that show the subject's sense of humor.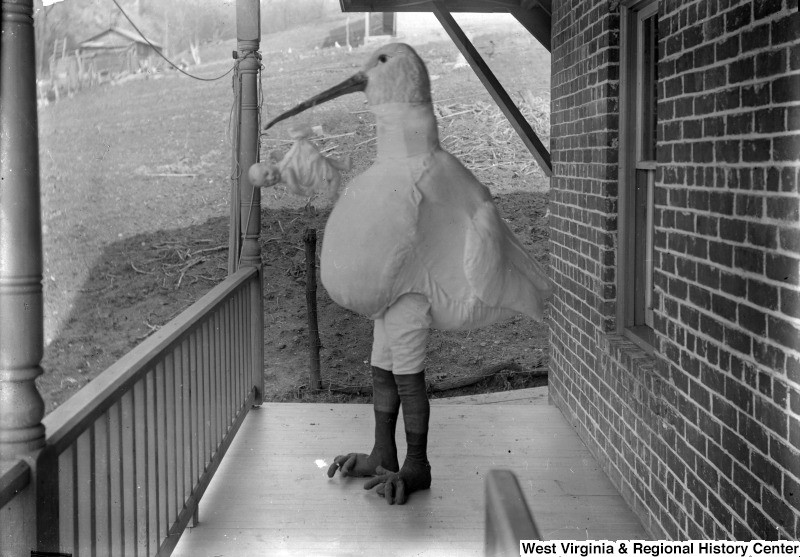 Submitted by Amanda Young, Public Services Assistant
---
Surrender of Robert E. Lee
My favorite item at the History Center is the April 9, 1865 telegram that Senator Pierpont, of the Restored Government of Virginia, received from Secretary of War Edwin M. Stanton announcing the surrender of Robert E. Lee at Appomattox.
It's amazing that this artifact survived, and that today we have a tangible reminder of this great moment in American history!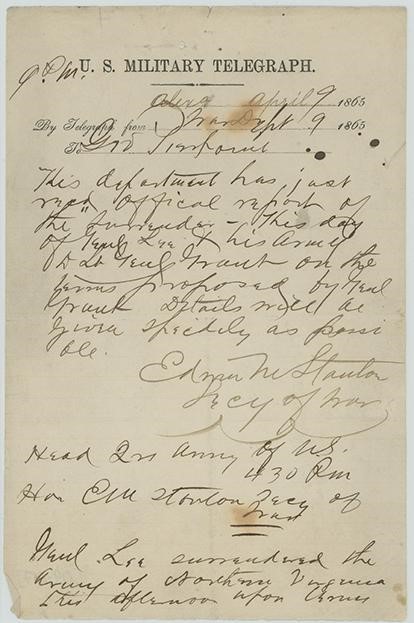 It partly reads:
"9 p.m. Alexa[ndria] April 9 1865
This department has just recd official report of the surrender this day of Genl Lee and his army to Lt. Genl Grant on the terms proposed by Genl Grant Details will be given speedily as possible.
Edwin M. Stanton
Secy of War"
Submitted by Michael Ridderbusch, Associate Curator for Archives and Manuscripts
---
The Embassy Girls, by Julia Davis
My favorite book in our reading room is The Embassy Girls by Julia Davis. She was the daughter of John Davis, the Ambassador to England during WWI. She wrote The Embassy Girls about her time as a teenager at the American Embassy in London after the war. She had a blast!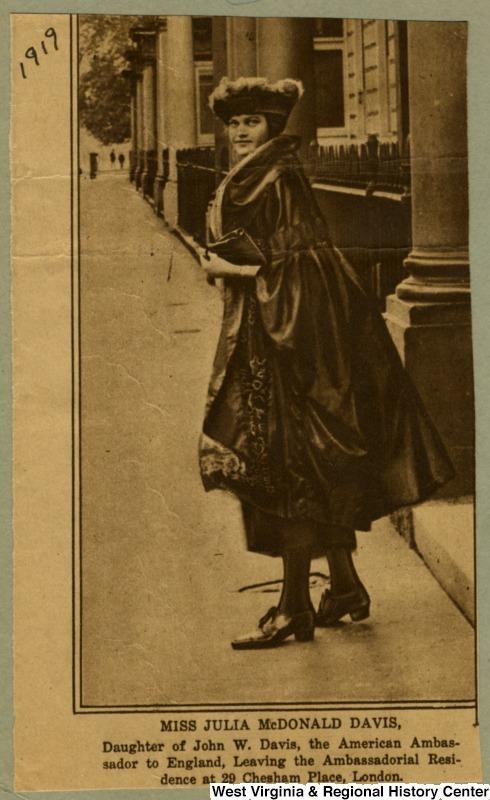 [Editor's Note: The Embassy Girls is available in our reading room, call number 813.D294Y2, or available for checkout at the WVU Downtown Campus Library, call number E748 .D218 A3 1992.]
Submitted by Christy Venham, Reference Specialist
---
Star Trek: The Next Generation Score
My favorite things are Emmy-winning composer Jay Chattaway's score for the penny whistle solo from the Star Trek: The Next Generation episode "The Inner Light" as well as a draft of the script for the episode. Both items can be found in A&M 3895, the Jay Chattaway Papers. Widely considered to be one of the best Next Generation episodes, "The Inner Light" features a beautiful and somber tune played by Captain Picard who experiences a lifetime on an alien planet – all within just twenty minutes.  As a longtime fan of Star Trek, I geek out just thinking about it and I'm honored to have a part of Star Trek history at the WVRHC.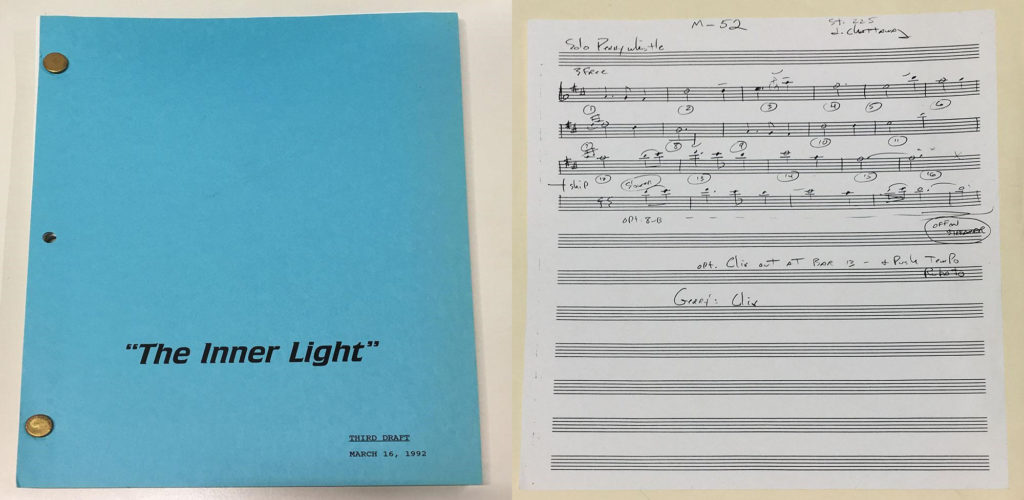 Photos from Lori's blog post on the Jay Chattaway Papers, on our site here.
Submitted by Lori Hostuttler, WVRHC Assistant Director
---
Cooking and Kitchen Brochures
Cooking and kitchen brochures are one of my favorites.  The introduction of jello as a new food and recipes for using it for meals with beautiful color illustrations, long legged appliances that are the latest on the market and how to use them, specialty products like baking powder and the ways it can be used included with recipes for food and cleaning. Plus there are the great illustrations that document the era of each brochure.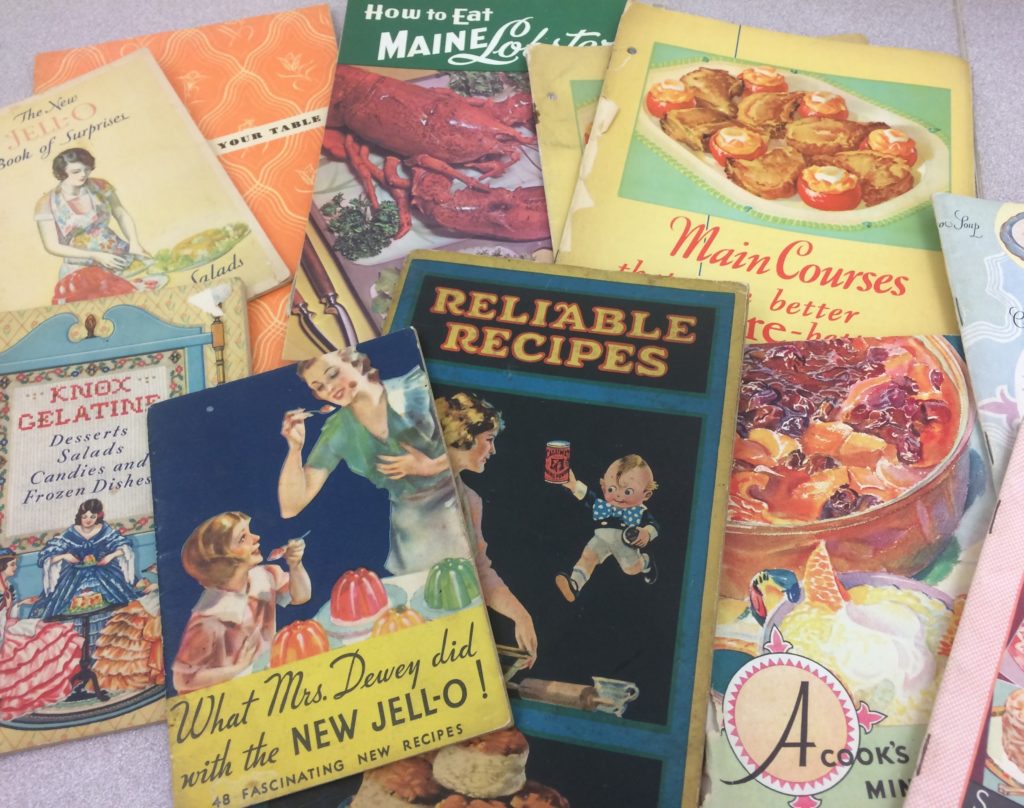 Submitted by Stewart Plein, Assistant Curator for WV Books & Printed Resources & Rare Book Librarian
---
"When Big Profundo Sang Low C," by Dave Kemp
In our archives, I found a sound file that I like so much, I actually put a shortcut to it on my desktop! It is a clip from our "It's Wheeling Steel!" archives (A&M 3470, Wheeling Steel Radio Program Sound recordings and Records), which you can read about here.
The clip itself is from the time that the radio show featured "When Big Profundo Sang Low C" sung by Dave Kemp, a foundry worker in the Steubenville Works of Wheeling Steel.
I know nothing about music, so I have no idea if this guy actually gets down to low C, but I think the old radio sound and the song itself are charming, so I'd call it my favorite sound file.
Submitted by Jane Metters LaBarbara, Assistant Curator for Archives and Manuscripts
---
Porch Photos
I work with the photographs every day, so it's impossible to pick one favorite, but I do love looking at turn-of-the-century porch photos on OnView.  These images often show the architectural features of the home, residents, and porch plants.  I especially love how they are decorated with curtains, comfy furniture, and pillows, turning them into an extension of the home.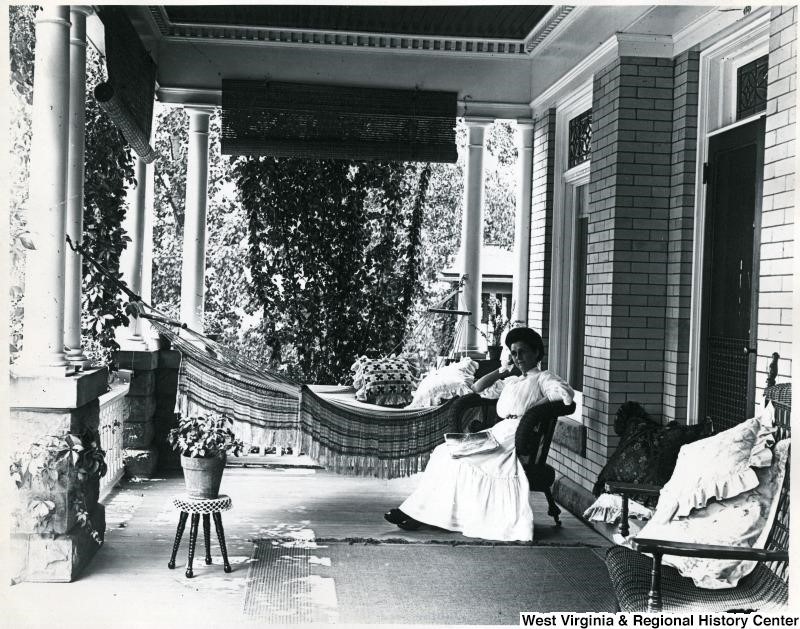 Submitted by Jessica Eichlin, Photographs Manager and Preservationist
---
Children's Health Insurance Program memos, 1997-1998 from the Senator John D. (Jay) Rockefeller IV papers
While they are relatively recent history, the Children's Health Insurance Program (CHIP) memos illustrate the development of public policy and the various and complex actions, stakeholders, and considerations involved. When I use the memos in classes, students enjoy getting a behind-the-scenes look at the legislative process, a better understanding of the role legislative staff play, and a connection between the past and present.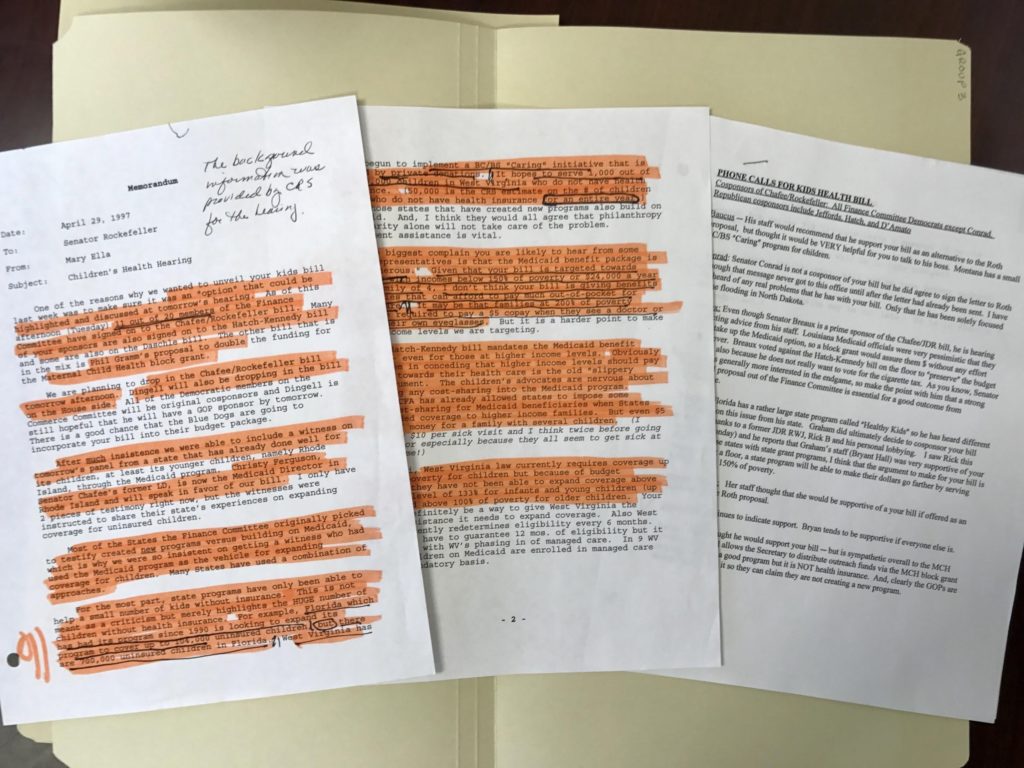 Submitted by Danielle Emerling, Assistant Curator, Congressional and Political Papers Archivist
---
Grand Cordon of the Order of the Rising Sun
Part of my job involves dealing with artifacts in the Center's collections. One of my favorite of these artifact is the Grand Cordon of the Order of the Rising Sun awarded to West Virginia Senator Jay Rockefeller for his strengthening the relationship between the United States and Japan. I'll admit that part of my fondness for this artifact is that it is so beautiful and unusual, but I also see it as a symbol of the connection between West Virginia and the wider world.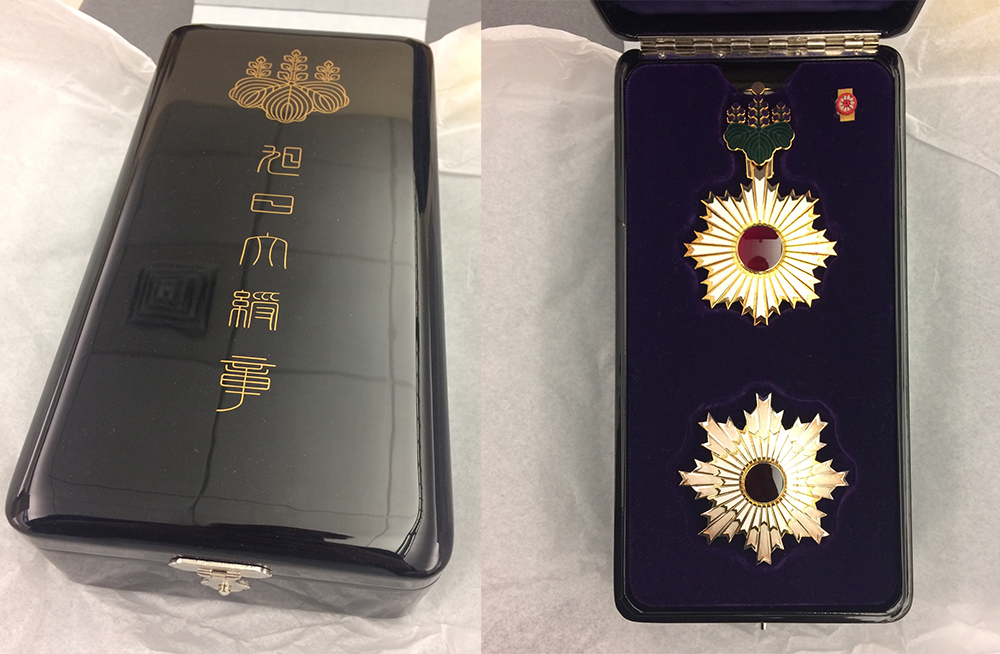 Submitted by Laureen Wilson, Processing Archivist and Rare Books Collection Assistant
---
A&M 53: Stephen B. Elkins Papers
Not only was Elkins important in WV history, he was also involved in the history of New Mexico. Many of his papers describe his business and political dealings in that state. This collection also has the Cole Younger letter.
[Editor's note: Cole Younger was an outlaw who associated with another famous outlaw, Jesse James.  The letter Christy references was written to Elkins by Younger while he was in the Stillwater Penitentiary.  For the dramatic story behind their relationship, see our 1999 newsletter, p. 4-6, found here. The Finding Aid for A&M 53 can be found on our website here.]
Submitted by Christy Venham, Reference Specialist
---
Seed Catalogs
I love the seed catalogs for their beautiful images.  Our earliest catalog is from 1883 with simple woodcut images of an ear of corn or a potato, but as time passes, color and photography begin to show us beautiful renditions of the seeds of flowers, fruits and vegetables offered for sale, but also for the great history of plant nurseries and plants that are no longer in production today.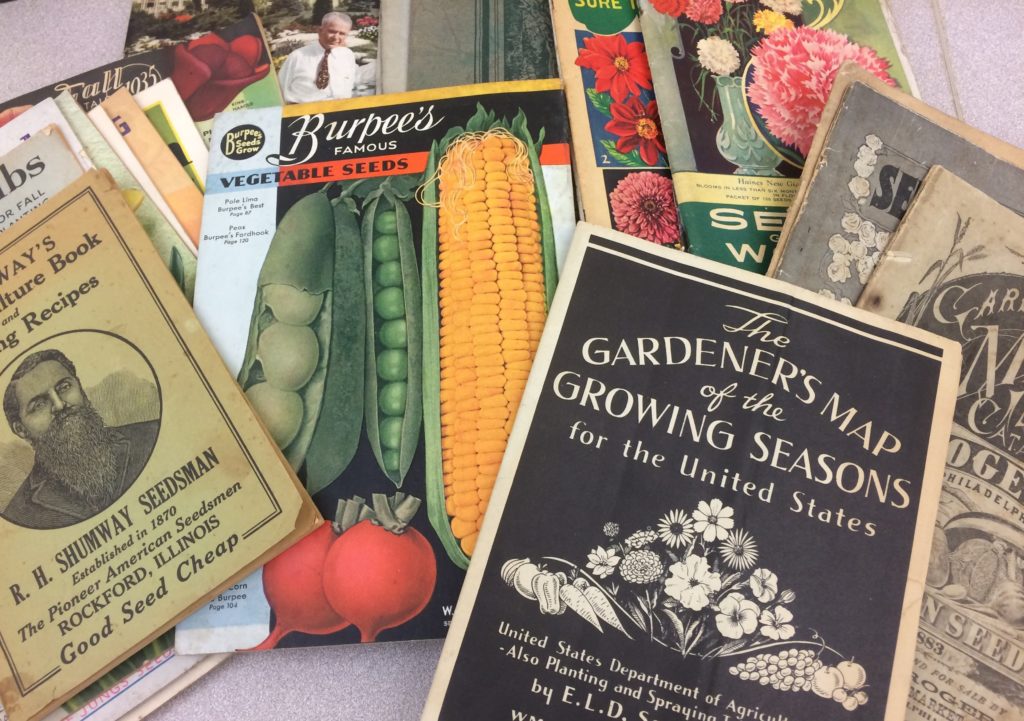 Submitted by Stewart Plein, Assistant Curator for WV Books & Printed Resources & Rare Book Librarian
---
"Artistry in Dress," 1929
My favorite object is a booklet in one of our collections from the WVU Extension Service. This collection includes dozens of these small, instructional booklets with subjects that range from cooking appetizing and artistic meals to interior decorating to making and maintaining the wardrobe. This particular booklet, titled "Artistry in Dress" was published by the New York State College of Home Economics at Cornell University in 1929. It is a fascinating glimpse into the clothing of the 1920s and even delves into theories of fashion design, helping women to select or make clothing that flattered their complexion and shape and corresponded to the latest fashions, without spending too much money. It even includes a color printed color chart. Dress history is one of my favorite things to study and I love the wealth of information hidden in this inconspicuous booklet. And the illustrations are hilarious! To me, this booklet represents a first-hand glimpse of fashion from another time and the diversity of ways in which the Extension Service was trying to make life better and more beautiful for the residents of West Virginia.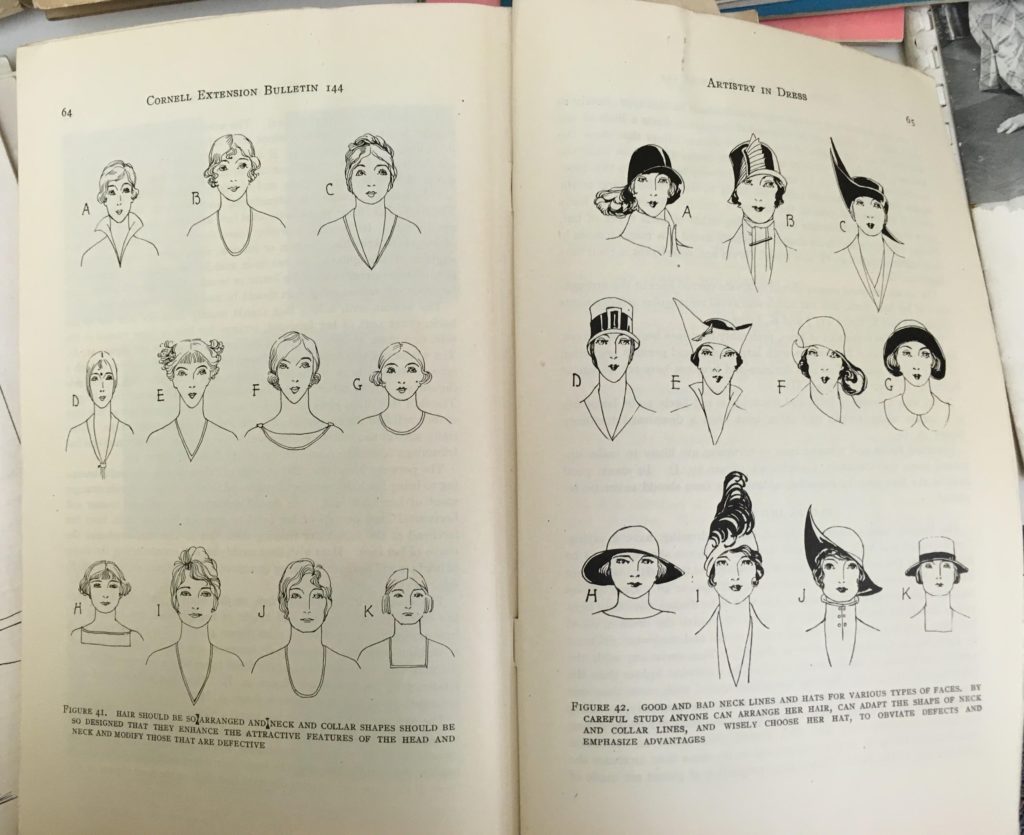 Submitted by Kara Gordon, Graduate Assistant
Stop by the WVRHC during the week to find your new favorite archival item!
Leave a Reply