Posted by Monte Maxwell.
October 24th, 2017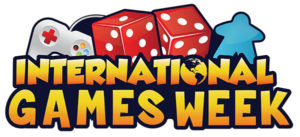 Got games? West Virginia University Libraries will host a series of events at the Downtown Campus Library as part of International Games Week (IGW) (Oct. 30-Nov. 4). All events are free and open to the public.
Events kick off Monday, Oct. 30, at noon with a presentation by Jaime Banks, professor of Communication Studies, and Ph.D. student Joe Wasserman, titled "Real Representations and Liminal Lessons: Considerations for Games in Learning" in Room 104.
Monday through Saturday, Oct. 30-Nov. 4 – Take a break from work or study to play arcade games provided by local Star Port Arcade and Pub in Room 1036.
Wednesday, Nov. 1, at 11 a.m. in Room 104 – A panel of WVU instructors (Banks; Mark Benincosa, School of Music; Dr. Bob Britten, Reed College of Media; and Dr. Brian Ballentine, Professional Writing and Editing) will discuss how they use games and gamification in their teaching and research. Librarian Jing Qiu will facilitate. Following the panel, instructors are invited to participate in a noon workshop on gamifying lesson plans featuring lunch provided by Lotsa Motsa.
Thursday, Nov. 2, from 11 a.m.-7 p.m., in Room 2036 – Cartridges Galore Video Games will provide an on-site open gaming station for users to play with for free.
Friday, Nov. 3, from 11 a.m.-6 p.m., in Room 2036 – The WVU Student Game Developers Club will have an open showcase of games they designed.
Saturday, Nov. 4, from 2 p.m.-7 p.m. – Family Day offers a casual community game extravaganza that includes lessons for beginners for all kinds of games, giveaways, competitive tournaments, open play, live WVU Jeopardy and an appearance by real Jeopardy star and Morgantown resident Leigh Limerick. College of Creative Arts Professor Jeffrey Moser's game design class will display Breakout Storytelling. Four Horsemen Comics and Games and Star Port Arcade is giving out free prizes. Visitors can learn and play Magic the Gathering, Pokémon, board games and more.
Attendees are encouraged to use social media and tag #wvulibraries or #wvugamesweek to celebrate the fun.
International Games Week has been celebrated in 53 countries and territories on all 7 continents. Hundreds of libraries across the country will join WVU in celebrating the popularity and educational, recreational and social value of games. For more information, contact Sally Deskins, Libraries Exhibits and Programs Coordinator, sbdeskins@mail.wvu.edu or Beth Toren, Interdisciplinary, Cultural and Film Studies Librarian/Games Week coordinator, beth.toren@mail.wvu.edu.
Leave a Reply