Posted by Monte Maxwell.
November 29th, 2017
Thousands of archival records and digital photographs from the Congressman Nick Joe Rahall II papers are now open for research at West Virginia University Libraries' West Virginia & Regional History Center.
In 1976, Nick Rahall II, a 27-year-old native of Beckley, WV, won the race for the West Virginia Fourth Congressional District and went on to win re-election to the U.S. House of Representatives for another eighteen terms (1977-2015), making him the longest serving congressman in West Virginia history.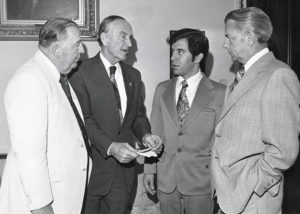 Before he was elected to Congress, Nick Rahall worked in the office of then U.S. Senator Robert C. Byrd and as assistant to the Majority Secretary of the Senate. He is pictured with senators Jennings Randolph, Mike Mansfield and Byrd in June 1976.
The materials in his collection document Rahall's numerous contributions to national policy and state projects. Throughout his career, Rahall was recognized for his expertise relating to transportation, infrastructure, technology, energy and the environment. He led the development of federal highway and transit legislation and authored legislation to establish the New River Gorge National River as a unit of the National Park Service and to designate the Gauley River National Recreation Area and the Bluestone National Scenic River.
As the grandson of Lebanese-Protestant immigrants, Rahall took an interest and leadership role in national and foreign policy related to the Middle East, making numerous delegation trips to the region during his congressional service.
The opened materials come primarily from the press files and include speeches, press releases, and newspaper clippings from 1976-2014. Numerous photographs document Congressman Rahall at various events, hearings and meetings with West Virginians in his Washington, D.C., office. Photographs also capture moments from his numerous overseas trips and visits to West Virginia. A large portion of the photographs have been made available online at rahall.lib.wvu.edu.
Congressman Rahall donated his papers to WVU Libraries in 2015. The collection is one of the largest in the Libraries' holdings at more than 2,089 record cartons, and it continues to be processed. Researchers interested in using the collection should contact the Assistant Curator, Congressional and Political Papers Archivist.
Leave a Reply