Posted by Jane Metters LaBarbara.
January 22nd, 2018
Blog post by Jane Metters LaBarbara, Assistant Curator, WVRHC.
In honor of WVU's new and exciting records retention schedule, here is a little history about the University Archives and information about what we are collecting.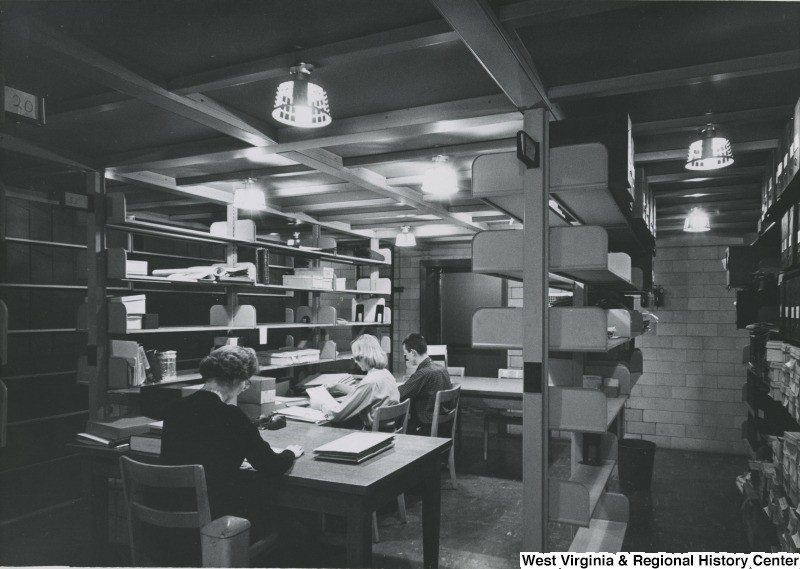 The stacks in the old Wise Library used to be open; now they are closed and we store a lot of the University Archives here.
The West Virginia & Regional History Center is the special collections unit of WVU Libraries and the home of WVU's university archives.  It all began in the 1920s when an ambitious WVU history professor started to seek support for preserving the state's historical records. By 1933, we were authorized by the University as the "Division of Documents," and in 1935 we hired our first full-time archivist Dr. Festus P. Summers. 
While a major focus of the Center has always been the history of the state and region, the historical material of the university was also collected.  One of the first collections of university records we acquired was A&M 55, the West Virginia University Agriculture Experiment Station Records, transferred to us by the Experiment Station in 1937. Now, we have over 2000 linear feet of archival materials by and about the university.
In January of this year, the University Archives saw a big change: the release of the university's first Record Retention Policy and Schedule.  Thanks to the work and determination of the Office of General Counsel and all those who assisted, university employees now have a resource that outlines what to keep, what to throw away, and when to do it.  They also created a great FAQ document to answer questions and help people get started.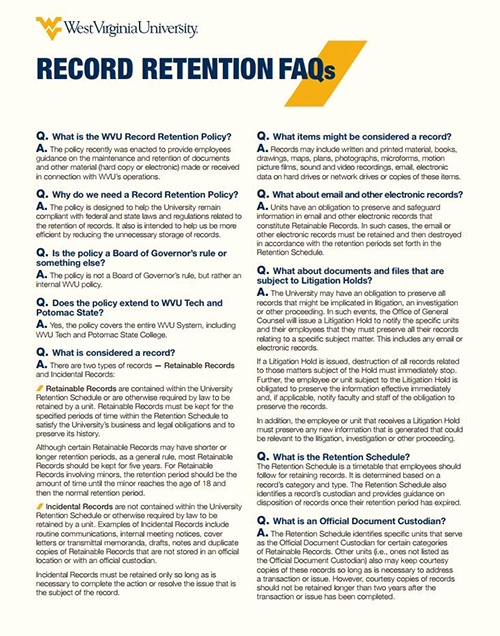 No more stressing about what to keep if your office moves to a new building, no more feeling powerless to throw away old records–the Record Retention Schedule is here to help!  And if you have WVU timecards going back to 1979 that are taking up space in your office closet or storage room, imagine how cathartic it will be to throw them all in a secure shredding bin and embrace all the space you just made!  Take it from someone who knows, it is a great feeling.
Please note: the Office of General Counsel and, to a lesser extent, the archivists at the Center can help you if you have questions about what to keep, send to the archives, or get rid of.
What sort of things should come to the University Archives, according to the University Retention Schedule?
Board of Governors meeting minutes, agendas, and resolutions
Official correspondence, speeches, and personnel records of the University President and Campus Presidents
Items of historical significance from the official correspondence, speeches, and other administrative records of the Vice President
Official University and Unit rules, policies, and procedures, including standard operating procedures
Official committee or advisory group meeting minutes and agendas, including meetings of the executive committee, graduation committee, visiting committee, institutional board of visitors, staff council, and faculty senate
Organizational charts showing the hierarchy and reporting structure of the University and its units
Official University publications and reports, including course catalogs, annual reports, self-studies, certification documentation, and strategic reports
Official records of historically significant University awards and events, including programs, announcements, brochures, transcripts, or videos
Official University news related publications of historical significance, including the news releases, student newspaper, and other periodic publications
Official photographs, films, videos, etc. taken or prepared by University personnel for University related events or activities of historical significance
Official accreditation documents, including reports made by accrediting associations, committee recommendations, institutional responses to committee observations and suggestions
College, School, and Dean's records, including official correspondence, speeches, programs, etc.
Curriculum records, including current curriculum of all approved courses, curriculum proposals, and curriculum development files
Academic program files, including program reviews and changes
If you have any of these materials and you are interested in the University Archives and how to send us your materials, take a look at the University Archives FAQ and contact us!
I am thrilled that we now have a retention schedule that will direct employees to send specific documents to the University Archives. However, not everything that a great University Archives wants to collect can be found on a retention schedule.  The schedule addresses records which are created by the University in the course of business, which represent only part of the life and history of the University.  Stay tuned for part 2 of this blog post, where I will share more information on what we collect in addition to University records.
One Response to 'University Archives Update, Part 1: University Records'
News | WVU Libraries Says:
March 7th, 2018 at 12:35 pm

[…] January, I wrote about WVU's new records retention efforts and how that helps the University Archives collect WVU's his….  University history goes beyond departmental and administrative records, though, so the […]
Leave a Reply