Posted by Jane Metters LaBarbara.
March 7th, 2018
Blog post by Jane Metters LaBarbara, Assistant Curator, WVRHC.
In January, I wrote about WVU's new records retention efforts and how that helps the University Archives collect WVU's history.  University history goes beyond departmental and administrative records, though, so the University Archives collects more than just records created by the University. If you are interested in what the University Archives wants to collect, take a look at our Collection Policy.  It describes additional types of records and materials that we are collecting, including the following categories: 
Student organizations' materials
In the University's retention schedule, under Student Government and Organization Records, it says "Records of the student organization itself should be retained by the organization but may be archived at the discretion of the organization."
Student organization records are valuable parts of the University Archives because they prove that an organization existed on campus and they show what was important to our students, who our students were, what challenges they faced, how they spent their time, what they advocated for, and more. According to the WVU Division of Student Life website, we have over 450 student organizations right now, not including all the groups that began and ended in the past.  As we build a bigger and better University Archives, we need the help of our students, staff, and alumni to bring these materials to our attention.
We already have a variety of organization and club records, including some student government records, records of the Ten Buck Club, a few collections of fraternity materials including those of Phi Sigma Delta and Phi Sigma Kappa, and more.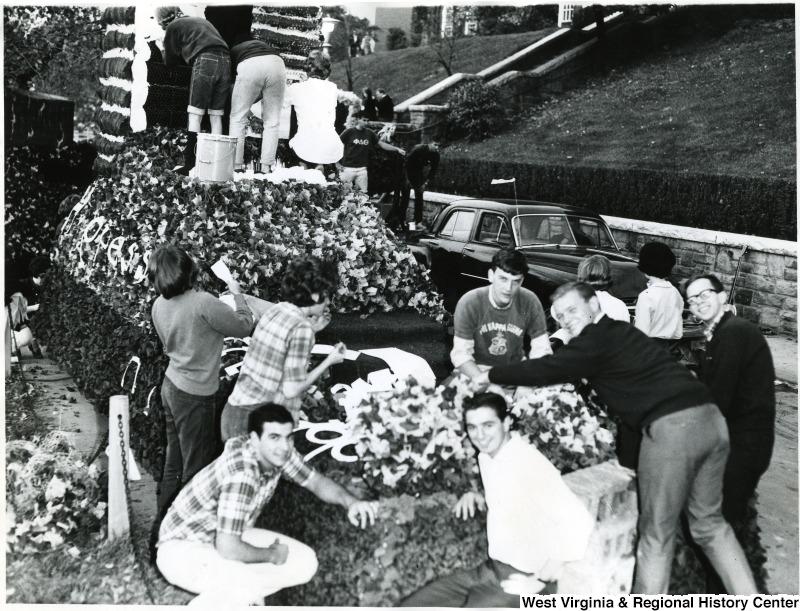 Second Place Homecoming Float, built by Phi Kappa Sigma, Tau Kappa Epsilon, and Gamma Phi Beta.
The picture is undated–if anybody has a guess based on the car or the clothes, let us know!
Faculty papers
Did you know that a WVU professor…
worked on the Sydney Opera House and helped restore historic bridges across America? Dr. Emory Kemp's papers are currently being processed.
was involved in the creation of the PRT? Dr. Samy Elias' papers are available for research.
was "a dominant person in the development of forest entomology in America"? You can read more about the impact of A.D. Hopkins here; his papers are also available for research.
Faculty papers can contain a wide variety of materials, from typical administrative documents to drafts of creative works to research notebooks.  Faculty papers help us document the creation of new programs and schools, and they can also show the university's impact by shedding light on professors' involvement in state and national organizations, how they advanced research in their fields, and more.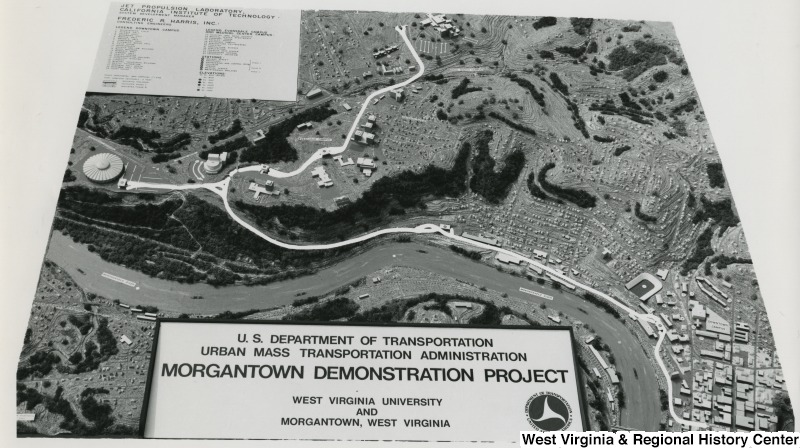 A model route of the Morgantown Demonstration Project (PRT) to connect WVU's campuses. Things look a little different now.
Alumni materials
We collect materials from a variety of university alumni, from individuals who rose to prominence in their chosen fields to those who recorded their everyday lives as university students decades ago.
Materials from our leading lights help us document and share the great things that members of our student body go on to achieve, helping us build the university's legacy. Examples of fantastic alumni who have chosen to share their papers with the archives are film composer Jay Chattaway, actor Chris Sarandon, and basketball great Jerry West.
Everyday life materials supplement other university and club materials to show us what life used to be like, what students were into back then, and what the Mountaineer legacy is. We have materials ranging from a photo album documenting student life in the 1890s (A&M 5164) to materials from a student journalist documenting the "Death of Higher Education" protest in 1988 (A&M 5088) to records of student activism on multiple issues (A&M 2828).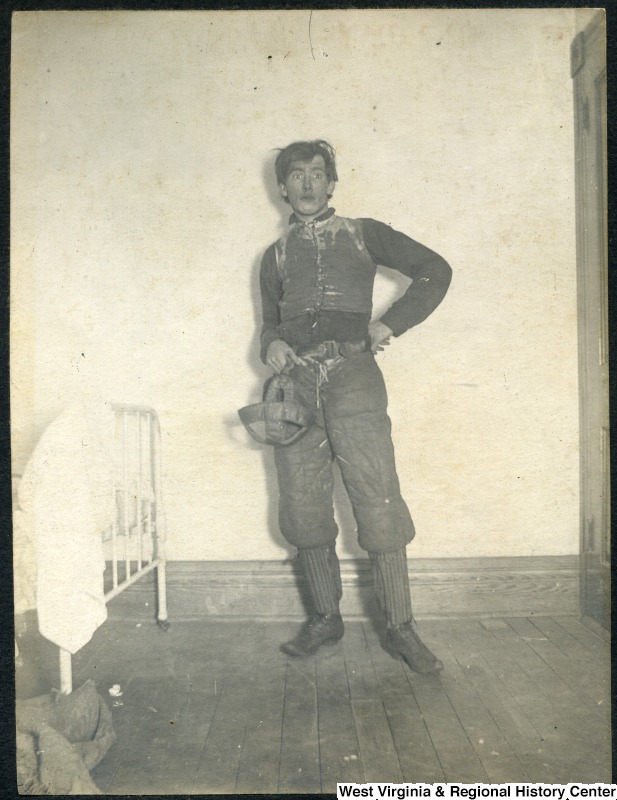 Student football player, post-game, ca. 1898. This picture is from a student's photo album.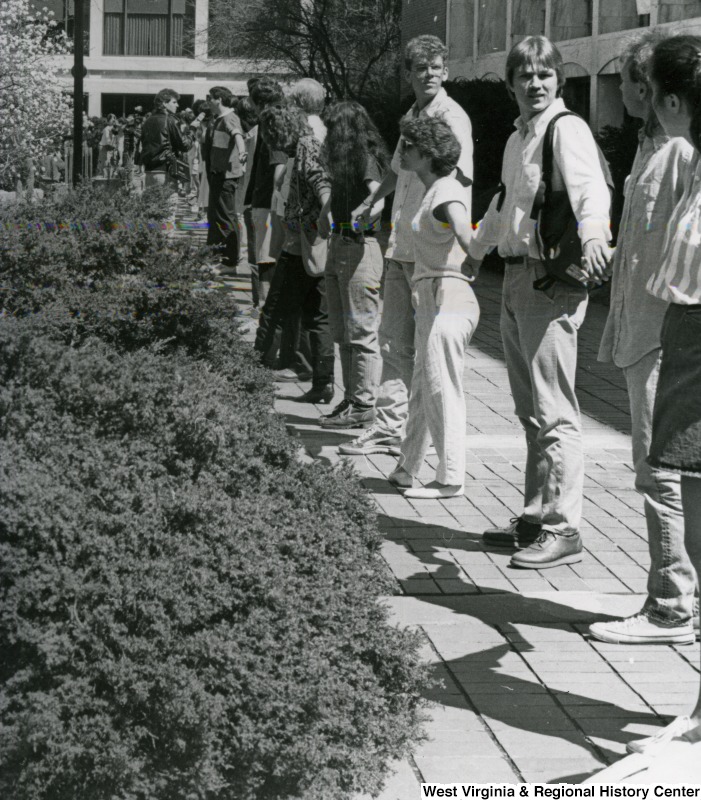 Students Protest 'Death of Higher Education' on WVU's campus, 1988.
Artifacts and memorabilia
Those of you who are familiar with archives are aware of how much we love to collect papers and photographs, but artifacts and memorabilia from WVU's past really bring the stories to life and make our past tangible. We have old freshman beanies, dance cards, pins, ribbons, pennants, a cadet uniform, a gym suit from the 1920s, and more.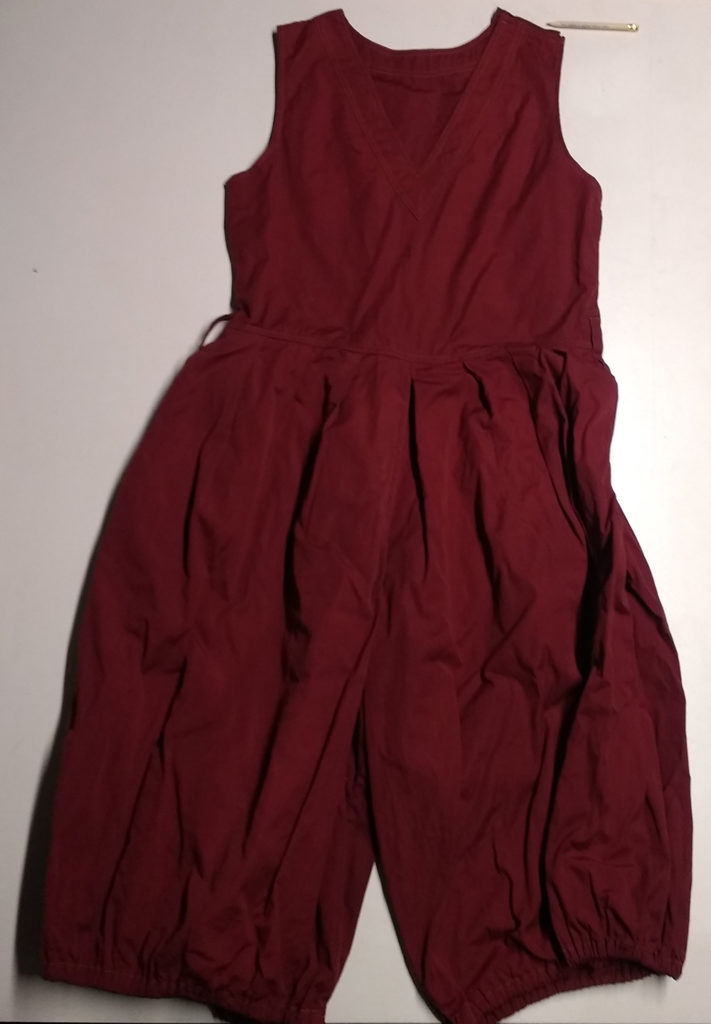 This gym suit belonged to Mildred Lorraine King, a student at WVU from 1925-1929. She was likely one of the first to attend gym classes in Elizabeth Moore Hall, a women's PE building completed in 1928. The full uniform probably included a shirt to go either under or over this jumper, to cover the shoulders and upper arms.
Miscellaneous
Not every piece of university history fits neatly in the above categories. Did you know that there used to be a social club of those who managed and maintained fraternity and sorority houses at WVU? We have records of WVU's House Mothers Club.
Great university materials are scattered throughout our Archives and Manuscripts collections, our photo database West Virginia History OnView, and our Printed Ephemera Collection.  If you are interested in learning more or if you know of materials you think the University Archives should have, contact us!
Leave a Reply