Posted by Monte Maxwell.
March 28th, 2018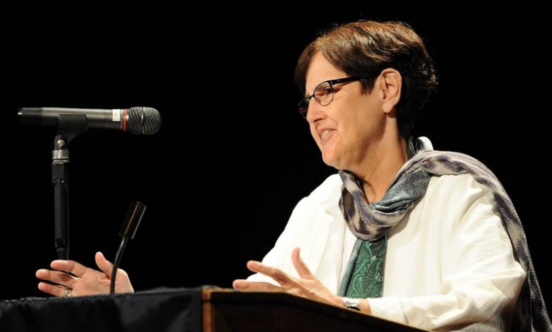 West Virginia University Libraries will present Talking Publicly with Maggie Anderson, a reading and discussion, on April 4 from 3:30 to 5 p.m. in the Downtown Campus Library's Milano Reading Room. This free event, part of a celebration of National Poetry Month, is open to the public.
Anderson is a West Virginia-based poet and author of five books of poems, most recently "Dear All" (2017).
Following Anderson's reading and talk, Dr. Judith Stitzel, WVU Professor Emerita of English and founding director of the WVU Center for Women's and Gender Studies, will moderate a discussion on the role of poetry in contemporary society.
Also collaborating on this event is Dr. Sharon Ryan, WVU philosophy professor and creator of THE QUESTION project. Her team poses the question: "How can poetry promote respectful public discourse, encourage a deeper understanding of humanity, and be a catalyst for positive social change?"
After the discussion there will be an informal reception. Anderson will be available to sign copies of her books, which will be for sale courtesy of the WVU Bookstore.
Anderson's poems have been published in multiple journals, including The American Poetry Review, New Letters, Prairie Schooner, The Georgia Review and Hamilton Stone Review, and her work has appeared in more than 50 anthologies and textbooks. Essays have appeared in 17 anthologies and journals of contemporary poetry and poetics.
Born in New York City in 1948, Anderson moved to West Virginia when she was 13 years old. She earned a bachelor's degree in English, with high honors, from WVU in 1970 and a master's in creative writing in 1973 and a master's in social work in 1977, all from WVU. She taught poetry at Kent State University from 1989 until her retirement in 2009.
In addition, she's received two fellowships in poetry from the National Endowment for the Arts and the B.B. Maurer WV Folklife Scholar Award from Fairmont State University for making an outstanding contribution to the preservation and perpetuation of Appalachian cultural heritage.
For more information about Anderson visit her website, maggieandersonpoet.com.
Leave a Reply