Posted by Jane Metters LaBarbara.
May 25th, 2018
Blog post by Lori Hostuttler, Assistant Director, WVRHC.
In West Virginia, spring brings a selection of new and fresh foods.  Ramps and morels each have a season, as do strawberries and my subject today: rhubarb.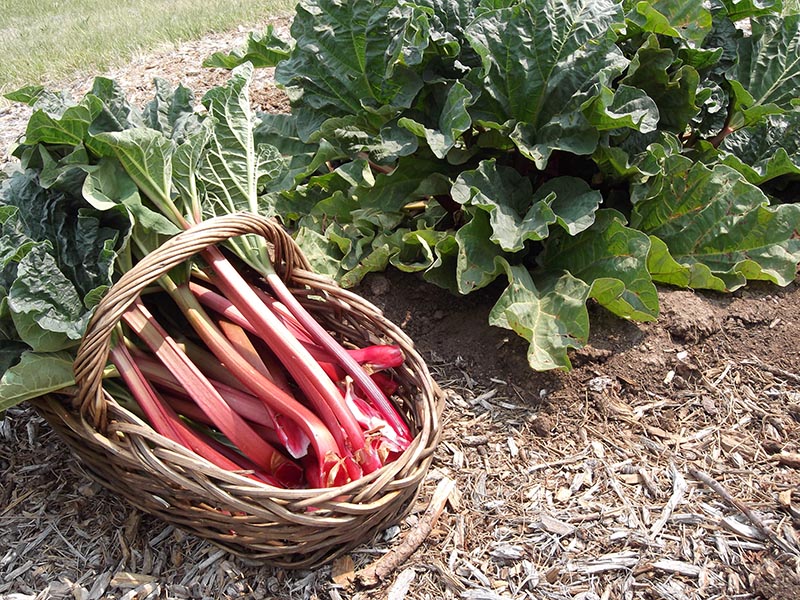 Image from Rhubarb Farmer.
Rhubarb, also called pie plant, is known for its tart flavor. It is considered a vegetable and looks quite a bit like red celery.  But most people prepare it as they would a fruit.  Because of the tartness, it is often sweetened and used in desserts.  Only the stalks can be eaten.  The leaves are poisonous and should not be ingested. 
Rhubarb is a perennial plant.  According to the WVU Extension Service, "establish rhubarb by planting crowns in early spring or in fall after dormancy occurs. Plant crowns about 4 feet apart with roots 1 to 2 inches below the soil surface. During the first year, do not harvest the stalks and remove seed stalks once plants appear to be well established. Harvest stalks the following year by cutting at the base when stalks become 12 to 18 inches long, and remember to discard leaves."
West Virginians did not traditionally grow much eggplant, cauliflower, or asparagus, but they often had a few rhubarb plants in their yard and the tangy stalks were used in pies.  Authors Martha and Richard Hartley share an 1820 recipe for Rhubarb Tart in their cookbook, Serving Up History: Savor the flavors of early West Virginia cookery, 1776-1860.  The recipe combines stewed rhubarb, sugar, crushed crackers, eggs, and cream which is baked in a pie shell.
Strawberry-rhubarb pie is a popular combination.  They pair well and recipes abound.  As local farmer's markets open this weekend, keep your eye out for the long red stalks.  Because it is in season, it is also available at local grocery stores.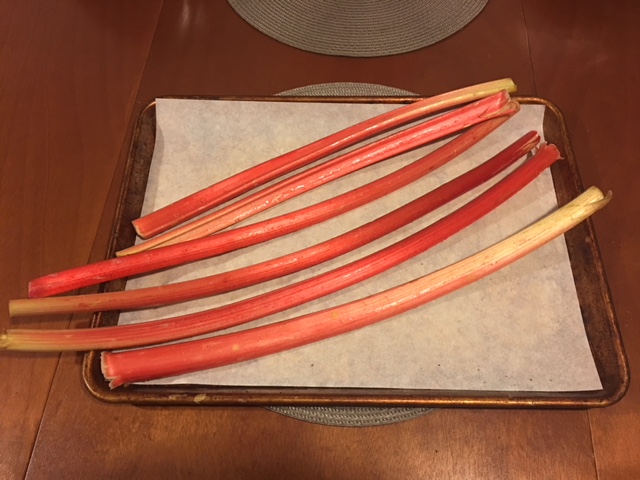 Long rhurbarb stalks purchased at Suncrest Kroger.
For this blog post, I made a rhubarb cobbler using a recipe from Fort New Salem, the living history village in Salem, West Virginia, where I worked a number of years ago.  The cobbler is sweet and cake-like. It goes great with coffee or ice cream.
Here's the recipe and the baking instructions with photos.
Fort New Salem Rhubarb Cobbler
Ingredients:
½ cup shortening
1 cup brown sugar
½ cup white sugar
1 large egg
2 cups flour
½ teaspoon salt
½ teaspoon baking soda
1 teaspoon cinnamon
1 cup sour milk
1 ½ cup chopped rhubarb
For topping – use ¼ cup sugar plus 1 teaspoon cinnamon, or for a "gooey" topping use 3 tablespoons melted butter, ½ cup brown sugar and 2 teaspoons cinnamon.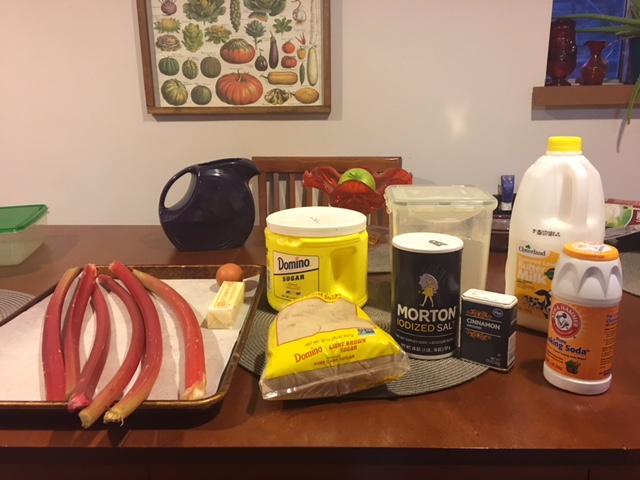 All of the ingredients needed for the cobbler.
Step 1 – Grease and flour a 9×13 pan, set aside.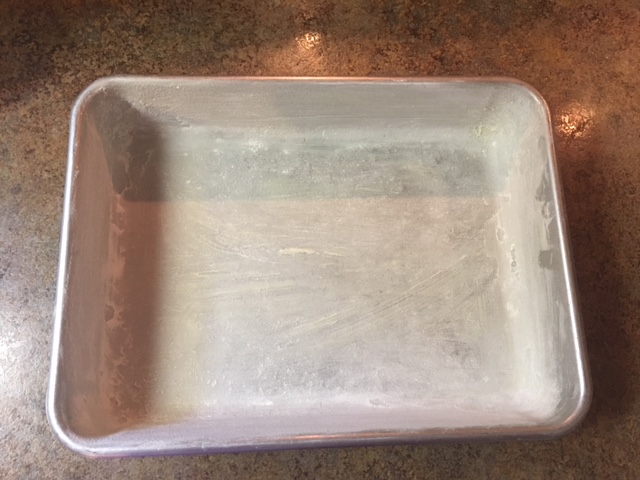 Step 2 – Cream the shortening and sugars.  I used unsalted butter as a substitute for shortening.  It is a personal preference.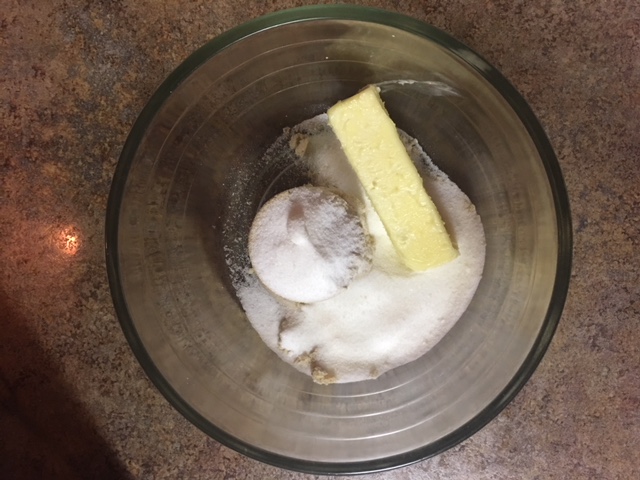 Step 2 – Add the egg and mix well.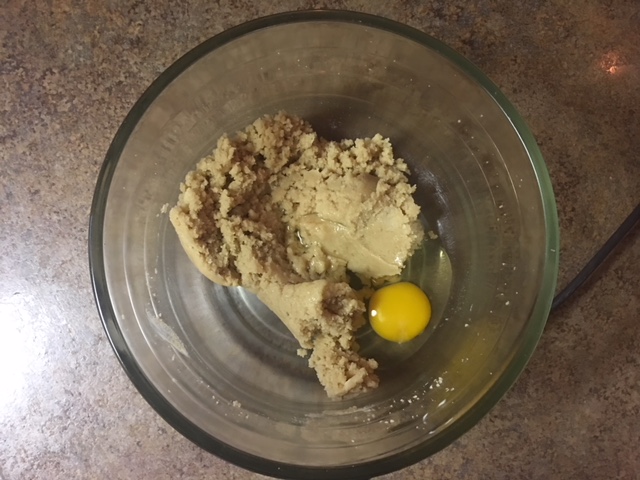 Step 3 – Sift together flour, salt, soda, and cinnamon.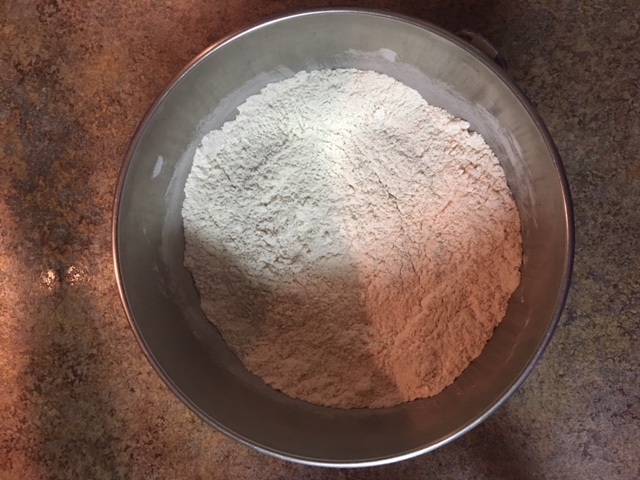 Step 4 – Add the flour mixture and buttermilk alternately, mixing well after each addition.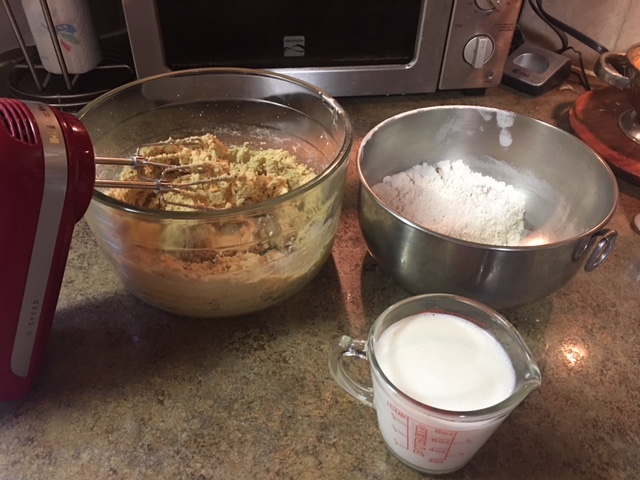 Step 5 – Fold in the chopped rhubarb and pour into prepared pan.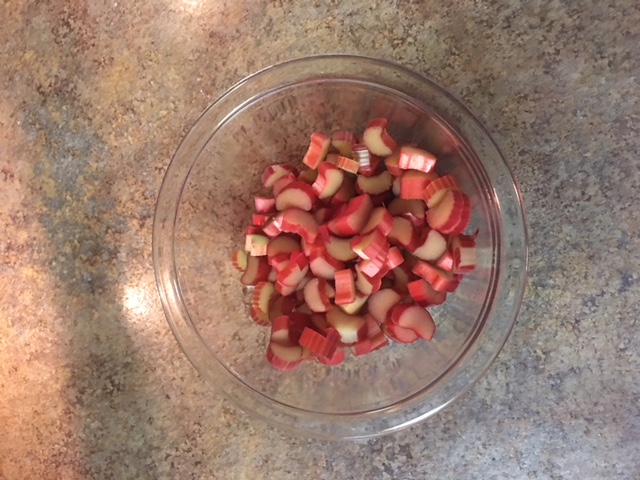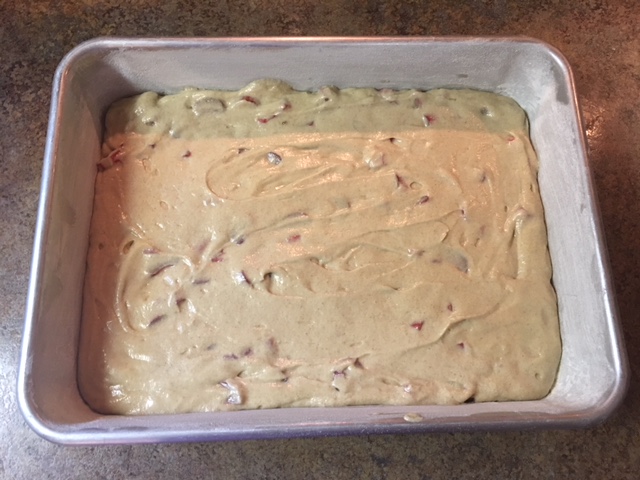 Step 6 – Sprinkle or drizzle desired topping.  I used the gooey topping recipe.  It didn't drizzle well, but it baked down into the cobbler and definitely was gooey.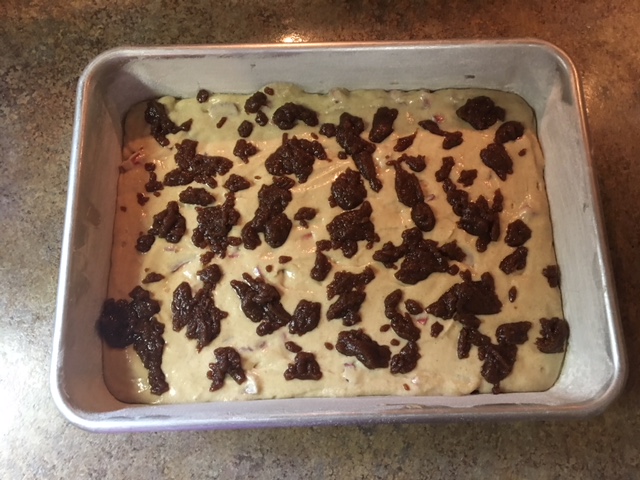 Step 7 – Bake in a preheated oven at 350 degrees for about 40 minutes.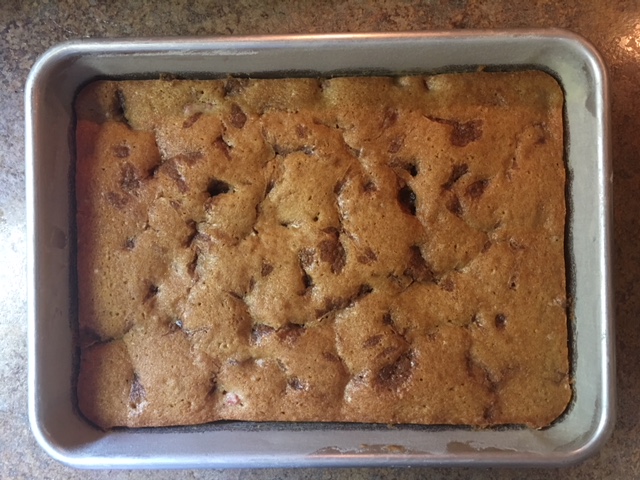 The finished product.
My taste tester at home liked the cobbler as did the WVRHC staff who tried it.  Rhubarb will be in season through June.  Enjoy!
All recipe photos by Lori Hostuttler.
2 Responses to 'Rhubarb: The Pie Plant'
Carol Schweiker Says:
June 7th, 2018 at 11:41 am

Great idea to publish old recipes. Fort New Salem did lots of traditional fireplace cooking and loved sharing recipes. We adapted many for modern kitchen cooking, too. Recipes are meant to be shared.

Jane Metters LaBarbara Says:
June 14th, 2018 at 10:47 am

I agree! Thankfully, sharing recipes is made easier by the U.S. Copyright Office, which states that "Copyright law does not protect recipes that are mere listings of ingredients…" (https://www.copyright.gov/fls/fl122.html)
Leave a Reply