Posted by Jane Metters LaBarbara.
July 30th, 2018
Blog post by Michael Ridderbusch, Associate Curator, WVRHC.
Elmer Walton (1897-1960) of Martin's Ferry, Ohio, as a member of the 4th Regiment, 3rd Division of the American Expeditionary Force in France, participated in the Second Battle of the Marne (July 15 to August 6, 1918), and in two campaigns of the final "Hundred Days Offensive" including St. Mihiel (September 12-15, 1918) and the Meuse-Argonne Offensive (September 26 to November 11, 1918).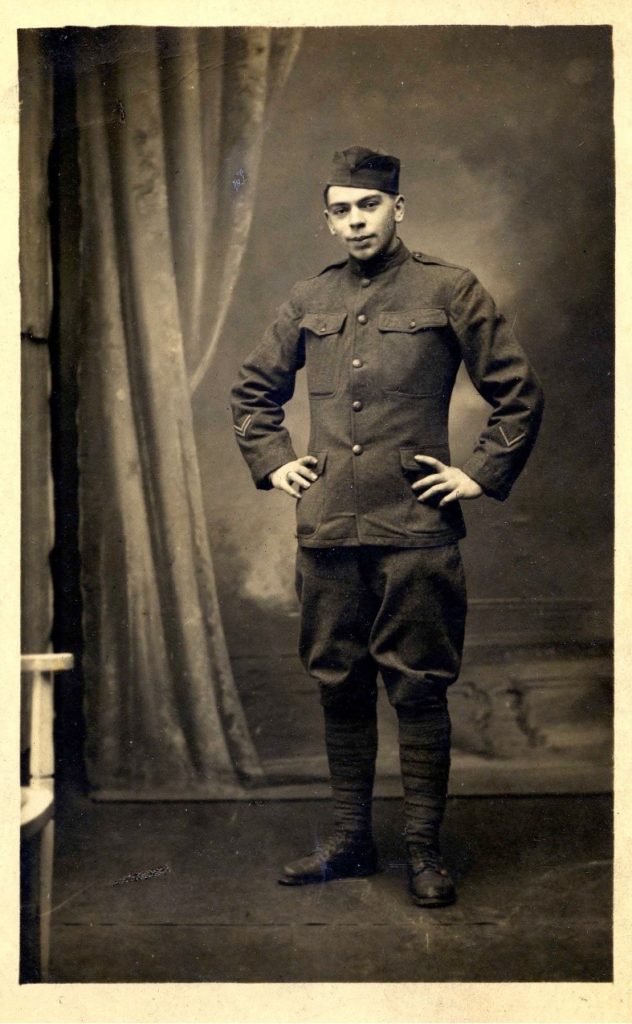 Portrait of Elmer A. Walton, By a Photographer in France, 1918.
(Photo from collection A&M 3694, Elmer Arthur Walton, Soldier,
World War I Letter, Scrapbook, and Other Material) 
Although ultimately prevailing, the advance of the AEF into the Argonne forest proved to be costly, particularly for Walton's unit.  After 30 days in action the 4th regiment suffered 80 percent casualties during this final drive, a shocking statistic comparable to the horrific casualty rates typical of the American Civil War, such as the Iron Brigade's 61 percent and the 26th North Carolina's 89 percent, both at Gettysburg.  Withdrawn for rest and replacements, the war ended before the 4th could be reengaged.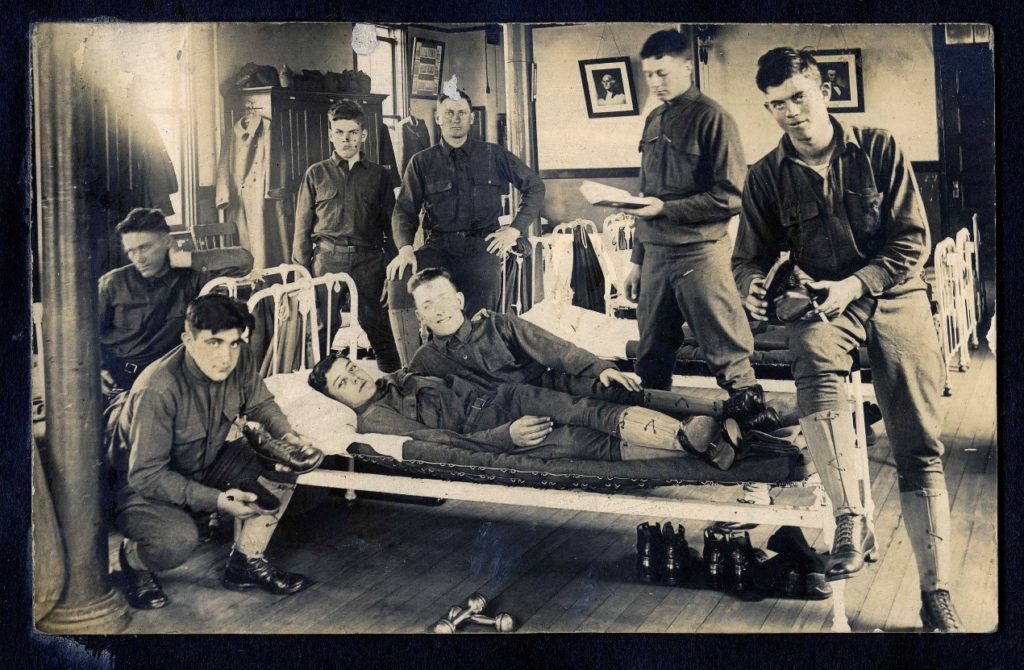 Fellow Soldiers of Elmer A. Walton, ca. 1917-1918.
These are likely members of the 4th Regiment.
(Photo from collection A&M 3694, Elmer Arthur Walton, Soldier,
World War I Letter, Scrapbook, and Other Material)
These experiences of death and loss were ones that Walton wanted to put behind him, as evidenced in the conclusion of a letter written from Base Hospital No. 24 in Limoges, France, on November 24, 1918:
"Well Dad I have told you a few of the many adventures and incidents that I have [seen] and gone through.  I also participated in the drive at St. Mihiel and the last drive at the Argonne [Forest].  I have witnessed many horrible sights and now I am trying to forget."
The Elmer Walton collection at the History Center includes, among other material, his scrapbook of both civilian and wartime photos, and a 32 page letter he wrote to his father regarding his life as a soldier in France.
Among the items in the scrapbook is a published notice of wartime "safety regulations" for ocean travel on the USS Great Northern.  Published in April 1918, the same time the 4th Regiment steamed for France, this handbill was distributed to members of the unit before embarking on the Great Northern on their way to war.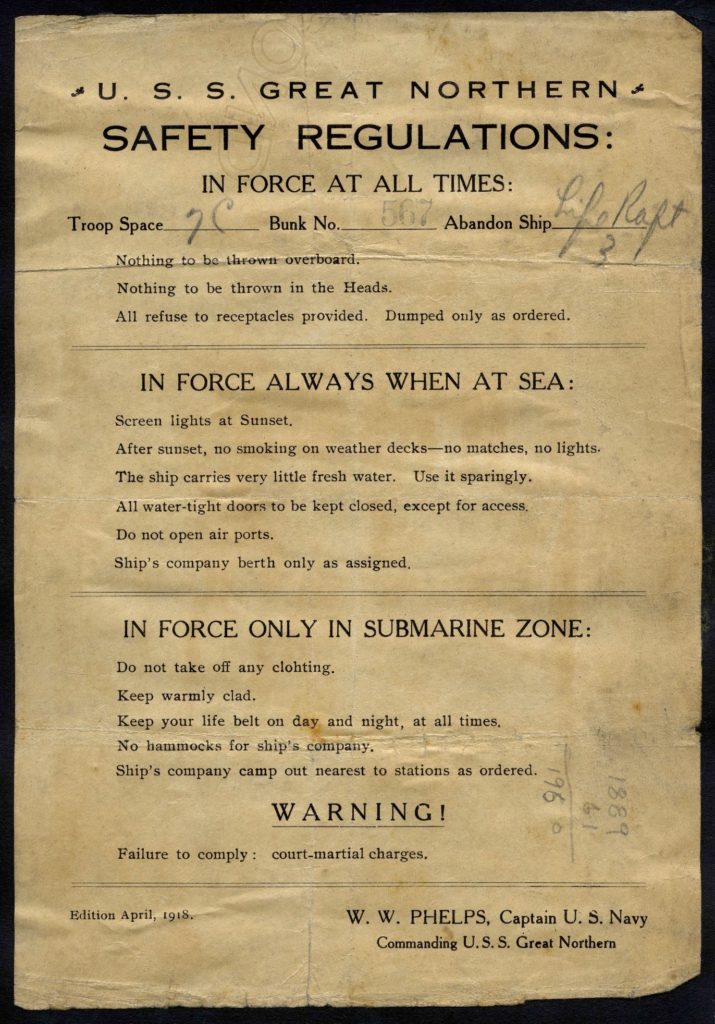 Safety Regulations Notice, USS Great Northern, 1918.
(Item from collection A&M 3694, Elmer Arthur Walton, Soldier,
 World War I Letter, Scrapbook, and Other Material)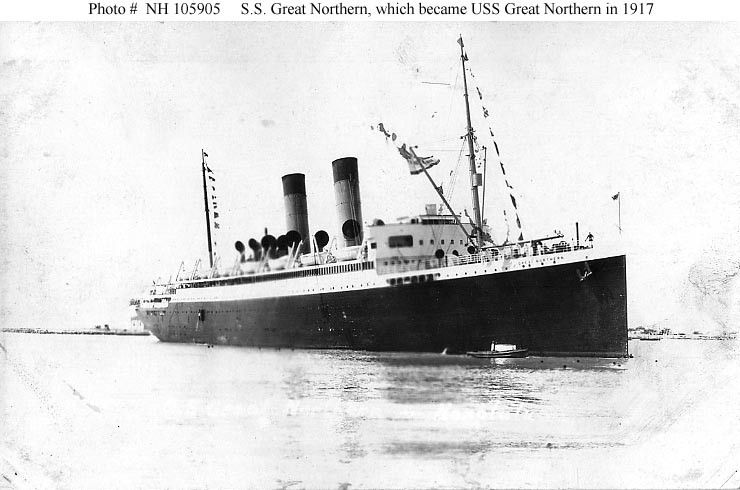 USS Great Northern, Transport for the 4th Regiment, 1917.
(Photo from Naval History and Heritage Website, Photo NH 105905)
From clippings in the scrapbook, we learn that Walton earned a Distinguished Service Cross for carrying "a message over territory generally thought impassable during daylight. He accomplished his mission in spite of having been wounded and nearly buried by a shell explosion."  An excerpt from his November 24th letter seems to recall this incident during the Second Battle of the Marne:
"So we crossed the Marne Sunday night on July 21, 1918…Next morning word was received that we were to attack immediately … Shrieks from dying and wounded.  The ground was littered with relics of our charge, packs, German helmets, rifles, bayonets, and German machine guns and belts of cartridges, and very many German graves … We kept moving steadily forward amid the racket of hammers from the machine guns, like the riveting of bolts with a riveting machine … The fire continued and increased all that day and all the next day.  So for two days and nights we were without sleep, food, and were fighting at night amid the downward pour of rain … That evening as things became more quiet I found one of the platoons.  We marched back to a woods where we intended to reorganize our company.  I started out immediately to locate our rolling kitchens as hunger and thirst [were] driving me mad.  It was on this mission that I was hit by an exploding shell, and a small fragment of shrapnel tore its way thru my left hand.  I was sent back to the field hospital in trucks and later was sent by train to Contrexeville Base Hospital 32, 40 miles from the front."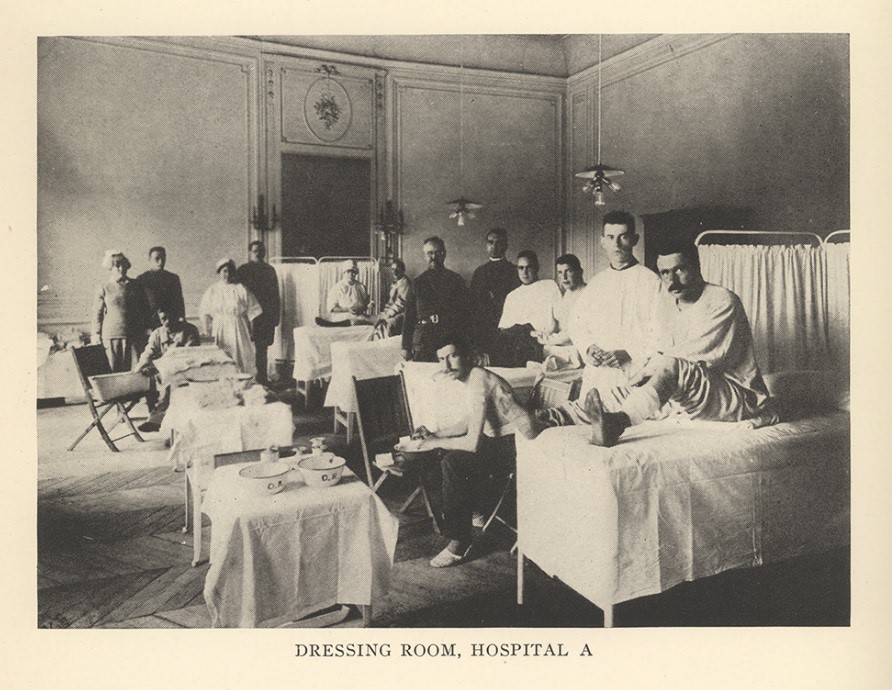 Hospital A at Base Hospital 32, Contrexeville, ca. 1917-1919
(Photo from Wikimedia Commons, In Public Domain)
After recovering at Contrexeville, Walton returned to the front.  Wounded in the hand again in the Argonne Forest, Walton apparently saw the end of the war while hospitalized, and was able to return to the States in December, 1918.  He, with other members of the 4th Regiment, was awarded the Croix de Guerre 1914–1918.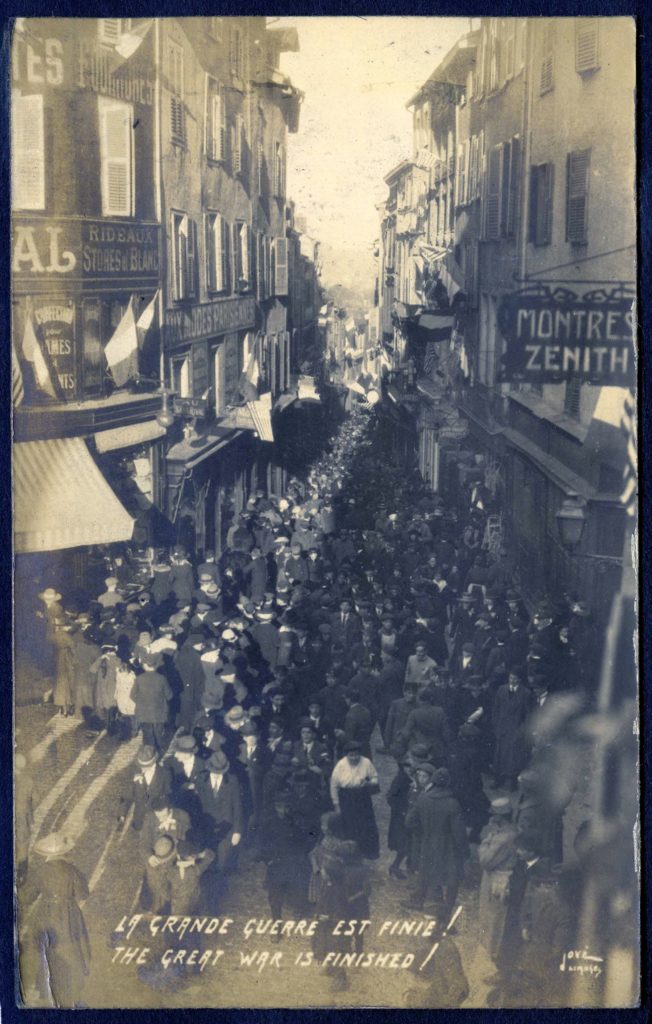 "The Great War is Finished!"
 A postcard Walton acquired while in France, 1918.
(Postcard from collection A&M 3694, Elmer Arthur Walton, Soldier,
 World War I Letter, Scrapbook, and Other Material)
This blog is part of a continuing series commemorating the 100th anniversary of America's participation in the First World War.  See also:
Discovering World War I at the History Center, Part 1:  The John A. Thorn Collection
—
Sources consulted:
Wikipedia articles regarding:
4th Infantry Regiment (United States)
Hundred Days Offensive
Second Battle of the Marne
Battle of Saint-Mihiel
Meuse-Argonne Offensive
Website:
The Distinguished Service Cross, World War I, To Members of the U.S. Army
Archival Collection:
Elmer Arthur Walton, Soldier, World War I Letter, Scrapbook, and Other Material, A&M 3694
One Response to 'Discovering World War I at the History Center, Part 2: The Elmer A. Walton Collection'
News | WVU Libraries Says:
November 9th, 2018 at 3:11 pm

[…] Discovering WWI at the History Center, Part 2: The Elmer A. Walton Collection […]
Leave a Reply