Posted by Monte Maxwell.
October 2nd, 2018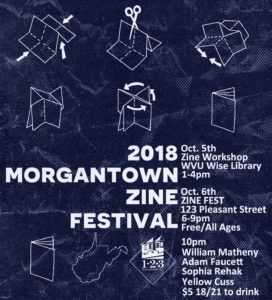 On Friday and Saturday (Oct. 5 & 6), West Virginia University Libraries and 123 Pleasant Street will co-host the 2018 Morgantown Zine Festival, a two-day event celebrating the form, featuring 20+ zine makers from around West Virginia and Appalachia.
Zines may just be the dark horse of the West Virginia arts community. A zine is a handmade booklet or magazine, typically not available for purchase through traditional commercial venues; a staple medium of punks, poets, activists, and DIY artists of all stripes. A zine might be a delicately crafted art-object, a quick and dirty photocopied pamphlet, or anything in between.
On Friday, join Emily Prentice, "The Zine Queen of Randolph County", for a free zine-making workshop in Downtown Campus Library, Room 104 from 1-4 p.m. On Saturday, zine makers will display and sell their work at 123 Pleasant Street, from 6-9 p.m. (free, all ages). Following the festival, at 10 p.m., William Matheny, Adam Faucett, Sophia Rehak, and Yellow Cuss will perform. (There will be a cover for this event.)
More details are available on the Morgantown Zine Fest's Facebook event page or by contacting Bryan Richards at brichar4@mix.wvu.edu.
Leave a Reply