Posted by Jane Metters LaBarbara.
November 7th, 2018
Blog post by Stewart Plein, Assistant Curator for WV Books & Printed Resources & Rare Book Librarian
Wednesday, October 31, the Rare Book Room, part of the West Virginia and Regional History Center at the WVU Libraries, hosted an event to highlight one of our extraordinary collections: the works of Isaac Asimov.  This event was designed to recognize our extensive Asimov collection and to celebrate our donors.
The event included an exhibit, shown below, that was on display in the Downtown Campus Library Atrium, and a talk by Nebula award winning author Andy Duncan, Professor of Writing at Frostburg State University.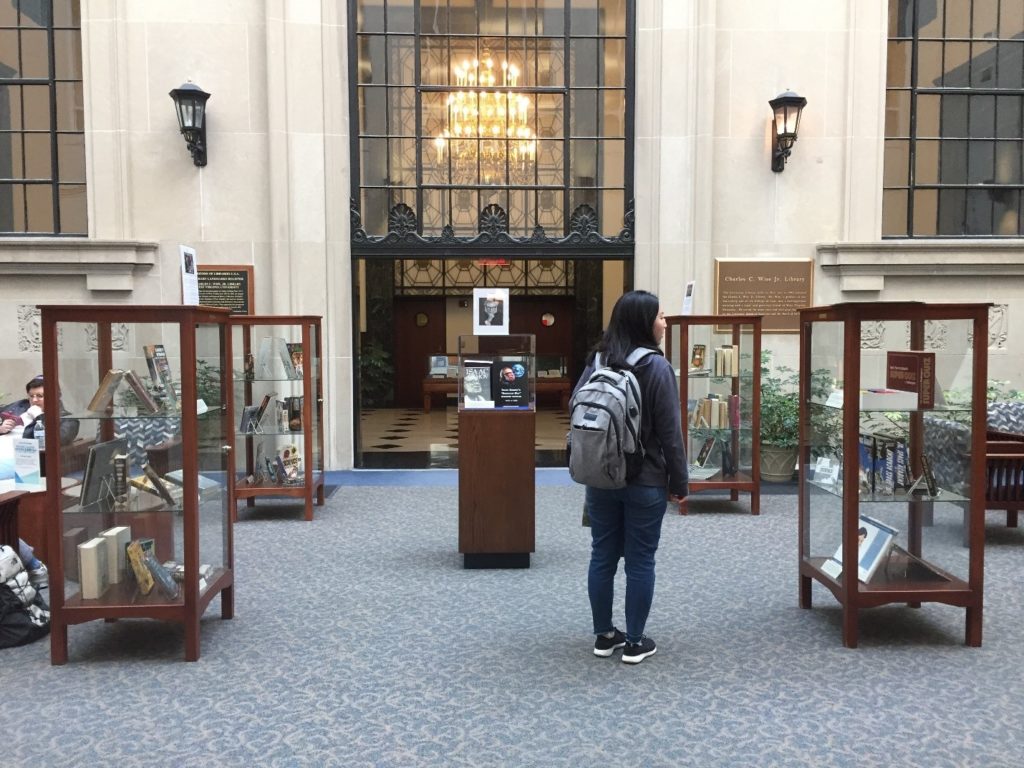 Some of Asimov's most important works were on display. A first edition of I, Robot as well as the first paperback edition, were displayed alongside a juvenile series.  Asimov's first sci fi novels were published in the 1950s: Pebble in the Sky, 1950, and I, Robot, 1951.  These books remain two of his most popular and enduring works.  At the same time, Asimov was writing the Lucky Starr series for children.  The same year that saw the publication of I, Robot, Asimov's agent, Frederik Pohl, and Walter I. Bradbury, the science fiction editor at Doubleday & Co., asked him to write juvenile science fiction that could serve as the basis for a television series. Asimov had a strong distaste for the "uniformly awful" programming he saw for children on TV, so he camouflaged his identity under the pseudonym, Paul French.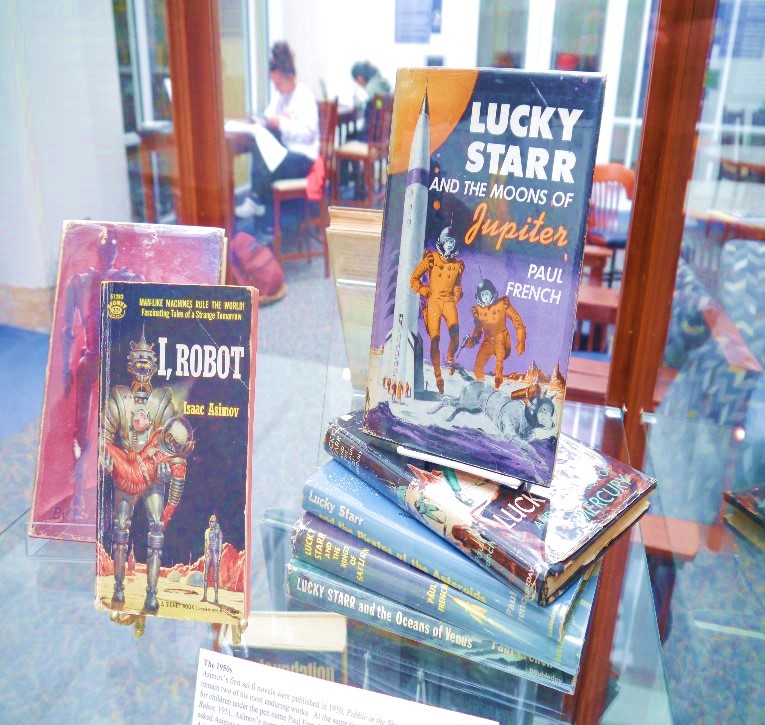 Asimov's short story, Nightfall, has been widely recognized as the greatest science fiction story of all time, Originally published in 1941, this story revolves around the frightening descent of darkness upon a people whose planet had been constantly illuminated by sunlight.  Asimov adapted his original story into a novel with Robert Silverberg in 1990.  The variety of formats shown below, from a vinyl recording, to VHS, and DVD, are testament to its enduring popularity.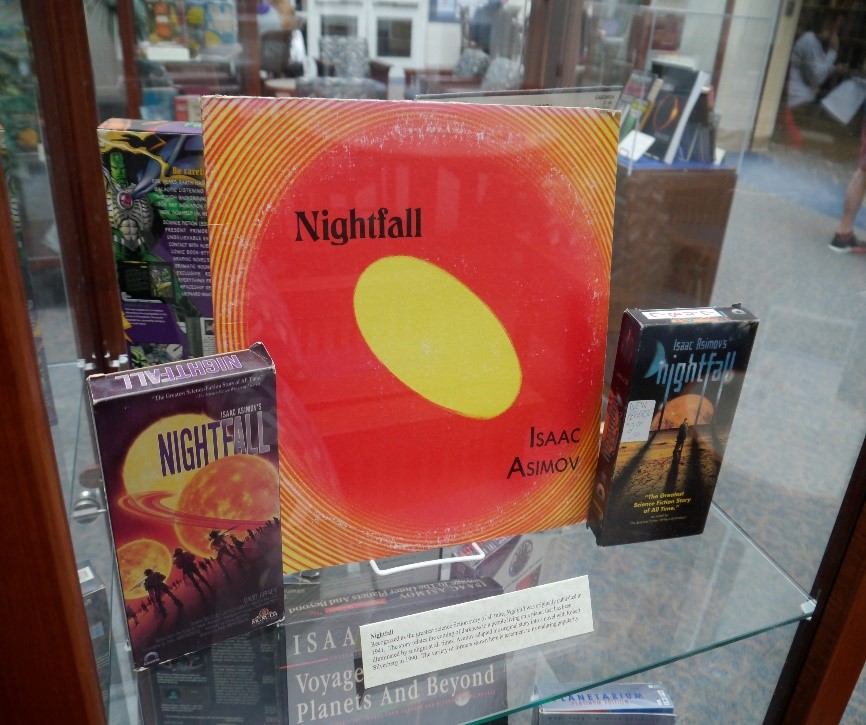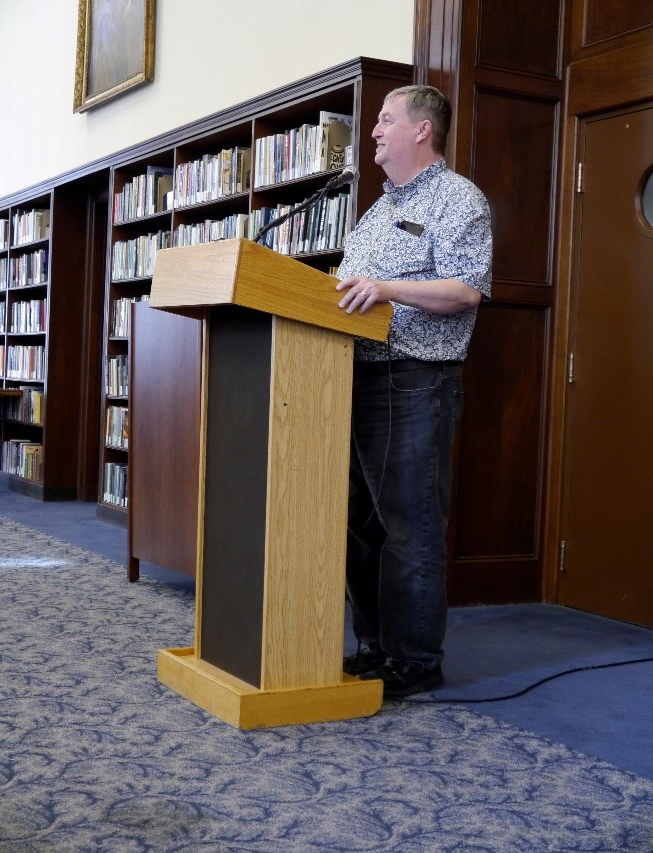 The guest speaker for the event, Prof. Andy Duncan, is well known to the science fiction community of writers. Prof. Duncan's short fiction has won a Nebula Award, a Theodore Sturgeon Memorial Award and three World Fantasy Awards. His third collection has just been released this month by Small Beer Press.  Duncan's recent stories have appeared in the science fiction magazines, Analog, Asimov's, The Magazine of Fantasy & Science Fiction, as well as the Tor anthology, and the Bantam anthology, The Book of Magic. Duncan is on the board of directors of the Science Fiction and Fantasy Writers of America and he will be on the faculty of Clarion at UC-San Diego for a fourth time, teaching the famed speculative-fiction workshop.
Duncan's talk began with his recollection of reading Asimov's books as a child, followed by a discussion of classic writers like Heinlein and Clarke, and ended with the growth of today's diverse writers with new perspectives on science fiction, such as the Afrofuturism works by Octavia E. Butler.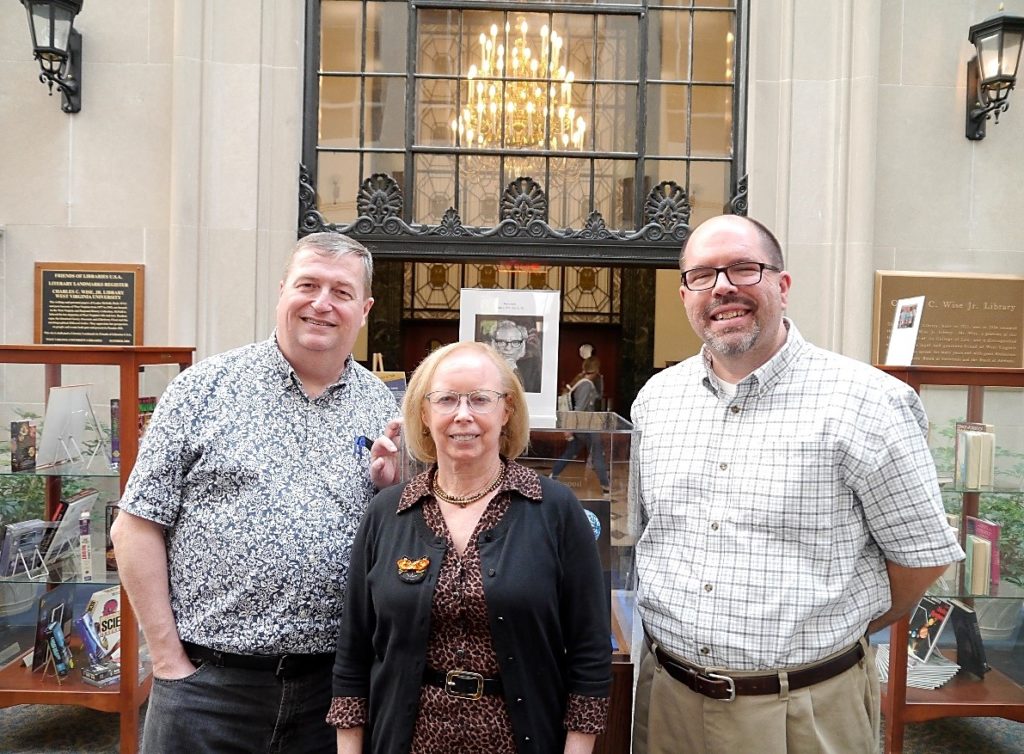 Andy Duncan, guest speaker for the Afternoon with Asimov event, Stewart Plein, Rare Books Curator, and Dr. Jay Cole, in the Asimov Exhibit in the WVU Charles C. Wise Library Atrium.
If you'd like to see the Asimov Collection, please contact Stewart Plein, Stewart.Plein@mail.wvu.edu.  In addition, books from the exhibit are now on display in the West Virginia and Regional History Center in the Downtown Campus Library.
Leave a Reply