Posted by Monte Maxwell.
November 7th, 2018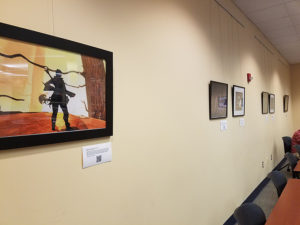 Do gamers have a special connection with their avatars? Drs. Jaime Banks and Nick Bowman will explore that and other questions in their presentation Nov. 13, at 2 p.m. in the Downtown Campus Library, Room 1020.
The "Avatars and their Players: From Object to Other" exhibit, on display at the DCL through Dec. 30, visualizes Banks and Bowman's scholarly research on the experiences and effects of video gamers' connections with their avatars. The exhibit features a curated collection of submitted images and narratives avatar stories that recounts users' favorite memories with favorite videogame avatars.
"These stories illustrate the impact avatars have had on their lives—dispelling assumptions and myths about gamers and highlighting the ways that avatars can be meaningful in contemporary life," Banks said.
In the presentation, Banks and Bowman will explain the science behind how people connect with their avatars and what that means for the experience of playing videogames.
The exhibit and presentation are part of WVU Libraries' Arts in the Libraries program. Banks won 2018 Faculty/Staff Exhibition Award. Also, this program is presented in conjunction with the WVU Campus Read program. This year selection, Emily St. John Mandel's "Station Eleven," fosters dialogue, critical thinking and community participation. Light snacks will be available compliments of WVU Campus Read.
For more information contact Sally Deskins, exhibits and program coordinator for WVU Libraries, at sbdeskins@mail.wvu.edu.
Leave a Reply