Posted by Monte Maxwell.
January 22nd, 2019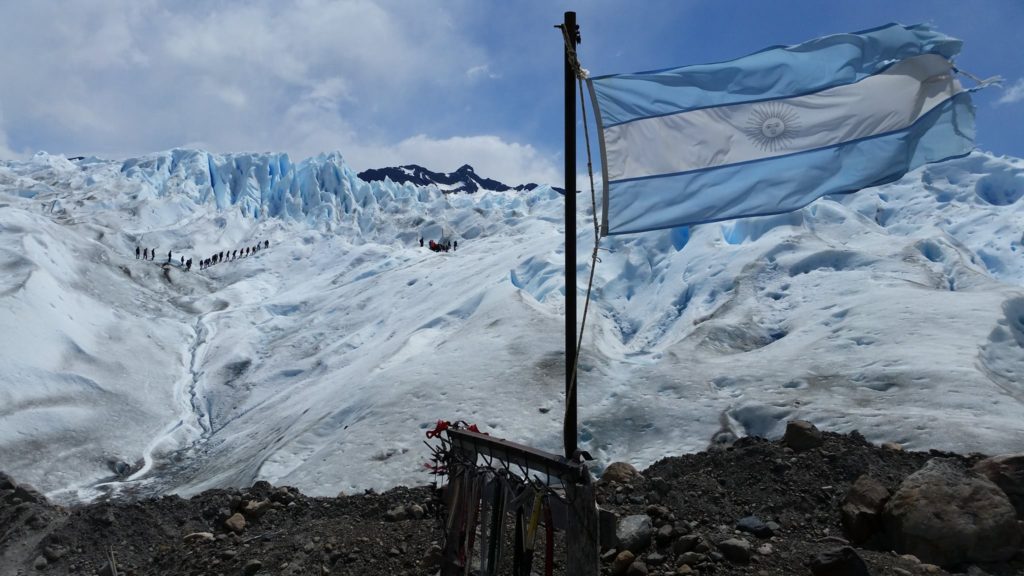 Last fall, West Virginia University Libraries, in collaboration with the Health Sciences Center, launched "Art & Health: Artwork by Health Care Professionals at WVU," which features two- and three-dimensional art by people who work in healthcare industries at WVU. Visitors were invited to submit written responses to the artwork as part of a corresponding contest, and the winners are students Jordan Niedoba and Carin Kuhn.
Niedoba finished first with her response to "Base of Perito Moreno glacier outside El Calafate, Argentina" by Ben Silverberg.
In her submission, Niedoba explained that she was captivated by Silverberg's photograph of a glacier in Argentina because it made her think about people choosing to climb the glacier despite the difficulty. She compared the climbers and their tenacity to patients at WVU Medicine, specifically the ones participating in the Narrative Medicine project.
"As cliché as it sounds, these patients have to face seemingly insurmountable obstacles much like the glacier to the climbers," Niedoba wrote. "However, the group of hikers in the background symbolizes that no one is left alone to figure out how he or she will survive. Even if the patients don't have any family, they have people like Renée Nicholson (Narrative Medicine project director) who are genuinely interested in the stories the patients want to tell. By getting the chance to tell their story, patients are able to control their own legacy."
Niedoba will receive a signed copy of "North to Lakeville" by Jason Kapcala, coordinator of Auxiliary Aids at WVU's Office of Accessibility Services, who also served as a juror for the art exhibit.
"It's so important for art to be available in public places like libraries and hospitals," Kapcala said. "It was exciting to read the strong responses people had to these pieces. Jordan Niedoba's reflection on survival and hope is an excellent example of how art tells a story."
Runner-up Kuhn wrote a response to "A Moment of Tranquility" by Denise Porter, and will receive a signed copy of Nicholson's "Roundabout Directions to Lincoln Center."
Leave a Reply