Posted by Jane Metters LaBarbara.
January 29th, 2019
Blog post by Lori Hostuttler, Assistant Director, WVRHC.
Fifteen years before she became a Justice of the Supreme Court of the United States, Ruth Bader Ginsburg visited West Virginia University to serve as a keynote speaker for the 1978 September Festival of Women. Evidence of her visit was recently found in sources at the West Virginia & Regional History Center. A student in a class session at the Center found images and news clippings about the festival in a photocopied scrapbook from A&M 5131, the WVU Women's Studies Center collection. Newspaper articles found in the scrapbook were also located in the archives of the Daily Athenaeum newspaper found on microfilm at the WVRHC.
Organized by the WVU Council for Women's Concerns, the September Festival examined several themes over three weeks with an impressive slate of speakers and sessions.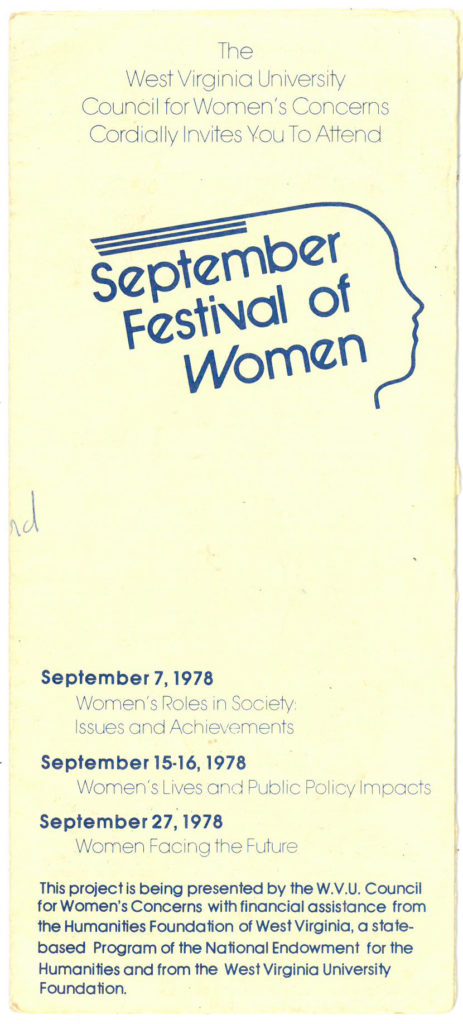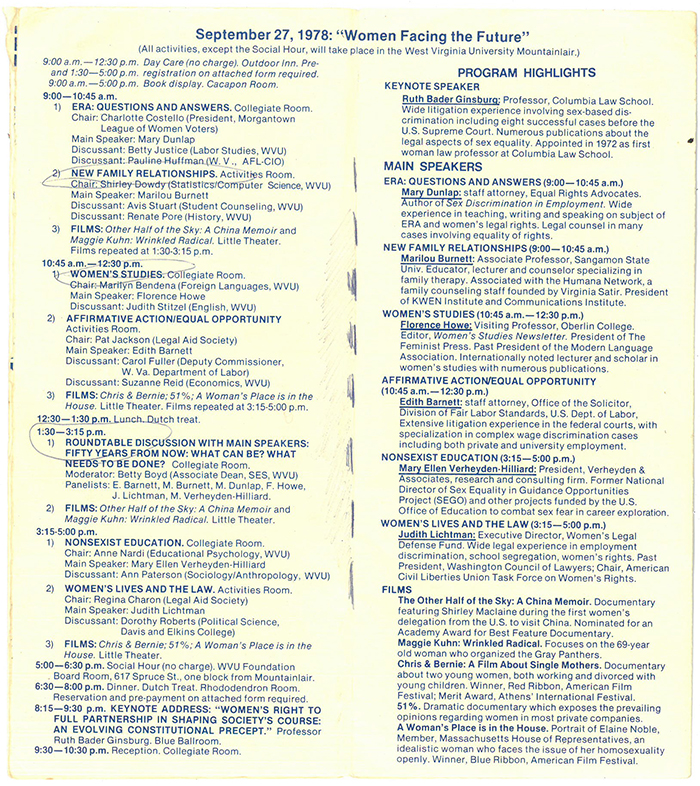 The cover and partial schedule from an original festival brochure also found in A&M 5131.
In 1978, Ginsburg was described as the first woman law professor at Columbia Law School. She graduated from Columbia Law in 1959 where she tied for first place in her class. She was also well known for her success in arguing sex-based discrimination cases in front of the Supreme Court. The Daily Athenaeum promoted her visit in two brief articles.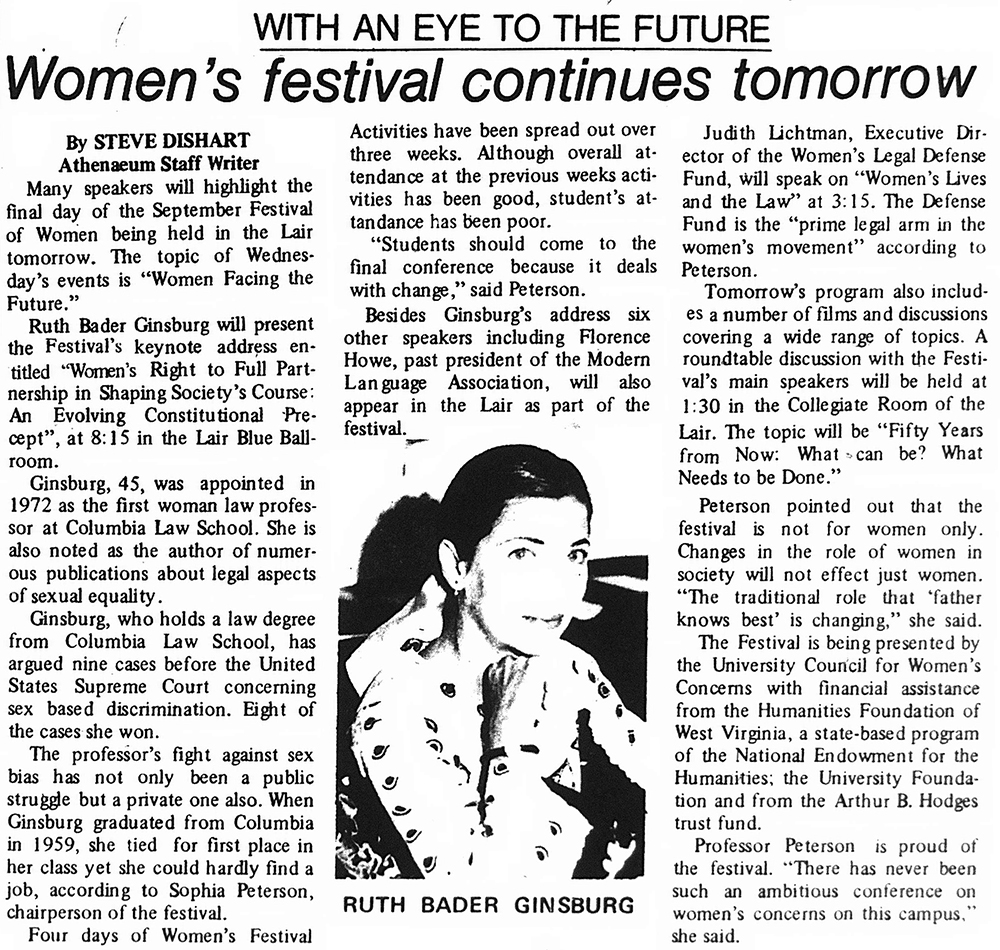 From the Daily Athenaeum, September 26, 1978.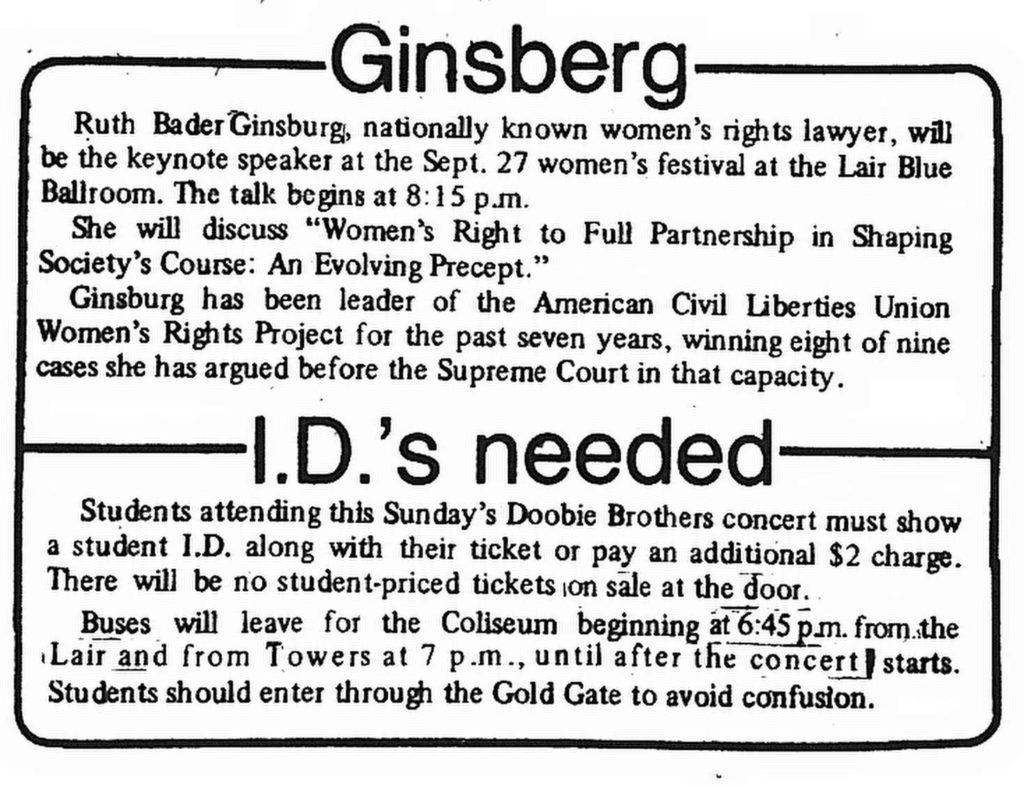 From the Daily Athenaeum, September 25, 1978. Note that the Doobie Brothers band played at the Coliseum the same week that Ginsburg was on campus.
Ginsburg's talk focused on men and women working together to eliminate gender-based discrimination, her Supreme Court victories, as well as passage of the Equal Rights Amendment.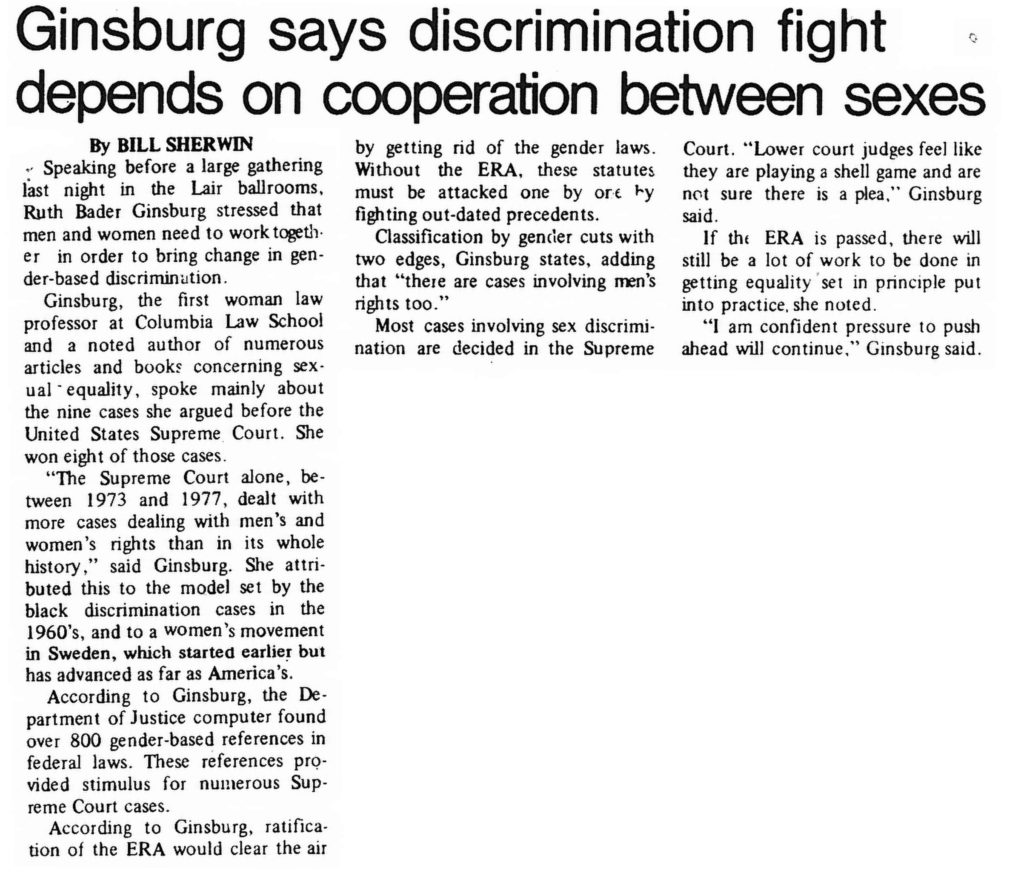 From the Daily Athenaeum, September 28, 1978.
WVU Libraries' Director of Strategy and Planning, Carroll Wilkinson, was in the audience for Ginsburg's talk in 1978. She recounts, "As a member of the audience back in 1978 when RBG addressed a packed Blue ballroom audience in the Lair, even then I was in awe of her presence and obvious strength of purpose. We were so honored to have her here for the conference on women that year and so excited to hear her remarks. Her legal accomplishments on behalf of women and men were already distinguished at that time."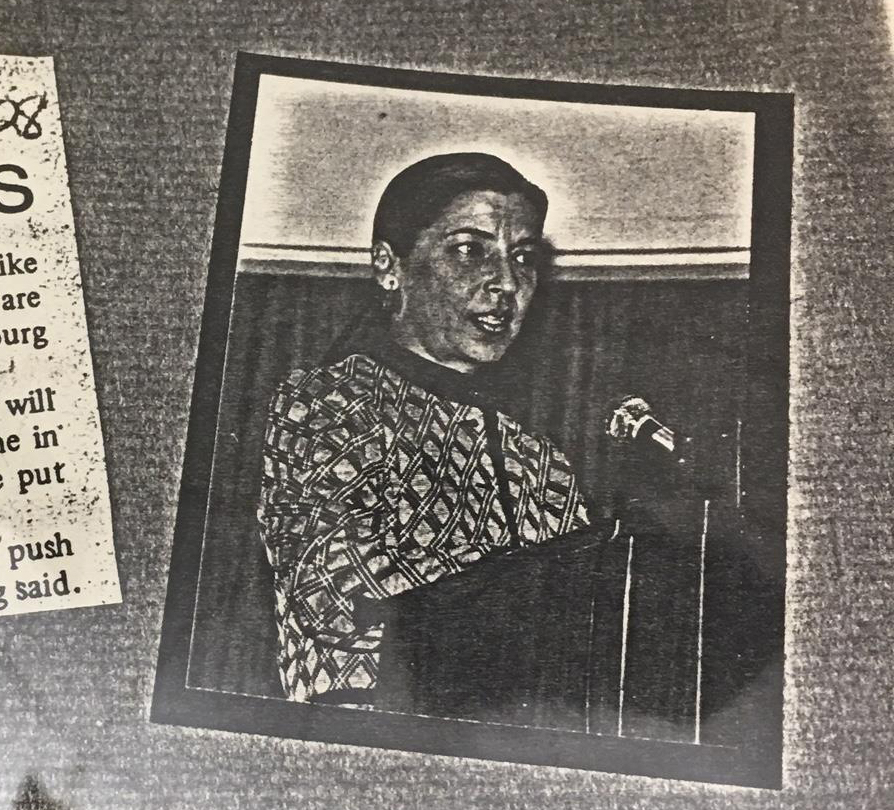 A photo of Ginsburg giving speech as it appears in the scrapbook.
During the preparation of the 2016 Libraries sponsored exhibition on "WVU Women Celebrating 125 Years," Ruth Bader Ginsburg's visit to WVU was noted, but the exact date was unknown. Many thanks go to the student who noticed the scrapbook recently! Also, thanks to archives intern, Grace Musgrave, for locating the newspaper articles.
Leave a Reply