Posted by Monte Maxwell.
February 20th, 2019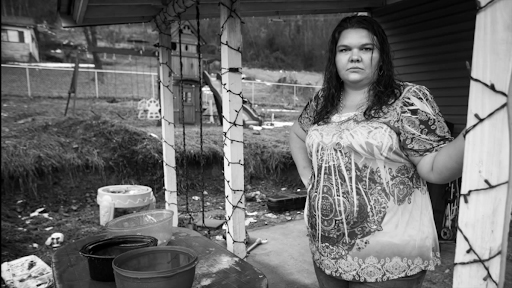 "Women and Water," an exhibit featuring artwork collected and created by West Virginia women active in the fields of water policy and advocacy, will be on display at West Virginia University's Downtown Campus Library from March 4 to April 30 in conjunction with the WVU Libraries' year-long "WATER" exhibit and Women's History Month.
The Downtown Campus Library will host an opening reception on March 4 from 5-7 p.m. in Room 1020 that will include a poetry reading by Affrilachian poet Crystal Good and a performance art piece by Heather Schneider.
"This exhibit celebrates the major role that Appalachian women have played in defense of water since the 1970s," said Martina Angela Caretta, a WVU assistant professor of geography. "The pieces on display and two panels – with women water professionals and on women's health following the 2014 Elk River Spill – speak to the continued and renewed importance of water protection and restoration in our state beyond gender, class and racial axis."
The exhibit of photographs, paintings and sculptures explores women's embodied experiences of water contamination in West Virginia. It is curated by Caretta; Bethani Turley, a geography graduate student; Amanda Pitzer, executive director of the Friends of the Cheat; and Beth Warnick, media and outreach specialist for the Friends of the Cheat.
Expanding the artistic experience, Caretta has organized two panel discussions, both to be held in the Downtown Campus Library, Room 104.
On March 19 from 12-1:30 p.m., "Women in Water Careers and Professionalization" will explore the challenges related to working in the water sector in a state with limited resources for environmental protection.
Caretta will moderate the discussion among women who work on water-related issues in West Virginia: Teresa Koon, assistant director of the Division of Water and Waste Management, West Virginia Department of Environmental Protection; Angie Rosser, executive director of the non-profit West Virginia Rivers Coalition; and Megan Kruger, West Virginia Water Research Institute environmental education and outreach coordinator.
On March 28 from 4-5:30 p.m., "Flint and Charleston: Drinking Water Pollution and Its Impact on Women's Health" will explore safe drinking water and reproductive health. Turley will moderate the conversation with Margaret Chapman, executive director of West Virginia Free; Daniel Grossman, assistant professor of economics at WVU; and Maya Nye, PhD candidate in WVU's School of Public Health.
In addition, the Downtown Campus Library will host a screening of short films by the West Virginia Department of Environmental Protection on April 11 from 5-6:30 p.m. in Room 104. Following the films, Friends of the Cheat Executive Director Amanda Pitzer will lead a discussion.
"Water & Women" is part of WATER: A Cross Disciplinary Exhibit Exploring the Significance, Power and Play of Life's Critical Resource on display through June at the Downtown Campus Library.
Leave a Reply